Home Team
Speedy Mitchell has Kubasaki on the upswing
---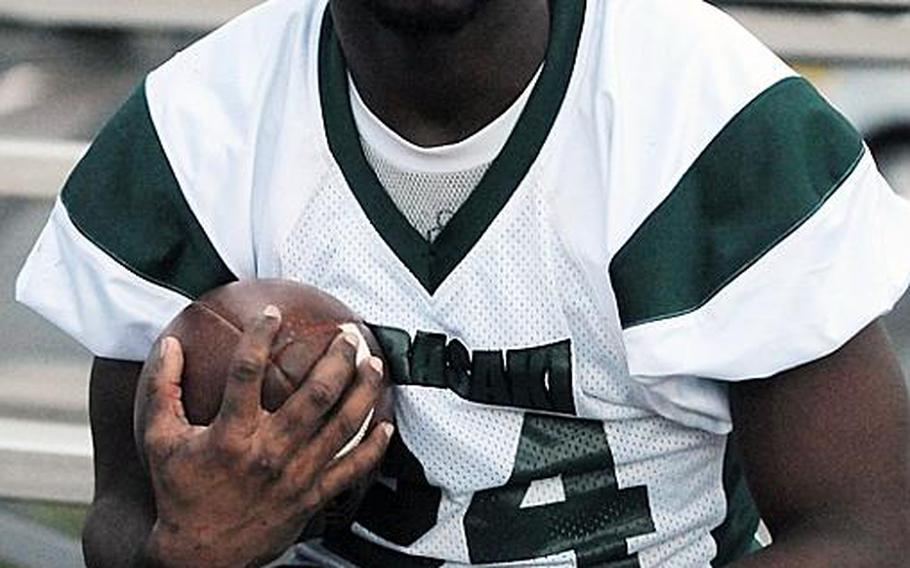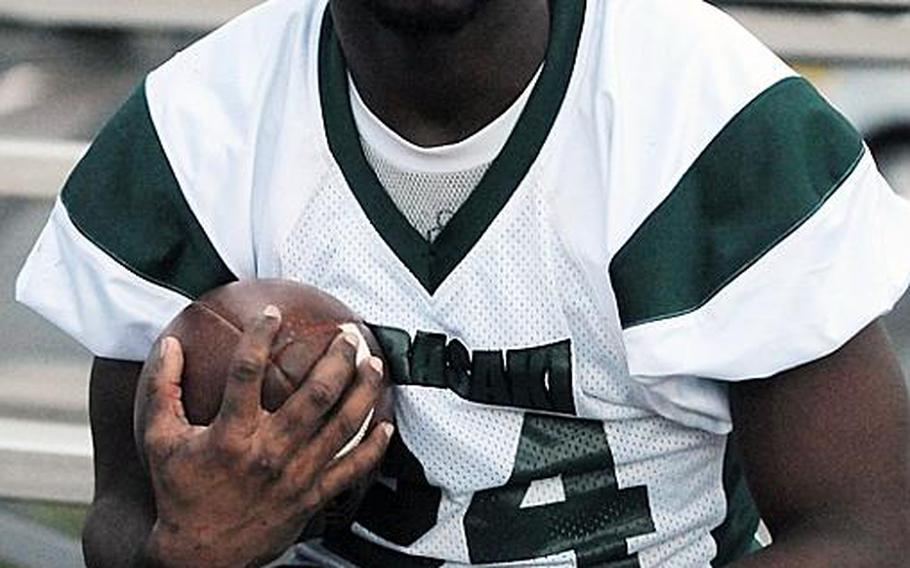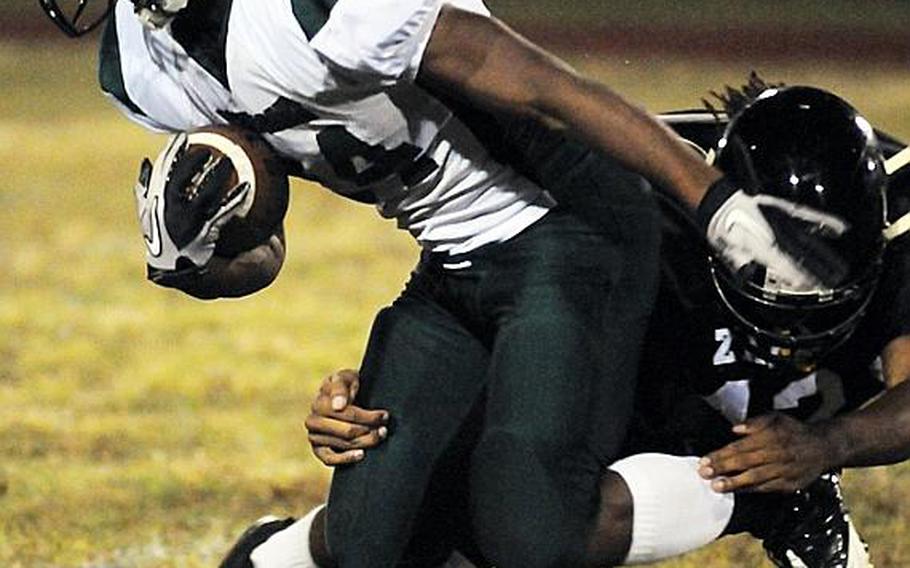 CAMP ZAMA, Japan – The play was called 38 Toss. Quarterback Cristian Rivera ran up the right side of the offensive line with tailback Jarrett Mitchell in trail, then pitched the ball to Mitchell, who cut toward the Zama American sideline, then around right end.
Mitchell then turned on the jets. He outsprinted the entire Trojans defense untouched into the end zone, closing the scoring in Saturday's 48-9 interarea football victory for Mitchell and his Kubasaki Dragons.
"The kid can play," said Zama coach Steven Merrell, who watched the whole play develop right in front of him. "Speed makes a difference. You can't coach that. Not too many kids at any level can cut around the corner like that. When you get a kid who can do that, that's amazing."
It was Mitchell's last carry on a night when he rushed for 174 yards and two touchdowns on just 11 tries, giving him an Okinawa-leading 676 yards and five TDs on 60 attempts this season, 11.27 yards per carry.
The bad news for the Pacific: Mitchell, a sophomore, has lived all his life on Okinawa as a DODDS dependent and isn't going anywhere, he says.
And the Dragons are major beneficiaries, going 4-1 this season, winning their first Okinawa Activities Council title in six years and chasing their first Far East Division I title since 2005.
"This is a gifted athlete; he has many gifts, elite gifts, elite speed, and he's going to maximize those gifts through hard work and dedication," Kubasaki coach Fred Bales said. "He has a purposeful, playful approach to life."
Bales has had many a solid back in his program since 2005, including David Motu and Timmy Gardner, the latter a family friend of Mitchell's who helped lead the Dragons to a D-I title.
Some players have been solid citizens. Others, Bales says, have carried a sense of entitlement, "that it was their God-given right to carry the football for my teams," Bales said.
"You have none of that with Mitchell. This kid is coachable, humble, team oriented; we're thrilled to have him in the program."
Merrell says he likens Mitchell's uncoachable speed to the defensive instincts that Zama's former running back-linebacker star Michael Spencer displayed on defense, which helped him average 18 tackles per game in three seasons for Zama.
"It's one of those things that's a plus, that you as a coach inherit and use to your advantage," Merrell said.
Mitchell says he didn't pick up a football until the eighth grade, when he played youth ball. He suited up for Kubasaki's junior varsity in 2010. He recalls outrunning his classmates during elementary school recess and decided to channel that speed on the gridiron.
"It's a God-given gift; it's just a matter of what you do with it," Mitchell said. "I pray that it gets better and better."
Mitchell also has two cousins who played football for Bales, Emanuel and Lewis Finney, who wore jersey Nos. 22 and 23 for Kubasaki. "I took 24 to keep it in the family," Mitchell said.
No. 24 is fast becoming easily recognizable on Okinawa. In Kubasaki's two games with Kadena in the OAC's regular season, Mitchell combined for 233 yards on 30 attempts as the Dragons lost 15-14 to the Panthers at home on Sept. 9, then rebounded at Kadena to win 13-0 on Sept. 23.
"He has very good vertical speed," Panthers coach Sergio Mendoza said. "He's really fast. He's very elusive."
Mitchell says he'd heard for years about two-time defending Far East D-I champion Kadena dominating football on the island and the Pacific.
"I love … being a part of history," Mitchell said. "I've heard everybody say we can't beat Kadena, that Kadena's a powerhouse. Just to be a part of this team is a great thing."
Despite his gaudy totals, Bales calls Mitchell as a "work in progress. It's rare to find an athlete who's willing to work on his weaknesses. He's already identified them and is working on them. If he continues on this path, he'll be in my top 10 in a long coaching career."
Kubasaki has Seoul American, which the Dragons beat 41-17 on Sept. 17, on the horizon in the D-I semifinals on Oct. 29 at Mike Petty Stadium.
"We know we have to work hard to achieve what we want," Mitchell said, adding of Kubasaki's hopes of a first D-I title in six years: "We can't get too far ahead of ourselves. There are things we need to do first."
---
---
---
---