Sigonella cancels remainder of football season
by
Rusty Bryan
September 28, 2011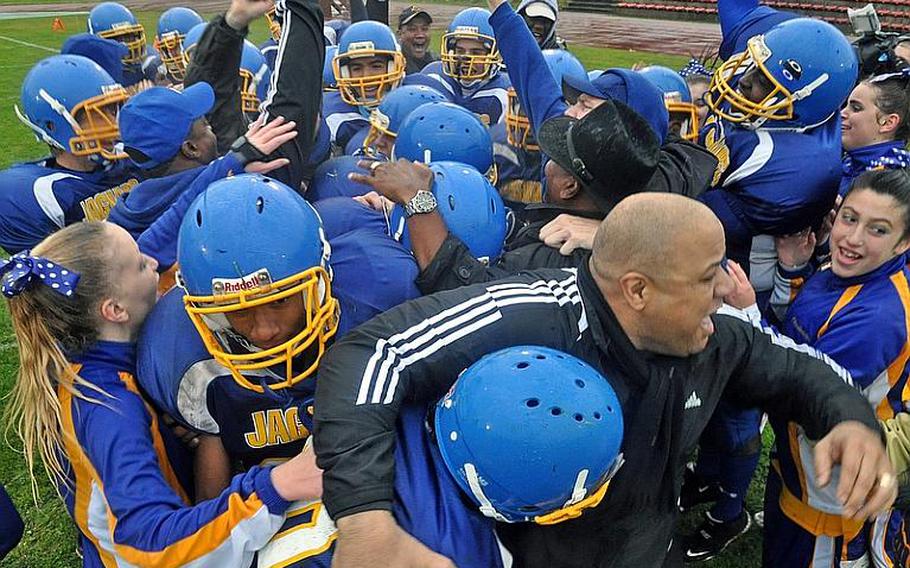 The defending European Division III champion Sigonella Jaguars announced Wednesday they are cancelling the remaining three games of their football season.
According to school principal Alice Berard, the numbers just didn't add up for her school, which saw its high school enrollment fall to fewer than 90 pupils this school year.
"Due to the small number of players we have on the team and the safety issues which can arise from having a team of just 10 players," Berard wrote in an email, "we have decided to cancel our football season.
"We met with parents (Tuesday evening) and looking at the experience and depth of our team, it is not in the best interest of our students' safety to continue on."
The move means Sigonella, which had lost both games it played this season, will forfeit three scheduled games, according to DODDS-Europe athletic director Karen Seadore. The Jaguars had been scheduled to host unbeaten D-III newcomer Bamberg on Saturday, Alconbury on Oct. 8, then close their season at Brussels on Oct. 15.
It's a sad season's end for a program which went unbeaten last year and also posted an unbeaten regular season in 2009.
"Hugely disappointing doesn't begin to describe the feelings the football community is feeling around the school," Sigonella coach Matt McKown said. "To go from the high of highs that we all shared together last year to this… Not to get overly dramatic, but it feels like a death in the family."
"We definitely had an idea we might have trouble fielding a team this season," McKown said by telephone. "We had only six kids out at two-a-days."
The team eventually suited up 16 players, McKown said, but was reduced to 10 by move-outs, injuries and "the little things that come up during the season."
Menwith Hill coach Pete Resnick, whose Mustangs stopped Sigonella's seven-game winning streak Sept. 17, can feel the Jaguars' pain. His school was unable to field a team in 2002 because of lack of players.
"It was disappointing, because we had to move our homecoming to the basketball season, similar to Iceland's school at the time," he recalled in a Wednesday email. "That also eliminated the fall pep band and cheerleading performances. We cancelled the parade, bonfire and other outdoor fun student activities. It just seemed to lessen school pride and spirit."
Resnick added, however, that he sees Sigonella returning to the high school grid wars, as his Mustangs did in 2003.
"Every school year brings new students and anticipation to a DODDS high school," he wrote. "I believe Sigonella will be able to bounce back and be a competitive football team in 2012."
McKown, too, is optimistic.
"This is a sports community," he said.