Home Team
Second best not good enough for Yokota pair
by
Dave Ornauer
September 14, 2011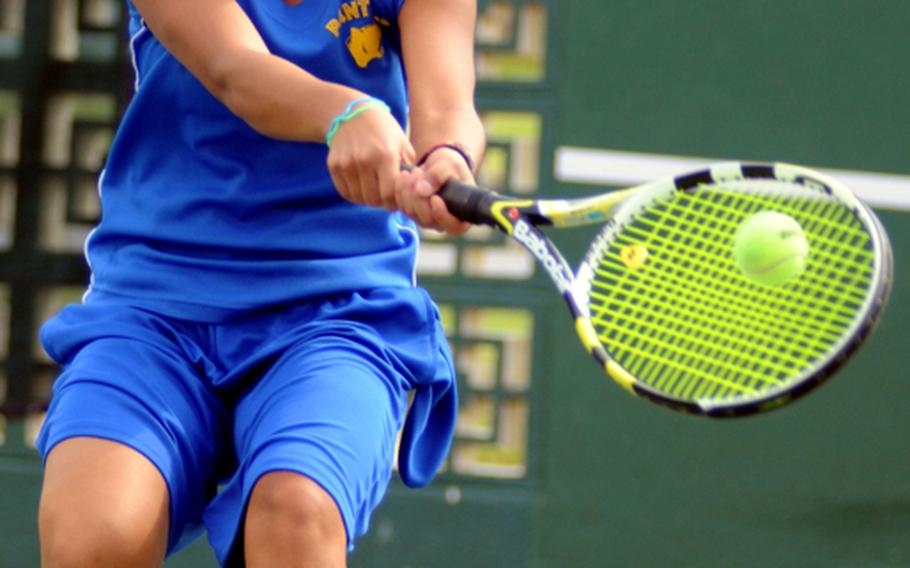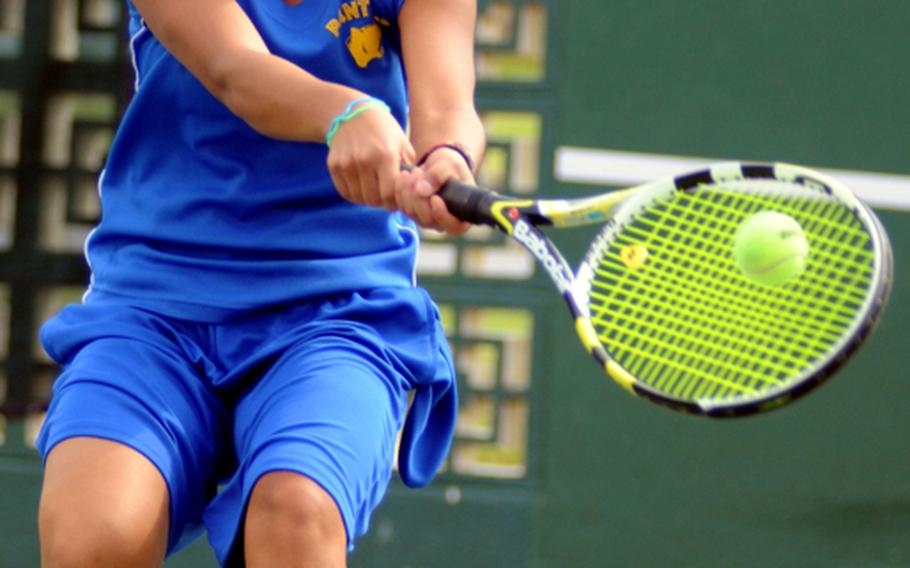 YOKOTA AIR BASE, Japan — Arlo Taylor could be forgiven if he was overheard muttering to himself, "Oh, no. Not again."
For his 2011 high school tennis season with Yokota was beginning the way 2010 ended with Kadena last Nov. 11. Kent Shikama of St. Mary's International rallied from behind 4-0 in Sets 2 and 3 to beat Taylor 6-3, 5-7, 7-6 (7-5) in the Far East tournament boys singles final.
Taylor transferred to Yokota days after that initial defeat. On Saturday, the two met again in the Kanto Plain regular season's first match. It went 3 hours, 20 minutes in brutal heat, with Shikama rallying from 4-3 down in the third set to win 3-6, 6-3, 6-4.
Then as now, Taylor says, "I was trying too much to hurry and win. I didn't have the confidence, kept making mistakes and it hurt my mental toughness. When we're both calm, we're about the same. He has a strong mental game, and I don't."
In both matches, "Kent changed his game and Arlo didn't," Yokota coach Tommy Palmer said.
He's not alone, holding the title "reigning Far East tournament runner-up," along with the empty, hollow feeling he says comes with it.
Erika Ettl, a fellow senior and four-year Panthers veteran, gives Yokota a rare duo of reigning Far East tournament runners-up.
And two dates resonate with her as well. She ran the regular-season table in the Kanto Plain as a junior last year, as did Taylor in the Okinawa Activities Council regular season.
Then came Oct. 27, when Kelsey Leon of American School In Japan capped a stellar career by handing Ettl her first loss of the season 6-2, 6-4 in the Kanto Plain tournament at Shirako Tennis Complex near Chiba.
Days later, Ettl lost 7-6 (7-4), 6-2 to Guam High's Amber Gadsden in the Far East tournament singles final.
"Nobody remembers who finished second. They only remember first place," Ettl said.
In the early evening chill at Shirako, Leon worked angles against Ettl, moving her around the court "so I couldn't return as I expected. It seemed she had more confidence than me," Ettl said.
Gadsden's groundstrokes proved to be Ettl's undoing in the heat at Far East on Kadena Air Base's Risner Tennis Center's show courts.
"She was stronger than me," Ettl said. "She took control of the match. Her serves were pretty good, too."
"Kelsey ran her," Palmer said of the Leon match. "Gadsden has strategies. She'll set you up and knock you down."
So, how does a reigning runner-up rebound from the foul taste of such defeats?
"It's pretty hard," Ettl said. "But it makes me more motivated to do better next time, work harder and show that I want it more."
Such defeats didn't sadden Taylor, he said. "I feel maybe I should practice harder than Kent or whoever it may be. I can't let my guard down. I have to be confident, even if I don't think I can win, I have to show that I'm the stronger player out there."
And what does a coach do to right his players' ships?
"You try to pass on that this is more a learning experience than a loss, and you can always learn more from the more challenging players and matches," Palmer said. "You always come away from a loss better."
Much of that rebound, that bounceback, is a player's mental approach to the game, Palmer said.
"She's hungry," he said of Ettl. "She gets hungry when she loses. When she walked away last year, she was very determined not to let it happen again. Right now, she's trying to hone her mental game, use more mentality along with her physical abilities."
Where Taylor is concerned, Palmer says he must know the right time to use power and the right time for placement.
"He's got an array of shots," Palmer said of Shikama, a sophomore. "Arlo has the shots, too; he just has to put them into practice. He's more than capable, but he has to be willing to implement different strategies. You can't win with power all the time."
Taylor and Ettl say they hope that their respective hunger translates into titles this time and a happy ending to their careers.
"All that work I did, all that money my parents spent (on private lessons), I'd feel like I accomplished something," Taylor said.
"This is my last year to be the best I can be," Ettl said. "And I'm trying to have no regrets and just do better at Far East and Kanto. Forget what happened on the last point, the last encounter and work on the next one."