Santos proved versatility with rare feat
by
Rusty Bryan
June 13, 2011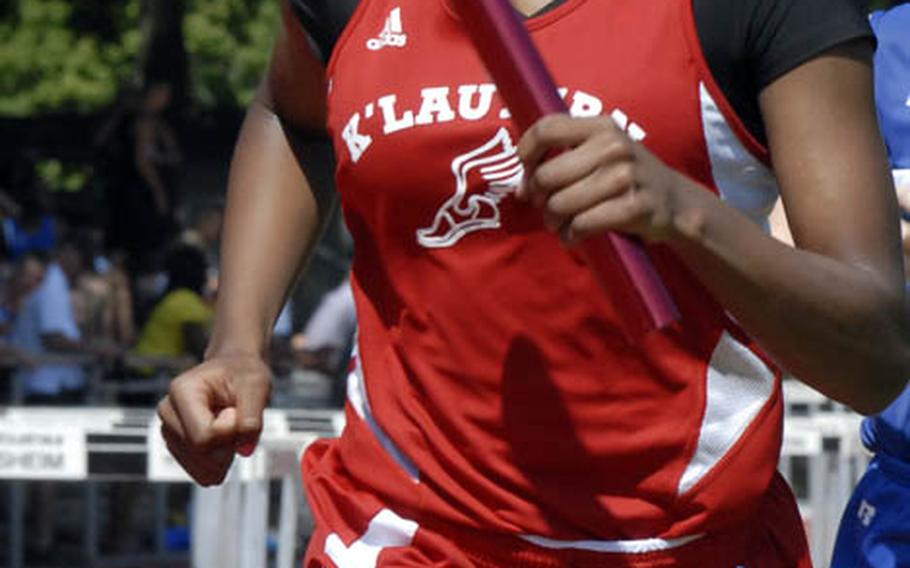 Kaiserslautern sophomore Ashley Santos wasn't the only athlete to emerge from last month's European track and field championships with multiple medals.
But she was the only one there who could enter any race she wanted.
"Really, we hadn't planned on it," Santos said recently about her, as far as can be determined, first-time-ever feat of qualifying for Europeans in every running event — the 100, 200, 400, 800, 1,500 and 3,000 meters, along with the 100-meter intermediate and 300-meter low hurdles.
During the season, Santos had already qualified for four events (the maximum number of individual events allowed by the rules), so with nothing to lose as the championship tournament near, "We said, 'Let's go for it.' " Santos recalled.
"We" is Santos and Kaiserslautern coach Dennis DePriest, the man who introduced Santos to the hurdles just this season.
"Coach DePriest told me at practice, 'You should be a hurdler,' " said Santos, who won two gold and two silver medals at the two-day meet. "He told me to try it out."
Santos did, and the 300 lows quickly became one of her best-liked events, joining her previous favorites, the 400 and 800.
DePriest said Santos was an obvious candidate for the hurdles.
"She had a lot of fast-twitch (muscle) development," De Priest said, adding that Santos benefited from the tutelage of volunteer coach Kelly Heindbaugh, a former University of Texas 400-meter hurdler.
"It was awkward at first, but I still liked it," Santos said about her new event, of which she's now the reigning European champion with a gold-medal time of 48.60 seconds.
Santos' other gold was even more special. She anchored Kaiserslautern's 4x800 relay team to a DODDS-Europe record of 9 minutes, 55.02 seconds, breaking the mark of 9:58.43 the school set in 2010.
Santos' silvers came in the 800 and the 4x400 relay, in which she again anchored the Lady Raiders. Her 800 was particularly impressive. She was second to teammate Rio Harris with a 2:21.98; Harris flirted with the DODDS-Europe record of 2:17.60 by completing her two laps in 2:17.89.
According to DePriest, Santos, who moves to San Antonio this summer, has more track-and-field challenges ahead. He sees her as a future heptathlete, showing her versatility in three running events and four field events that require speed and strength.
Santos, who's been running since the fourth grade and credited her father, Hiram, a former wrestler, for much of her progress, sees promise in Texas.
"I hope to get better," she said, "running against all those other good runners."