D-III baseball
Rota holds off Sigonella to win title
by
Rusty Bryan
May 28, 2011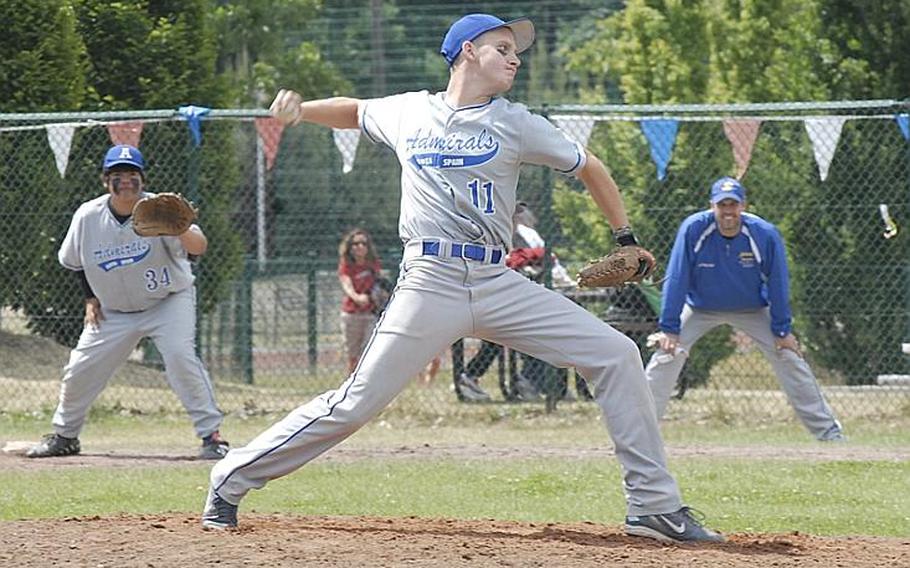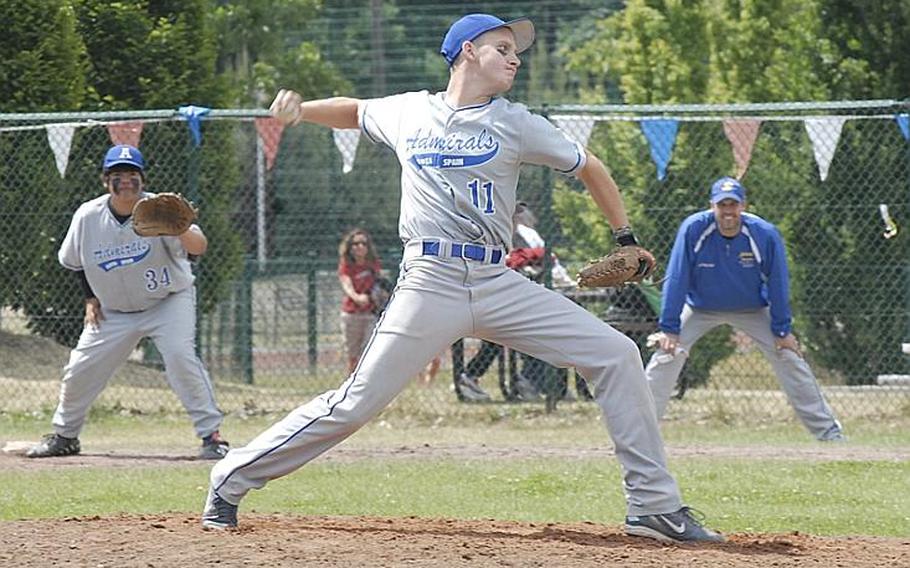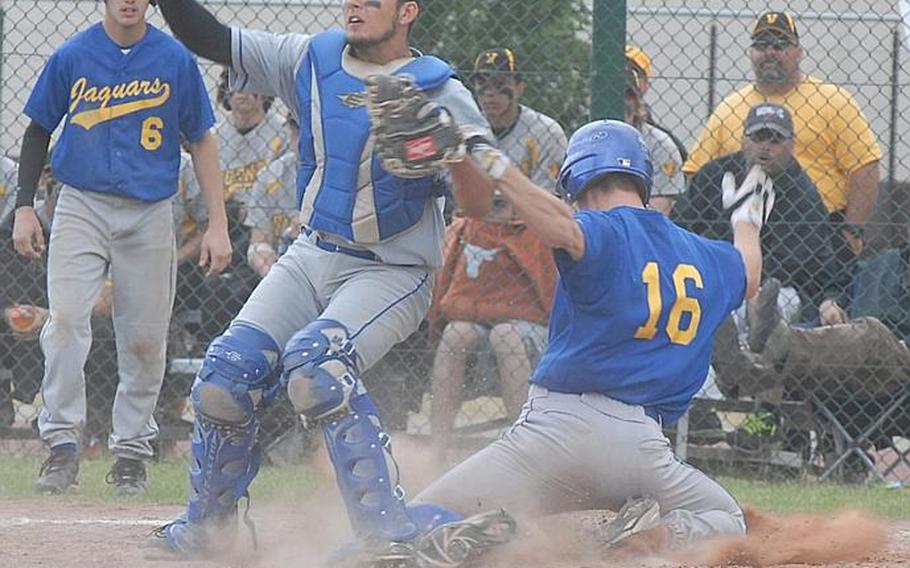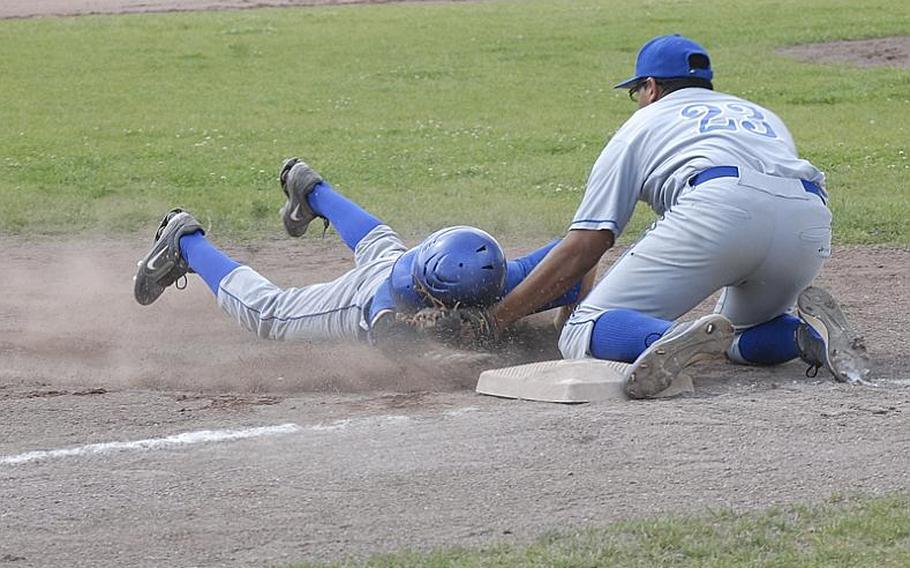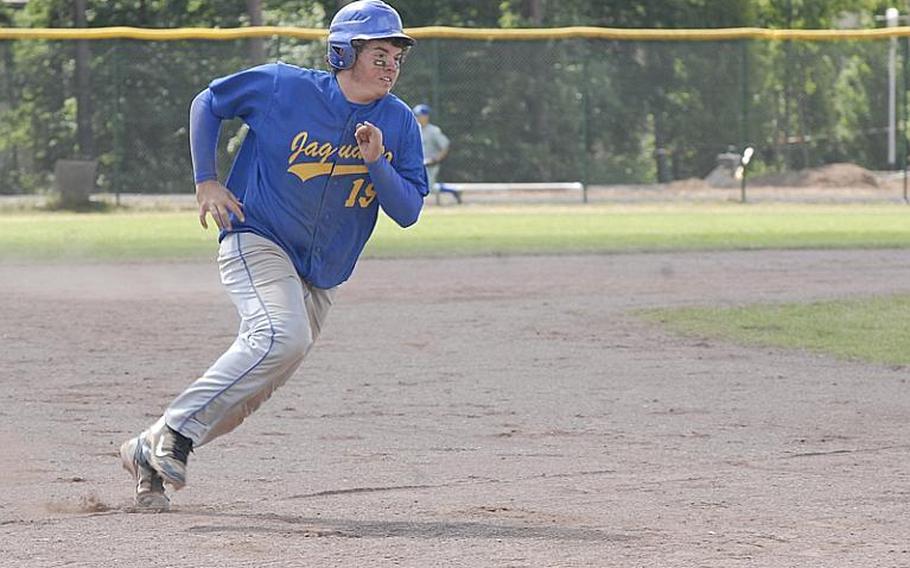 RAMSTEIN AIR BASE, Germany — Breathing room made the difference Saturday as Rota claimed a 7-6 victory over Sigonella in the European Division III championship game.
"It's nice to have a cushion," winning pitcher Kevin Banks said after his route-going seven-hitter.
Banks was talking about the 3-0 lead his team gave him in the top of the first inning but he might well have been talking about the 7-1 lead the Admirals took into, and almost squandered, the bottom of the fifth and final frame.
Sigonella mounted a last-gasp rally in a bizarre inning that ended when Banks struck out Franco Garcia with two outs and a runner on second.
"My curve ball was my best pitch," Banks said, "but I tried to mix them up. Their numbers three-, four- and five-hitters are really good, and I tried to give them something different every time."
Sigonella's three, four and five batters — catcher Marco Summerfield, starter Clay Coon and second baseman Chase Berryhill — were right in the middle of the dramatic five-run fifth.
After lead-off batter Jeff Lastrella reached first on catcher's interference, stole second and advanced to third on a balk, shortstop Brandon Albert doubled him home. Albert reached third on another balk, and evaded a rundown attempt on Tyler Cornell's grounder that allowed Cornell to advance to second.
Summerfield then apparently doubled both runners home with a ringing liner to left, but Cornell was ruled out for interfering with Rota catcher Gannon Soares as the relay throw sailed over his head for out No. 1.
Coon then singled to center to score Summerfield, and Berryhill walked, stole second and advanced to third on an error that resulted in the second out of the inning. Luke Ostergaard grounded sharply to Rota third baseman Frankie Esquivel, who, after checking Berryhill back to second, threw wildly to first. Osterggard, however, fell down halfway to first, and Rota retrieved the ball in time to throw him out at first.
Chris McKissick plated Berryhill by beating out an infield single, then stole second before Banks fanned Garcia to end the threat.
The victory was Rota's third straight here over Sigonella. The two played twice in pool play, with Rota winning 8-6 Thursday and 9-2 Friday.
Banks was pitching in the tournament for the first time in the title game as a sort of Saturday surprise, and also drove in two runs with a single and sacrifice fly. Soares also had a good day at the plate, doubling and singling and driving in two runs.
The title was the second straight for Rota, which last year defeated Naples to win a combined European D-II/III crown.
---
---
---