Home Team
Repeating on the mat isn't easy
---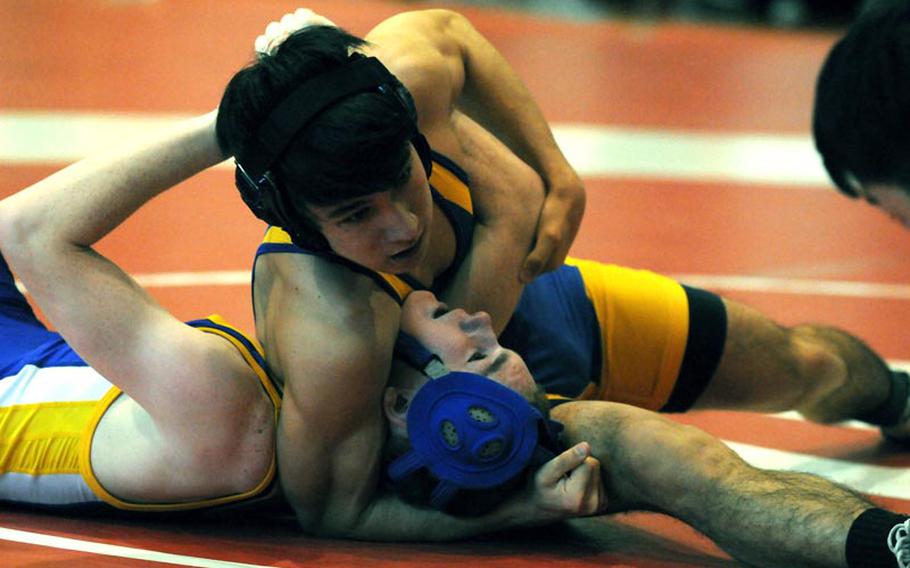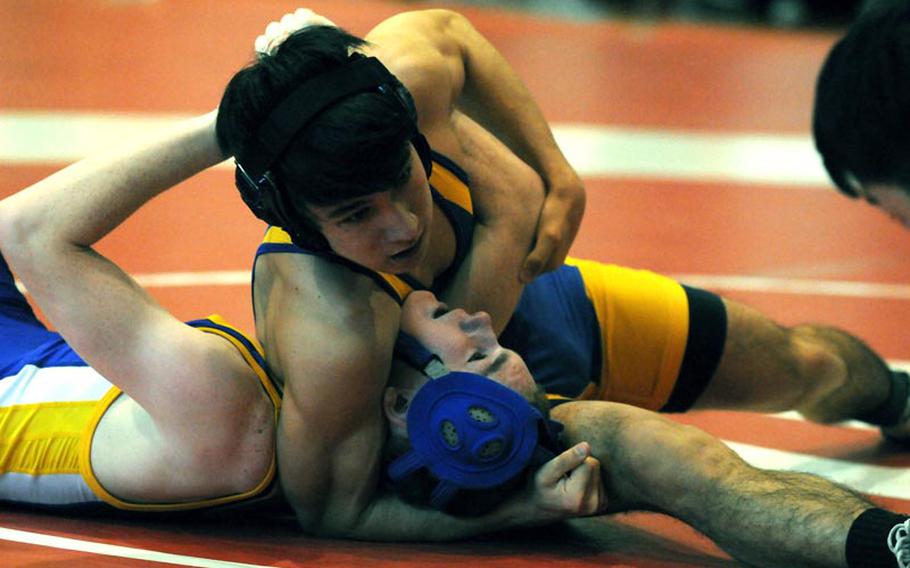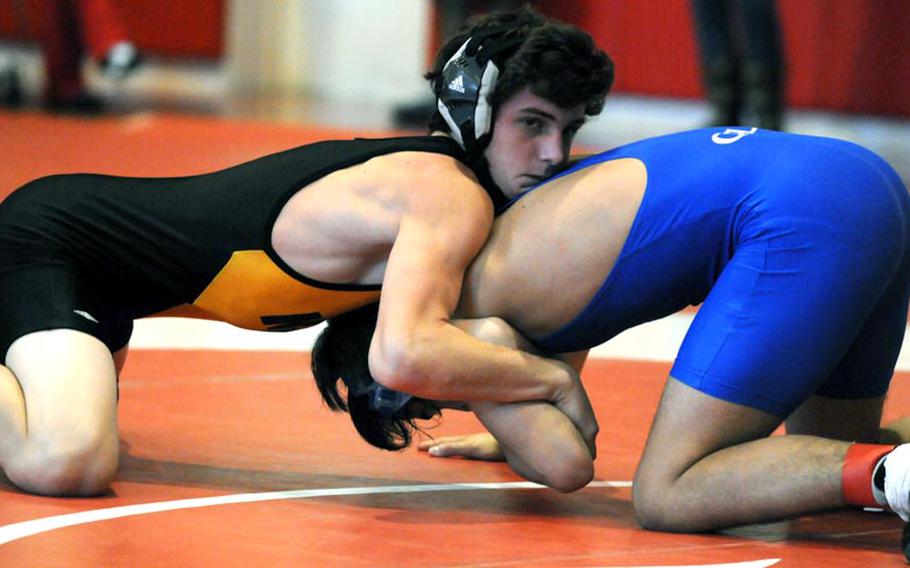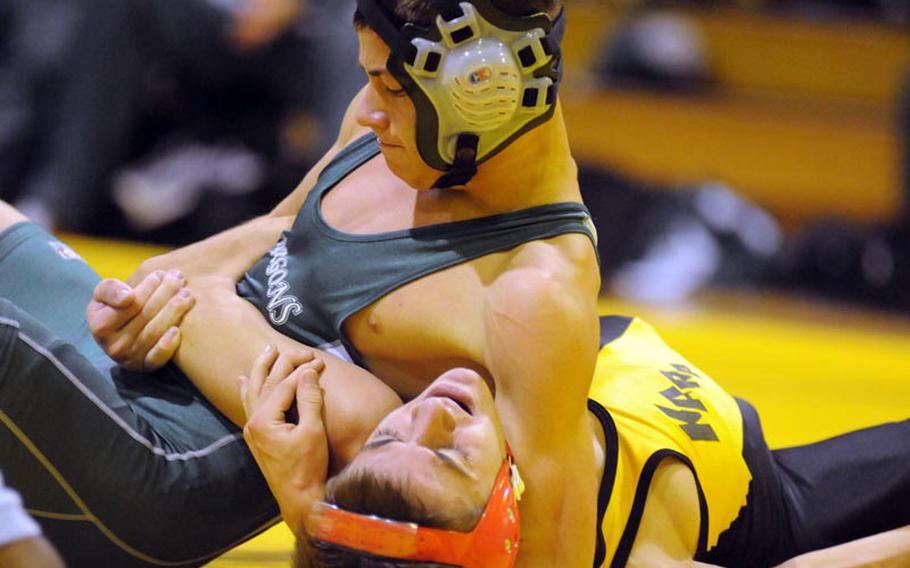 YOKOSUKA NAVAL BASE, Japan — Thomas Cioppa knew he was in trouble. For the second time in as many periods, the Kadena sophomore found himself caught in a head-in-arm hold by opponent Callan Murphy. Time was running out. The title was slipping away.
Murphy, of American School In Japan, walked away victorious by a 2-1 decision in the 122-pound title bout in Saturday's Nile C. Kinnick Invitational "Beast of the Far East" Wrestling Tournament.
Cioppa, last year's Far East 108-pound winner, settled for second — and has lost two bouts already this season in his bid for a repeat Far East title.
It's not something that Cioppa, one of four reigning Far East titlists, says he's dwelling on, though. To do so would cause one to lose his edge, something a champion shouldn't do.
"You shouldn't be scared," Cioppa said, noting he lost in his season debut to Tristan Wells of Kubasaki, then pinned him the following week. "I go out to wrestle. He goes out to wrestle. Obviously, you want to do well because I've won, but I try not to think about that."
Much easier said than done, says Cioppa's coach, Chris Riley.
"There's nowhere to go but down" once you've become a champion, Riley said. "Fear of failure, letting down your teammates, those can be a specter. There's the transient population out here. People change weight classes. There's the unknown of who you're going to face."
Joining Cioppa in this season's "one thing to get to the top, another to stay there" mat group are reigning Far East champions Soma Yoshida (129) and Chidi Agbo (heavyweight) of defending Division I team champion St. Mary's International and Steven Walter (108) of Kubasaki.
They've had mixed results so far. Walter and Agbo have dominated the top and bottom of the weight spectrum; Yoshida has already lost twice to Yuma Fuseya of Christian Academy Japan, including the "Beast" final.
"You know they're gunning for you; it's always in the back of your mind," Walter said, insisting that he's "having more fun" with the sport as a champion. "I don't dwell on it. After I got the gold, I trained harder to keep the gold. It makes the winning easier."
Walter is unbeaten thus far on Okinawa, and pinned all three opponents — spending just 4 minutes, 51 seconds on the mat at "Beast."
Coach Ron Geist is more concerned about keeping him healthy, rather than worrying about his effort or attitude.
"He's an outstanding young man," Geist says of his junior lightweight. "He knows what he has to do. Whenever he steps onto the mat, he always gives it 120 percent. My job is to keep him healthy, just like all the other wrestlers, so he can continue what he's doing."
While Walter has cruised, Fuseya has had Yoshida's number, beating him in last month's ASIJ tournament, then taking him out by a 2-0 decision in the "Beast" championship bout.
"I know people are going to try to beat me," Yoshida said. As a result, practice sessions mean learning new techniques to take with him to the mat to combat those who'd try to take him down.
While Yoshida has earned two seconds in two tournaments, everything's come up golden thus far for Agbo, whom St. Mary's coach Ian Harlow refers to as a "once-in-a-lifetime talent."
Agbo outpointed Jesse Hogan to win the ASIJ tournament, then won all four of his round-robin bouts in a total of 4:02 to capture his second straight "Beast" title.
It takes more than practice and skill on the mat to bring down a reigning Far East champion, says Gabriel Ahner.
Then a Kadena junior, Ahner lost to Agbo in 3:51 at Far East to clinch the D-I individual freestyle team title for St. Mary's. The next day in the D-I dual meet final, Ahner fell by a 2-0 decision to Agbo in the last bout — which again tipped the title scales in favor of the Titans.
"Definitely, you need a lot of dedication, putting in the extra time, running, lifting, anything extra to help win that gold, not just practice or on the mat," Ahner said.
---
---
---
---