Records set in DODDS-Europe Track and Field Championships
by
Jennifer H. Svan
May 29, 2010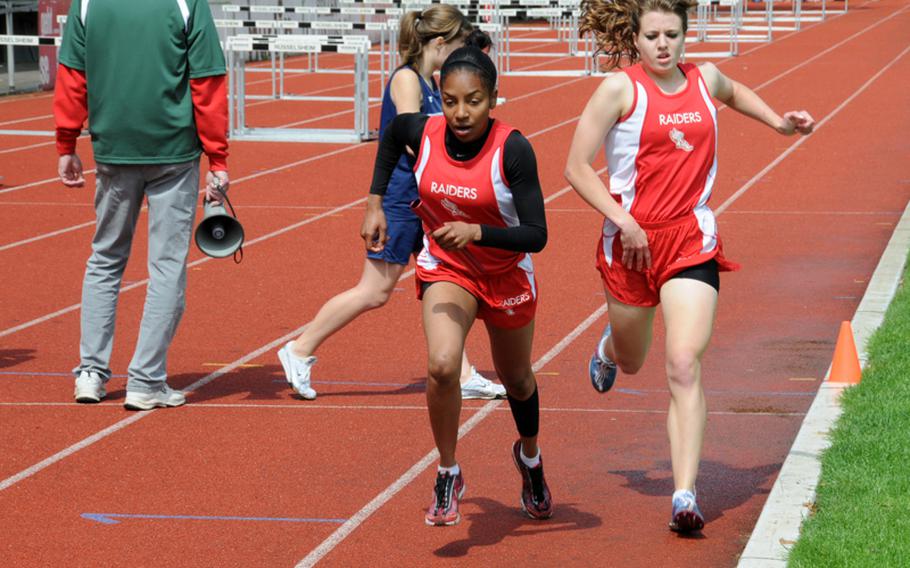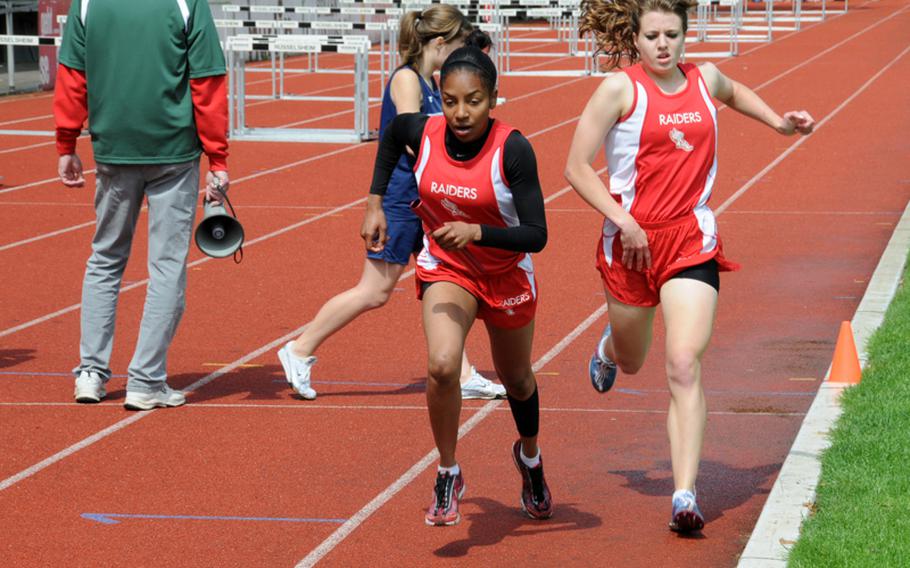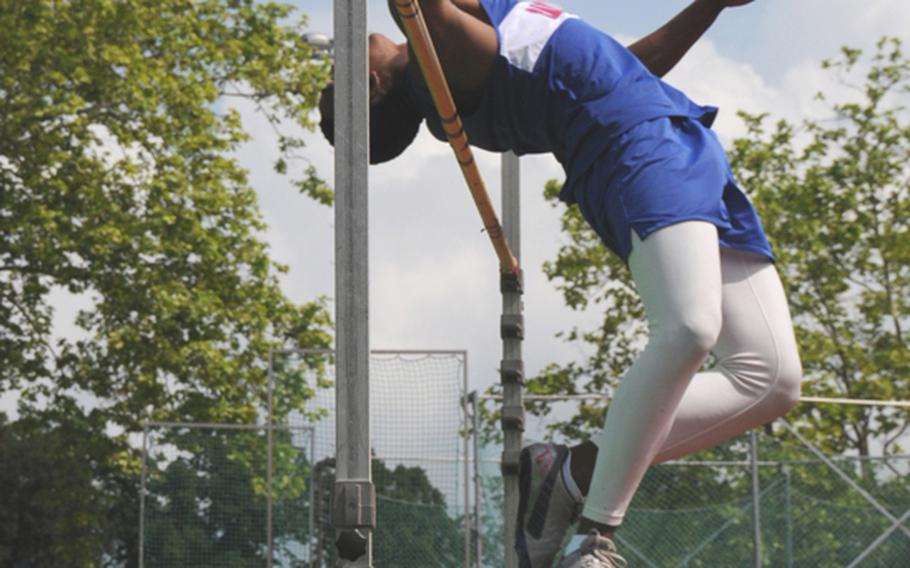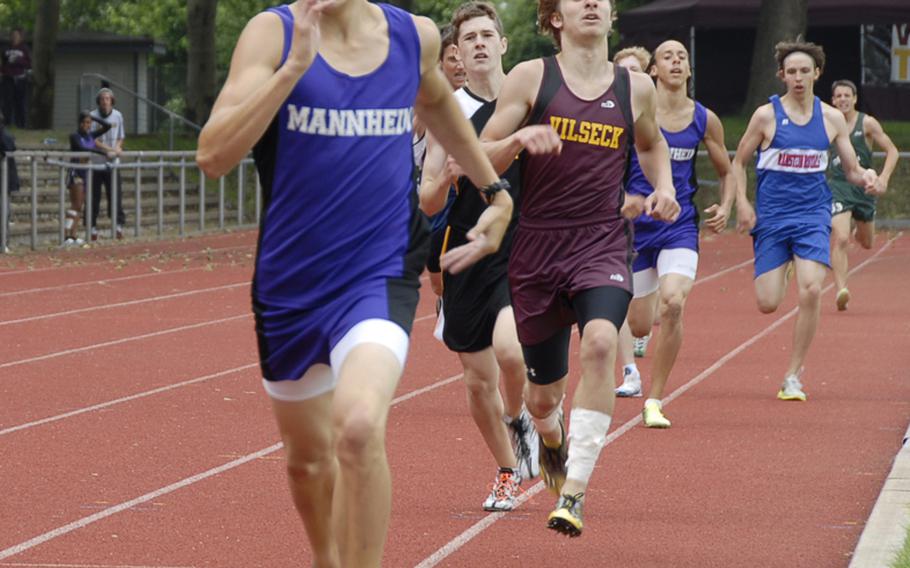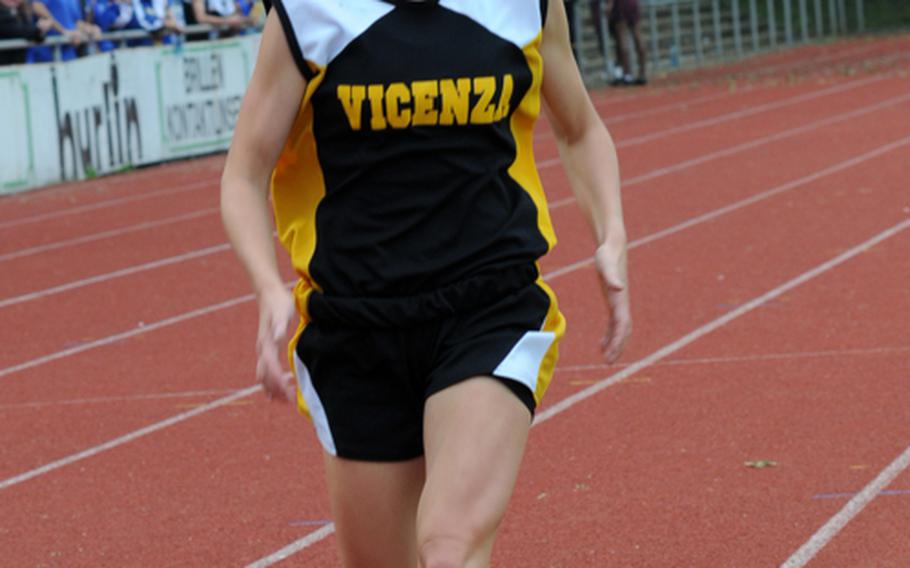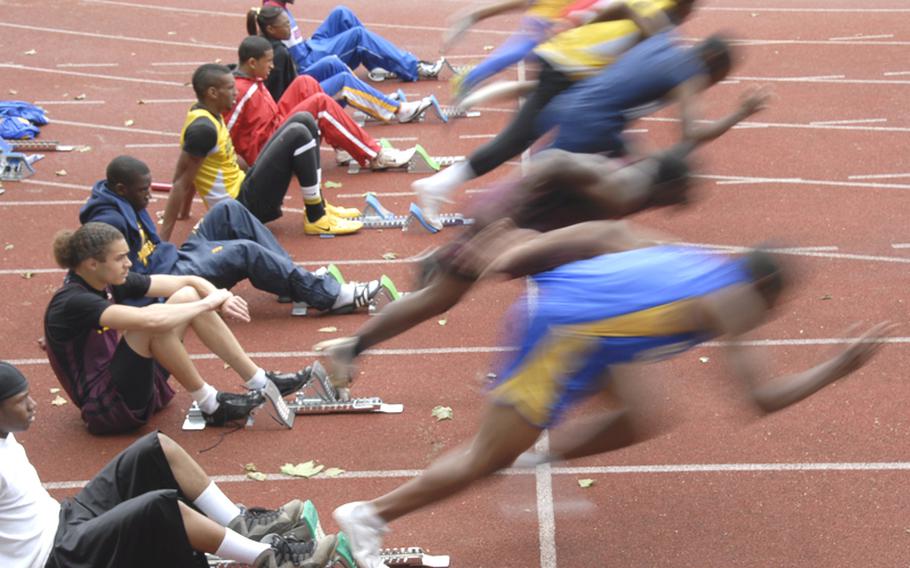 RÜSSELSHEIM, Germany — The screams of joy from Kaiserslautern High School's quartet of half-milers told the story: The DODDS-Europe record in the 4x800-meter relay was theirs, even if it was by just a shoelace.
"It felt great," said junior Rio Shaune Harris of her team's new mark of 9 minutes, 58.43 seconds, beating the 2007 mark of 9:58.84, also set by Kaiserslautern girls.
Harris, along with seniors Marche' Bobbs — a member of the 2007 record-setters as a freshman — and Amber Core, and junior Colleen Davis ended up in a race against the clock, as they opened up a huge lead on runner-up Vilseck, which finished in 10:28.43.
The other record to fall Friday on the first day of competition in the DODDS-Europe Track and Field Championships was more of a dinosaur.
In her preliminary heat of the girls 300-meter hurdles, Ansbach senior Tiffany Heard ran a blistering 44.80 seconds to shatter the old mark of 45.50, set 21 years ago by Stephanie Powell of Hahn. The finals for the 300 hurdles are Saturday.
"I feel like I achieved a goal," Heard said of the long sought-after record. "Hard work pays off."
On Saturday, Heard will gun for the 100 hurdles record of 15.08 — one she set a year ago in the same meet. She came close in Friday's trial, clocking a 15.13.
While an early morning downpour that soaked the stadium before the meet started didn't seem to affect runners' times on the track, it did cause problems at the high jump pit, where Ramstein senior Michael Wallace also was in pursuit of a record.
Going into the meet, Wallace's best jump was 6 feet, 8 inches, just off the Europe record of 6-9 ½ set by Terrance Chukes of Nuremberg in 1992. Wallace ended up with the gold but, on Friday, couldn't get above 6-2 after slipping on several approaches to the bar.
"The rain messed with my head," said Wallace, who hopes to play football next year at Georgia Southern. "I guess it just wasn't my day. But I'm always happy with winning."
He credited his improvement this spring to first-year Ramstein high jump and hurdles coach Jayme Ross. But Ross deflected it right back. "It was all him, really," he said. "He just unleashed it this year."
Unleashing it on the track — twice — was Alex Cornelius. The Mannheim senior won the boys 1500 and 800, with times of 4:11.24 and 2:00.92, respectively. The closest race of the two was the 800, with Vilseck sophomore David Lance finishing a second off Cornelius' pace. Lance had the lead heading into the last 200 meters, when Cornelius turned on the burners and pulled ahead for good.
"I was just telling myself, 'I want to get to the finish line,' " he said. "I just put everything into it."
He's not done yet, with the 3,000 and 800 relay on tap for Saturday.
In other notable performances Friday:
n The biggest margin of victory belonged to Vicenza senior Penny Boswell in the girls' 3,000. Boswell legged out a lead of three-quarters of a lap ahead of runners-up Elizabeth Doe of Ramstein and Kaiserslautern's Ashley Santos. Boswell was hoping to break 11 minutes. She got her wish, finishing in 10:49.38.
n In the boys long jump, Aviano seniors Jamal Tuck and Sean Outing finished one-two. Friends since eighth grade, the two have been practicing hard all year, Tuck said. Tuck jumped 21-7 ½ to Outing's 21-4 ½.
n In the girls triple jump, Lakenheath junior Jasmin Walker took the crown with a leap of 35-6 ¼. She's also the top seed heading into the girls' 100 finals on Saturday.
n SHAPE senior Damien Anderson was thrilled to earn his first gold in the boys shot put. His winning heave, nabbed on his first attempt, was 46-0.
n Taking the gold in the girls discus was Ansbach's Latrisha Jones. She threw 97-4, besting the second-place throw of 96-5 by Vilseck's Mariah Morris.
The meet concludes Saturday, with field events starting at 11 a.m.