Home Team
Ramstein junior emerges as top distance runner
by
Rusty Bryan
April 27, 2011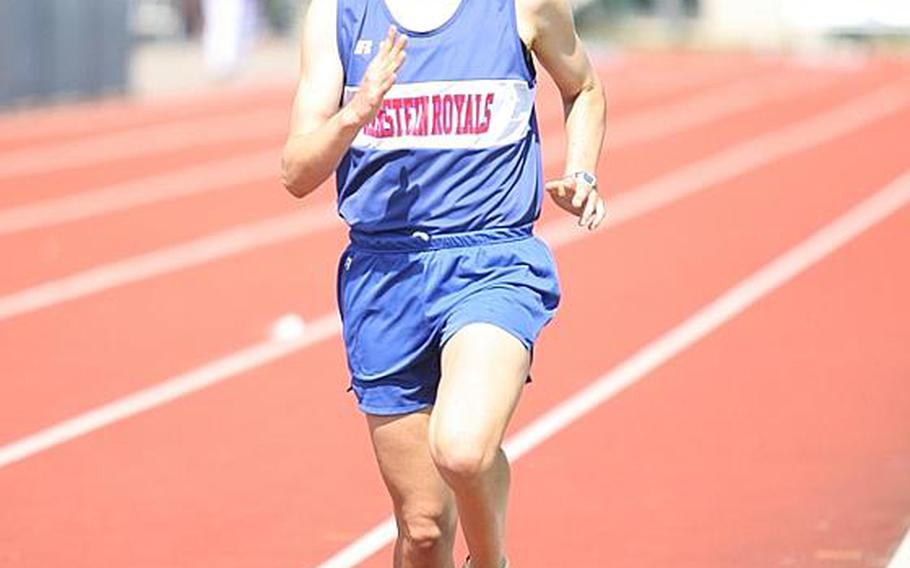 RAMSTEIN AIR BASE, Germany – Ramstein junior Jessica Kafer moved more than halfway around the world last summer, capping her family's transfer from Hawaii to Germany with a runner-up finish in last October's European cross-country championships.
But the endurance star took her biggest stride last Saturday, breaking the five-minute mark and setting a personal best in her favorite event, the 1,500 meters.
"I knew I had a fast time," Kafer said prior to Monday's workout on a sun-drenched track at Ramstein, where two days earlier she had run a 4:54.38. "I had the splits on my hand. But I didn't know my time until my mom came out on the track and told me I'd run a 4:54."
To put that time into perspective, consider the following:
•Kafer's mark, although well off the DODDS-Europe record of 4:39.80 run by AFCENT's Liz Wilson in 1986, would have won every European championship 1,500-meter race since 2003. Charity Williams of Naples took the first of her three straight European titles that year in 4:53.49; since then the fastest time posted in the finale was the 4:56.05 run by two-time champ Colleen Smith of Kaiserslautern in 2007.
•Prior to Saturday, Smith was the last female runner in DODDS-Europe to break five minutes during the regular season. She ran 4:55.50 on May 13, 2007, almost a second behind Kafer's clocking.
•In the storied history of Ramstein track, Kafer's time was just three-tenths of a second slower than the school record set in 1996 by Teri Duthie, according to Ramstein coach Dennis Edwards.
Not bad for someone whose goal last Saturday was merely to break the five-minute barrier for the first time.
But not unexpected, either, considering Kafer's passion for running, the quality of the coaching she's getting and the season she was enjoying even before the five-minute mark fell. Kafer, undefeated at 1,500 and 3,000 meters this season, has trimmed roughly six seconds off her previous time in every 1,500 she's run in 2011 – 5:06.50 March 26 at Wiesbaden, 5:00.59 April 2 at home and 4:54.38 last Saturday.
"Jessica is running beautifully this year," Kaiserslautern coach Dennis DePriest wrote in a Monday email about one of the runners who last Saturday sent his 10-time European champion Lady Raiders to the first team loss anyone can remember. "Dennis Edwards is a great distance coach."
Kafer, who passes the time between her running seasons swimming with the Kaiserslautern Kingfish of the European Forces Swim League, said she's been a dedicated runner since sixth grade, when she ran the mile – the non-metric equivalent of the 1,500 – for the first time. The 1,500, she said, remains her race of choice.
"It's kind of like the perfect mix," she said of the event generally regarded as one of the sport's most glamorous and technical races. "It's not as short as the 800 but not too long."
Surprisingly, Ramstein coach Edwards thinks that Kafer's best event eventually will be the DODDS-Europe maximum of 3,000 meters, even though Kafer's best time so far in the longer race is 10:58.88, second to the 10:54.44 Bitburg's Kaityn Miller ran Saturday on her home track.
Kafer, who finished second to Patch's Morgan Mahlock in last fall's cross-country race, is not concerned with who has the fastest time, at least not yet.
"My first goal in any meet is to qualify," said Kafer, who's already done so in the 1,500 and 3,000. "My second goal is to get faster."
And longer – in terms of distance, that is.
"I ran the Hawaii Marathon last year," she said. "My goal was to finish without walking. I made it. I'd like to do more, but it's difficult to train for marathons and run track – you need too much recovery time. Maybe when I'm through with track I'll do more."
Kafer's interested in triathlon, too.
"My dad's a big bike rider," she said. "I've always wanted to do that."
For now, however, Kafer, who'll competes again Saturday in Heidelberg, is focused on the oval, one week at a time.
"I haven't really thought about it," she said when asked what she expects to experience in her first European finals in Wiesbaden May 20-21. "I'm looking forward to Heidelberg."
---
---
---