Ramstein boys edge Aviano for overall championship in DODDS-Europe track
by
Jennifer H. Svan
May 30, 2010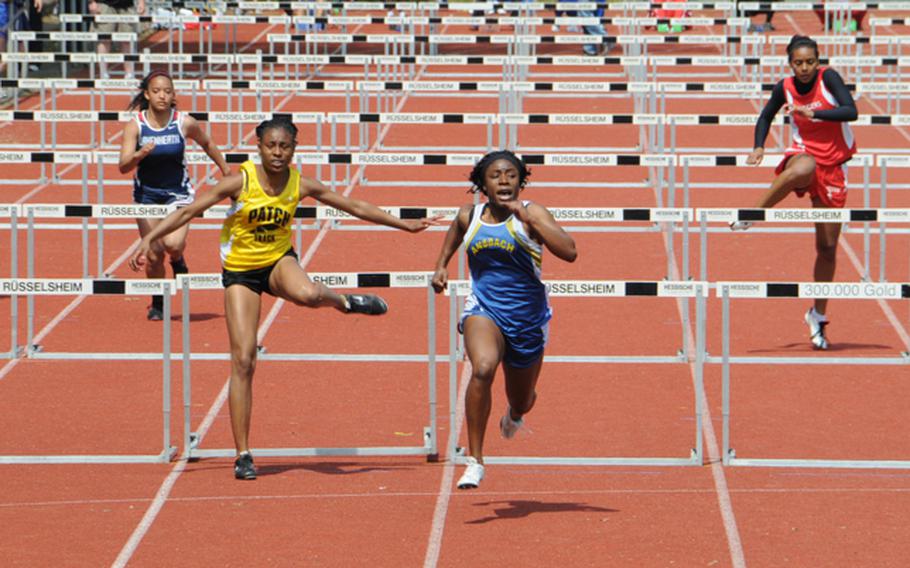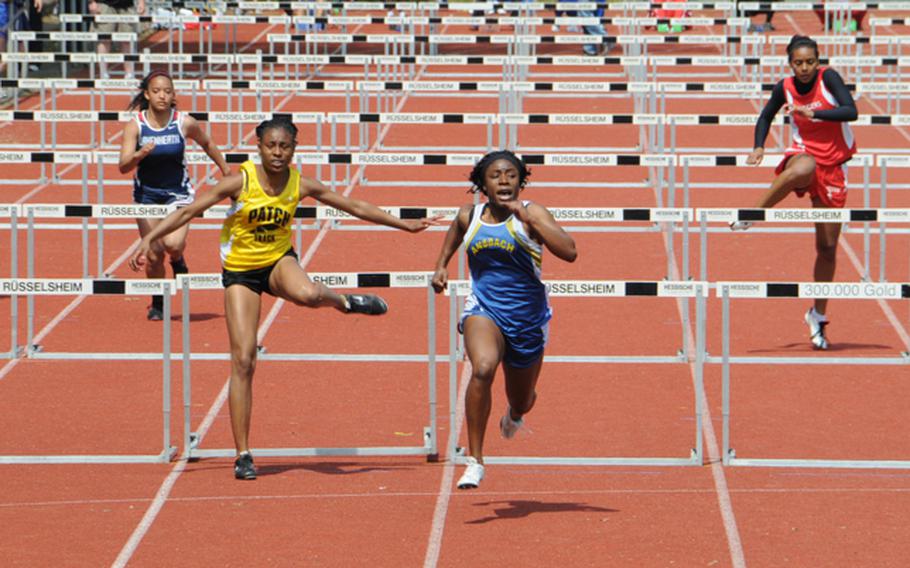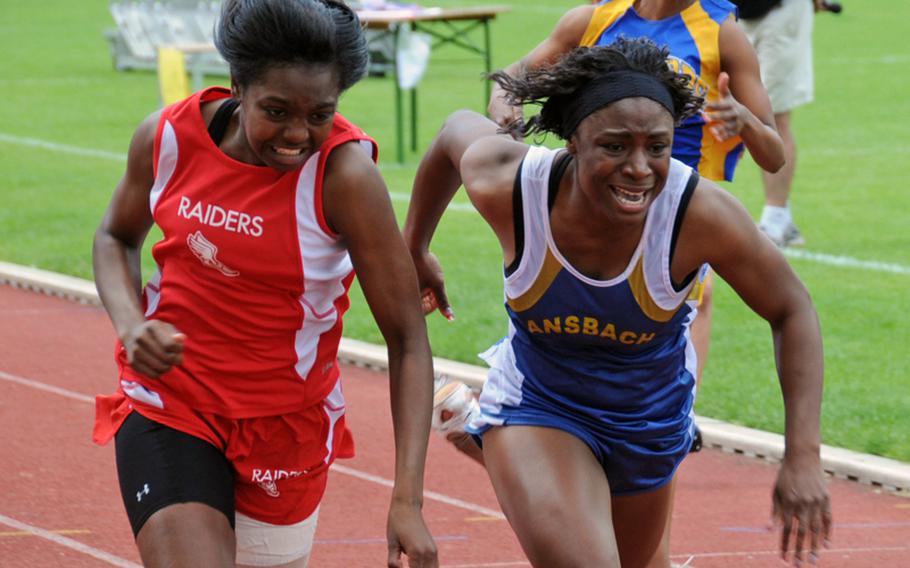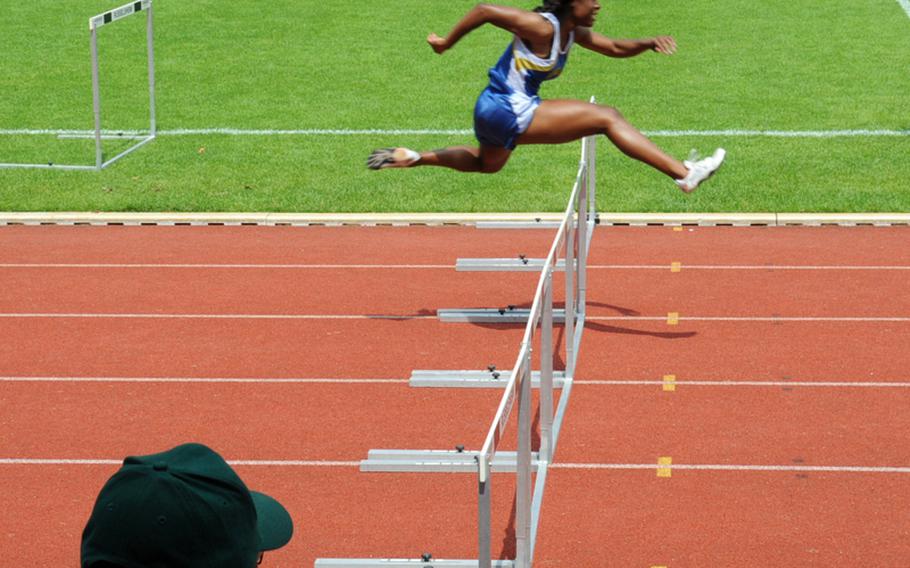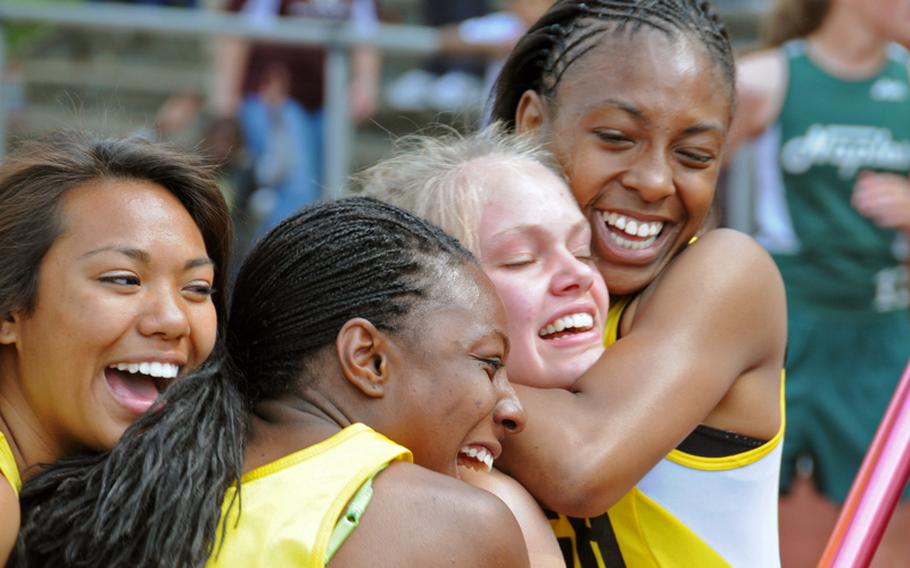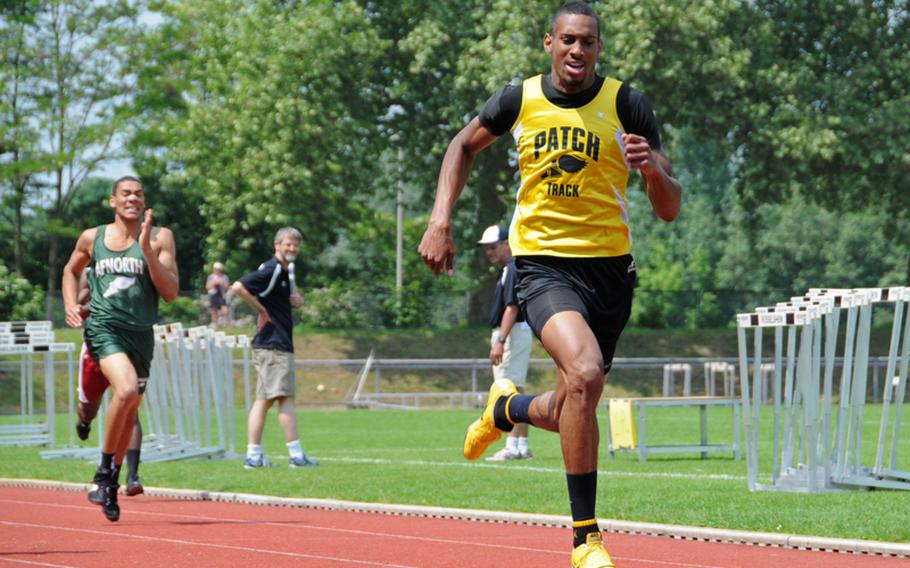 RÜSSELSHEIM, Germany — Going into the 1,600-meter relay Saturday, the last event of the day in the DODDS–Europe Track and Field Championships, the Aviano boys were sitting atop the team standings, two points ahead of Ramstein, a larger school that competes in a separate division.
In the end, Aviano couldn't pull off the upset, as Ramstein's speedy quarter-milers of Graham Cummin, Miles Kirts, UT Rhaburn, and Dimitri Mobley took the race in 3 minutes, 31.47 seconds and, with it, the overall team crown. Aviano faded to fourth in the race.
But Aviano track and field coach Laura Corder couldn't have been prouder of her boys team, led by seniors Sean Outing, Jamal Tuck and Francis Ledesma, athletes who have trained together for four years, Corder said.
"They're so mentally tough and what a work ethic they have at practice," she said.
Ledesma eked out an unexpected victory in the boys 300-meter hurdles, beating fellow senior Mobley, who was the race favorite and the only athlete to go under 40 seconds this year. But Mobley said after the race his steps between hurdles were off, and he couldn't catch Ledesma, who started strong and crossed the line in 40.09. Mobley's time was 40.60.
"I was really surprised. He's an amazing runner," Ledesma said of Mobley. "I just wanted to run as fast as I could."
Earlier in the day, Mobley earned gold in the 110-meter high hurdles, clocking 15.29 to comfortably beat Heidelberg's Eric Boyd by 1.6 seconds.
In the girls 100-meter hurdles, Ansbach senior Tiffany Heard continued her record-breaking ways, shattering her own mark of 15.08. Her time of 14.81 set the DODDS-Europe record and was good enough to edge Patch senior Shy Alexander, who was second in 15.23.
Over two days of competition, Heard — bound for Texas Southern University in Houston on a track scholarship — hauled home an impressive three gold medals and one silver.
Her other victories were in the 300 hurdles, in which she set a DODDS-Europe record in Friday's preliminaries, and in the 100, in which she beat Lakenheath junior Jasmin Walker by an eyelash — 12.69 to Walker's 12.71.
Just as close was the 200, but this time, the gold went to Kaiserslautern senior Shaun-Pri Davis in a finish so tight no one was certain of the outcome until it was announced.
As the runners came across the finish line, Davis tumbled to the track.
"I wanted it so bad, I lost my balance," Davis said afterward. It was the first time she beat Heard in three years of competition, she said.
Another athlete who dominated Saturday was Julius Johnson-Rich. The 6-foot-3 Patch senior won three golds — in the 100, 200 and 400. It was redemption, he said, for slacking off his junior year, when he didn't make the finals of the 100 and 200 in the European championships and was second in the 400.
This year, he said, "I was ready to run."
The only blemish to his meet was his leg in the 1,600 relay trials Friday. The Patch team was disqualified after Johnson-Rich cut a Mannheim runner off who was trying to pass him.
"I'm sorry to the fans about what happened," he said.
Bitburg senior Kristen Willeford was also trying to improve upon her 2009 performance. Her goal was to soar above 5 feet, 5 inches — the DODDS-Europe record in the girls high jump. She got to 5-4, matching her winning height of last year and giving her the gold over Ramstein's Tara Lookabough, who cleared 5-3. Willeford jumped 5-8 in practice last year, her mother, Jamie, said.
Other highlights Saturday included:
• The Ramstein boys were impressive in the relays, as they also won the 3,200 relay and 1,600 sprint medley. Senior Gustav Meyners handily anchored both relays. "I was running scared," he said. In the sprint medley, on the 800 anchor leg, Meyners fell behind Vicenza freshman Tyler Holderby coming down the stretch, and then passed him mere steps from the finish line.
Meyners said he didn't want to let down Derrick Lewis, Michael Wallace and Mobley, his sprint medley teammates and all seniors.
• After winning the 800 and 1,500 on Friday, Mannheim senior Alex Cornelius proved he had plenty of gas in his tank, easily winning the boys' 3,000 Saturday in 9:14.95. Another distance ace, Vicenza senior Penny Boswell, added a victory Saturday in the girls 1,500 with a time of 4:57.64.
• Kaiserslautern senior Marche' Bobbs and junior Rio Shaune Harris helped the Raiders win the girls team crown. Bobbs won the 400 in 58.94, less than a second faster than Harris, and Harris took the 800 in 2:19.83. Bobbs was third in that race. The Kaiserslautern girls also won the 1,600 relay.
• It wasn't Wheaties but Cinnamon Toast Crunch that was the breakfast Saturday of boys discus champion Nick McCormick. The Wiesbaden senior was seeded seventh going into the final. On his last throw, he increased his best mark by 11 feet to win in 133-6.
• Other gold medals went to: Ansbach's Latrisha Jones in the girls shot put; Lakenheath's Jasmine Willis, Shaionica Speight, Kaitlyn Mergil and Jasmin Walker in the girls 400 relay; Aviano's Ledesma, Tuck, Daniel Bert and Alex Gary in the boys 400 relay; the Patch team of Shy Alexander, Kristin Robinson, Abigail Diaz and Cassianna Busch in the girls 1,600 sprint medley; Aviano's Sean Outing in the boys triple jump; and Lakenheath's Walker in the girls long jump.
• Team titles, by division category went to, in the boys: Ramstein, Division I; Aviano, Division II; and Brussels, Division III. In the girls, it was Kaiserslautern, Division I; Ansbach, Division II; and Brussels, Division III.