Ramstein batters SHAPE for spot in Division I baseball final
by
Rusty Bryan
May 29, 2010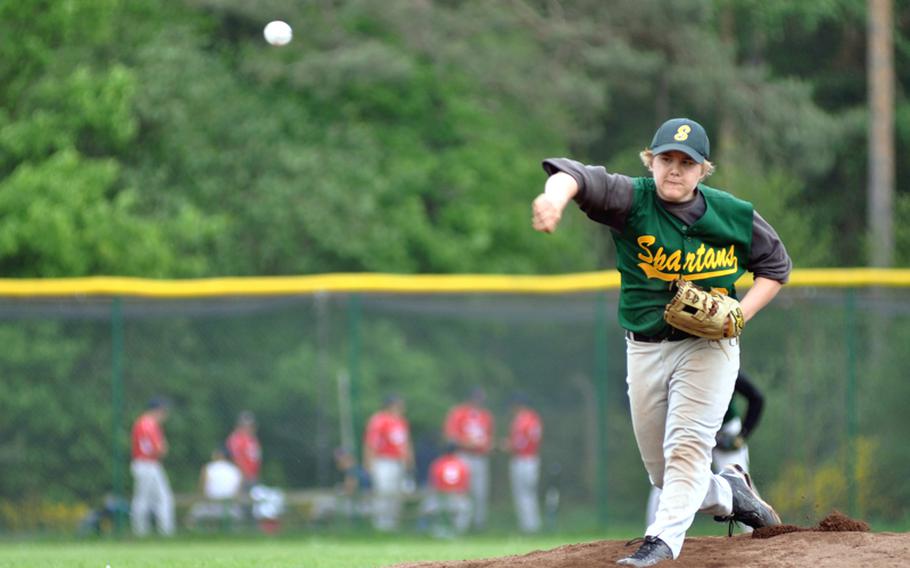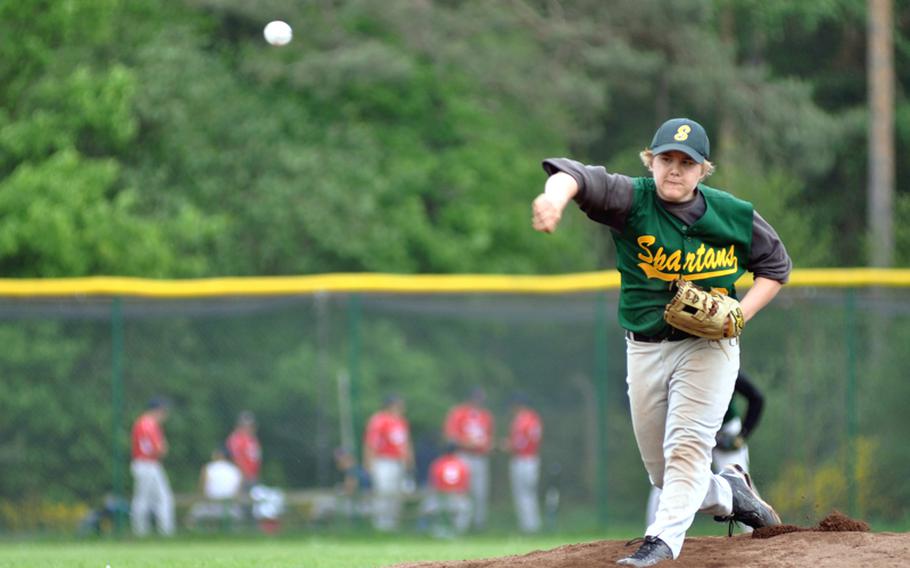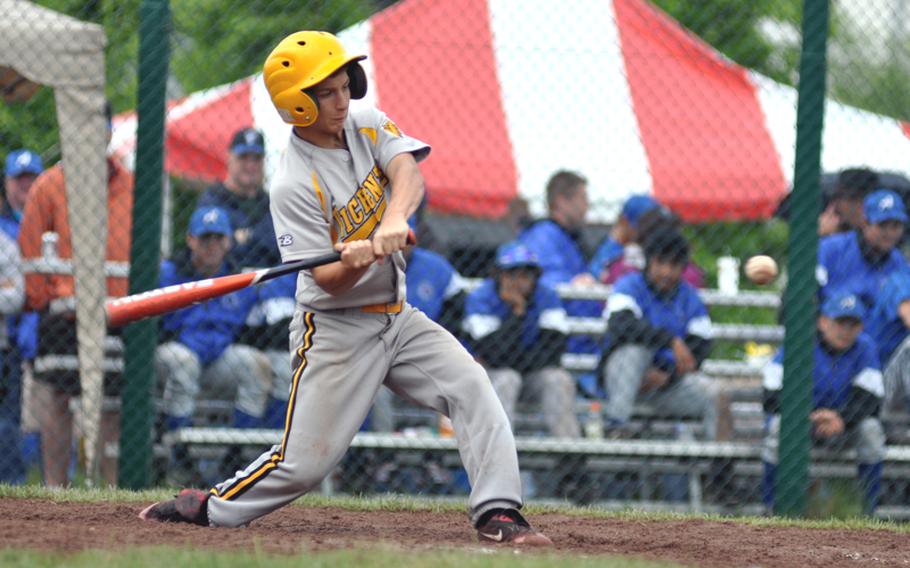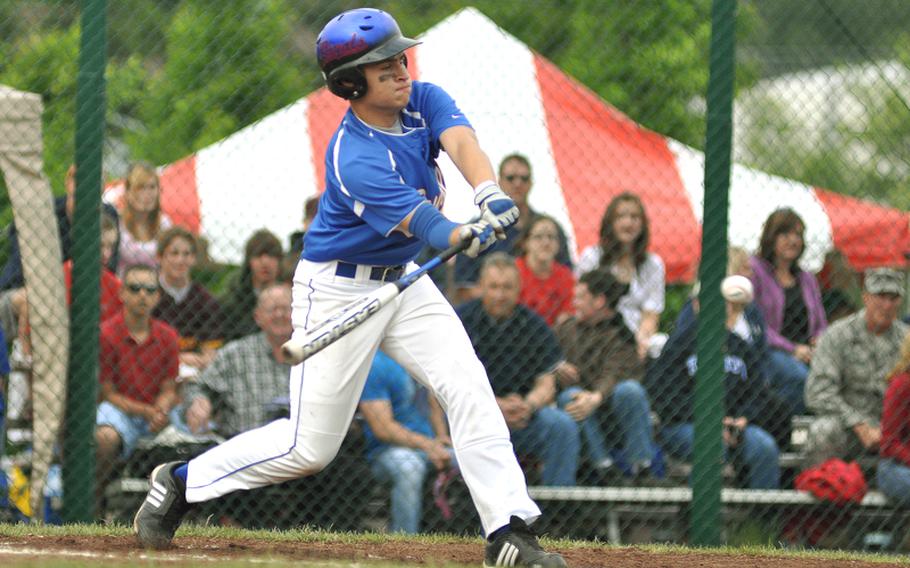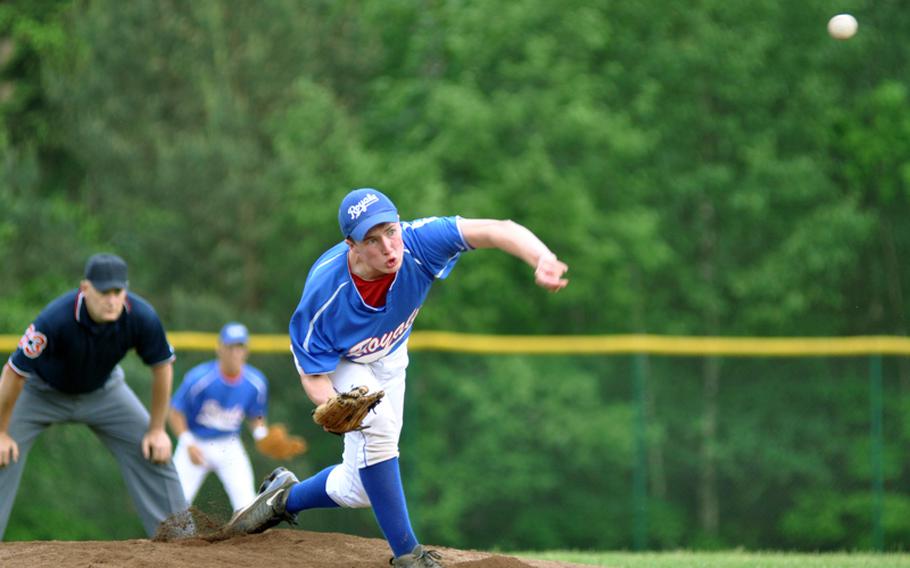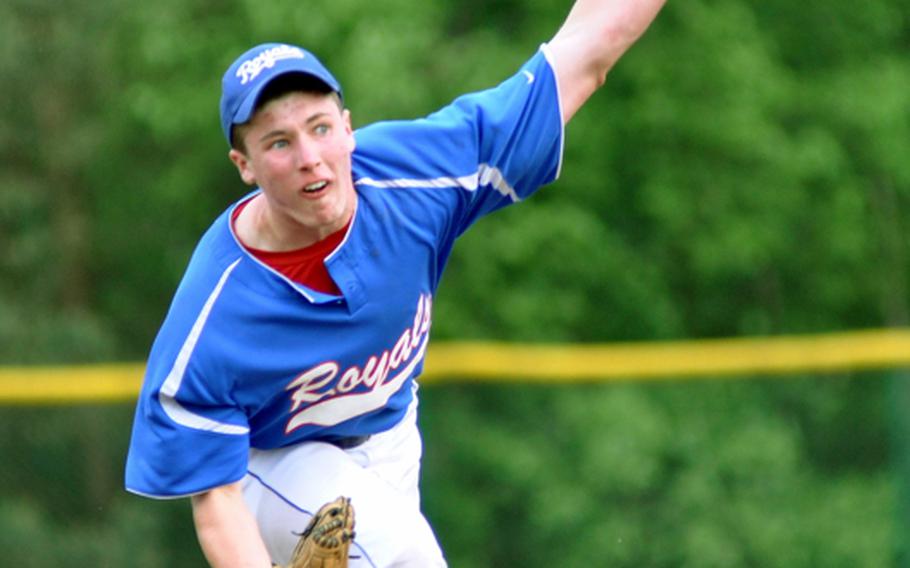 RAMSTEIN AIR BASE, Germany — The Ramstein Royals wasted no time punching their tickets Friday for Saturday's European Division I high school baseball championship game.
"That's the way we like to play," All-Europe third baseman Josh Sloan said after the defending champions scored 13 runs in the top of the first inning en route to a 24-5 three-inning, run-rule victory over the SHAPE Spartans in Friday's first D-I semifinal.
"We try to get on top early. It takes the pressure off our pitchers and helps us play good defense."
Sloan played good defense at third base Friday, but he was somewhat better than that offensively. The junior, who takes extra batting practice every day with sophomore sister Jessica of the D-I champ Ramstein Lady Royals' softball team, went 4-for-4 with two home runs, two singles and three RBIs.
Sloan hit a solo homer over the 310-foot center field fence in his first appearance in the first inning, then singled home a run his second time at bat during the frame. Altogether, Ramstein sent 19 batters to the plate in the inning, 11 in the second and a mere seven in the third and final inning.
Ramstein touched SHAPE starter Joe Broughton for 10 hits and 13 runs, opening the game with seven straight hits, three of which left the yard — homers by Sloan, winning pitcher Shane Foley and catcher Jon Groteleuschen.
Pinch-hitter Brandon Novotny joined the power parade with a solo home run in the second to bring the defending D-I champs' total for the day to five, four of them consecutive.
SHAPE managed five hits off Ramstein's Foley, who battled his control for the 1 2/3 innings he worked. Charged with all five SHAPE runs, Foley walked four.
All-European Matt McDonald struck out the only batter he faced to end a first-and-third SHAPE threat in the second, and Finn Friedenberger retired the side in order in the third to seal Ramstein's victory.
Top-seeded Ramstein is to play the winner of Friday's other semifinal — No. 2 Patch or No. 5 Kaiserslautern — at 1:15 p.m. Saturday for the second official European D-I title in school-system history.
In the nine-team combined D-II/III event, top-seeded Vicenza throttled No. 4 Hohenfels 25-5 Friday to move into Saturday morning's semifinal against an opponent which was being decided Friday evening. That game, along with the other semifinal involving teams that still were to be determined Friday, are scheduled for 9 a.m. Vicenza will play at Ramstein Southside; the other semi is scheduled for Pulaski Barracks in Kaiserslautern.
Winners of those games play for the championship at 3:30 p.m. Saturday.