Boys soccer Athlete of Year
Pryce led talented team to championship
---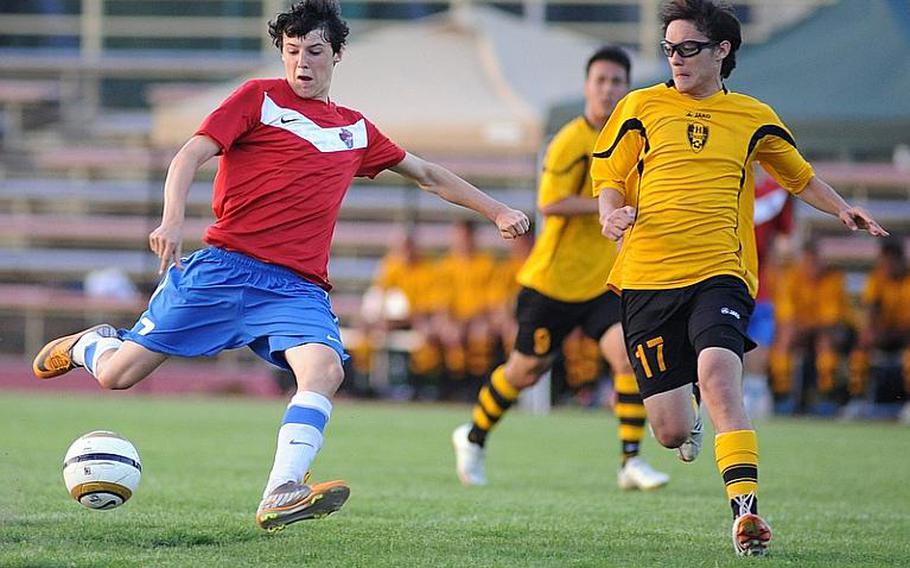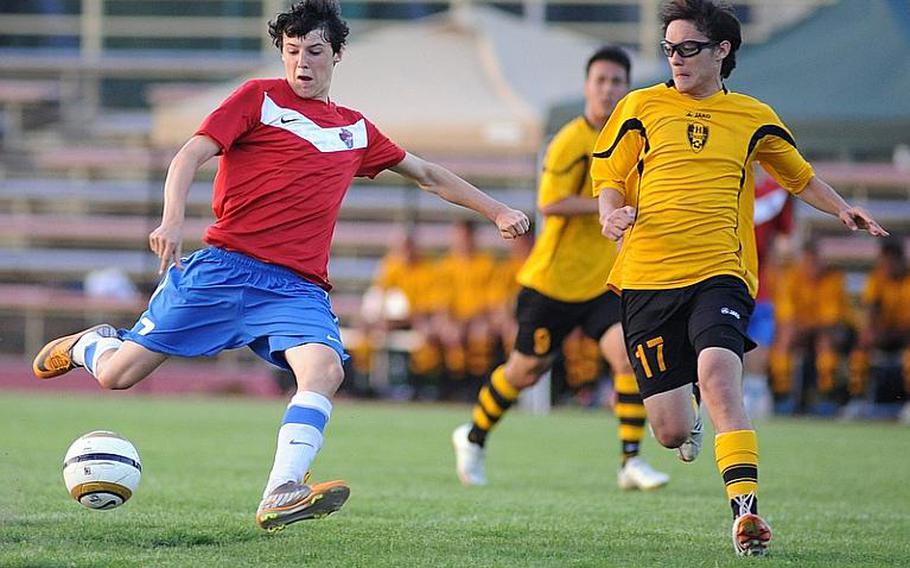 Alessandro Pryce, a junior at the International School of Brussels, has "finisher" written all over him.
The junior, just voted to the All-Europe first team for the second straight season, finished his 2012 season with 12 of his unbeaten Raiders' 40 goals. He capped his regular season by scoring all four goals in a 4-0 blanking of SHAPE as the Raiders outscored the opposition 25-4 in going 5-0-1.
He added to his totals during ISB's 4-0-1 run to its first DODDS-Europe Division I title. ISB outscored its tournament foes 15-2, and Pryce won the tournament MVP award and was selected as Stars and Stripes boys soccer Athlete of the Year.
"Alessandro has continued performing at a high level after his fantastic 2011 season (11 goals, seven assists)," ISB coach Philippe Kaisin wrote in nominating his striker for the All-Europe team. "(He) is quick, plays well with both feet, and can challenge air balls with success."
The skills Kaisin cited dovetailed well with the general criteria he cited when asked whom he'd pick as player of the year.
"The player needs to be someone who has a huge impact on the offensive and defensive productivity of the team," Kaisin observed. "Someone who is technically above the pack (who can play with both feet, can win challenges, good in the air, can pass, shoot, dribble and play with limited touches on the ball). Someone who read the game well (knows what to do with the ball before he gets it, can play short, long and can switch the field when needed). Someone who can play without the ball (use the space, shows options, support and combine). Basically, someone the team can't perform without."
That assessment would certainly apply to Pryce, but it's indicative of the power of the 2012 ISB team that Pryce's biggest competition for player of the year came from his own teammates, classmates Lukas MacNaughton, a first-team All-European who posted six goals and 12 assists and Stijn Kruidenier, who chalked up eight goals, two of them in ISB's 3-0 title-game victory over Patch, and 10 assists. Both are midfielders, and both are skilled two-way players.
Kaisin added that Pryce is the first to concede that it's a team sport.
"He is a hard worker," Kaisin wrote, "and always puts the team first."
For his part, Pryce, who hopes to play college soccer in the States after graduation, wouldn't have it any other way.
"It's great," he said by telephone when asked about playing with teammates of such rare skill. "The game rises to a level where there's not much to compare with it."
Like many international-school players, Pryce, who has been an All-Europe first-teamer in each of his two seasons at ISB, plays local club ball year-round. But playing for his school, even with the brief 11-game season the Raiders scheduled this year, is important to Pryce.
"During the DODDS season," he said, "I do actually prioritize for ISB."
In fact, he added, that's the best part of the game.
"I like the team spirit," he said when asked about soccer's greatest appeal, "especially at ISB. The love of the game comes through."
---
---
---
---