Patch setting sights on another record
by
David Rogers
December 3, 2011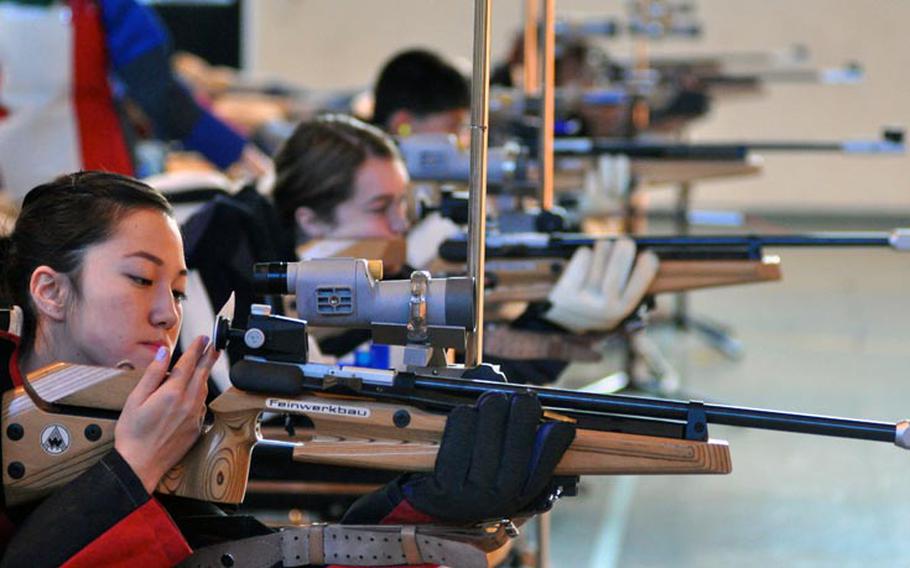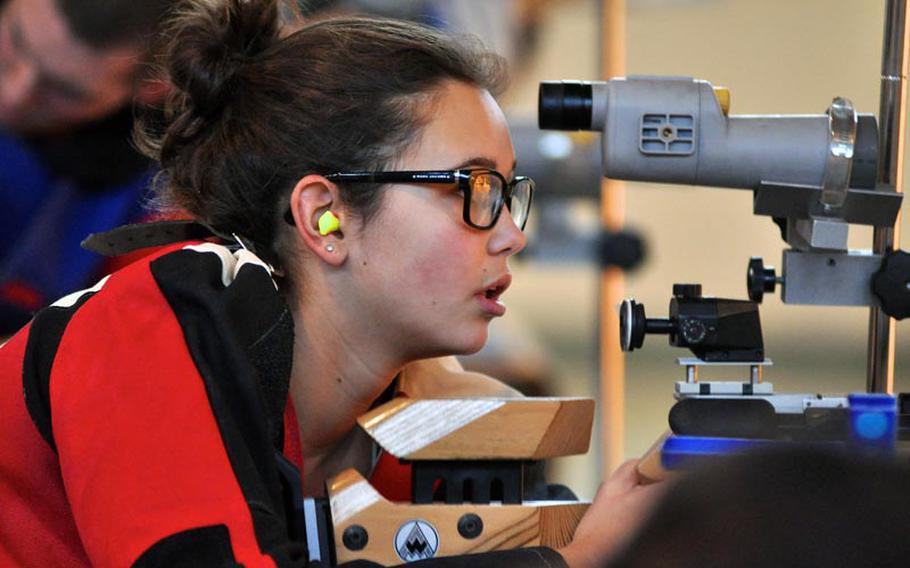 STUTTGART, Germany – In the first meet of the season, Patch's rifle team beat out Baumholder, Heidelberg and Alconbury.
Patch's top five shooters collectively scored 1,350 out of a possible 1,500. Baumholder scored 1,212, Heidelberg 1,112 and Alconbury 924. Patch shooters Jennifer Johnson and Madeline Hershberger tied for highest individual score with 274 out of a possible 300. No shooters from other schools could match Patch's top five shooters at the meet.
Patch currently holds the Department of Defense Dependents Schools record in a single match with a score of 1,415, which it set last year under the direction of Jack Wayne.
The Panthers' new coach, Raul Pinon, intends to beat the record this year with his lineup of almost all new shooters. Johnson and Mercedes Romih, who didn't compete as she was taking an SAT exam in Heidelberg, are the only two holdovers.
Pinon's confidence in his team wasn't fazed by the absence of his star shooter.
"I'm not disappointed," Pinon said. "She's one of my top shooters. But I told her academics come first."
But as a two-year veteran to the sport and team captain, the inexperienced shooters of Patch were nervous to compete without her. Johnson, who joined the team late last year after Wayne saw potential in her and recruited her to the team, is co-captain and took charge to squash their fears.
"I just decided I needed to get the team together," Johnson said. "Help them calm down because this is all their first meet.
"Don't worry about it," Johnson told her teammates.
She said there's not a lot of help they can offer each other during the meet.
"Like cross country, football, soccer, you cheer someone on and that's how you help them out," Johnson explained. "But (in marksmanship) you have to be really silent because you need them to concentrate. If they look over at you, you just give them a thumb's up or smile. You can't really talk to them. Or really help them out. It's really different but I think that's why I like it so much."
Johnson said the team's scores were lower than what they usually shoot during practice.
"My heart was beating really fast," she said. "I had a lot of trouble just calming myself down. I think that's what got to me. It wasn't a bad day. But it could've been better."
Pinon agreed and believes his shooters' scores will rise as they gain experience at competition. Pinon said his team has already come as close as 13 points to breaking the record in practice.
Pinon has enjoyed raising a new team of shooters. He wants to carry on Wayne's legacy.
"I was trying to see what I was going to bring to the table as far as being new around the kids," Pinon said. "New team. But it was a challenge. My point was to keep focus and try to stay moving forward. And I would always think, 'What would Wayne do?' And then that's what I would do."