Patch bounces back from mat loss
by
Mark Patton
December 10, 2011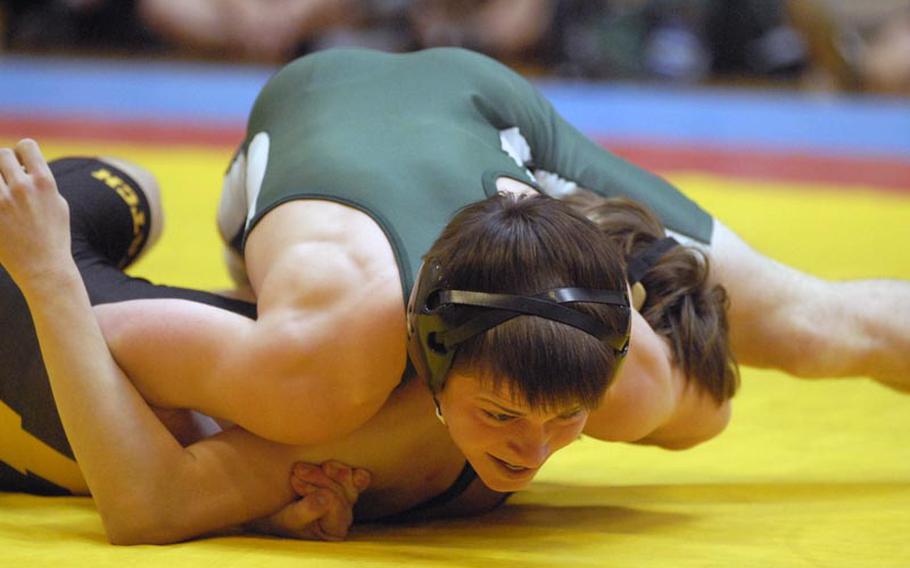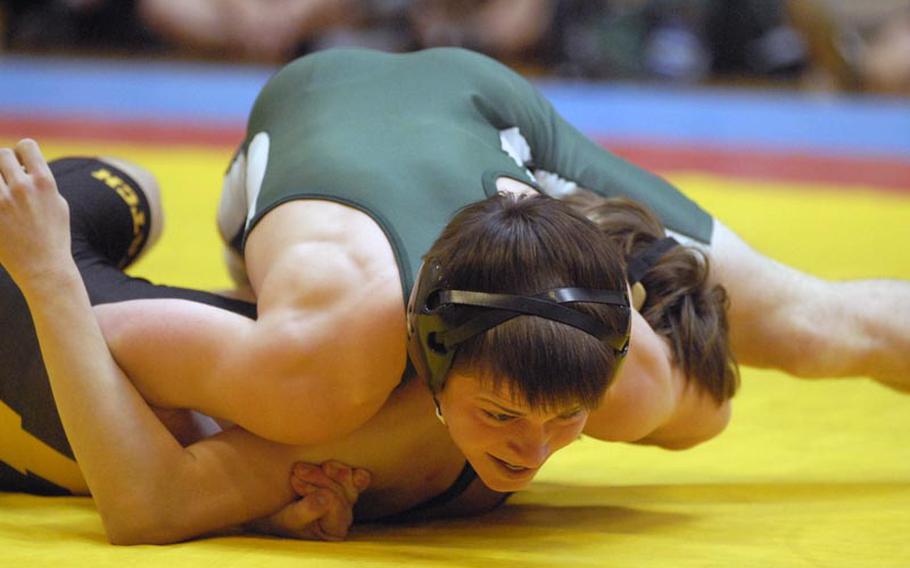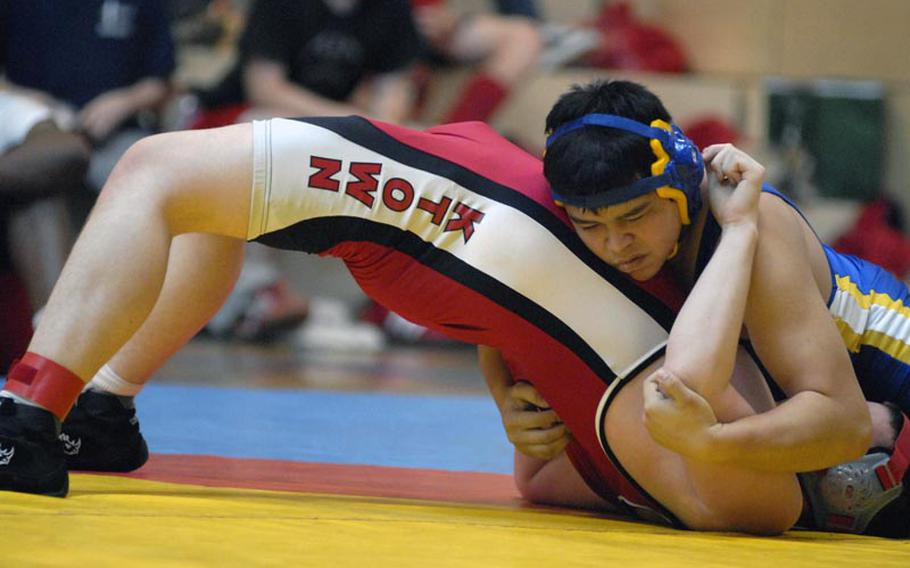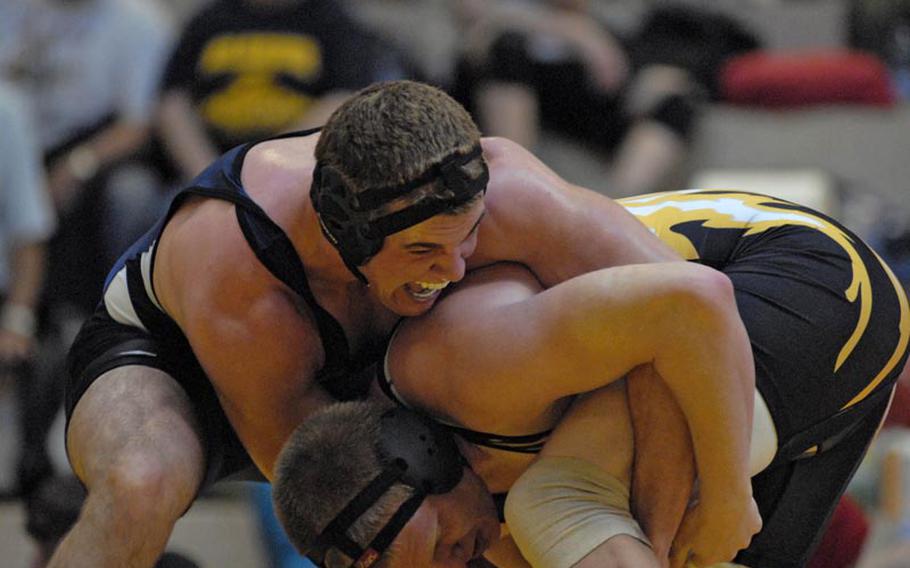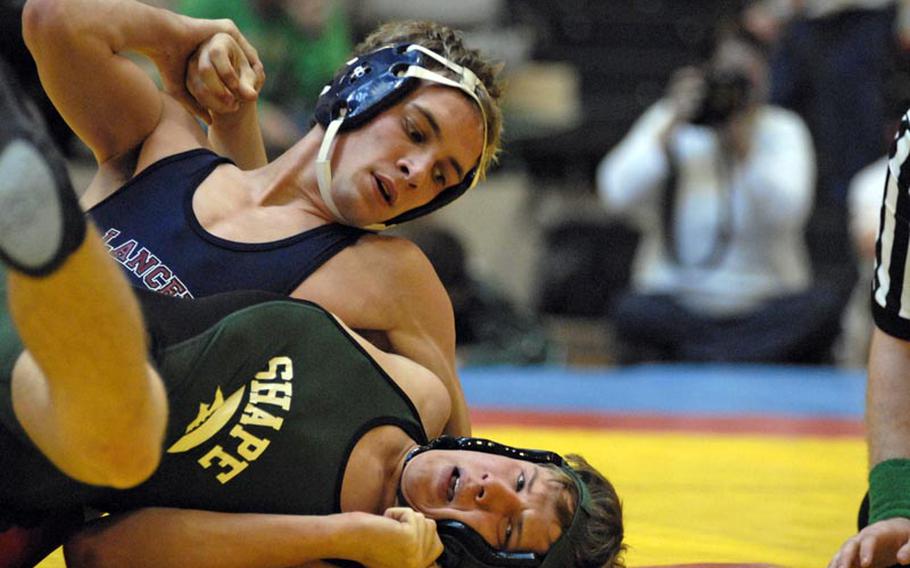 WIESBADEN, Germany --- The Patch Panthers, seeking their fourth consecutive DODDS-Europe Division-I wrestling title, showed why they're still a team to beat during a six-team wrestling tournament Saturday at Wiesbaden High School.
Coming off a second-place finish during the opening matches of the season, served up courtesy of last season's runner-up Ramstein, Patch wrestlers said they were given a wake-up call.
"It's not a bad thing we lost to Ramstein last week, I've noticed our team is more focused now," said Patch senior Thomas Trevino, who cruised through the 145-pound bracket on Saturday, but couldn't overcome the strength of Lakenheath senior Adam Carroll in the gold medal match.
Patch's team total of 266 was more than enough to distance themselves from second place Kaiserslautern's 149 points and third place Bitburg's 129.5. Lakenheath, Wiesbaden and SHAPE rounded out the team finishers, with 127, 112.5 and 92 points, respectively.
In what was arguably the match of the meet, it was a wrestler from Lakenheath who showed he wasn't going to roll over and be submissive for the Panthers.
Devon Parrish thought he was on the way to victory in the 152-pound championship bout when he was called for stalling in the final period, allowing Patch's Mekyle Fernandez to send the match to overtime.
"I thought to myself, I've worked way too hard to just let an overtime match get to me," said the Lancers senior, who spent this summer at a wrestling camp at Oklahoma State University.
In the end, Parrish prevailed by a 7-6 overtime decision, in what he called an early Christmas present.
Even though Patch dominated the scoreboard, there were enough medals to go around, as each team had at least one winner.
Wiesbaden senior Benny Falling was one of them, outlasting Lakenheath senior Nathan Rogacki.
Falling said the home crowd and wrestling the defending champs motivated him and his Warrior teammates.
"The wolf at the top of the mountain isn't as hungry as the one climbing it," Falling said.
SHAPE senior Matt Lengyel finished first Saturday in the 132-pound category, with an 11-5 decision over Bitburg sophomore Dane Robbins.
It was one of the few decisions on the afternoon, as most matches were decided by a pin.
"It's good to see where you're at compared to the other guys," Lengyel said of the early season tournament.
Patch senior Ross Wilson cruised through the 113 pound bracket and said he liked what he saw out of his Patch teammates.
Wilson, last season's champion in the 103-pound category, said he notices a difference in the new group.
"Competition has definitely gotten a lot stronger," Wilson said.