2012 football preview
Coach hopes better finishing can lead Zama back to D-II title
---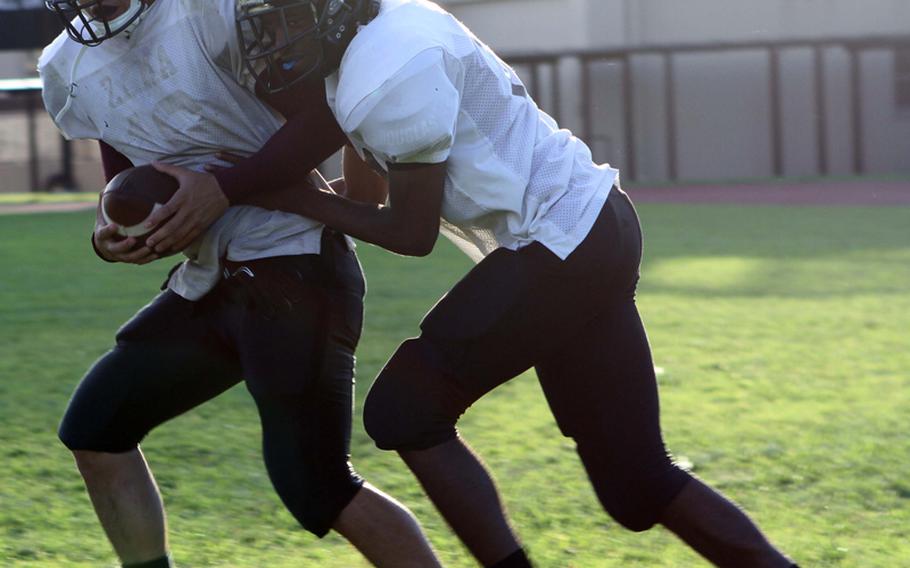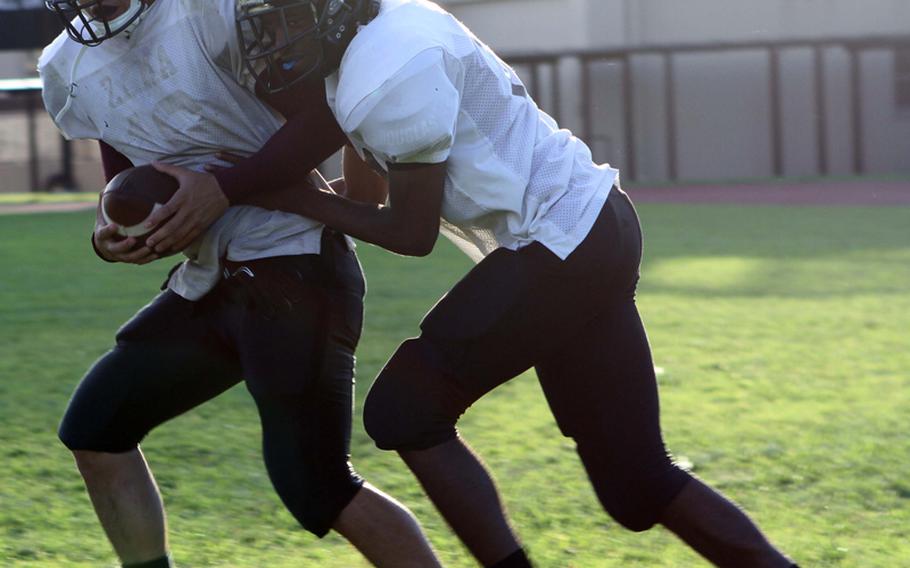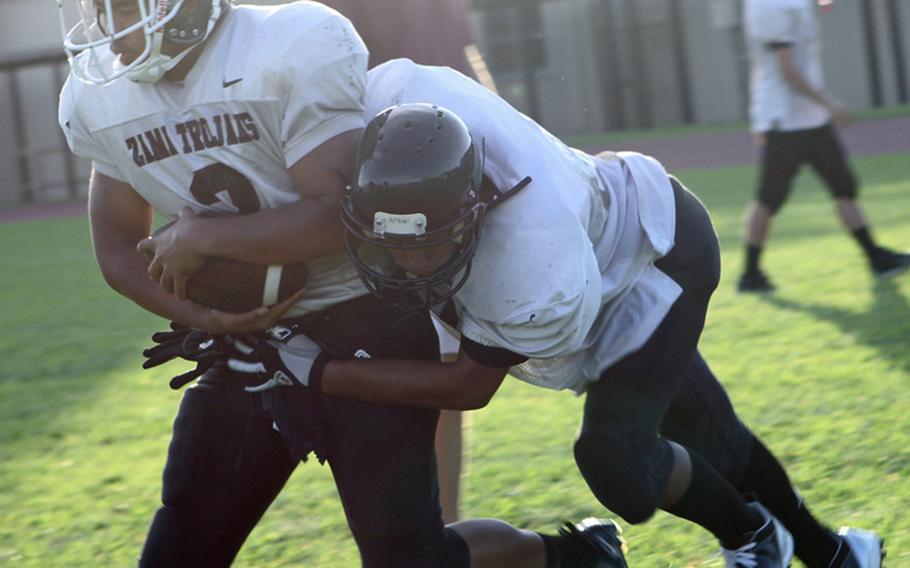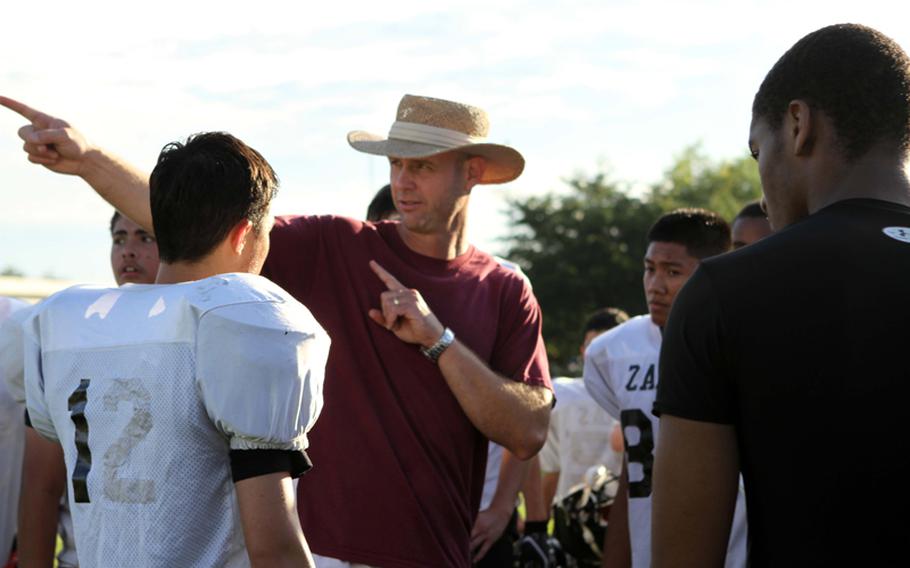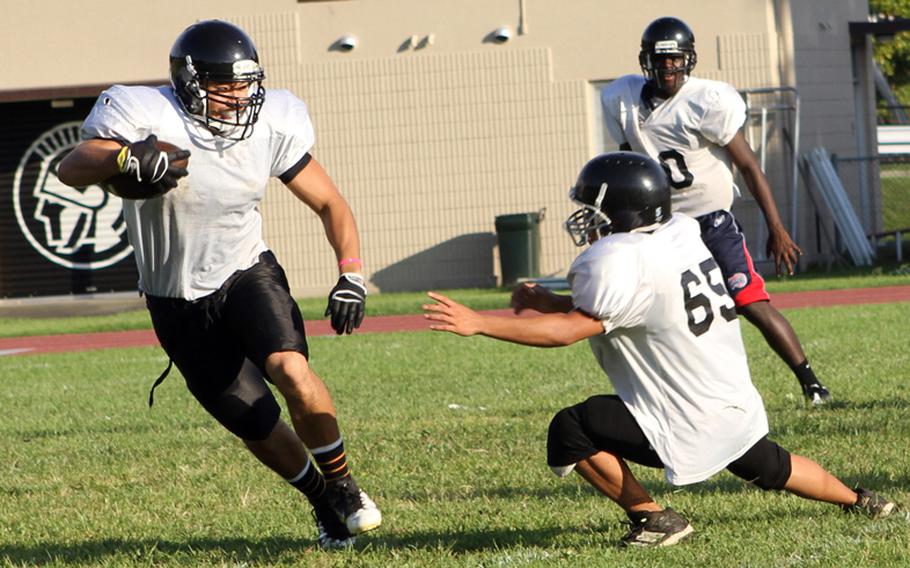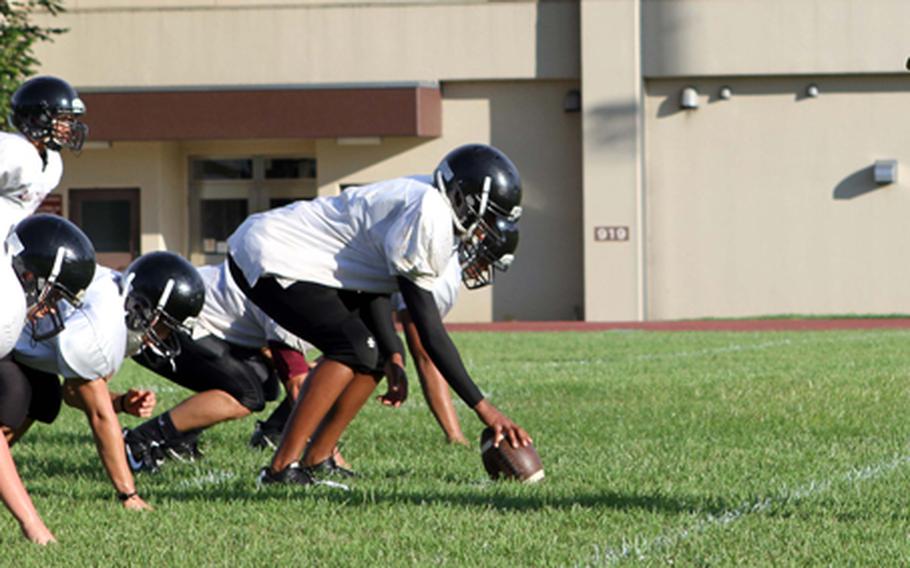 CAMP ZAMA, Japan – Steven Merrell remembers it like it was yesterday, the memory searing through his insides like an unquenchable fire.Fourth down and four, his Zama American football team knocking at Daegu High's door on the Warriors' 5-yard line. Handoff to Trojans running back Richard Castillo, who was hauled down by Daegu's defense, preserving the Warriors' 7-3 Far East Division II title-game victory last Nov. 4 at Camp Walker.It was one of three excellent scoring chances for the Trojans that ended in frustration, short of the goal line. And it's the biggest reason why the loss grates on the Zama coach more than any other in his five years."Finish. That's our mantra," said Merrell, adding that whether it's failing to gain an extra yard on a goal-line drive or something as simple as running the correct route in practice, "something that makes a difference. Whatever it is, you have to finish."Merrell and the Trojans will begin the coming campaign with a young roster and without one prong of their "Thunder and Lightning" backfield. Senior Mitchell Harrison (817 yards, 90 carries), who had shoulder surgery last spring, won't play until late September.That leaves senior fullback Andre Encarnacion (967 yards, Pacific-high 14 TDs, 144 carries) to carry much of the load."We'll miss him," Merrell said of Harrison. "It's a good thing he'll be able to come back and contribute. That's how it is in this business. You roll with the punches after the initial shock hits."A gaggle of newcomers -- juniors Rafael Morales and Kalob Gunn from Texas, and Far East outstanding wrestler Chad Wilder and basketball guard RayVaughn King -- should be of help, Merrell said."Give me five Chads … I'll put that up against anybody," he said, adding that King has "done a really good job taking over the leadership role. I've been pleased to get them out of the hallways and into other sports. I know they have a lot to offer. They're good people. That goes a long way for me."Just how long, the Trojans will find out as they pursue the Division II title starting Sept. 8 at home against Daegu. Also still in play are the DODDS Japan and Kanto Plain championships. "Every game matters now," Merrell said.This will be the last season Zama plays its home games on grass fields at the high school and Reid Memorial Stadium at Naval Air Facility Atsugi. Each will put down field turf and be ready for soccer in the spring and football next August.
ornauerd@pstripes.osd.milZama American TrojansCamp Zama/Naval Air Facility Atsugi, Japan2011 season record—3-7 overall, .300, 212 points for, 315 points against; 2-3 DODDS Japan, .400, 108 points for, 139 points against, third in DODDS Japan; 1-5 Kanto Plain Association of Secondary Schools, .167, 117 points for, 217 points against, fourth in Kanto Plain. Lost Far East Division II championship 7-3 on Nov. 11 7-3 at Daegu High.Coach—Steven Merrell, sixth season, overall record 19-24, .442, one DODDS Japan title, one Far East Division II title.Base offense—Wing-T.Base defense—4-3.Key performers—Mitchell Harrison, Jr., RB-LB (817 yards, 5 touchdowns, 90 carries; won't play until late September due to shoulder injury); Andre Encarnacion, Jr., FB-LB (967 yards, Pacific-leading 14 touchdowns, 144 carries); Chad Wilder, Sr., OL-LB; Kalob Gunn, Jr., OL-LB (transfer from Texas); Rafael Morales, Jr., RB-LB (transfer from Texas); RayVaughn King, Sr., QB-DB .Strengths—Veteran backfield, solid when healthy.Drawbacks—Young, inexperienced in interior, particularly offensive line.Overview—Rebuilding, but if the new pieces mesh with the old and everything falls into place, could be a Division II title contender.
ScheduleFriday, Aug. 24—vs. Nile C. Kinnick at Naval Air Facility Atsugi, 7 p.m.Friday, Aug. 31—at Yokota, 7 p.m.Saturday, Sept. 8—vs. Daegu High, 6 p.m.Saturday, Sept. 15—at Osan American, 6 p.m.Friday, Sept. 21—at Nile C. Kinnick, 7 p.m.Friday, Sept. 28—vs. American School In Japan, 7 p.m.Friday, Oct. 5—at Robert D. Edgren, 7 p.m.Friday, Oct. 12—vs. Yokota, 7 p.m.Friday, Oct. 19—vs. Robert D. Edgren, 7 p.m.Saturday, Nov. 3—at American School In Japan, 2 p.m.
---
---
---
---