Casey, Yard Busters provide July Fourth softball title fireworks
---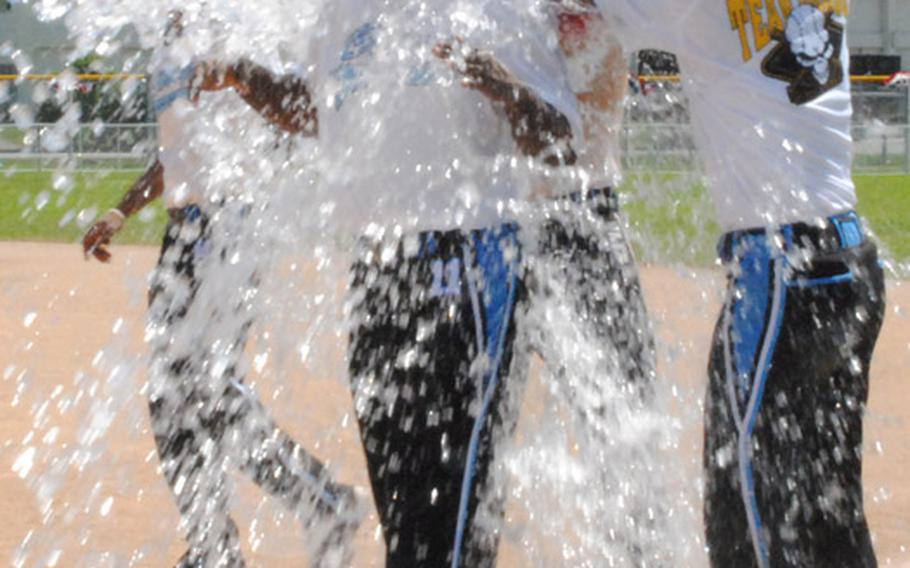 CAMP FOSTER, Okinawa – The fourth time proved to be the charm for Camp Casey/Area I men's softball team.
Stymied in three previous Pacific interservice Grand Slam softball tournament finals appearances, the Warriors finally prevailed Monday, dethroning American Legion of Okinawa 9-2 in the second of two double-elimination final games in the Firecracker Shootout. Legion forced the deciding contest by beating Casey 15-7 in the first game.
Meanwhile, celebrating her 30th birthday on the Fourth of July proved doubly special for Ebony Clark, whose Yard Busters team from Okinawa needed just one final game to down the Okinawa Dragons 6-5.Men's championshipCamp Casey/Area I 7-9, American Legion 15-2"It feels really great," said Tony Hilliard, who captained the Warriors in place of the team's head coach Bob Hochmuth, who suffered the losing moments as Casey lost the Pacificwide Open tournament final in 1992 and 2002 and took second in last year's Firecracker to Legion.
Once they'd known Hochmuth had come that close three times, "that was a goal for us, to win this," Hilliard said. "We got one goal out of the way. Our next goal is to win the Koreawide" post-level tournament, scheduled for Aug. 6 and 7 at Camp Humphreys.Just getting to the tournament proved adventurous for the Warriors. They traveled piecemeal to Okinawa, some players aboard military aircraft, others on commercial flights.
"We did what we had to do to get here," Hilliard said. "That gave us an added purpose of winning this thing."
"They've been the best group of players I've had the pleasure to coach at Casey," Hochmuth said via Facebook message to Stars and Stripes. "They put in a lot of hard work improving their game and learning to respect the game." Hochmuth did not travel to Okinawa for the games.
All-Army infielder Brandon Sonnenburg's two-run first-inning home run made it 3-0, providing Casey all the runs it would need in the clinching game. Seven Warriors each drove in one run, Robert Mitcham belted two doubles and All-Army outfielder David Moore went 3-for-4.
Legion, which got RBIs from Brian Denman and Matt Campbell, had played six games Sunday just to get to the final. "That all caught up to us," coach John O'Brien said.
In the first game, Chadd Malin homered, doubled and drove in five runs for Legion and four other players drove in two runs each. Legion overcame Mitcham's two-home run, four RBI performance.
Women's championshipYard Busters 6, Dragons 5"I needed this birthday present," Ebony Clark said of Yard Busters' second Firecracker title in three years and third Grand Slam title overall.
Kim Johnson-Olton's RBI single drove in All-Air Force infielder Kristy Robinson with the game-winning run in the bottom of the sixth. Dragons had tied it 5-5 with two unearned runs in the top of the frame.
Johnson-Olton had popped out with runners on base in her previous at-bat. "She wanted it just as badly as any Buster on this team," Clark said. "We all have confidence in each other. We pick each other up when we're down."
Dragons went up 3-0 in the first inning, helped by two Yard Buster errors, but Yard Busters then scored five unanswered runs, highlighted by Jessica Meadows' two-run triple.
Meadows, stationed at Osan Air Base, Korea, flew to Okinawa with three teammates to play for Yard Busters, her former team when she was stationed on Okinawa. "Since we didn't win it last year, this was great," Meadows said.
Wendy Dreisbach, one of several former Yard Busters playing for the Dragons, went 2-for-3 with an RBI.
To see complete Day 5 results, tournament awards and championship game summaries, view Sports Scoreboard for July 4.
---
---
---
---