DODDS-Europe basketball preview
Not much change expected in girls hoops
by
Rusty Bryan
November 30, 2011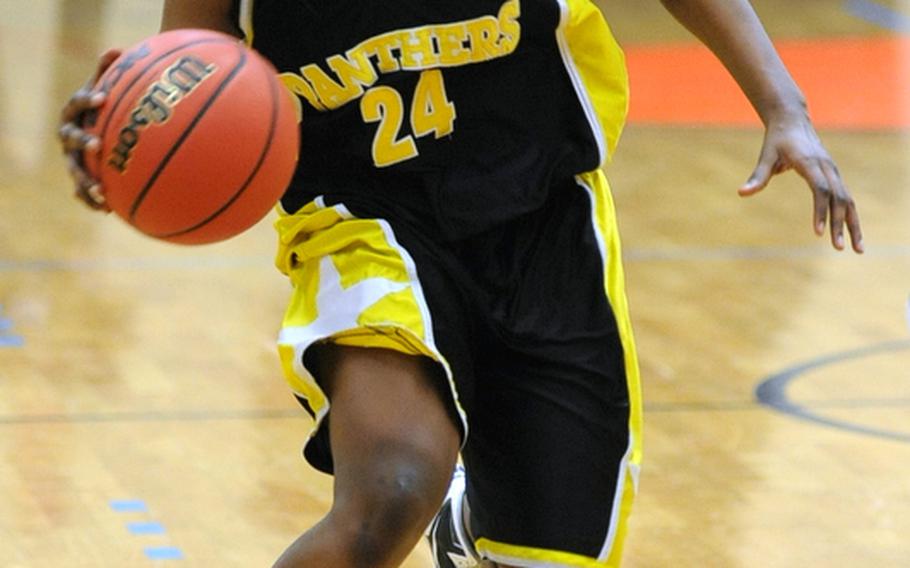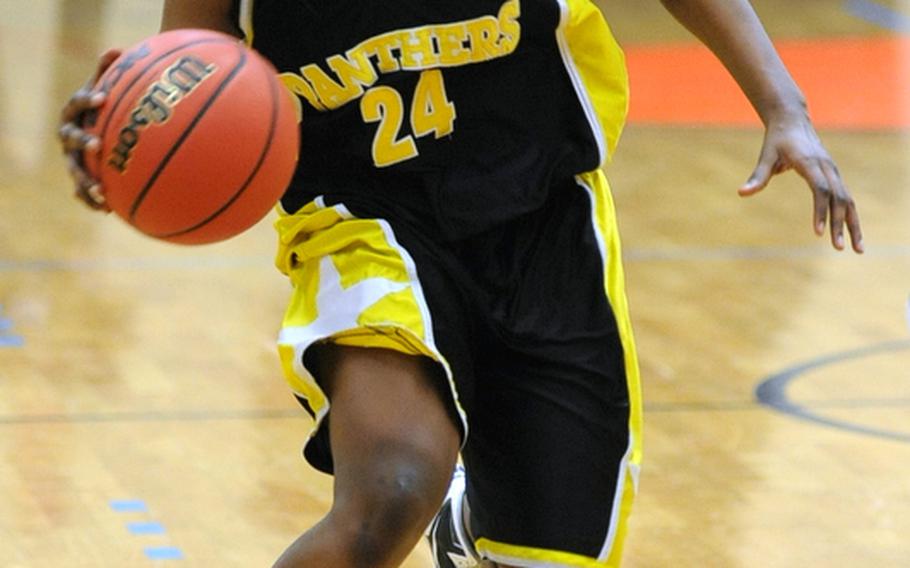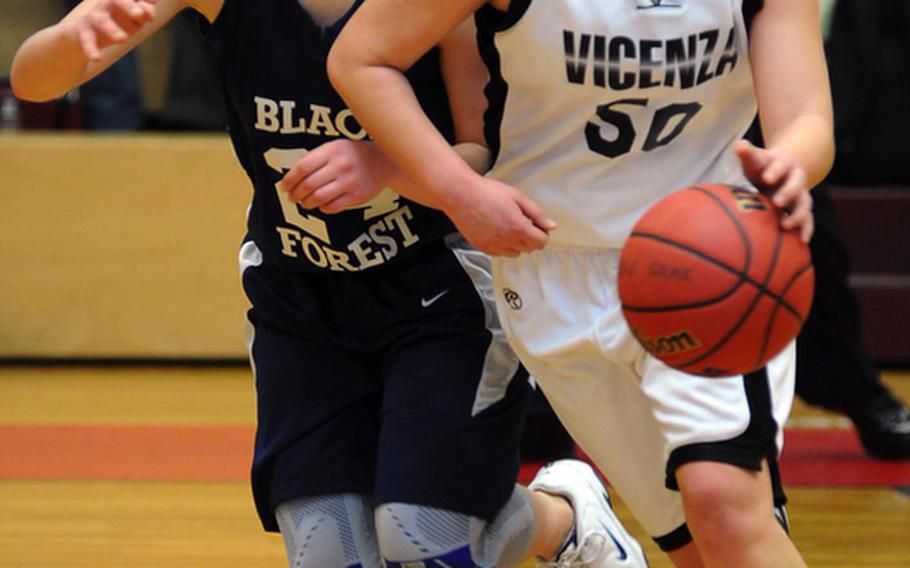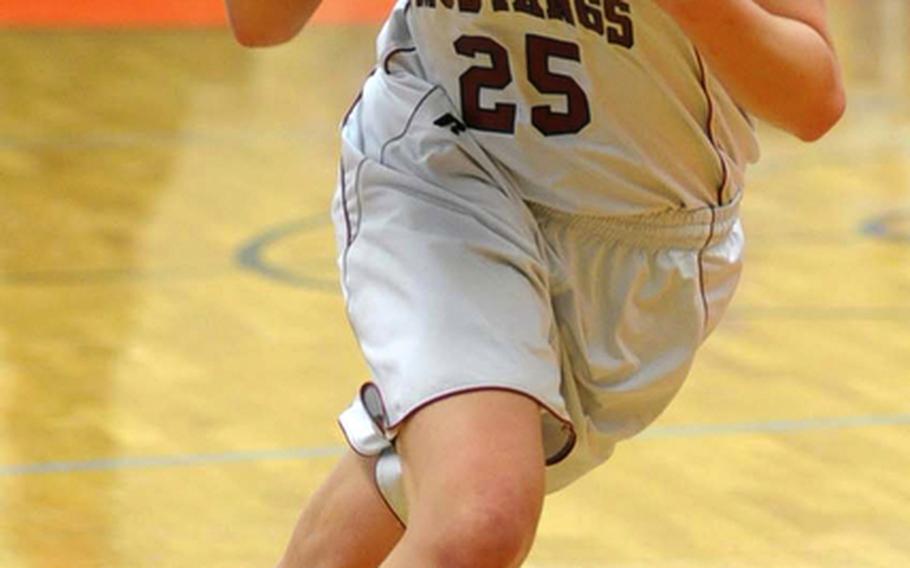 The return of 2011 Stars and Stripes female basketball player of the year Janelle Loney for her senior season at Patch High School highlights what figures to be a season of remarkable continuity in DODDS-Europe girls' basketball.
When the 2011-2012 season tips off Friday night at 11 venues stretching from the English midlands to Rome, Loney, a three-time All-European, will be the most heralded of the six returning all-stars from last season.
The half-dozen represent a nearly complete field of possible returning star power for the new campaign. Of last season's eight underclassmen picked for the annual best-of-the-best roster, only Ramstein junior Sarah Szybist and Aviano's Jasmine Mailoto, both talented post players, won't be playing over here this season.
Mailoto moved back to the States for her final high school campaign, and Szybist, fresh off an All-Europe campaign for the 2011 European D-I volleyball champs, has opted to concentrate on that sport this winter, according to Ramstein coach Nathan Brewster.
Plenty of talent and plenty of contenders are back for another go. Especially at the top, where last year's European champions – Patch in D-I, Vicenza in D-II and Menwtih Hill in D-III – return nuclei of sufficient quality to put them well into the mix for repeat titles.
Here's a quick division-by-division rundown of the probable contenders:
Division ILoney, who averaged 23.7 points, nine rebounds, five steals and four assists per game last season, will be attempting to help Patch's Lady Panthers repeat, and she won't be doing it alone, according to her coach John Kohut.
Kohut, who reported that 39 players turned out for tryouts, cited move-in Caitlyn Steffan, Mannheim transfer Brittany Hyde and All-Europe volleyball player Abigail Diaz as those bidding to join Loney and returnee Johanna Quinn in his line-up.
Summarized Kaiserslautern coach Corey Sullivan, "D-I goes through the reigning champion, Patch."
Patch most likely will be pushed by Ramstein, although All-Europe second-teamer Mackenzie Crews begins the season nursing a knee injury, and Vilseck, which returns the core of a team which was the last to defeat Patch. According to Vilseck coach Jim Hall, Sidni Beaulieu-Hains, Mariah Morris and Taylor Hall will anchor his squad.
Hall also pointed to Heidelberg, which returns All-European Rebecca Luna, Kaiserslautern and Lakenheath as potential contenders, and SHAPE's chances can't be discounted with the presence of volleyball all-stars Teresa Muldoon and Ashley Seiler in the lineup.
The schedule provides us with an early indicator of the D-I race. Ramstein journeys to Patch to open the season Friday night.
Division IIMichael James' defending European champion Vicenza Lady Cougars, led by All-European Sella Pauling and Tatiana Miranda, again figure to contend, pressed by Region IV rivals Naples and Aviano. Aviano has a new coach, Lola Smith, whose daughter Kyhera plans to improve on a freshman campaign which landed her on the All-Europe second team.
North of the Alps, Carter Hollenbeck returns to the sidelines at Baumholder, whose Lady Bucs again will coalesce around that other All-Europe sophomore, Dionna Marcus, and the initial Schweinfurt squad will try to blend talent which played last season at Bamberg, into a coherent squad, according to coach Julia Heintz.
Sara Sawyer and Rylee McKinney will power AFNORTH, but 2011 runner-up Black Forest Academy graduated almost of it punch last spring.
Division IIIDefending champion Menwith Hill opens the season riding a seven-game winning streak, longest of any girls' team in Europe, under the guidance of new coach Amanda Greenacre and led by 6-foot center Kaia Pierce.
Greenacre, who has returning starters in Brittany Dixon and Ariel Rogers along with newcomers Brianna Rogers and Stephanie Turner, sees Rota, led by Yesenia Solis, as the team to beat in D-III, although Bamberg looms large, too. The Lady Barons, according to coach Ethan Engel, have three returning seniors and energetic newcomers in sophomores Vanessa Sanders and Tiana Bowen.
Bamberg might benefit from a season spent playing larger schools in regional play.
"We in all likelihood will take some lumps playing the large schools," Engel wrote about playing fellow Region III teams Patch, Heidelberg and Vilseck. "It is important that we use these games as learning tools in preparation for the tournament."
The European girls' tournaments will be held at Wiesbaden's state-of-the-art gyym. They are scheduled for Feb. 25.