New football season looks like more of same for most of last year's winners
by
Rusty Bryan
September 16, 2010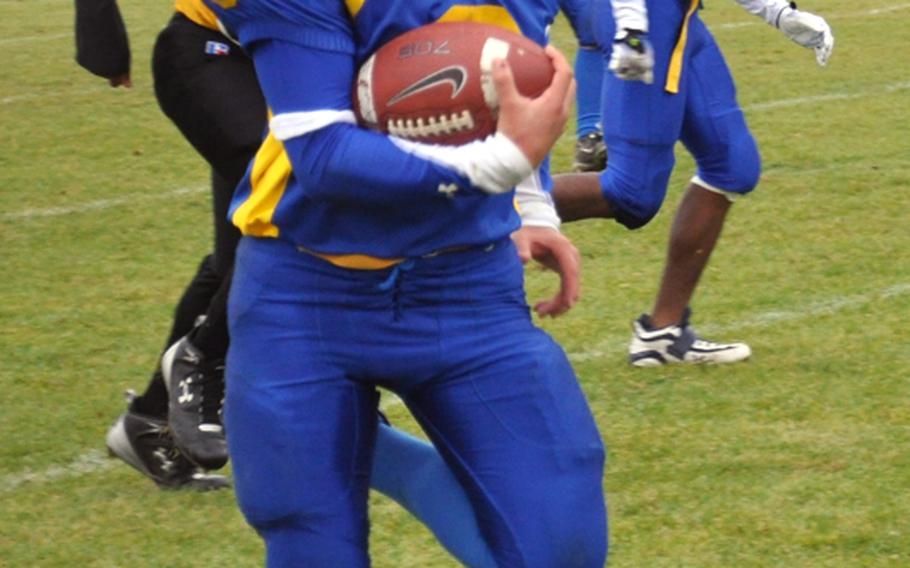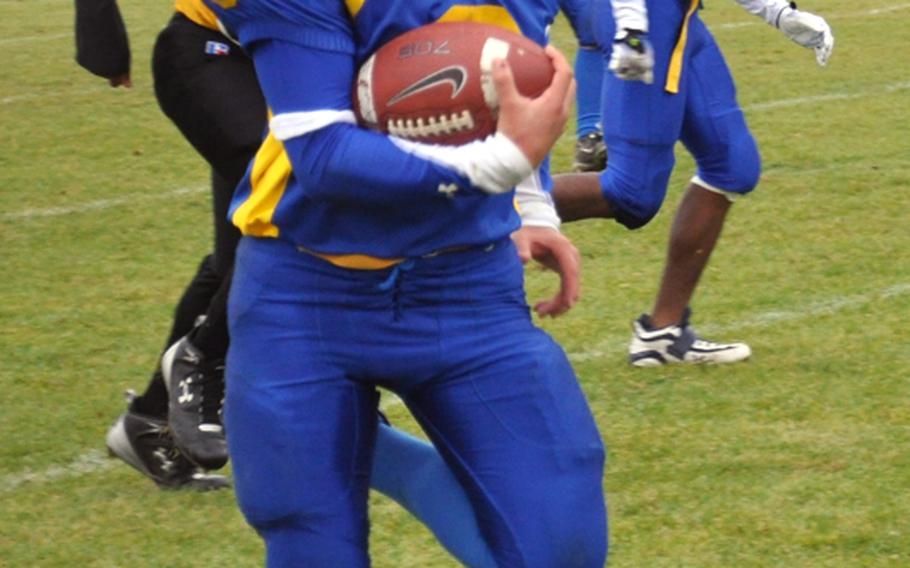 Even before the 2010 DODDS-Europe football season kicks off Friday with three night games, it's possible to cut to the final day.
The six teams that will take the field at Baumholder's Minick Field on Nov. 6 to settle the Divisions I, II and II championships are likely to have been there before.
That's especially true in Division II, where the consensus is that defending champion Bitburg will again face Ansbach, whose DODDS-record 31-game winning ended in a 19-6 defeat by the Barons last November. If the matchup happens, it will be Ansbach's record ninth-straight title game appearance.
Go ahead and count it, advises AFNORTH coach Greg Blankenship. "I personally believe there is a 99.9 percent chance you will see a repeat of Ansbach vs. Bitburg in 2010," he wrote in an e-mail.
In Division I, 2009 runner-up Heidelberg is the consensus choice to make the finale, but perhaps not against defending champ Ramstein, whom the Lions beat in a preseason game."Heidelberg is definitely the team to beat," Ramstein coach Carlos Amponin, whose team was gutted by personnel losses in the offseason, confided after that game.
Defending champion Alconbury is in a Ramstein-like situation in the nine-man world of Division III, but despite the loss of several key players, the Dragons have more than 30 players out, a horde by D-III standards.
Structurally, 2010 will be a near-repeat of 2009, except for the addition of British sports academy team Filton to Division I-North. Eight schools will play D-I ball this fall, 12 will vie in D-II and five in D-III. One difference: The D-I schools will play only the teams in their conference during the regular season.
Here's a quick look at each team, with final records from last year in parentheses:
Division I-North• Ramstein Royals (7-0): Coach Amponin will have to find replacements for seven departed All-Europeans along with two defensive players he thought would be strong candidates for this year's all-star squad.
"This is a serious rebuilding year for the Royals," summarized Amponin, who added that his departees accounted for 94 percent of the Royals' offensive yardage.
• Kaiserslautern Red Raiders (1-4): Coach Tom Burriss has eight returnees, including quarterback Josh Fry, but lost his two All-Europe players. He's hoping for help from new faces.
"A couple of walk-on guys — move-ins and basketball guys — may help," he reported.
• Lakenheath Lancers (1-5): Coach Matt Martinez has just three upper-class lettermen back for his season-opener Friday night against newcomer Filton, but is excited about newcomer Matthew Russell.
"He is as good as any lineman I have coached," Martinez said.
• Filton Pride (0-0): Pride coach Ben Herod, whose team is a part of the Bristol Sports Academy at Filton Academy, already has adjusted to DODDS rules — to his detriment.
"We had five players who were too old," he said by telephone last week. "That leaves us with 22-25 guys who can play."
Twenty-one of them have played American football before, Herod said, and all of them will be in shape. "We've had them up in Wales," he said, "Running on sand."
Division I-South• Heidelberg Lions (6-2): Heidelberg's the favorite, but coach Brad Shahan doesn't expect a cakewalk.
"At camp, we saw three very athletic groups of D-I kids — Heidelberg, Vilseck and Wiesbaden. We also saw the largest group of kids — Patch, so we are expecting a knock-down, drag-out fight within our division," he said in an e-mail.
• Vilseck Falcons (4-3): Like Ramstein, gutted by graduation and parental transfers.
"Ramstein is the defending champ and Heidelberg has the experience," e-mailed coach Jim Hall, who returns DL Kaylen Smithson from last year's All-Europe team. "We will work as hard as those two schools…."
• Wiesbaden Warriors (3-4): Despite being the smallest school in the division, "the Warriors are returning a strong group of athletes (10 junior-senior lettermen)," coach Steve Jewell e-mailed. Most prominent among them is junior All-Europe RB Daniel Harris.
• Patch Panthers (3-3): Coach Brian Hill continues to build a program with more than 100 hopefuls out for the team.
Division II-North• Bitburg Barons (8-0): "With a lot of changes in populations, I think we'll see a balanced Division II," 2009 coach of the year Mike Laue, who returns just linemen Darian Billups and Adam Smith from last year's crop of 10 All-Europeans, said in an e-mail.
No one, however, can balance Bitburg, with several 300-pound linemen, on the scales. "Bitburg is still huge," Baumholder's Carter Hollenback understated.
• ISB Raiders (7-1): International School of Brussels "is a disciplined team that reflects the professionalism of their coaching staff," according to AFNORTH coach Blankenship. "They return athletic varsity players in all skill positions."
Gino Culotta, a 6-3, 210-pound running back who averaged 200 yards per game graduated, but ISB retains his younger brother, Vinny, "a genetic replica" of his sibling, according to Blankenship.
• AFNORTH Lions (3-4): Returning QB Jacob Reynolds and DB-RBs J.D. Pollock and Dante Brown, all-conference choices all, make the Lions playoff contenders, Blankenship asserted. Muscular newcomer Tony Legare will contribute, too.
• Mannheim Bison (3-3): "Mannheim has a game-breaking receiver, strong interior linemen and a QB capable of running or throwing for first downs," observed Blankenship, who picked the Bison as a playoff contender in the school's final year despite having just 14 players on the roster.
• SHAPE Spartans (1-5-1): Although school is largest in II-North, many students are international and don't play football, coach Jay Bodine said by telephone last week.
Worse, Norwegian star and All-European Kewin Nielson will spend his senior year in Mississippi, placed there by Bodine. "We helped him transfer," Bodine said, "So he could earn a college scholarship."
• Baumholder Bucs (0-5): Low numbers work against team's speed (especially RB Prince Owusu), according to Blankenship.
Division II-South• Ansbach Cougars (7-1): Marcus George's Cougars lost for the first time since 2005 last November. They'll try for a fourth unbeaten season in five years behind All-Europe returnees RB Alex Moya and LB Matt Jones.
"Marcus will definitely have his team ready to play," asserted Baumholder's Hollenbeck.
• Bamberg Barons (3-4): Experienced, talented team should contend for playoffs, according to Blankenship, who cautioned, however, "It takes time to build a championship-caliber team."
• Hohenfels Tigers (0-5): Like Bamberg, lots of returning players. Forty-five showed up for practice.
• Vicenza Cougars (6-2): "We graduated a lot of starters and will be a relatively young team…," coach Adam Ridgley said in an e-mail.
• Naples Wildcats (1-4): "Naples is going to be an inexperienced team this season," said coach Dirk Lambertson, on the eve of his second season at the school.
• Aviano Saints (1-3-1): Coach Rick Dahlstrom has just four upperclassmen lettermen back for 2010.
Division III (Nine-man)• Alconbury Dragons (3-4): With 20 returnees, including All-Europe LB Kerry Kuheana, and the three-game winning streak that finished off last season, Alconbury is the division favorite.
• Sigonella Jaguars (5-1): Matt McKolwn's Jags lost many of the key players who fashioned an unbeaten regular-season run. Alconbury ended Jags' season 35-28 at Sigonella in the D-III semis.
• Menwith Hill Mustangs (5-2): Pete Resnick will miss the straw that stirred Mustangs' drink, Scottie Setzer.
• Rota Admirals (2-4): New coach Jeff Van Ausdahl barely had time to unpack before taking the reins. He's counting on fellow newcomers Kevin Banks, a senior QB from North Carolina; Colton Lippmann, a sophomore center from Virginia; sophomore DB Keaton Regenor from Virginia; and freshman DB Jionne Mack.
• Brussels Brigands (0-4): New coach Tim Mobley replaces retired 30-year veteran Joe Fiedler with just six returning upper-class lettermen.
2010 High school football factsAll-Europe returneesOL Darian Billups (Bitburg)RB Daniel Harris (Wiesbaden)LB Matt Jones (Ansbach)LB Kerry Kuheana (Alconbury)RB Alex Moya (Ansbach)OL Adam Smith (Bitburg)DL Kalyn Smithson (Vilseck)OL Bronzen Williams (Heidelberg)
2010 conference alignmentDivision INorth — Filton, Kaiserslautern, Lakenheath, RamsteinSouth — Heidelberg, Patch, Vilseck, WiesbadenDivision IINorth — AFNORTH, Baumholder, Bitburg, International School of Brussels, Mannheim, SHAPESouth — Ansbach, Aviano, Bamberg, Hohenfels, Naples, VicenzaDivision IIIAlconbury, Brussels, Menwith Hill, Rota, Sigonella
2009 European championsDivision I — Ramstein 35, Heidelberg 21Division II — Bitburg 19, Ansbach 6Division III (9-man) — Alconbury 31, Menwith Hill 13
---
---
---
---