New faces shape All-Europe football team in 2005
by
Rusty Bryan
December 18, 2005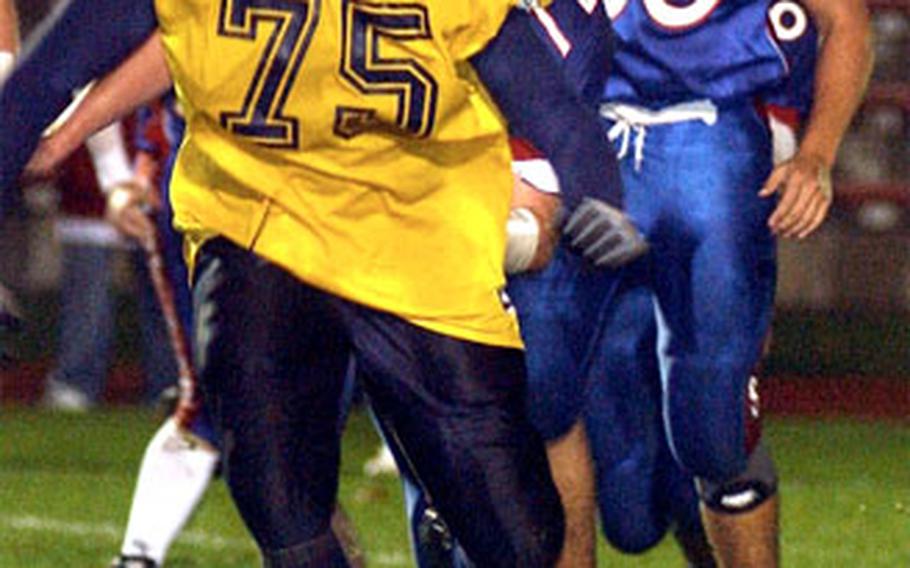 2005 All-Europe: Offense2005 All-Europe: DefensePrinted edition in PDF formatNew faces and a youth movement characterize the 2005 All-Europe football team selected by six DODDS-Europe coaches.
Unlike teams chosen in the recent past, the 2005 edition — which has 44 players — includes just five repeat choices from 2004 and six sophomores.
The panel of coaches — Gregg Blankenship of AFNORTH, Sam Cassou of Division II champion Hanau, Marcus George of Ansbach, Steve Jewell of Wiesbaden, Glenn Porter of Ramstein and Shawn Rodman of Division III champion Hohenfels — produced a team shaped and staffed like no other in recent memory.
"I think we chose the best players to represent DODDS-Europe football," Cassou wrote in an e-mail to Stars and Stripes.
"The process was difficult after some of the obvious choices were selected, due to the large pool of very good players."
The "obvious choices" to whom Cassou referred are the 2005 squad's nucleus of repeat selections. They are led by three-time All-European Brandon Simmons of Heidelberg, a two-way choice for the second straight season.
The other returning selections are Heidelberg tailback Lewis Allen; record-breaking running back Malcolm Lane of Hanau, a two-way pick for the first time this season; Patch quarterback J.D. Lindsay, and running back Philip Lipman of International School of Brussels. All five are seniors.
Simmons, an offensive lineman and linebacker pick from Heidelberg's Division I champs, "could take control of the game" from either side of the ball, according to Jewell.
Allen, a four-year starter for a program that almost always consigns freshmen to the junior varsity, was, in Jewell's eyes a "tough little runner" who gained 1,116 yards and scored 13 touchdowns.
"Sometimes he'd limp back to the huddle, and you'd think you'd stopped him," Jewell said. "But when the play went off again, he was running just as hard as he had before."
Lane "put Hanau on his shoulders" in leading the Panthers to the D-II crown, Jewell said. Lane, who rushed for 1,742 yards and 23 TDs, capped his season by refusing to let Hanau lose the title game, rushing for 272 yards and five TDs in a 42-25 shootout against Bitburg. And when playing defense, he was called the "hardest hitter on the field."
All Lindsay did this season was complete 102 of 151 passes for 1,733 yards and 18 TDs and rush for 461 yards and five TDs. And Lipman, "the most versatile player" ISB boss Rob Stewart said he ever coached, averaged 7.4 yards per carry and scored seven TDs.
However, for the first time this century, sophomores outnumbered repeat selections. Running backs Cyril Borden of Ramstein, Stephen Washington of Hohenfels and Corey Legister of Bitburg, receiver Archie Barnes of Patch, offensive lineman Randall Pelletier of Bitburg and place-kicker Justin Wiehe of Ramstein personified a trend that is likely to continue, according to Ansbach's George.
"Six freshmen and six sophomores started for us," he said. "With smaller school populations, sophomores who might in the past have sat while seniors played in front of them got a chance to play."
By contrast, only two 10th-graders made last year's All-Europe team. Three were picked in 2003 — including Simmons — two in '02 and three in '01.
But the 2005 sophomore selections didn't make All-Europe by default or a lack of seniors, George emphasized.
"They had to make the most of their opportunity," he said. "They had to step up."
"All were solid backs," Jewell said of the sophomore rushing triumvirate of Borden (7.4 yards per carry, nine TDs), Legister (5.9 yards per carry, nine TDs) and Washington (11 yards per carry, 12 TDs). "All three were tough to bring down."
Patch's Barnes averaged 19.5 yards per reception and scored six touchdowns to become Europe's leading receiver.
The proof of Pelletier's value was in Bitburg's running statistics, according to his coach, Mike Laue. "We averaged 275 yards rushing per game. Most of that was over Randall," Laue wrote in nominating his 6-2, 270-pound sophomore.
Wiehe's contributions to Ramstein appeared on the scoreboard. He booted five field goals, the longest 38 yards and "has much more potential," according to his coach, Porter.
With 33 seniors on the 2005 squad graduating and the drawdown continuing, expect more youthful players to emerge as stars next year, George said.
"People are going back to the States," George said, "and some people coming over are electing not to bring their families with them. A lot of schools are going through transitions."
And so is the All-Europe football team. Look for the trend to continue in 2006.
Superlatives
Most mileage: Jared Waters, AFNORTH senior running back: 1,943 yards rushing (13.04 per carry) and 2,291 all-purpose yards.
Heaviest: Randall Pelletier, Bitburg sophomore offensive lineman: 270 pounds.
Tallest: Alejandro Villanueva, SHAPE senior defensive end: 6-7.
Most bang for buck: Andrew King, Hanau senior defensive lineman: 5-5, 130 pounds.
Most All-Europe positions: Brandon Simmons, Heidelberg senior: 5. (Defensive line in 2003, offensive line and defensive line in 2004, offensive line in 2005, linebacker in 2005.)
Two-way players: Simmons; Malcolm Lane, Hanau senior running back-defensive back; Tyler Arnett, Hohenfels senior offensive lineman-linebacker; Blair Wagner, Heidelberg senior offensive-defensive lineman.