Naples opens season with sweep at Vicenza
by
Kent Harris
April 1, 2011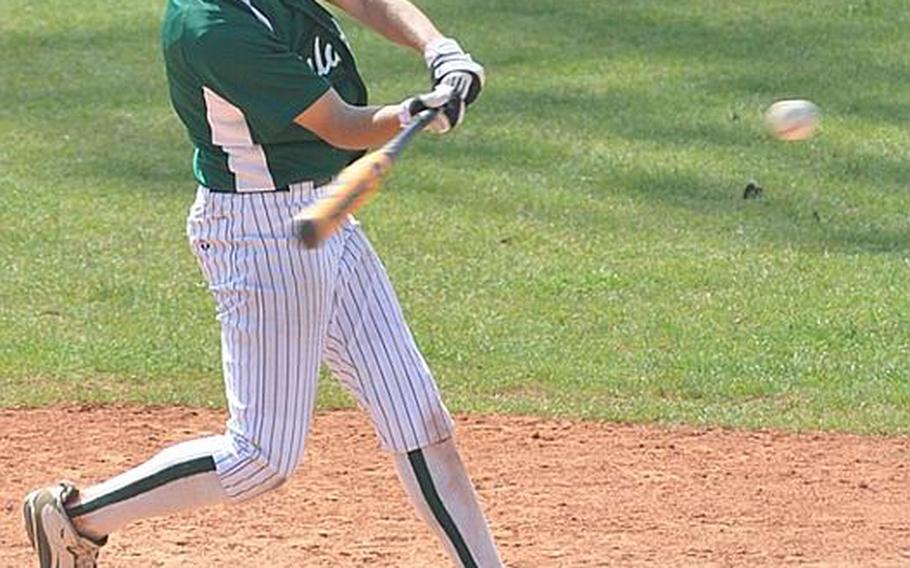 VICENZA, Italy — Put the ball in play in baseball and you never know what will happen.
That was demonstrated time and time again Friday as Naples opened its season with a pair of victories at Vicenza.
Matt Gardner and Paul Tranoris combined on a five-inning no-hitter as the Wildcats routed the Cougars, 17-0, in the first game. Vicenza bounced back in the second game to take a six-run lead, but couldn't hold it as Naples rallied for a 12-11 victory in the bottom of the sixth.
The Wildcats managed only two hits in the second game, but were helped out by eight Vicenza errors and seven walks.
"It was an ugly game," said Naples coach Duke Marlow, whose team finished second last year among DODDS-Europe small schools, falling to Rota by a run in the championship game. "You've got to hand it to (Vicenza), though. They really hit the ball. After that first game, they could have come out and mailed it in, but they didn't."
Vicenza had 11 hits in the second game after getting it out of the infield only twice – a pair of fly outs – in the opener. The Cougars scored six times in the first inning and led 9-3 after two innings. Cooper Armstrong had a pair of run-scoring singles in his first at-bats, while Naples made three errors in the second.
Vicenza helped Naples get back into the game with its own fielding miscues, but still led 11-9 entering the final inning.
Two walks and two errors brought in a run and loaded the bases. Vicenza shortstop Josh Ganci tried to force Gardner at home after fielding a ground ball by Dylan Livesay. But Gardner beat the throw and the ball went to the backstop, allowing Trevor Peterson to score the winning run.
Gardner and his Vicenza counterpart, Jeremy Huller, were both dominant in the first game, piling up strikeout after strikeout.
Huller struck out nine batters in three innings – though two of them reached base when the third strike was dropped. John Bruce drove one of those in with a two-run single that gave Naples a 3-0 lead after three innings.
Ganci came on in relief to start the fourth. Two of the three batters he struck out reached base in the fourth after more dropped third strikes and the floodgates opened, as Naples scored six times. Eight more runs in the fifth finished the scoring and the game was called after five innings by the 10-run rule.
Any of those innings proved to be more than enough for Gardner, who struck out eight batters in four innings of work. Two walks and two errors accounted for Vicenza's only base runners.
Vicenza coach Mark Wilson said he couldn't explain his team's inability to hit in the opener and success in the second game against Naples' top pitcher, Zach Zimmermann.
"We just decided to hit in the second game," he said.
He said his team needs work in the field as evidenced by its 16 errors on the day. They'll get more practice Saturday when they host Sigonella for another doubleheader. Sigonella played two games Friday at Aviano, where Naples will play Saturday.
if(typeof(dstb)!= "undefined"){ dstb();}
if(typeof(dstb)!= "undefined"){ dstb();}
if(typeof(dstb)!= "undefined"){ dstb();}
if(typeof(dstb)!= "undefined"){ dstb();}