D-II volleyball
Naples caps perfect season with another title
by
Mark Patton
November 3, 2012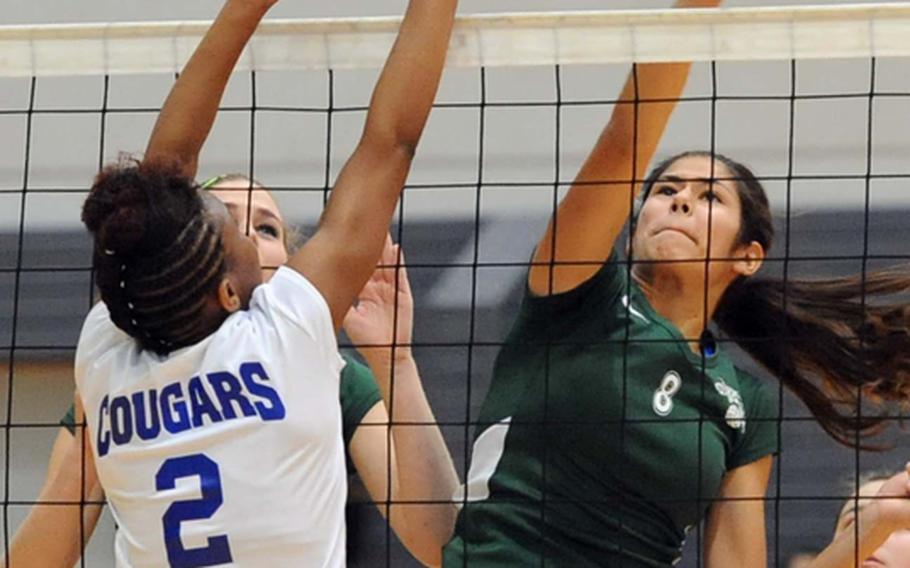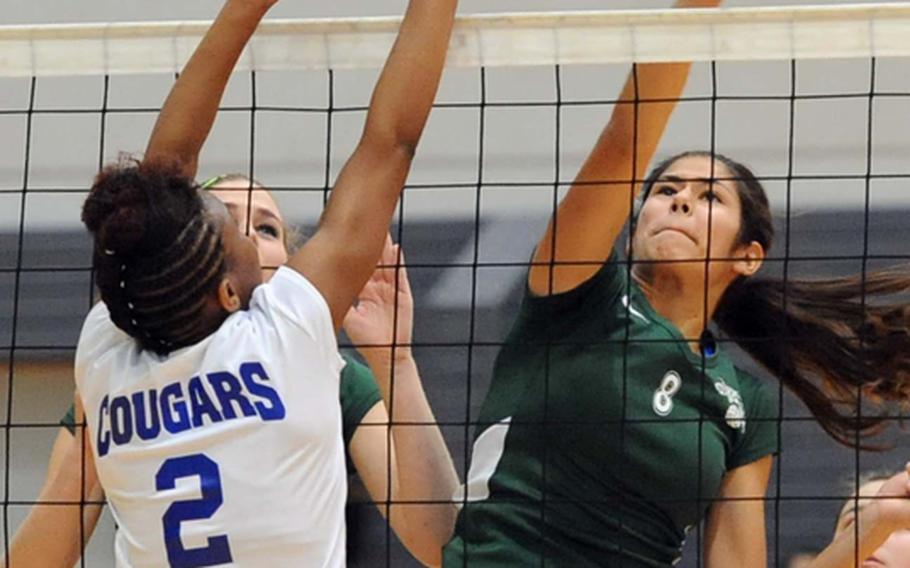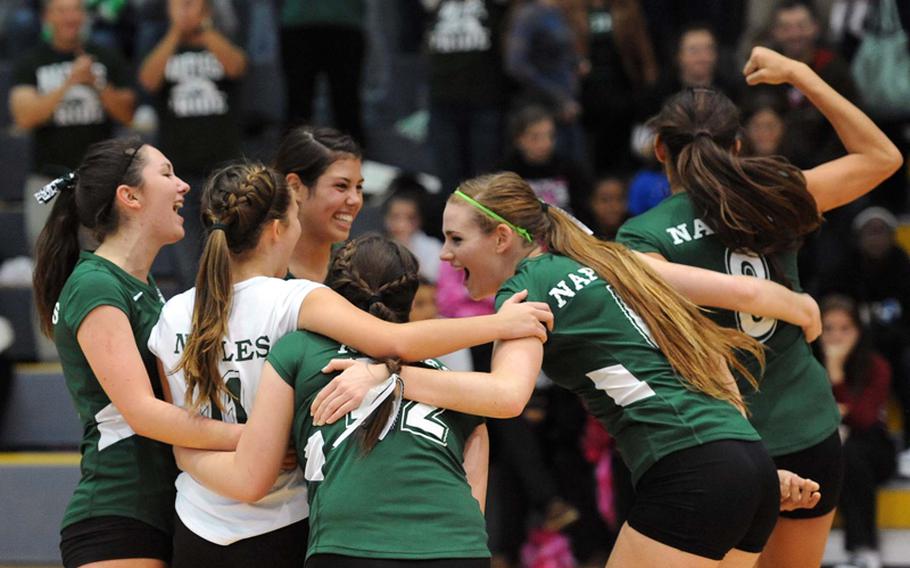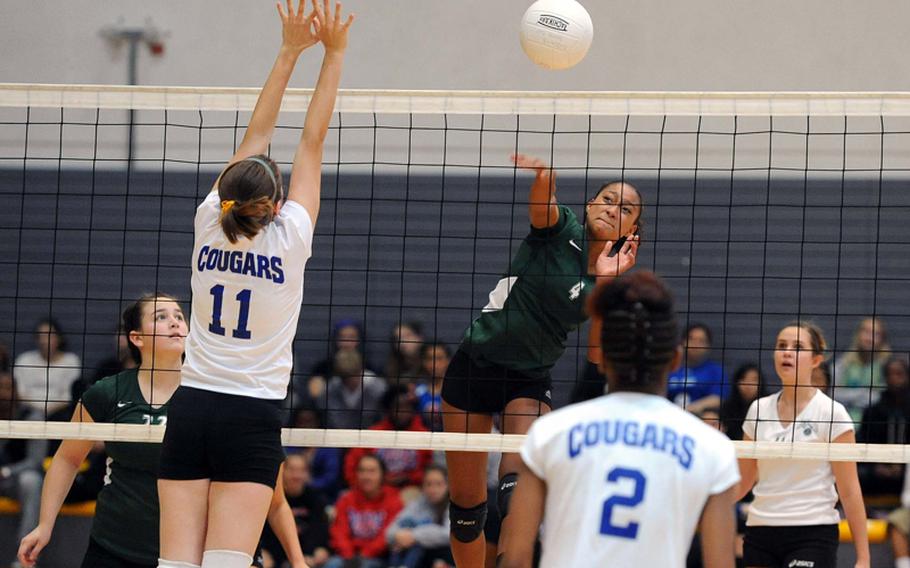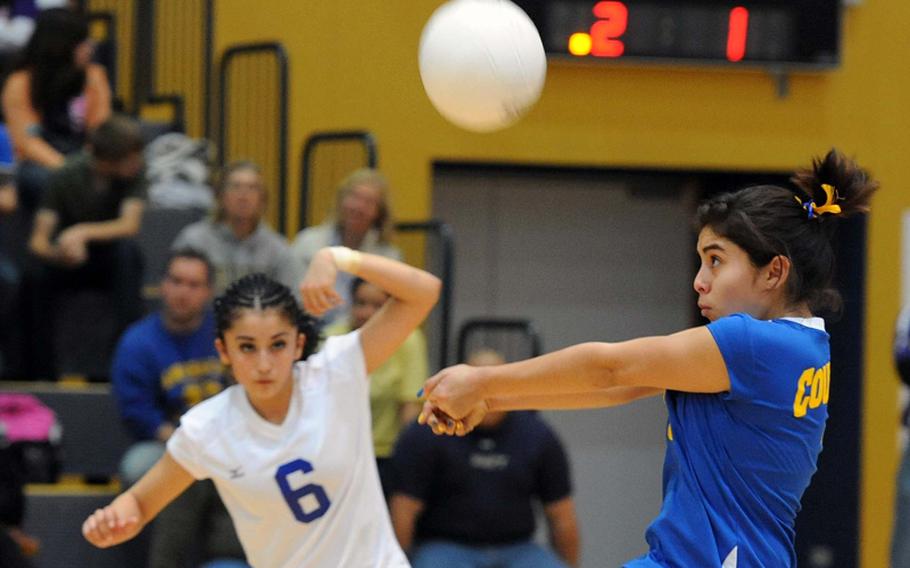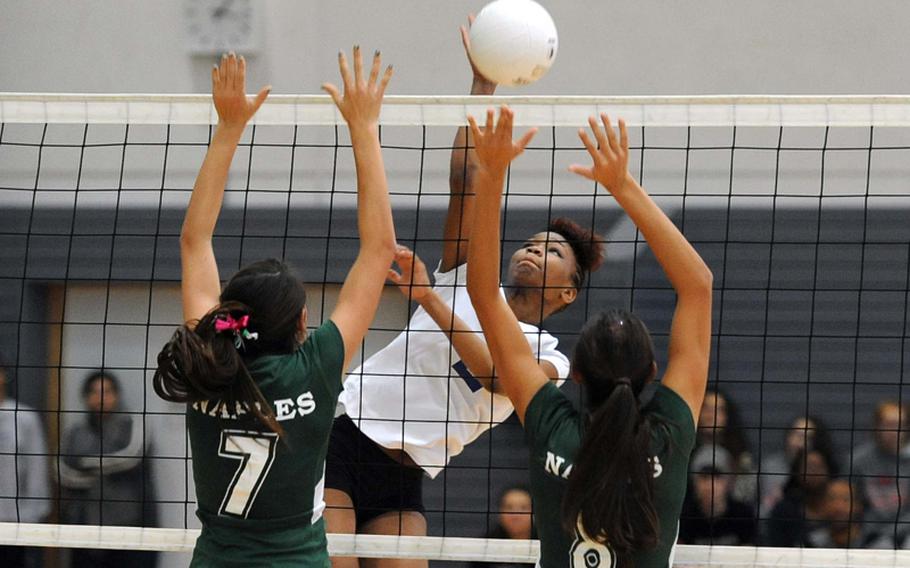 RAMSTEIN AIR BASE, Germany - The Naples Wildcats capped an undefeated season by prowling to their second straight DODDS-Europe Division-II girls volleyball championship Saturday, but the Ansbach Cougars made sure they earned it.
But earn it they did, 23-25, 25-20, 25-17, 25-18.
In a back-and-forth opening set, Ansbach was able to string together a series of great plays and rally behind the strong serves of Jasmine Rodriguez to take a rare set away from the defending champs, just the second time all season an opposing team has done that to the Wildcats.
"We were getting over nerves, once we got all that out, we just played our game," said Naples' Logan Percival, a sophomore transfer from New Mexico, who notched 37 assists, 5 aces and 15 digs Saturday.
Naples came out strong the rest of the way, although the Cougars never dialed down the intensity. It was the Wildcats who were able to capture the next three sets and squelch the championship hopes of Ansbach, who finished the regular season 11-1, the only regular season loss a heartbreaking five-setter to D-I runner-up Patch.
Naples senior Isabel Krause, the only returning first-team All-European from last year on the court, credited her team's intensity and focus on finishing the match out strong to add another championship banner to the school's rafters.
"We're family, we need to play like a team," Krause said.
The Wildcats power game also had a great deal to do with the victory, including Krause's 13 kills. Isabel's junior sister, Victoria, notched 11 kills, three aces and 13 digs, enough of a season finale to earn her the D-II Most Valuable Player honors.
"It means a lot to me," said Victoria of the recognition. She also added that Saturday's championship game was the toughest match that Naples has played all season.
"Both teams have a lot of heart," the younger Krause said.
Besides heart, both teams had plenty of serving prowess on display.
"Their serves were off the chart," Isabel Krause said about the Cougars.
Alyssa Solis led the Cougars with six service aces, followed by three each from Adreana Cunningham, Caprice Lockett and Rodriguez. Lockett also notched 15 kills, followed by Solis's eight.
Other standouts for Naples included: Laneisha Jeans, who finished with four kills and two blocks; Tara O'Brien, who had six kills; Valerie Cariello, who had two kills and 18 digs; Courtney Fukumitsu, who had three aces and nine digs and Carina Cusumano's two kills, ace and 12 digs.
Despite the loss, the Cougars aren't hanging their heads about being D-II runners-up.
"It was the best game we've ever played," Lockett said.