Mustangs end season on three-game win streak
by
Dave Ornauer
November 2, 2012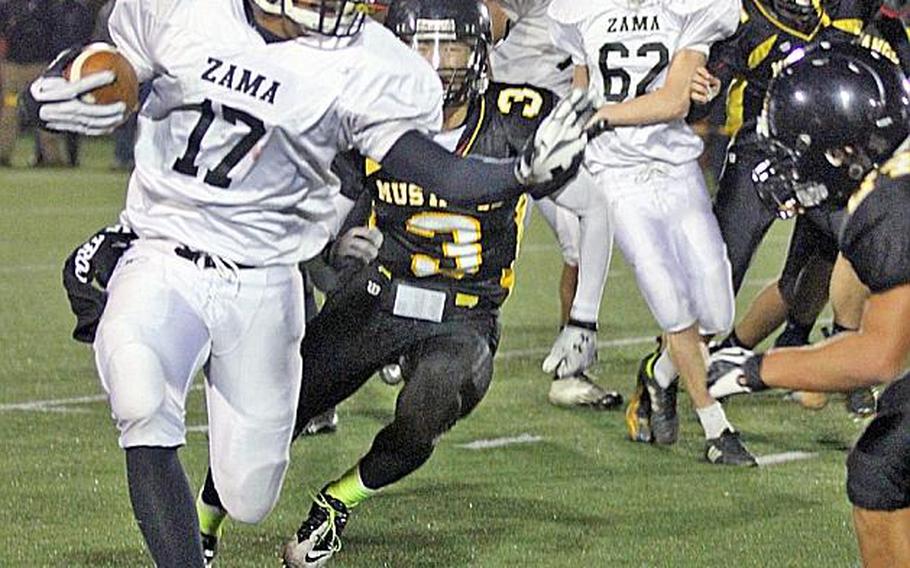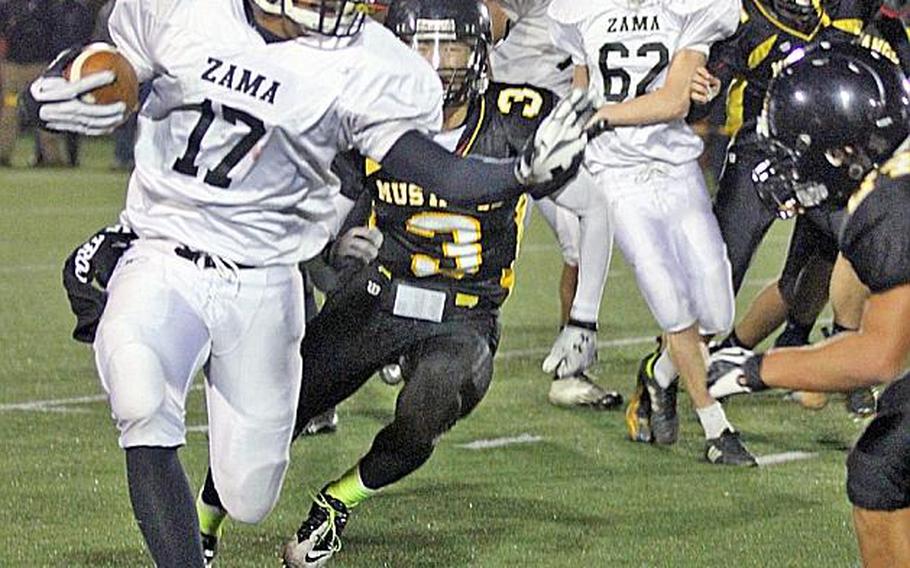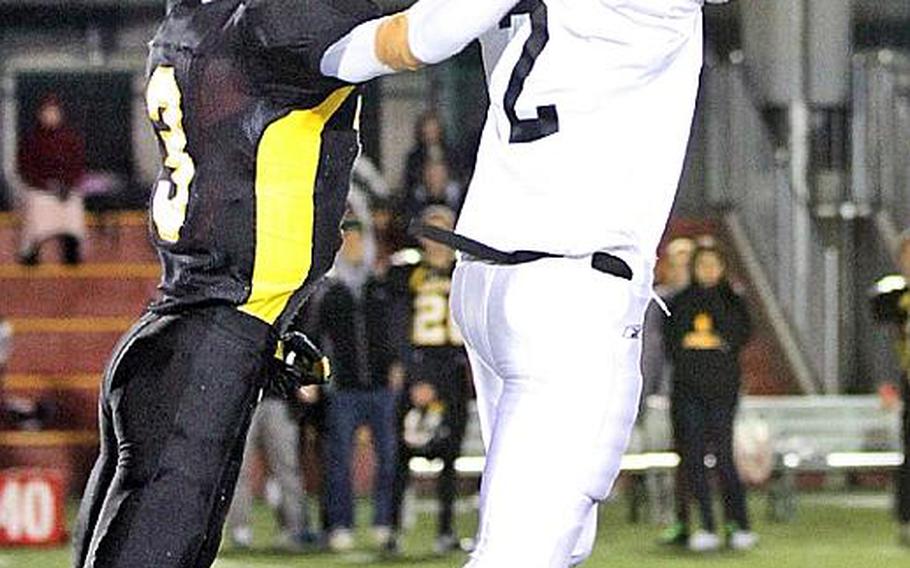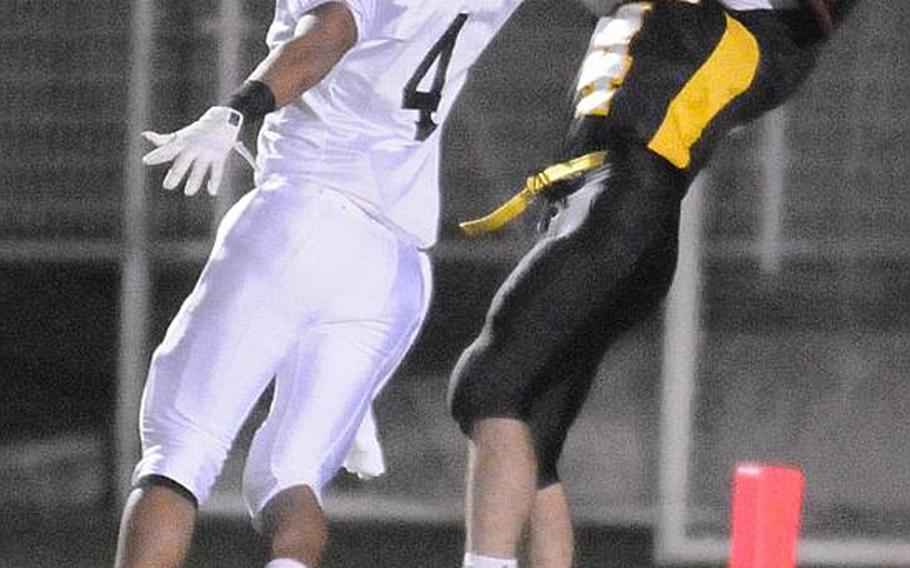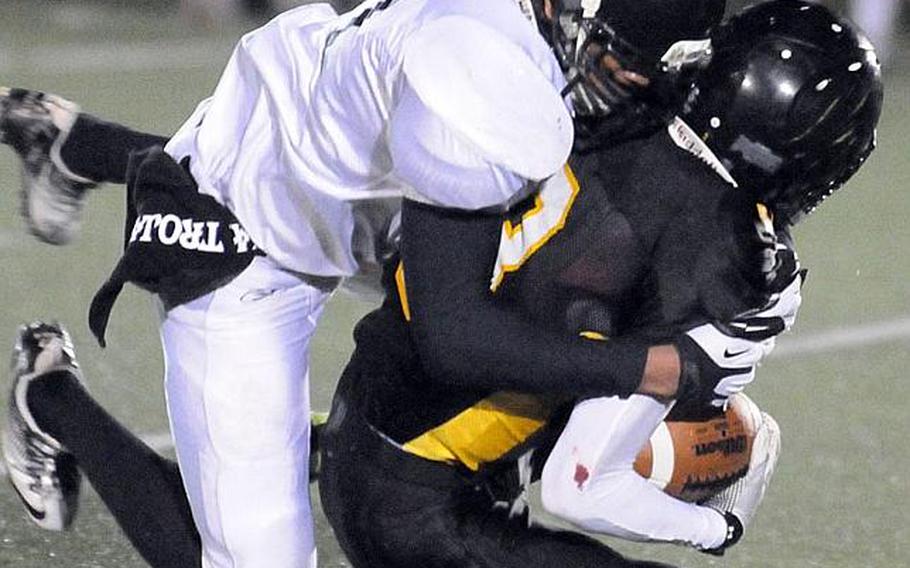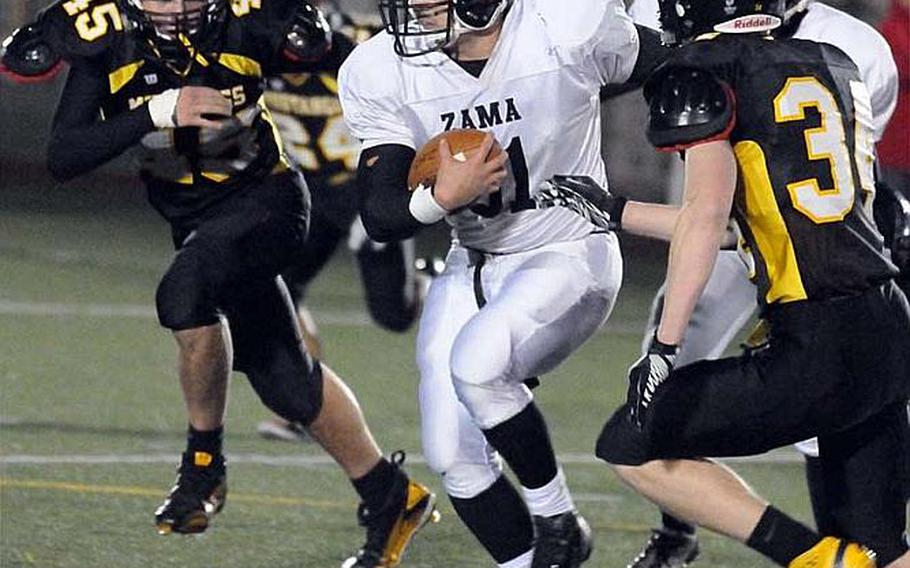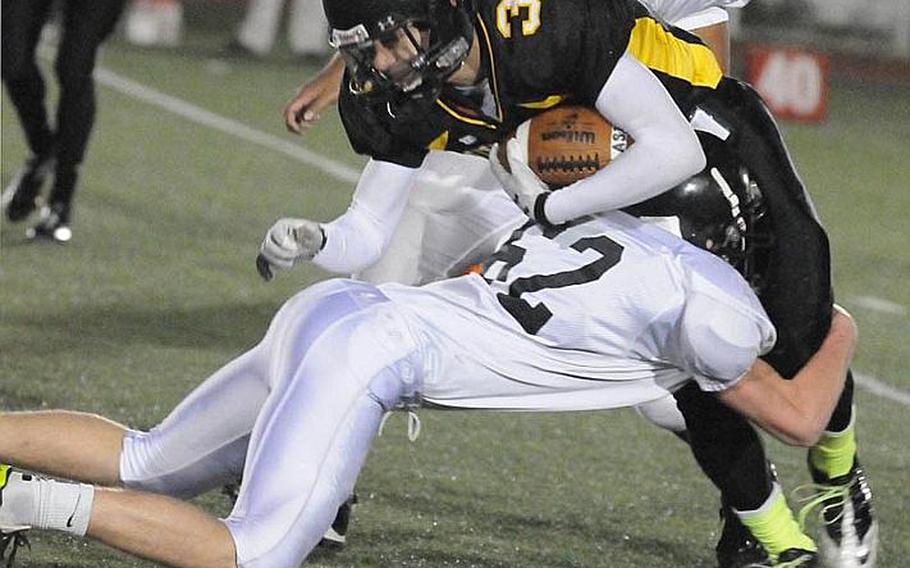 TOKYO – Perhaps the smallest Mustang of all kept making big play after big play Friday in American School In Japan's football season finale, a 20-19 come-from-behind victory over Zama American.
Drogin James, just 5-foot-6, caught two touchdown passes, snagged a critical fourth-down pass to set up ASIJ's game-tying touchdown and game-winning extra point and intercepted a pass to kill the Trojans' last-ditch drive.
"He's been doing that all year," longtime ASIJ defensive coordinator John Seevers said.
"He's a great leader, one of our most coachable kids," offensive coordinator Craig Karnitz said. "He's done a great job all around."
ASIJ finished the season 6-3, including three straight wins following a two-game slide. Zama fell to 5-5, a week before the Trojans host Robert D. Edgren for the Far East Division II title.
Both of James' touchdown catches came on a play called Z Corner, on which James lines up as a slot receiver, then cuts to the left corner of the end zone. On each play, James had a step on Zama's cornerbacks.
"We've worked on that a lot and it sure came in handy today," James said. "It feels great. A big team win. To lose two games in a row, then come back and finish 6-3, a big win for us."
The win spoiled a 112-yard, three-touchdown performance by Zama's Andre Encarnacion, who now leads the Pacific with 16 touchdowns. The one-point loss was a far cry from ASIJ's 24-8 win Sept. 18 at Zama.
"We've gotten progressively better each week," Trojans coach Steven Merrell said. "We made some mistakes, but we held our own. We had the ability to win this game. We had to get ready for (Edgren) and this was a good test for that."
Encarnacion broke a scoreless tie just before halftime with a 49-yard touchdown run. ASIJ responded quickly with a David Hernandez 19-yard TD pass to James.
The Trojans then converted a pair of ASIJ turnovers into touchdown runs of 1 and 3 yards by Encarnacion, only to watch the Mustangs answer the call again, starting with James' 8-yard TD pass from Hernandez.
Takuma Riordan then recovered a Zama fumble, and ASIJ put together a 12-play, 54-yard drive in just under four minutes, capped by Henry Wallrapp's 2-yard TD run, five plays after James kept the drive alive with a 27-yard catch on fourth down. Riordan's extra-point gave ASIJ the lead for good, then James' interception iced it.
Hernandez was 9-for-18 for 135 yards. James caught six passes for 96 yards. Ken Yajima rushed 19 times for 94 yards for the Mustangs. For Zama, RayVaughn King intercepted two ASIJ passes.