Boys basketball athlete of year
Metcalf rose above competition to lead Falcons
by
Dave Ornauer
March 2, 2017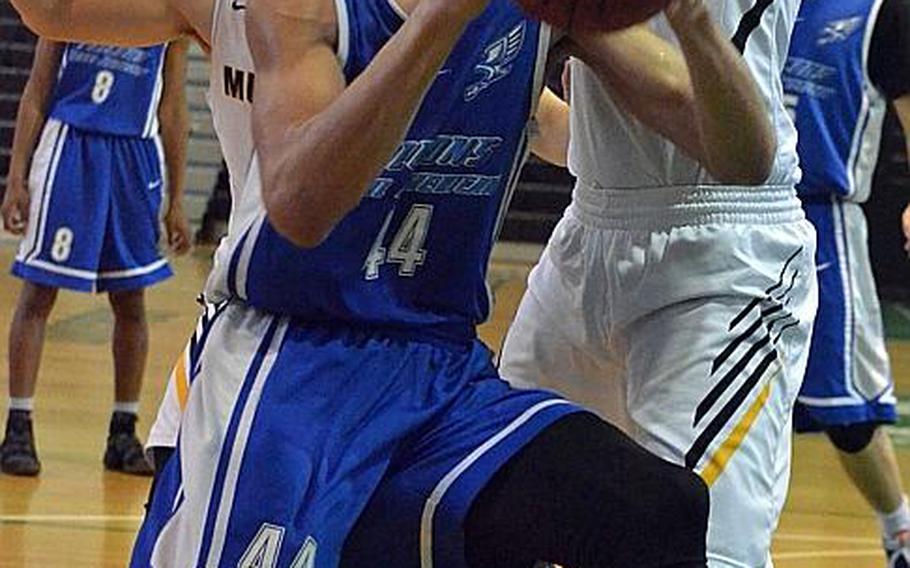 When his Falcons had their backs to the wall, Quintin Metcalf stood tall.
Not just his 6-foot-7 frame, the tallest player on any team in DODEA-Pacific this season. It was his game, which went a long way toward leading Seoul American to its first Far East Division I title in nine years.
The sophomore from Dallas averaged 27.4 points, 17.1 rebounds and 3.4 blocks per game and earned D-I Most Valuable Player honors. He and his brother, 6-6 senior DeAndre, each had 12 points in the Falcons' 49-44 triumph Feb. 23 over Kadena in the D-I title game at Kubasaki.
For all that, Quintin has been named Stars and Stripes Pacific high school boys basketball Athlete of the Year.
"Quintin really improved his overall game from his freshman to sophomore season," coach Steve Boyd said. "He is very coachable, cooperative and follows directions. He is a good guy whose parents have done a great job with him. He is also a good student-athlete."
Adding DeAndre to the team "really opened up the paint area where (Quintin) thrived," Boyd said. "They have really good chemistry and flow together."
While Seoul American still appeared formidable on paper at 10-2 in league play, they lost twice to Humphreys in the regular season.
It was in the second of those two losses, a 77-69 defeat at home on Jan. 20, that things changed for the Falcons. Quintin called that loss an "eye-opener" for Seoul American.
"In the first half, we were tied (with the Blackhawks) and we were shooting the ball down low and making smart shots and passes," but after that, the Falcons got away from technique and "sticking to the basics" that had kept the game close, Quintin said.
From there on, things changed, the Metcalf brothers said. Their communication improved and the Falcons developed enough guard play to spread the floor and give Quintin, in particular, room to move in the paint.
"Coaches tried doubling up on us and even tripling, but we both still averaged high numbers," Quintin said. "I feel like Dre and I had the best connection and communication on the court. We basically knew what we were going to do and that's why we can both score when we want to."
During the championship game, more than one observer said opponents "had no answer" for the Metcalf brothers, Quintin especially.
"He's tough to stop inside," Kadena coach Robert Bliss said. "Seoul's a pretty solid team, but he was the most important aspect of their squad. He covers a lot of ground, has a lot of length; even when he's forced into a bad shot, he has a chance at a putback."
"I was pretty impressed," Nile C. Kinnick coach Robert Stovall said of Quintin. "He's obviously the best player in the Pacific. He was impossible for us to stop. And he was fun to watch, a smile on his face, aggressive, but he was respectful and made his teammates look good as well."
Metcalf finished the season averaging 20.3 points, 17.6 rebounds, 3.1 blocks, 2.2 steals and 1.6 assists per game as the Falcons went 17-3. But it was the banner, Quintin said, that meant more than numbers, especially that the Falcons ended Boyd's nine-season D-I title drought.
"It's the least we can do for him, because even though he yells a lot, we all know it's because he believes we can be champions," he said. "And there's nothing better than listening to a Coach Boyd victory speech and seeing him get all excited."
Stars and Stripes Pacific All Far East boys basketball teams Division I Quintin Metcalf, DeAndre Metcalf, Seoul American; Justin Wilson, Kadena; Koki Wiley, American School In Japan; Thomas Wood, St. Mary's.Division II Devin Robinson, Dyson Robinson, E.J. King; Hunter Cort, Yokota; Jalen Hill, Humphreys; Keith Williams, Daegu.
Twitter: @ornauer_stripes