Girls basketball player of year
Loney did it all on court for Patch
by
Rusty Bryan
March 9, 2012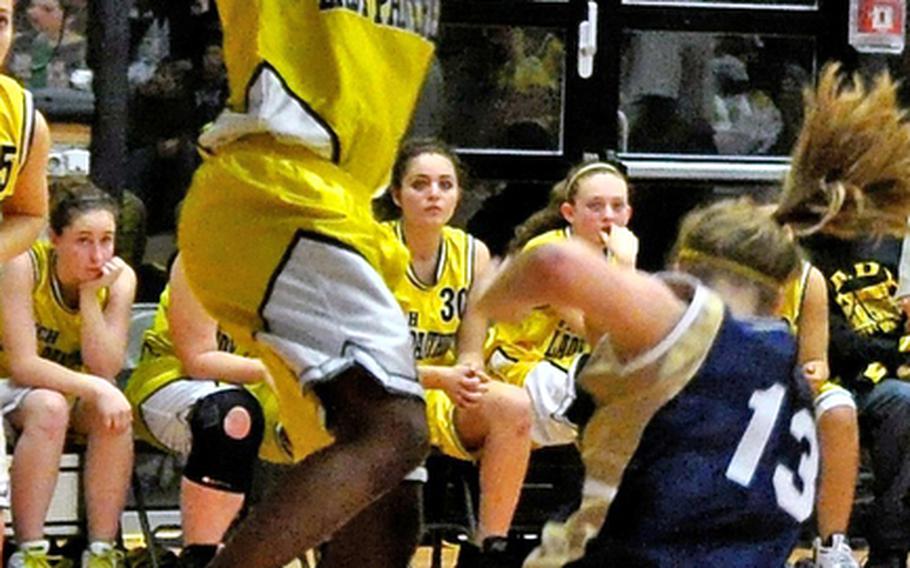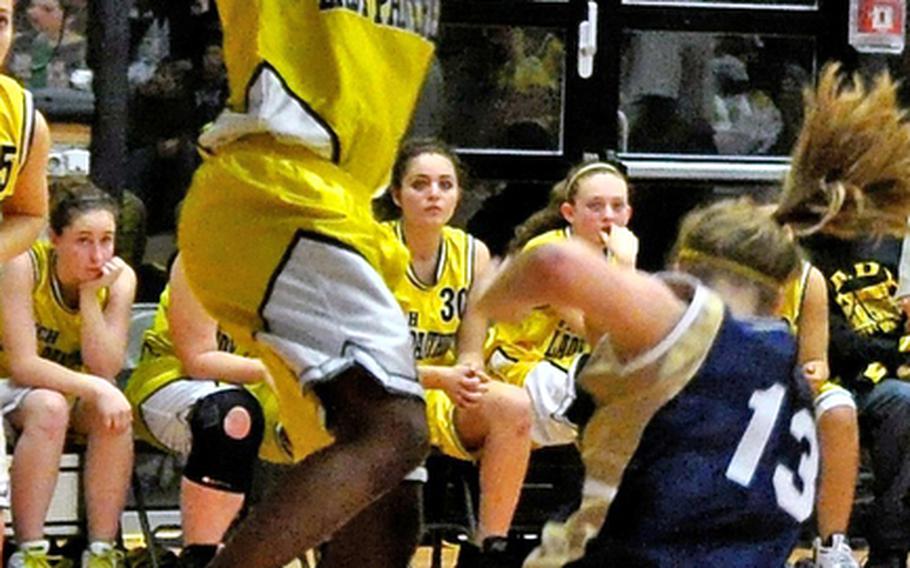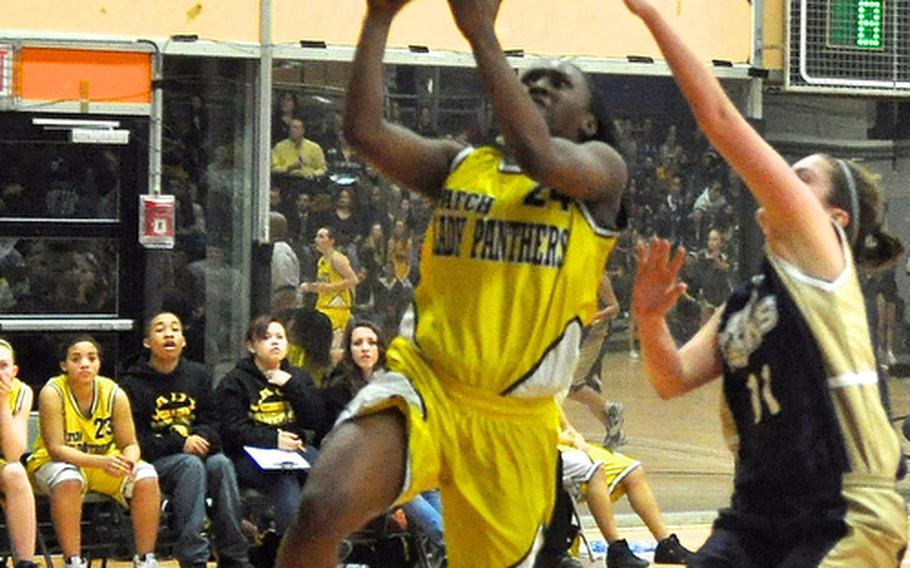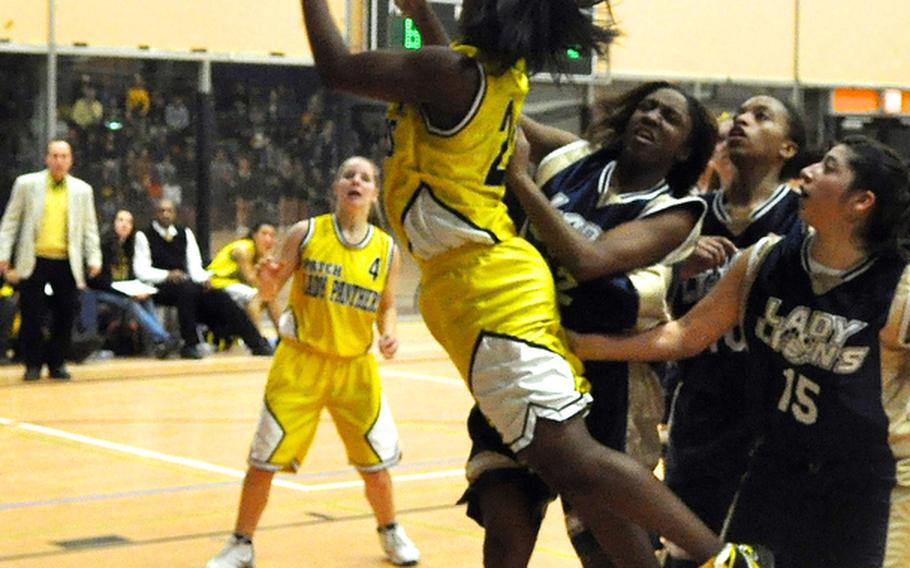 When it comes to picking the Stars and Stripes 2012 female high school basketball player of the year, there's not much suspense. Patch senior Janelle Loney earned the nod for the second straight year.
The numbers speak pretty loudly – 23 points, 8.2 rebounds, 8 steals, 4.2 assists and 3 blocks per game. And Loney achieved those totals in spite of having to turn down the heat and sit for significant spells against several outmatched opponents.
But when Loney was able to play flat-out, she often put the numbers up in bunches. In 14 regular-season games, for example, Loney posted no fewer than three triple-doubles and capped that with a quadruple-double – 20 points, 11 steals, 10 rebounds and 10 assists in a 51-21 victory over Bamberg on Feb. 4.
"I've been coaching for over 33 years," said Patch coach John Kohut, "and in that time I've sent 25 athletes to college on athletic scholarships. Janelle is one of the top athletes I've ever had."
The coaches who faced Loney didn't seemed prepared to argue.
"Janelle is the most dangerous and explosive player in Europe," emailed Wiesbaden coach Jim Campbell, who saw Patch's 5-foot-6 guard score a season-high 48 points against his Lady Warriors. "She is extremely quick and athletic, and in a minute's notice she can put her team on a 10-0 run, and the game will be out of reach."
Kaiserslautern coach Corey Sullivan's Lady Raiders fell to Patch 52-42 in the European D-I third-place game,
"I love it that even though she is far and away the best player on the court, she never acts cocky or over-confident. She's just constantly smooth out there."
And not just when she has the ball, wrote Hohenfels coach Shawn Rodman, whose D-II Lady Tigers had to face Patch twice in regional play.
"What impressed me most was not her numbers offensively, but her defense …," Roidman emailed. "When she was in the game, Patch's defense, particularly their press, was difficult to beat. We had to try to keep the ball away from her when she was on defense as well."
Rodman went on to praise Loney's eagerness to play defense, an observation which ties in seamlessly with Patch assistant Chris Ferguson's view of the team's soon-to-be four-time All-European.
"Janelle is one of the most intense, hard-working, unselfish players I've ever been around," he told Kohut. "She has a great attitude. She's always willing to learn."
Learning loomed large this season, because the Panthers were forced to replace some key graduated cogs from the school's 2011 European champs and cast Loney into some different roles.
"We had to try new things," Loney said by telephone on Thursday.
Even so, "I enjoyed my senior season," she added. "I enjoy trying new things."
Less enjoyable was a painful elbow injury she suffered in a tournament pool-play loss to K-town.
"I jumped and landed on it hard," she said.
Typically, Loney never complained.
"We knew she was hurt," Kohut said. "She'd wince, but she never whimpered."
Noticed Sullivan when the ball stopped dropping for Loney that day, "She played hard and tried to have her team win instead of just herself."
Loney said her focus now is on the next level.
"I'm excited about getting to see what college ball is like," said Loney, who's attracted attention from several schools with summer camp play in the States but has yet to pick a college. "I'm working on my free throws, jump shots and definitely my three-point shot."
Is that really necessary?
"You can always get better," said the player who in the words of Vilseck coach Jim Hall is already is the best in the school system.
"No one is close to her," he emailed, "on the female side of the game."
For his part, Kohut has no doubt that Loney will make a college impact.
"Her sheer presence is extraordinary," he said. "Someone will realize what an asset she'll be to their team."
---
---
---