Home Team
Langes have Samurai thinking of soccer titles
by
Dave Ornauer
March 28, 2012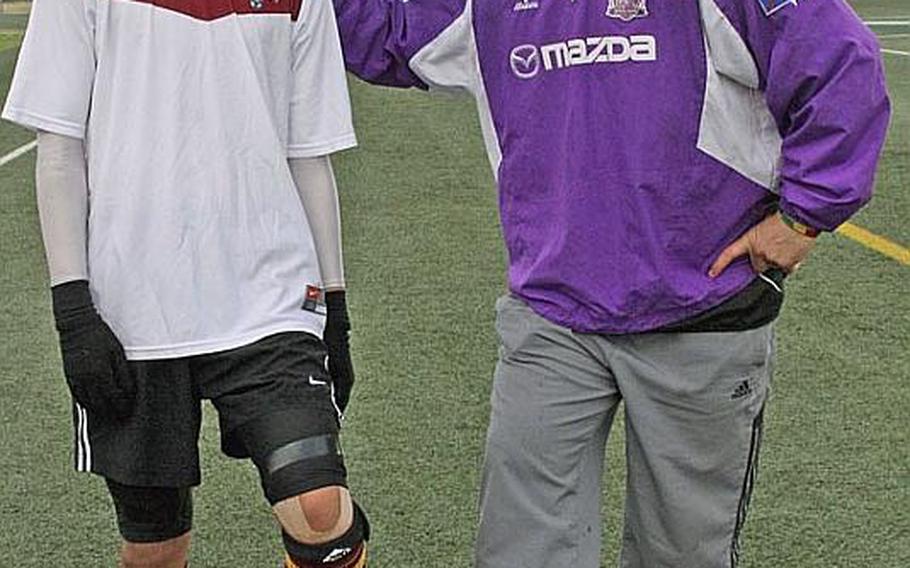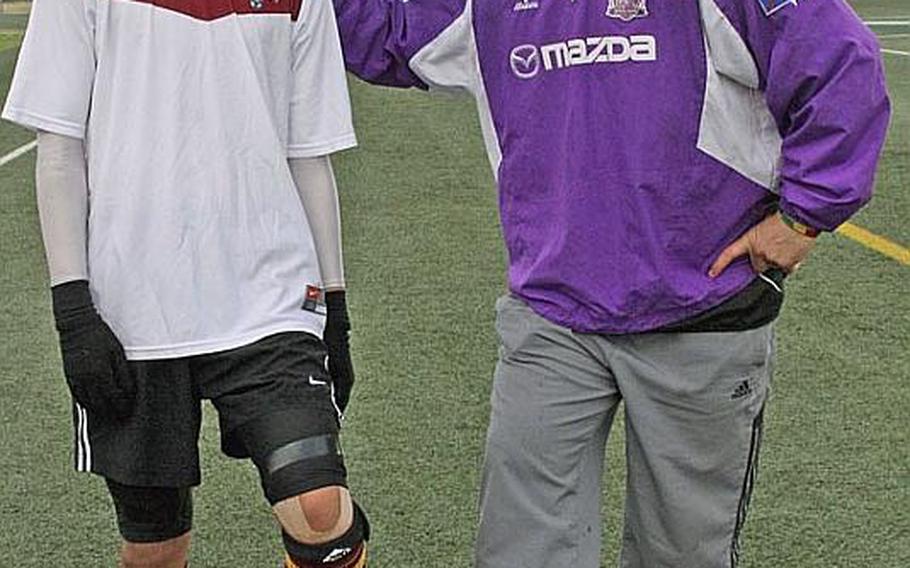 This article has been corrected
Where sophomore midfielder Gaku Lange and his father Mark are concerned, the apple most certainly didn't fall far from the tree.
For the last three years, the elder Lange has coached the most successful teams in Matthew C. Perry boys soccer history, winning the 2010 Far East Division II Tournament title for the first time in school history, and coming in second last year.
Gaku, his son, has made a name for himself as one of two foreign players to suit up for the Hiroshima Sanfrecce youth development program affiliated with Japan's professional J-League. He's now transferring those skills to the Samurai to the tune of 22 goals and 23 assists in 18 matches.
Could it be the centerpiece Perry needs for a drive to another Far East tournament title?
While Tyelor Apple leads the region with 35 goals and Justin Hill is tied with Lange for the team lead with 23 assists, the younger Lange is pulling double duty, setting up and finishing, Mark Lange said.
"He works well at midfield with Hill, Alex Barker (15 assists) and Yuta Fleming (20 goals, four assists); there's a synergy when they're on the field," he said.
"As a result, Tyelor gets lots of balls served to him on a plate. That coupled with his natural ability, he can race past defenders, he's fast as lightning."
And the Samurai are scoring goals at a gluttonous rate. They had 86 in 25 matches on regulation fields in going 20-4-1 a season ago. So far this year, they have 104 in 18 matches, 5.78 per match.
Sitting at the controls of this scoring juggernaut is a man in his ninth season of coaching the Samurai, building them from piñata into Division II power, and his son, who teethed on the game since the time his father was playing with him as a 3-year-old.
Gaku attended Japanese elementary school and played organized ball from age 5. In the seventh grade, Gaku was one of 287 youths who tried out for 18 positions with Hiroshima Sanfrecce, an Olympic Development-equivalent program.
"They do a lot of passing, dribbling and touch," Gaku said. "They didn't focus on physical training; mostly fundamentals."
It wasn't easy, Mark Lange said. Even when injured, Gaku had to travel one hour each way by train to Sanfrecce's training site. And he wasn't fluent in Japanese, spoken exclusively by the team's coaching staff.
All that made him "worlds better," Gaku said.
"The dark days made him stronger," Mark said.
And his teammates say they're grateful to have Gaku's skill set.
But there still is work to be done.
"Scoring goals doesn't seem to be a problem; the problem is defense," the elder Lange said after Perry finished second in the DODDS Japan tournament last week at Yokosuka Naval Base. "We can score. We just have to stop our opponents more."
And despite posting the best record in Samurai history last season, it ended just short of their goal. Of their four losses, three came to the same team – Yongsan International-Seoul, which claimed the 2011 D-II title.
"Goals are nice; your name gets remembered," said Apple, who is aiming at the DODDS Pacific single-season record of 48 set in 2001 by Zama American's Jimmy Flatley and the overall Pacific mark of 61 in 2008 by Seoul Foreign's Remco Rademaker. "Our goal is to win championships."
The Samurai club emblem is topped by one star, representing Perry's lone Division II title won in 2010, and the "11 brothers," as Mark Lange says of the team's motto, don't plan to rest until a second star tops that team crest.
"When we didn't get the second star last year, I was upset," Barker said. "It pushed me harder and I try to push everybody else harder to win the championship."
It's a nice position, Mark Lange says, for the Samurai to be in, given how they resided in the DODDS Japan basement when he arrived.
"We're the smallest school in DODDS Pacific. We used to be the ones that everybody ran around," he said. "Now, those teams are fighting us for titles. It's a nice feeling."
"To win, you have to have players," Lange said. "All the stars have aligned. We have good players. And we've made a good run."
CorrectionMatthew C. Perry's order of finish in a DODDS-Japan tournament was incorrect in an earlier version of this article.