Lakenheath grads starring for Britain in softball
by
Rusty Bryan
August 5, 2011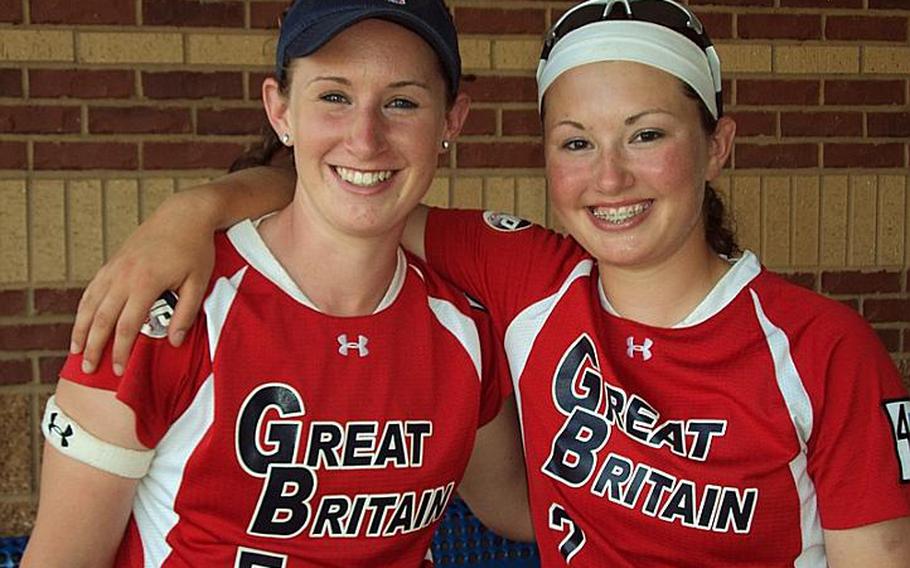 Lakenheath high school grads Morgan and Ali Parkerson are keeping their world-tour of a summer vacation going strong by helping the Great Britain's national women's fast-pitch softball team stay alive in the 2011 European championships in Ronchi Dei Legionari, Italy.
Morgan Parkerson singled and drove in a run with a sacrifice fly Friday afternoon to help Great Britain to a 6-0 victory over Spain.
Parkerson's sister Ali did not play in the victory, which moved Great Britain into Friday night's elimination game against the Czech Republic. Great Britain defeated the Czechs twice in last month's World Cup of Softball in Oklahoma City.
The winner between Britain and the Czech Republic advances to Saturday afternoon's consolation game against the loser of Friday night's game between Italy and the Netherlands, the teams which handed Great Britain its only losses of the tournament. Italy won 1-0 on Sunday and the Netherlands 3-1 on Wednesday. That game's winner qualifies for the 2012 World Championships in Whitehorse, Yukon Territory, Canada.
Each Parkerson sister went 2-for-4 in a 9-3 triumph over France in a morning game Thursday that upped Britain's record in the event to 4-2. Great Britain first baseman Morgan Parkerson, 23, who stroked a solo home run in Wednesday's 7-0 victory over Croatia, drove in a run with a fifth-inning double and scored two runs herself against France. Second baseman Ali Parkerson, 19, stroked an RBI triple in the fourth inning and followed that with a two-run single in the fifth against the French.
The Parkersons, who hold dual American-British citizenship, each went 0-2 in Thursday's nightcap, a 4-2 must-win triumph over Russia in an 8-inning, extra-inning game.
Both sisters were battling jet lag going into the Euro championships, which began last Sunday. The previous Monday, they defeated the Czech Republic 6-1 in the fifth-place game in the sixth World Cup of Softball Invitational in triple-digit heat in Oklahoma City.
International travel, however, always was part of the game when the Parkersons were performing at All-Europe levels for the Lakenheath Lancers. Since they joined the British national team, just the amount of the globe covered and the level of competition they faced have increased.
"I've played in Holland and in Italy," said Morgan, a 2005 Lakenheath grad who played college ball at Western Washington University and is in her third season as a first baseman for Great Britain. "My first year in the European championships, we qualified for the world championships in Venezuela."
It was a move completely in line with the team's overall goal here – to get ready for the European championships, which were next on the schedule.
"Our goal is to get back to the Worlds," Morgan said following a 10-0, run-rule loss to the eventual champion U.S.A. Eagles on July 24. "The top three teams at Euros qualify for Worlds."
The elder Parkerson played the entire game against the Americans, who were unable to score until clubbing three home runs in a game-ending, 10-run fourth inning. Ali did not appear against the U.S.
Despite her hitless status in the U.S. game, Morgan, who was 2-for-3 with an RBI in the previous day's 3-2 pool-play victory over the Czechs, was upbeat about playing the team which would claim its fifth straight World Cup title some 29 hours later. The Americans downed Japan 6-4 the tourney's championship game.
"It's fun," she said. "You always know you're up against the best in the world. These teams would be in the Olympics if softball were still on the program."
After Europeans, things should get back to what passes for normal for the Parkersons, who still call the Lakenheath area home.
Ali, a 2010 Lakenheath grad, will return to Western Oregon, where she'll begin her sophomore year and continue her progression in the sport.
"I thought it would be hard to compete against all those players who played year-round," she said about adjusting to college ball, "but it's not as tough as I thought it would be."
For her part, Morgan will continue to go where softball takes her.
"I love it," she said of performing on the national team. "I'll keep playing as long as I can get a job that lets me have the summers off."