Home Team
Kinnick spikers definitely not rebuilding this year
by
Dave Ornauer
November 2, 2010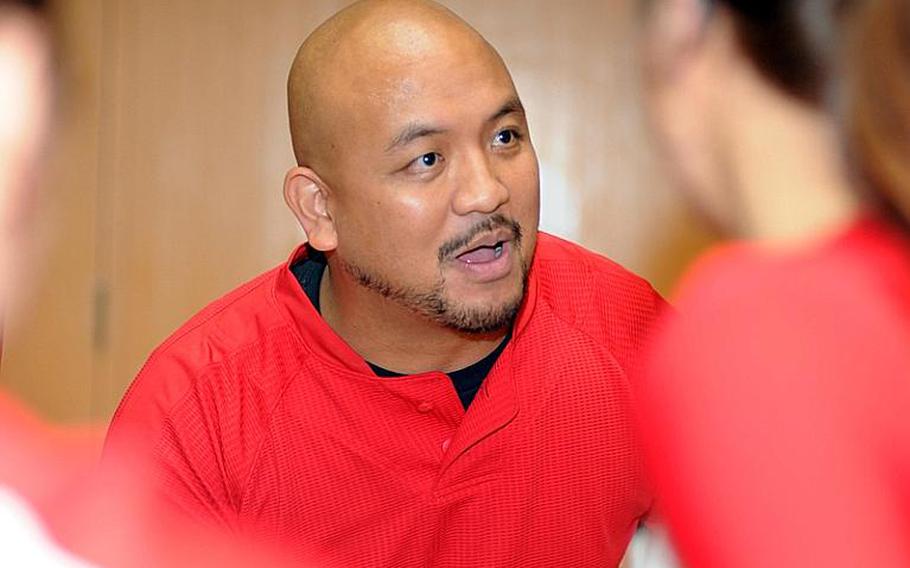 TOKYO – They could have given up on themselves after losing the key three spikers who led them to a historic 2009 season - Mary Niemeyer, Shannon Jackson and Camille Kawamoto - to graduation and transfer.
The remaining Nile C. Kinnick Red Devils and their coach, Al Garrido, could have put up their hands defensively and suggested that the cupboard was completely bare, that this was a rebuilding year.
But something happened that accelerated the construction on the road back to success, something that has kept the team winning despite the loss of their hitting riches.
Unlike last year's unit, which fashioned a school-first unbeaten regular season, school-first DODDS Japan and Kanto Plain titles and a sixth-place Far East Division I finish, Kinnick has shed the star system and adopted a family-first approach emphasizing unity and chemistry.
"They look more united to me on the court," said longtime American School In Japan coach Gail Lanier. "They're stronger than they were last year. They're a better team than they were last year."
The result: After Tuesday's home match with Seisen International, which Kinnick won 25-17, 26-24, 25-17, the Red Devils were 26-1 overall and made more school history with their second straight Kanto title.
Leading the way are holdovers Vicky Hollingshead, a senior outside hitter averaging 6.5 spike kills per match, senior setter Marina Nakayama (22.92 assists) and junior middle blocker Emily Stith (7.3 kills, 2.5 block points) from the 2009 lineup, joined by varsity newcomer Mashiya McKinney (7.6, 3.1).
But it's more than just numbers, one Kinnick player said.
"All the clichés, teamwork, heart, passion, drive, desire, heart," Hollingshead said. "Coach instilled a lot in this team, the 'you-can-do-it' attitude in all of us. He didn't doubt us for a second. As a result, we didn't doubt ourselves."
While a year ago, the Red Devils deferred to their star hitters "to fire us up," Nakayama said this season, "everybody has a role and everybody puts into it what they want the outcome to be."
"We're more of a big family. We're really close. We trust each other. We have a really good connection. Last year, it was more skills, more depending on certain people because we knew they could deliver. This year, we're all depending on each other."
For his part, Garrido says he didn't see a team in rebuilding mode at the first practice in August. To the contrary, he saw many similarities to a Southern High School team from Guam that he coached that went 43-0 over two seasons and won the 2002 Division I title.
"I was getting so excited because I knew this team didn't have necessarily an all-star" or two or three as the 2009 team did, Garrido said. "They are role players who all said, 'Let's have one goal.'"
Since arriving at Yokosuka Naval Base in 2006, Garrido said he refused to buy into the notion that due to the military's transient nature, DODDS teams are at a disadvantage against Tokyo and Guam powers which have won a combined 24 Far East Division I Tournament titles.
"DODDS schools have athletes. Guam schools had athletes. And I didn't see a difference," Garrido said. "I could say we're rebuilding every year. But that would be kind of unfair to the players."
As a coach, he says he represents the sport and it's his job to teach his players to "love that sport (and) they learn in order to love the sport, they have to do their best at it. When they do that, they figure it out and say, 'Wow, this is a great sport. I love volleyball.'"
As good as they are, Garrido feels his charges are "not anywhere as good as they're going to be. We have Far East still to go and they're not anywhere close to reaching their potential."
One thing that has kept the Devils better grounded than last year was losing to Seisen on Sept. 17 in an early regular-season match. Kinnick didn't experience its first loss last season until eventual champion Christian Academy Japan beat Kinnick in the Division I quarterfinals.
Losing early to Seisen was "kind of a good thing," Hollingshead said.
"Because we hadn't lost a match that may have affected our play at Far East," she said of going unbeaten in the 2009 regular season. "Now, we know what it feels like to lose, we don't want that feeling to happen again, so we're going to play our best and not let that happen."
Coupled with the notion that Kinnick was viewed by the rest of the Pacific as "underdogs" entering the season, "that was a big push for us to play hard and to come together," Hollingshead said, adding that gave Kinnick incentive heading into next week's Division I tournament.
"We'll take what we've created, what we've made during the season and definitely bring it to Far East and see how it plays out there."
---
---
---
---