Far East Division I football
Kadena runs over Yokota speed bump to title
by
Dave Ornauer
November 12, 2010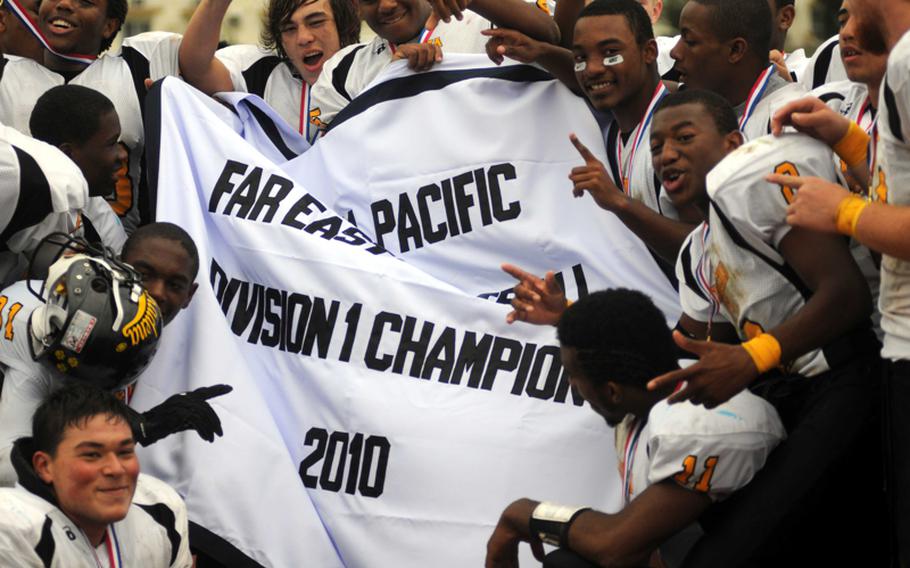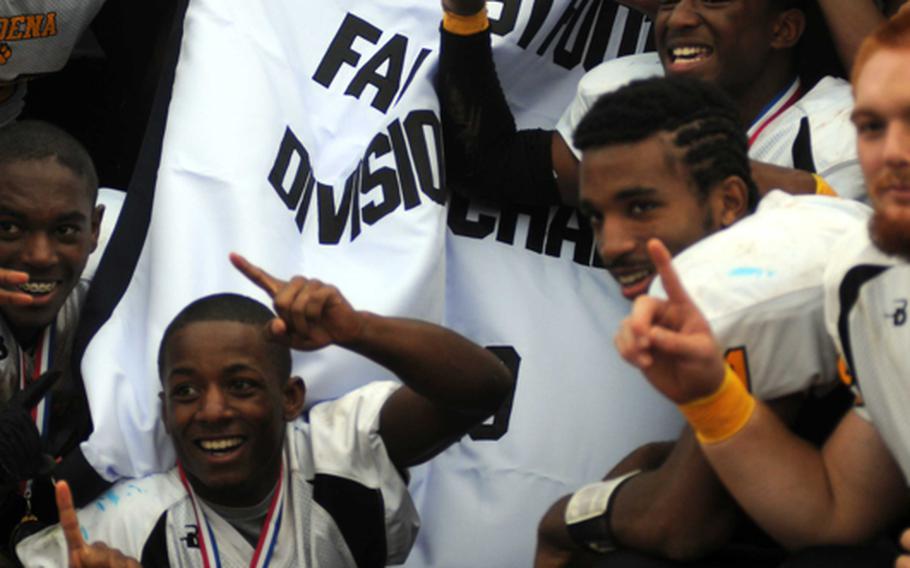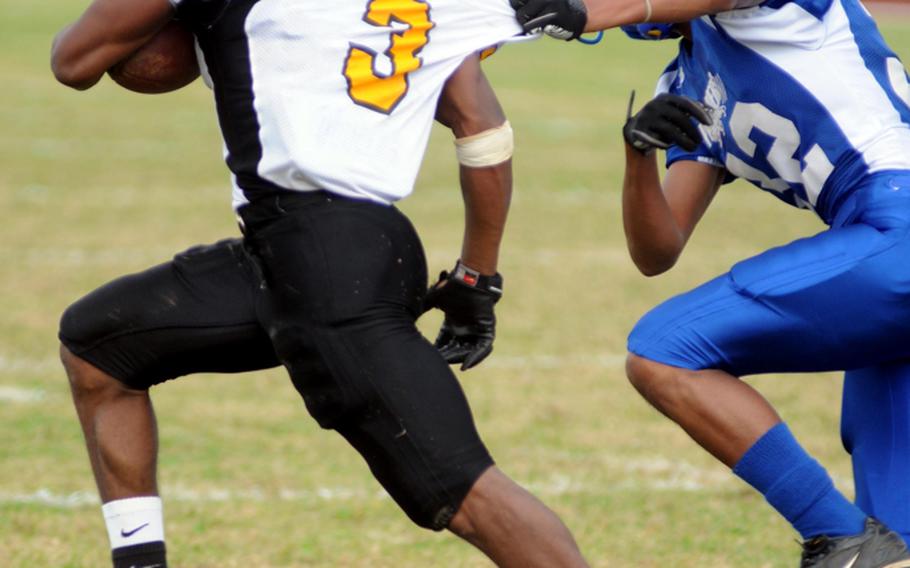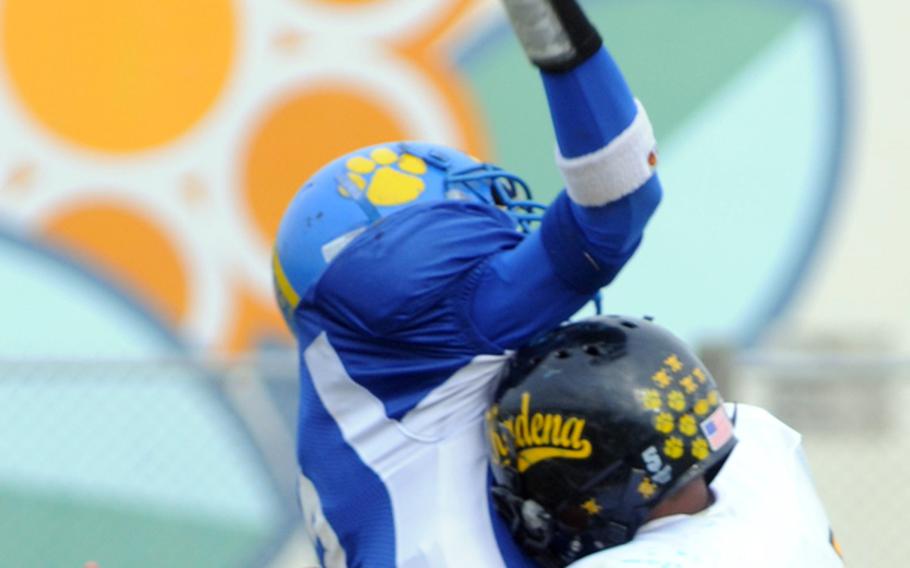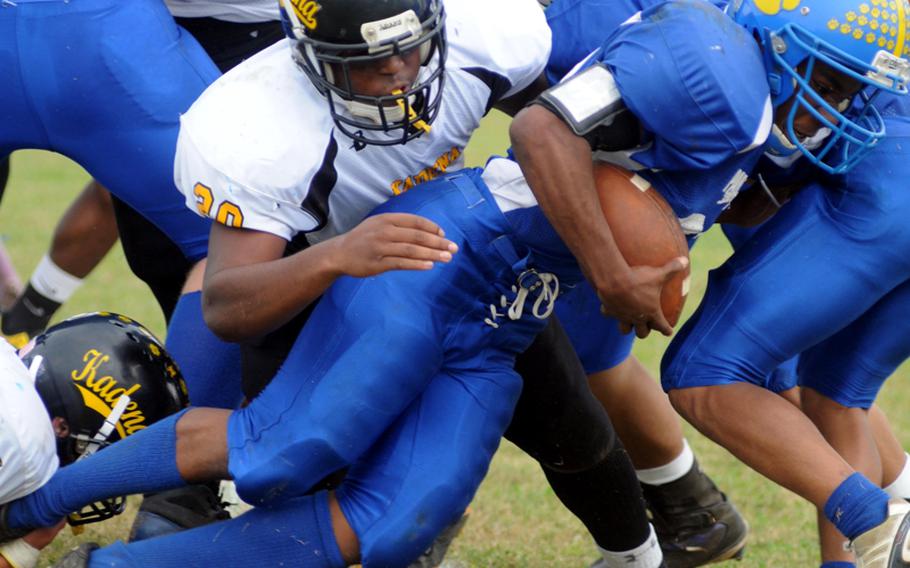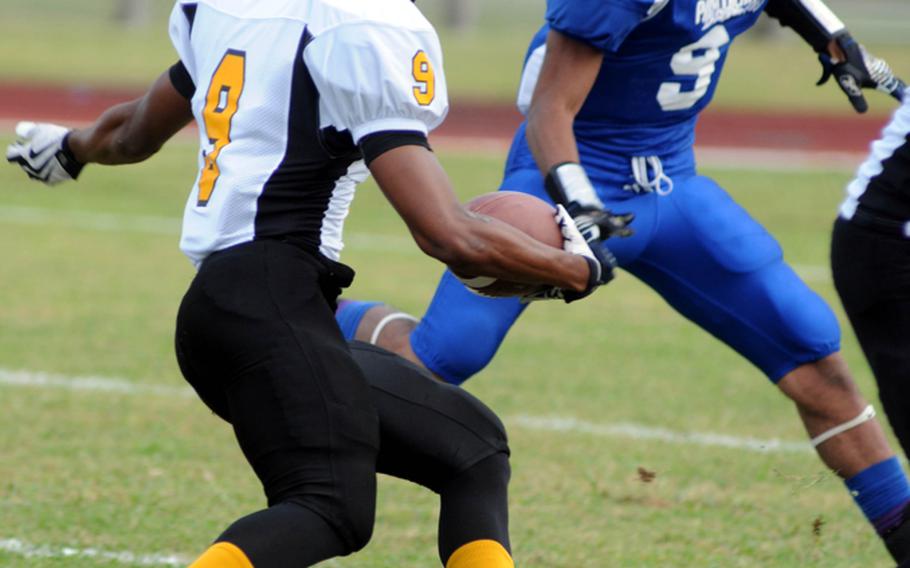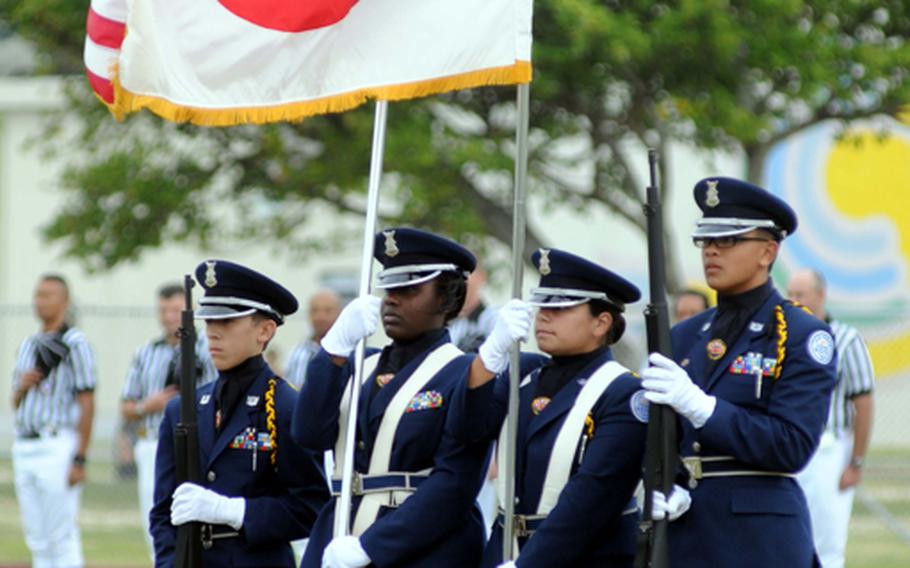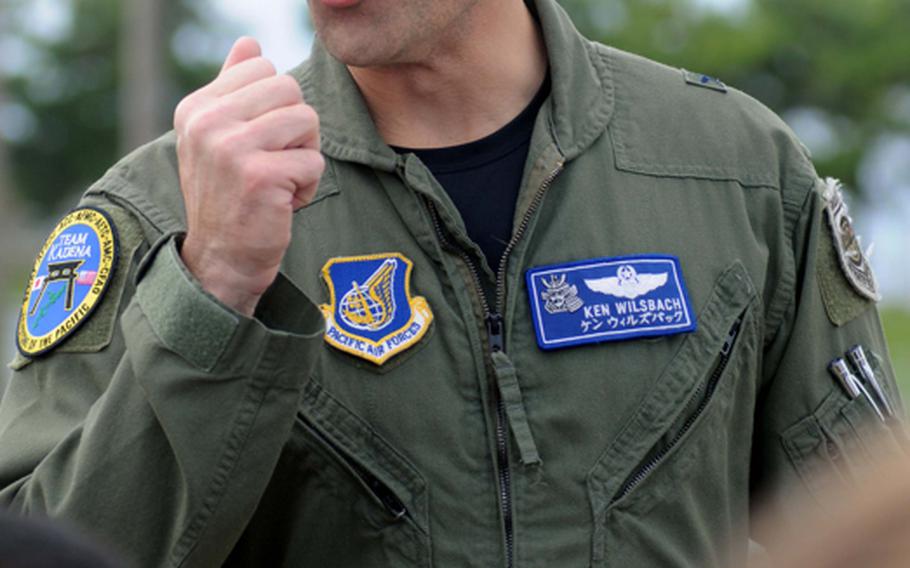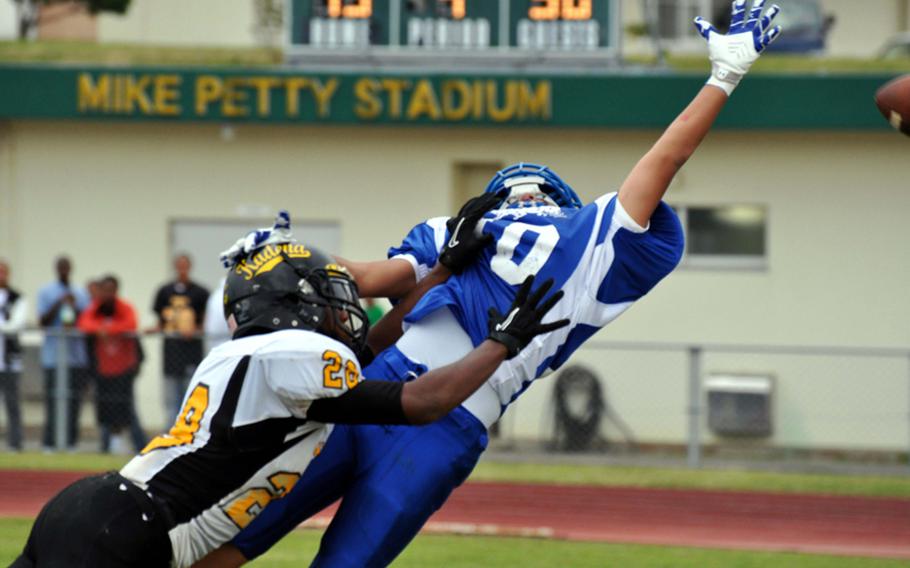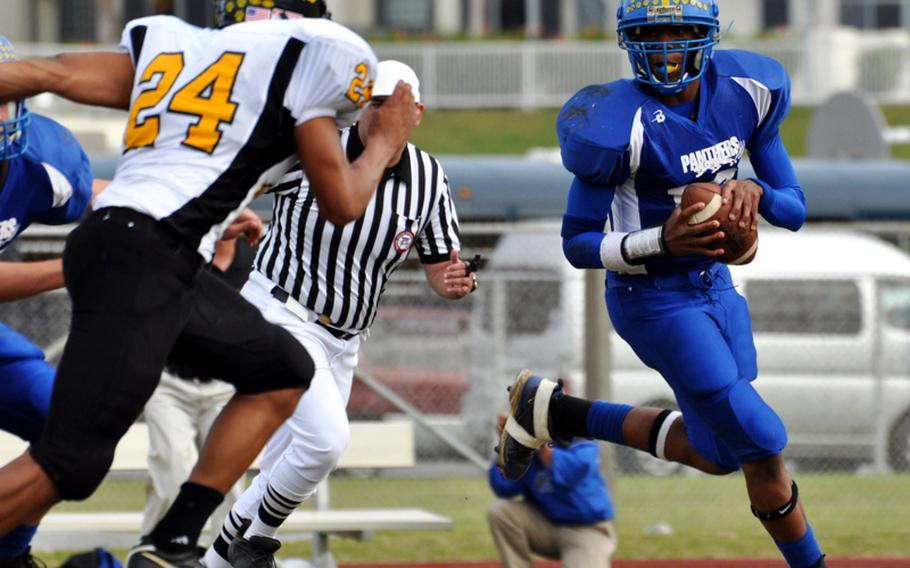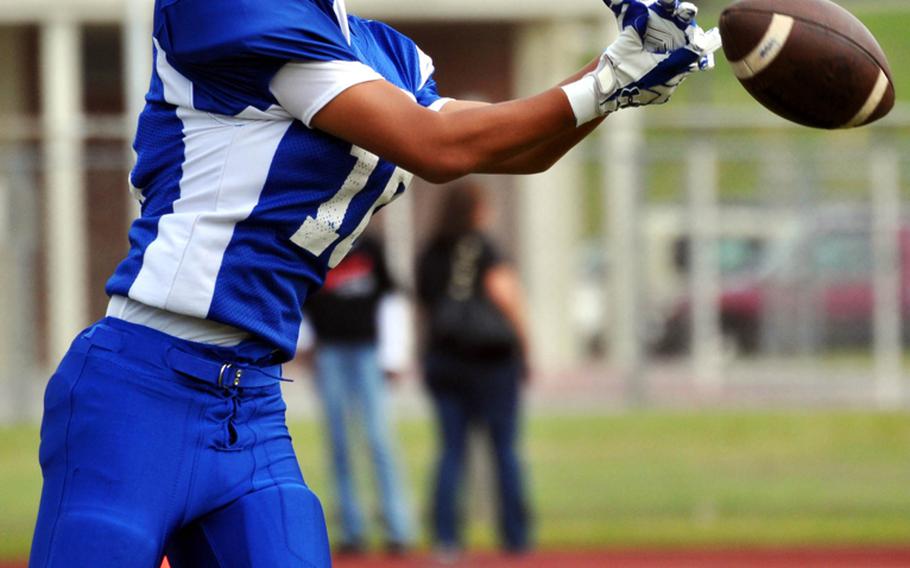 CAMP FOSTER, Okinawa – Kadena's running-back tandem known as Speed Inc. exited Pacific high school football in style Friday.
Senior speedsters Shariff Coleman and Thomas McDonald teamed for 285 yards and five touchdowns on just 16 carries and Kadena got three touchdowns in the first 6 minutes, 48 seconds en route to a 50-23 thumping of Yokota and its third Far East Division I football title in four years. The second half was played with a running clock.
"We've had a lot of great backs, but those guys are the best backs we've ever had, no doubt about it," coach Sergio Mendoza of Kadena of his star backs. "Talent, work ethic, dedication and belief in commitment to our program. It's been amazing.
En route to a 9-0 mark and outscoring foes 387-87, Kadena got a Pacific-best 1,148 yards – 4 yards shy of the Okinawa record – and 14 touchdowns on 110 carries from Coleman and 1,033 yards and 19 TDs on 99 carries from McDonald. The two have combined for 4,018 yards and 69 touchdowns the past two championship seasons.
The two backs each deflected credit to their offensive line. "They've worked hard all season; I thank them after every game. I praise them," Coleman said.
"The name 'Speed Inc.' could not have been created without that line," McDonald added.
Coach Tim Pujol of Yokota agreed that Kadena's line play was vital to its success. "They won the line of scrimmage clearly," he said. "And once those guys get into the open field, there's just not a lot you can do. We hoped to contain them at or near the line and it didn't happen."
McDonald had 102 yards on nine carries. He scored on his first three carries, two of which went for 10 and 20 yards, to put Kadena ahead, 14-0. Josh Dyer returned an interception 19 yards and Kadena led after one quarter, 20-0.
Yokota (8-2) used a 19-play, 80-yard drive over eight minutes to cut it to 20-7 on Devin Day's 1-yard run.
But promptly, Coleman took the next carry 63 yards for a touchdown. Then after Yokota went three and out, McDonald ran 41 yards on the next play to make it 36-7. Coleman's 36-yard TD gave Kadena a 43-7 halftime lead. Lotty Smith's 1-yard third-quarter sneak capped Kadena's scoring.
In the waning moments, Day and Yokota made it respectable, as the senior back who ended his season with 1,133 yards and a Pacific-leading 23 touchdowns on 201 carries, scored twice to cut the gap to 27 points.
It was Day's running that Kadena was able to shut down early to build a lead. "We were able to control their offense, which is always so dangerous and disciplined," Mendoza said. "We were able to restrain them and restrain them well."
That a steady northeasterly wind shortened two early Yokota punts and gave Kadena short fields didn't help matters.
"Gabe (Huizar) was kicking into a pretty strong wind," Pujol said. "We gave them some short fields, but we also had some breakdowns on defense. But you have to give them credit. Now, we start making the depth charts for the 2011 season."
---
---
---
---