Home Team
Kadena girls hope sibling magic continues
by
Dave Ornauer
December 14, 2011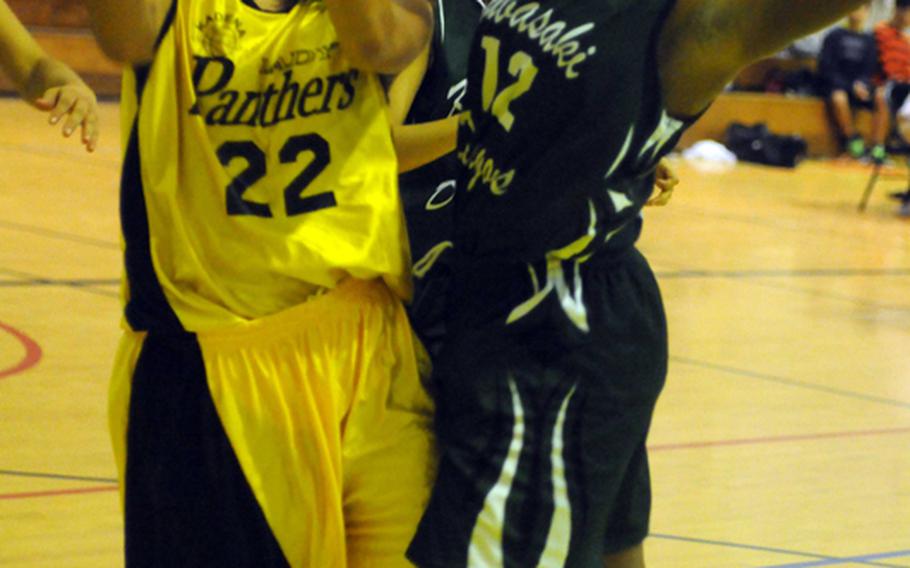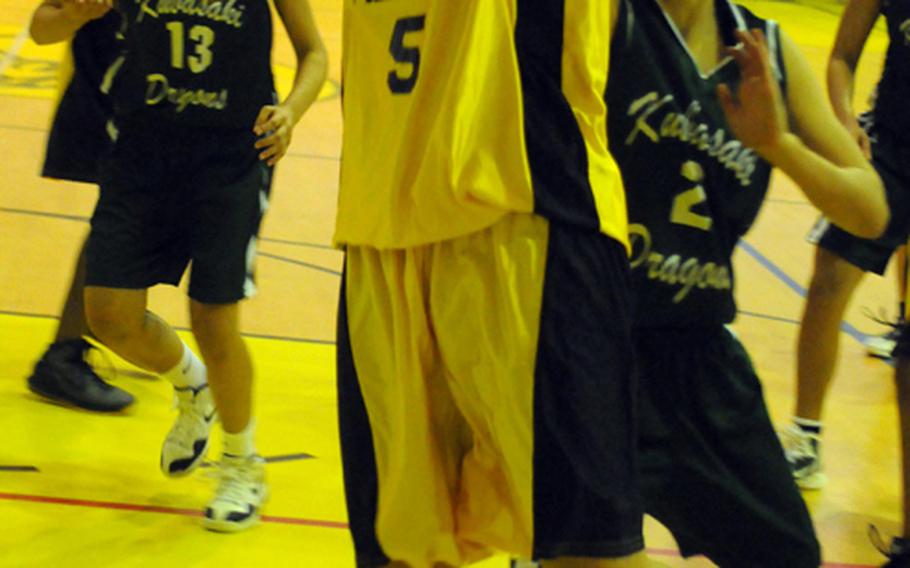 Two trips to the Far East High School Girls Division I basketball Tournament and all Maria Vaughan had to show for it was a small trophy from a three-point shooting contest and bad memories.
"It's not what I wanted," the then-sophomore Kadena guard reflected on her return trip from last year's tournament in Guam. Her Panthers had just finished fourth, their second straight semifinal appearance. But each finish rang hollow, she said, after season records of 13-21 and 14-18 her first two years in black and gold.
While talented, players rarely got along with each other or with coaches, Vaughan said.
"We'd blame each other for mistakes on the court, didn't get along at all," she said.
Vaughan hopes for bigger and better things this season. With her freshman sister, Alicia, as her sidekick, with a new coaching staff and with a new attitude and chemistry, the Panthers broke out of the gate with a 21-point win over arch-rival Kubasaki last week. In Vaughan's eyes, the future looks bright.
"The skill level is much better than last year," Vaughan said of a team stocked with veterans and five freshmen. "The team has a better attitude. And the whole team is tighter than it has been, good ability and chemistry."
Siblings played major roles for Kadena in its run of Far East championships in the last decade.
Jen and Dianne Abel fueled the Panthers' girls soccer three-peat in 2004-06, as did Ben, Aaron and Zach Zendejas for the boys in 2004 and '06. Harry and Jacob Bloom each netted three individual golds for Kadena's wrestling team, which won six Far East titles from 2004-10.
The Vaughans are hoping to be next.
"It is possible," Maria said. "I would be so happy."
"She has this fire in her since junior high school; she hates to lose," said Maria's father, Chris, a 22-year Exchange employee who plays club ball for Japanese teams off base and fueled his daughters' interest in the game. "Alicia doesn't have that fire yet, but she will."
Maria and Alicia began playing Japanese club ball and also for Japanese elementary and middle schools off base until the ninth grade. They could have gone to DODDS schools, but Chris said the family plans to keep its Okinawa roots far beyond the daughters' high school years.
"It's important to us that they learn both" Japanese and English, Chris said. "They're dual citizens. We're trying to find that balance."
That balance also meant when they did begin going to Kadena, they were at a disadvantage with their primary language being Japanese.
"It was hard to communicate" at first, Maria said, both in the classroom and on the court, where the old-school Japanese style of ball, emphasizing passing and fundamentals, differs sharply from the showy American style.
"Japanese pass the ball a lot; they have very good teamwork," whereas American ball is more about individual success, Maria said.
Maria's in her third year at Kadena and says it took 1½ years for her to become functional in English. Alicia is also an English second-language student. Chris says he and his wife Nariko require the two girls to maintain B-minus or higher in all subjects in order to play.
But when they step between the baselines, "language barriers don't matter," coach Willie Ware said.
"Maria is a complete player, an extension of the coaching staff on the floor," Ware said. "She's the floor general. She makes good decisions. She makes key plays and she has heart and desire to win."
Alicia reminds Ware of Maria in many ways. "She's very quiet, doesn't say a lot, but her play speaks volumes on the floor. No emotion. All in a day's work. She just does what she needs to do."
The Vaughans' teammates say they're happy to have them.
"Maria has such great court vision; she knows where her teammates are on the floor," Carais Lawrence said. "Alicia's younger, but she plays very much like her sister."
It will take more, Maria says, than showing up at the court with a new lineup and new attitude to take the last step and win the program's first Far East Division I title since 2008.
"We need to stick together," she said. "We need to be aggressive, be more competitive, push each other hard in practice as we play hard during games."