Jewell named top Europe football coach
by
Rusty Bryan
November 18, 2011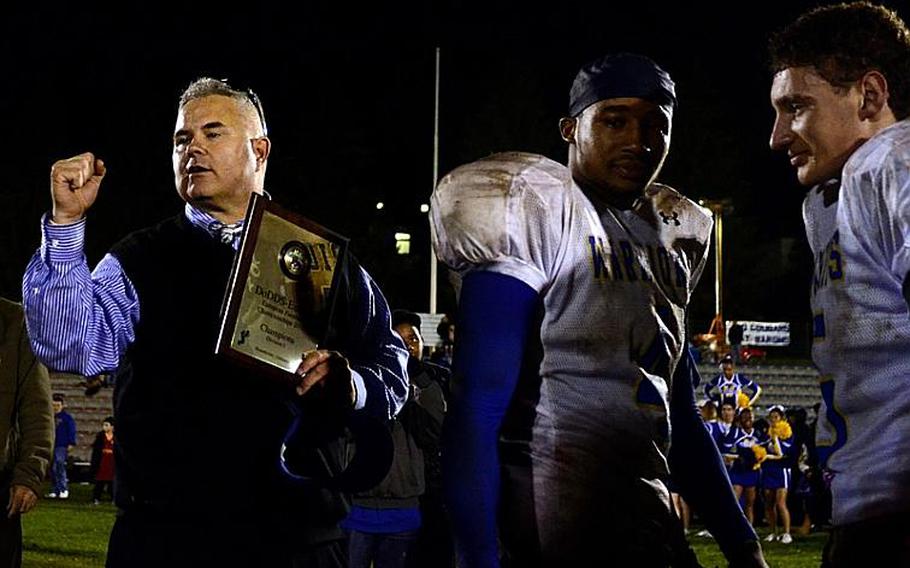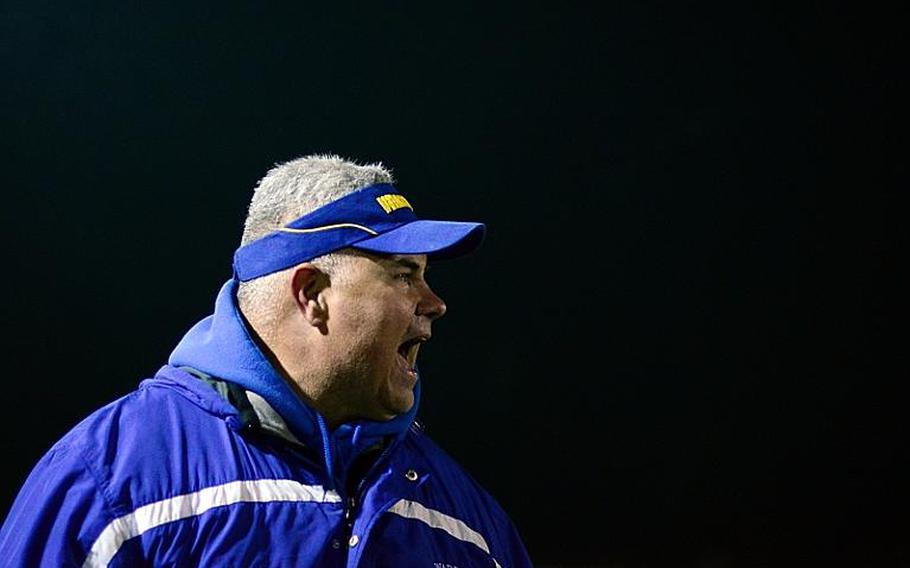 For guiding Wiesbaden, the smallest school in Division I, to its second straight big-schools title game and leading it to his second D-I title since he took over the Warriors' program in 2004, Steve Jewell was voted coach of the year last week by the European Football Coaches' Association.
"Back-to-back finals is hard to do," wrote one EFCA voter in supporting his vote for Jewell, whose Warriors rebounded from a 23-20 2010 title-game loss in double overtime to Heidelberg for a 25-23 victory over Ramstein in this season's finale. "He took a team that probably was D-II in enrollment and won it all at the D-I level."
Jewell beat out James Crowell, who guided Rota to an unbeaten season and the D-III crown in his first year there; Brian Hill of the D-I regular-season champion Patch Panthers; Carter Hollenbeck of the Baumholder Bucs, and Mike Laue, coach of the three-time European D-II champion Bitburg Barons, for the award.
In a telephone conversation on Wednesday, Jewell said it took a village for him to take home the award.
"I've been lucky," he recalled. "I've had some pretty good mentors – Darryl Schwartz (whom he succeeded at Wiesbaden), Marcus George (who has led Ansbach to the two longest winning steaks in DODDS-Europe history), Dave Eidem (who coached Wuerzburg to consecutive D-I titles in 2000 and 2001); Hollenbeck; Matt Martinez (of Lakenheath), Greg Blankenship (of AFNORTH) and countless others. The last 10 years, I've been asking them questions – what would you do? They were always willing to help."
Rounding out Jewell's coaching village were his 2011 assistants, Dan Carr, Nick Officer and Frankie Ojeda, and his wife and family, whose patience in allowing Jewell to devote the time necessary to coaching he views as indispensable.
Jewell said his 2011 team might not have been the equal to his 7-1 2004 champs, but that his latest edition might have been more satisfying.
"In the amount of comebacks we had and the amount of adversity we overcame," he said, "in the end, maybe this was the best."
Adversity?
As the smallest school in D-I, Wiesbaden is especially vulnerable to injuries.
"We lost a two-way starter," Jewell recalled, "and had a guy move in who could handle those positions."
The comebacks were nearly legendary. Fighting to stay alive for a playoff berth, the Warriors fell behind by 27 points at Filton on Oct. 15.
"We've never come back from that far behind," Jewell said. "I thought we'd try to get a TD to make it respectable, and we did. We looked at the clock and saw we still had time, so we tried to get another one."
In the end, the Warriors left England with a 37-34 victory.
They departed Baumholder three weeks later with a two-point D-I title-game victory, brought about by driving 70 yards on their final possession to kick a decisive 25-yard field goal.
It capped a season which opened with promise and question marks.
"I thought we'd be good," Jewell said. "We had a leg up with (All-Europe running back Daniel) Harris and a good line coming back, but we'd lost our quarterback and our receivers. It was about filling holes."
Jewell ended his season by coaching the North all-stars to a 23-14 victory over the South in the DODDS-Europe all-star game at Grafenwoehr, where that coaching village established a new outpost.
"It was a great experience," Jewell said, "to be able to share again with the other coaches and the players."
---
---
---