DODDS-Europe volleyball championships
It's Rota vs. Menwith Hill with DIII title at stake
by
Rusty Bryan
November 5, 2010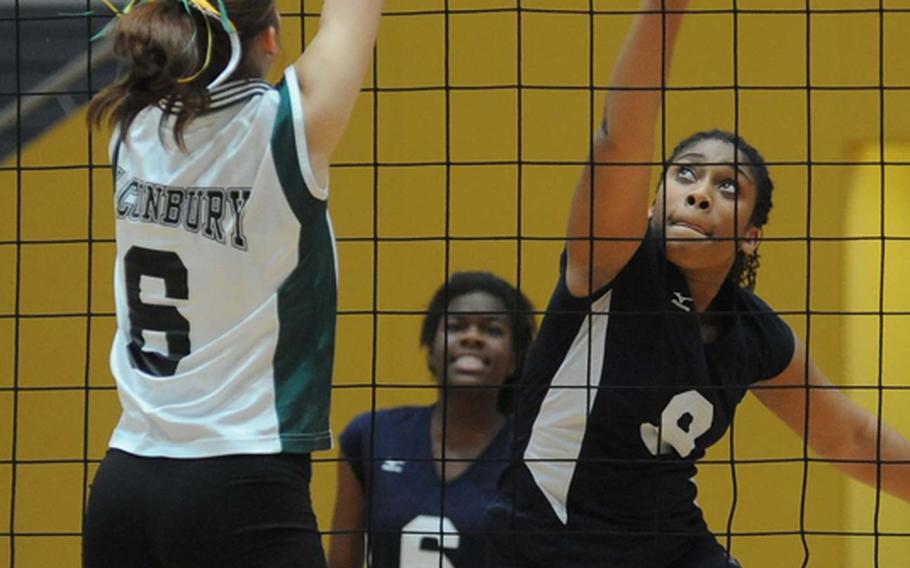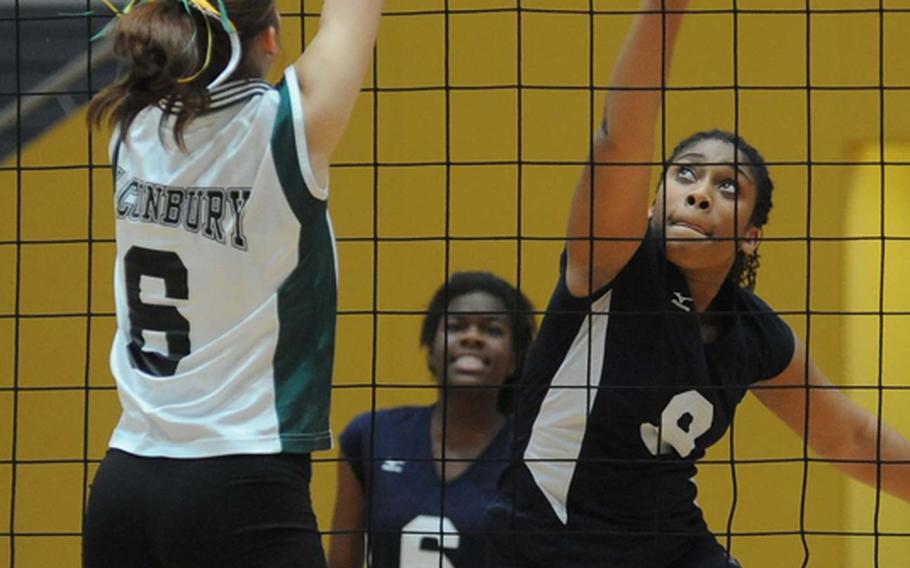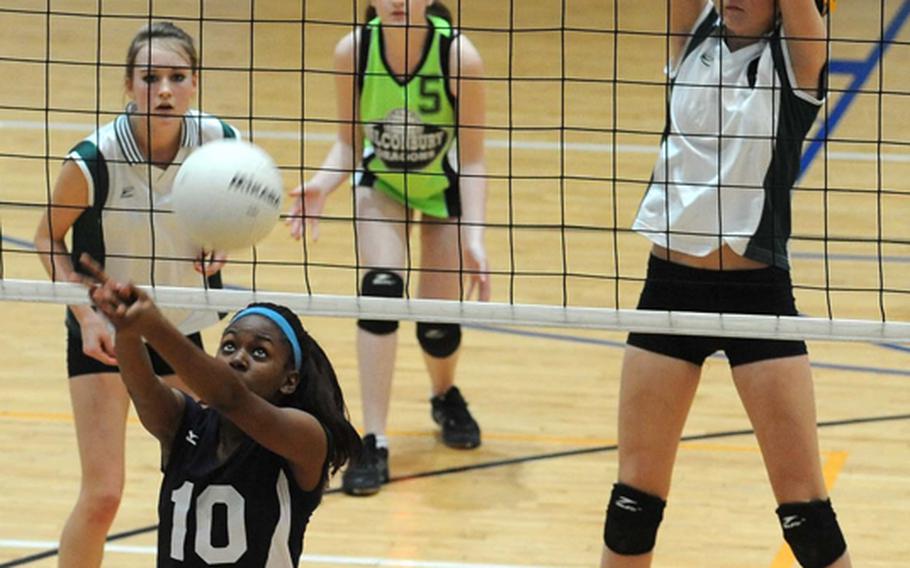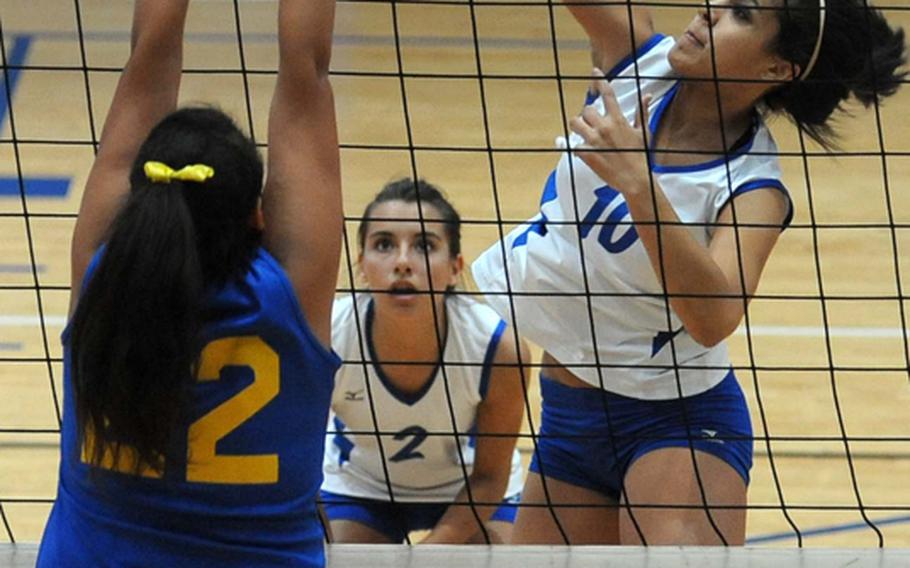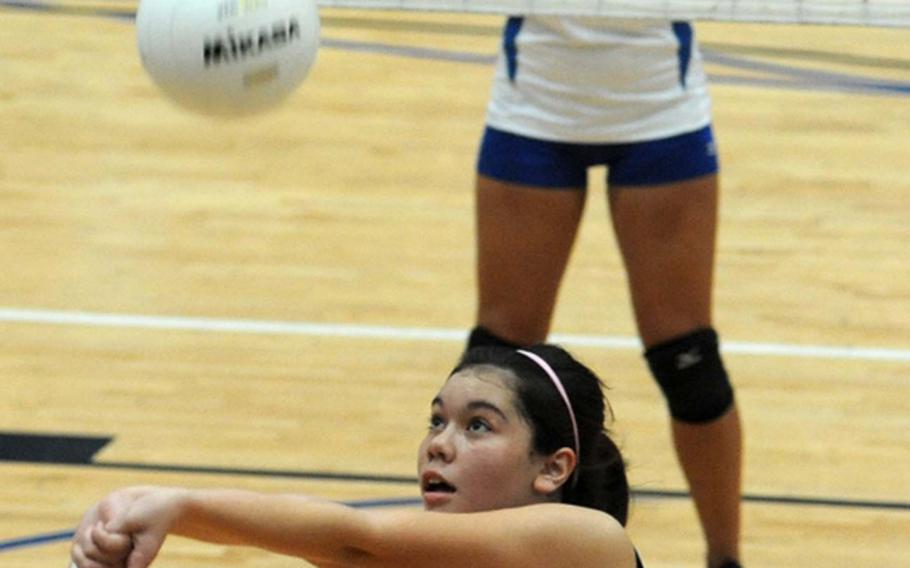 RAMSTEIN AIR BASE, Germany — Reaching Saturday's championship game in the DODDS-Europe Division III volleyball tournament was all a matter of communication, according to the winners of Friday's semifinal games.
"We kept our eye on the ball, worked as a team and really communicated," said Menwith Hill coach Karen Ehrhard after her Lady Mustangs reached Saturday's 11:30 a.m. title game with a 3-1 victory over Alconbury. "And the team really wanted this game."
Teamwork and communication paid equal dividends for Rota's Lady Admirals, according to jump-serving freshman Aspen Luna.
"We were communicating a lot better today," Luna said about top-seeded and unbeaten Rota's 25-23, 25-20, 25-15 blitz of Sigonella, without referring to her or her teammates' heavy serves.
Luna, who said she's been playing volleyball since she was a toddler, uncorked her athletic, hard and English-laden jump serve seven times to open Game 1 on Friday. Six of them put Rota up 6-0; the seventh went into the net.
"I've just started using the jump serve this club season," said Luna about her serve which she starts 10 feet behind the baseline. She throws the ball high into the air to the baseline, runs under it, rises to meet it and hammers it toward the far side of the net.
As it bites toward the floor, receiving service becomes an intimidating proposition.
"If you want it, you'll get it," smiled Sigonella's Emily Cartwright, who stood up to Luna's wrecking ball all match long. "I didn't want to let my teammates down."
Luna, however, isn't the only Lady Admirals who presents problems for the receiving team.
"We have some great servers," said Rota coach Judy Scarbrough, "and we had awesome teamwork today."
The Lady Admirals also figure to take another edge into Saturday's finale.
Equanimity.
"We've stayed on an even keel all year long," Scarbrough said. "Our last game against a Spanish team, we were down 0-6 and 13-3. They called timeout when we went ahead 17-14. I told our girls, 'Do you realize we scored 14 points and they scored one?'
"We won 25-20," Scarbrough said. "We never give up."
The Lady Admirals, who defeated Menwith Hill 25-12, 25-21 in pool-play on Thursday, will find that same sort of dedication on the other side of the net today. The Lady Mustangs showed plenty of tenacity themselves in downing Alconbury 25-19, 25-21, 23-25, 30-28.
"We've focused all year long," Ehrhard said, "that it's not a question of talent. It's a question of heart. Today, we had the heart."
As darkness fell Friday, there was still a logjam at the top in Division I.
At presstime, top-seeded Heidelberg, which defeated previously unbeaten Vilseck 3-0 Friday to tie the Falcons atop the round-robin standings at 5-1, was playing defending champion Ramstein in its final round-robin game. Vilseck was taking on winless Lakenheath in their finale. SHAPE remained in the title picture by downing Ramstein 21-25, 25-12, 25-12 on Friday.
In Division II, top-seeded Vicenza reached a late Friday semifinal against two-time defending champion Black Forest Academy. Aviano, unbeaten here, was to take on surprising Mannheim in the other semi.
Saturday's games, all scheduled for Ramstein's Southside gym begin with three consolation games, the first at 8:30 a.m. The championship games, played in III-II-I order, are scheduled for 11:30 a.m., 1 p.m. and 2:30 p.m., respectively.
---
---
---
---