It's all Ramstein at U.S. Forces softball
by
Rusty Bryan
August 21, 2011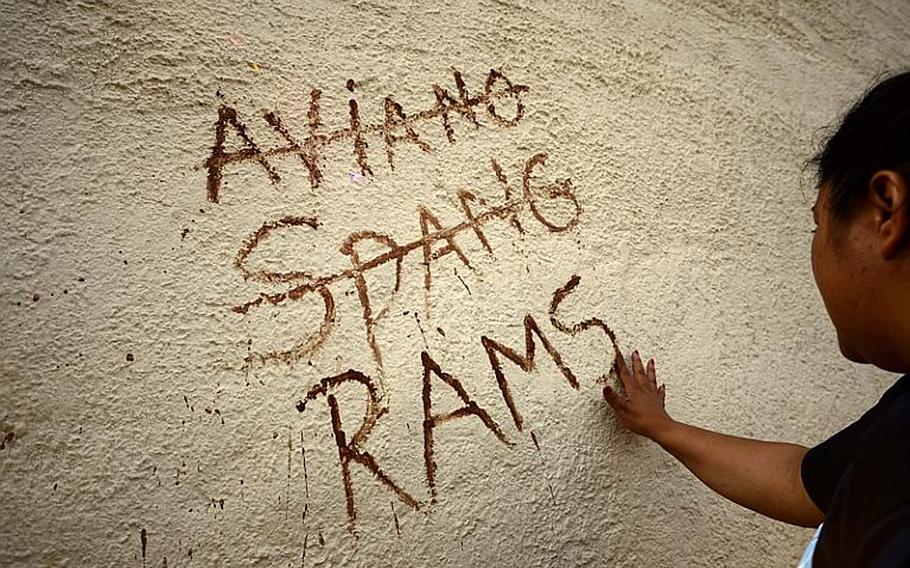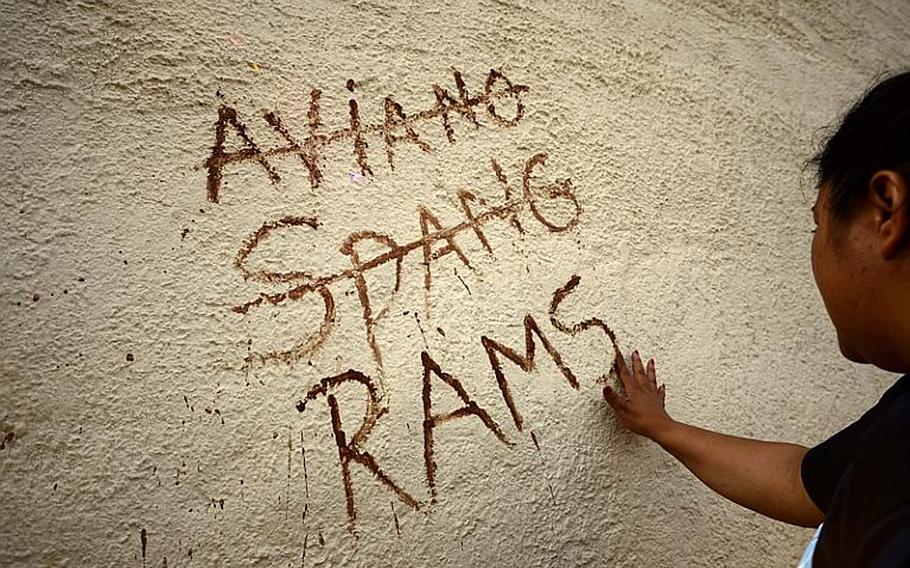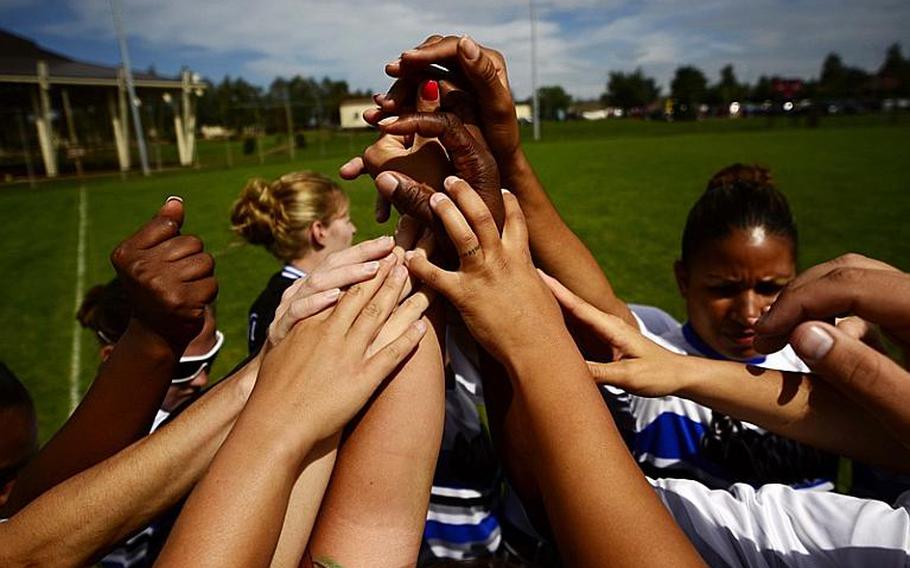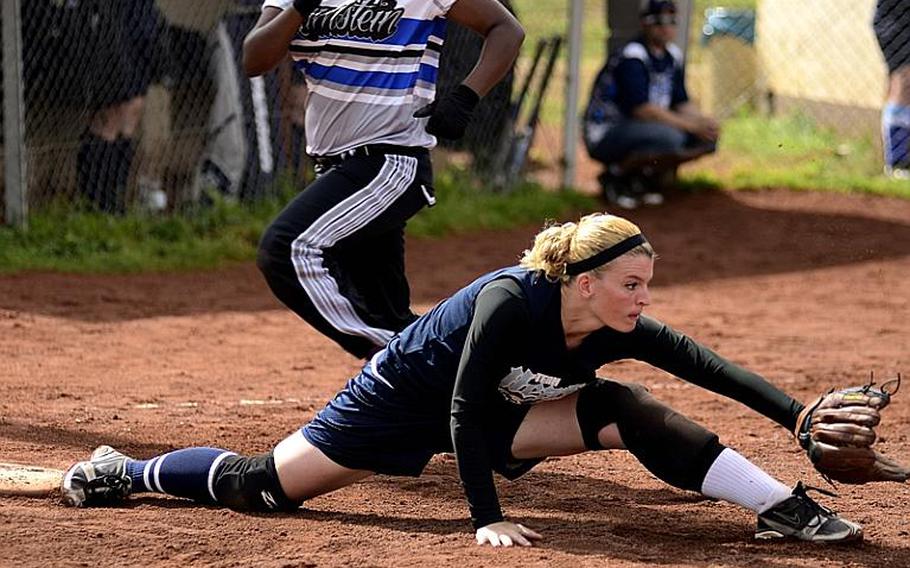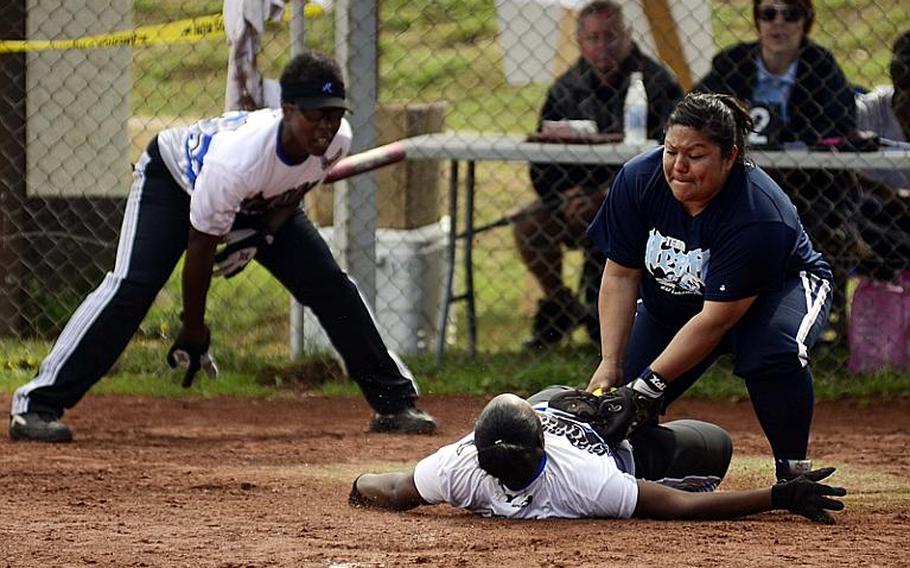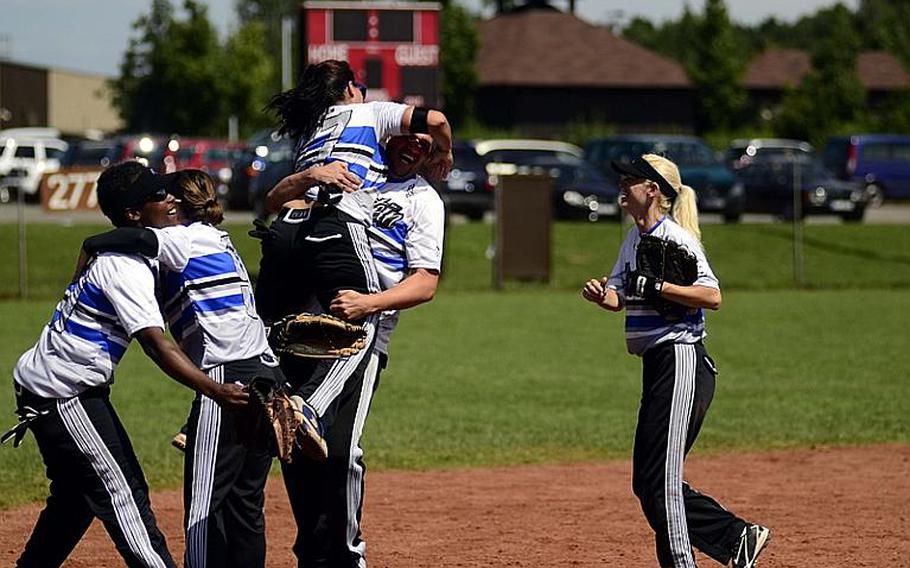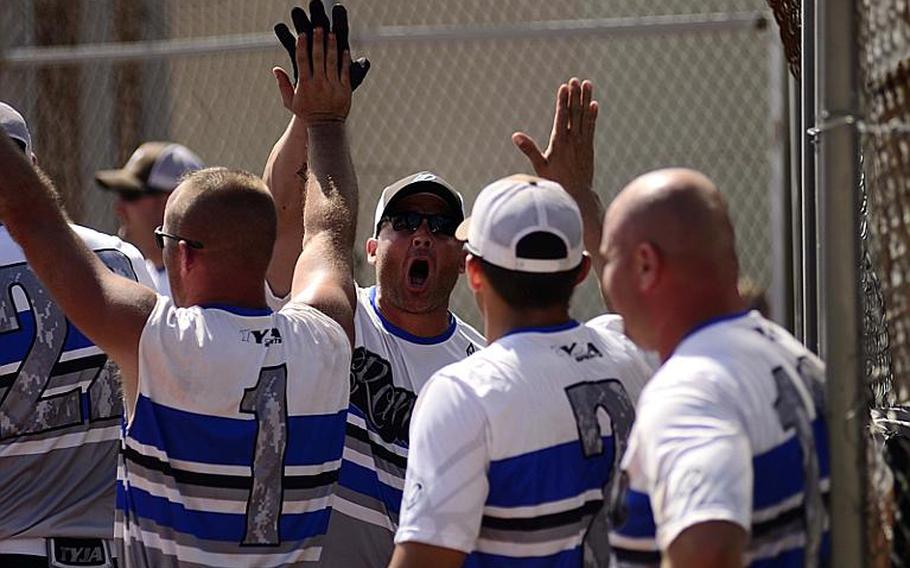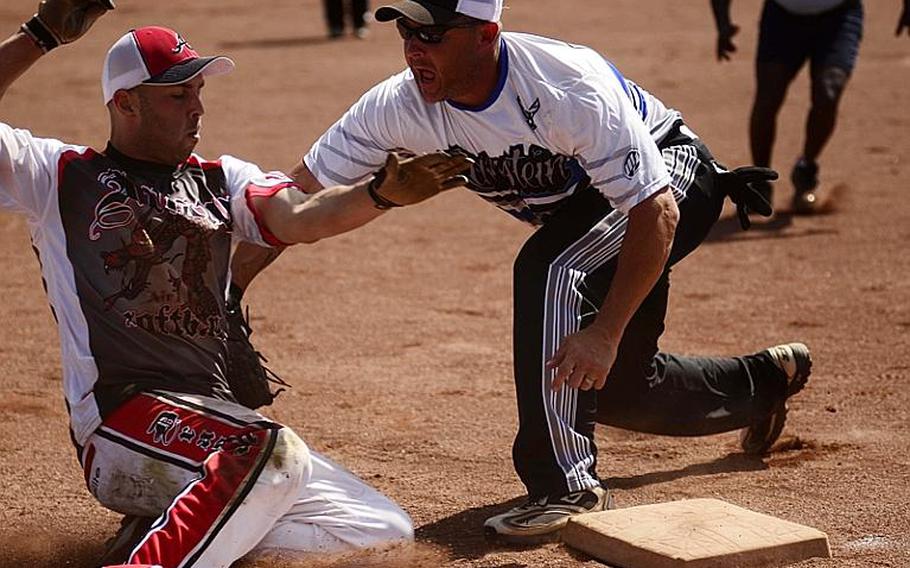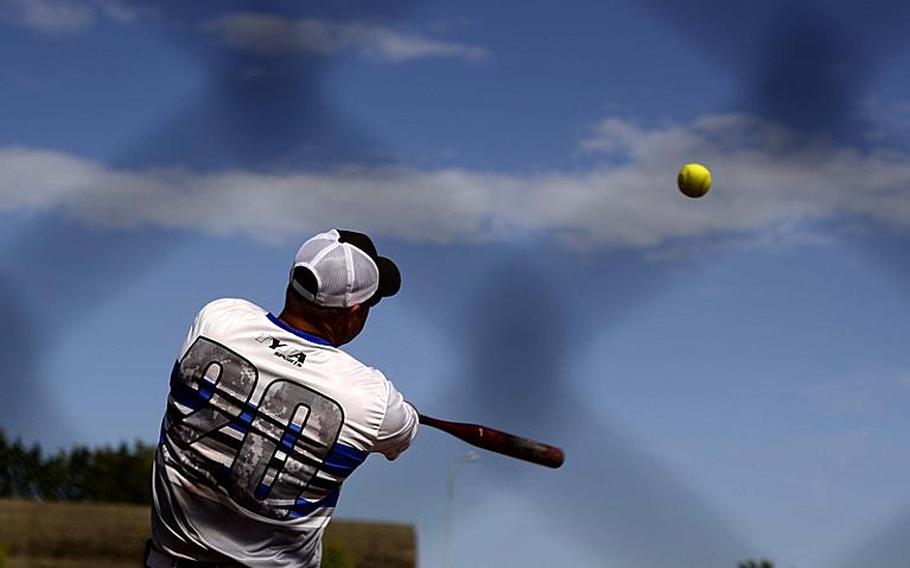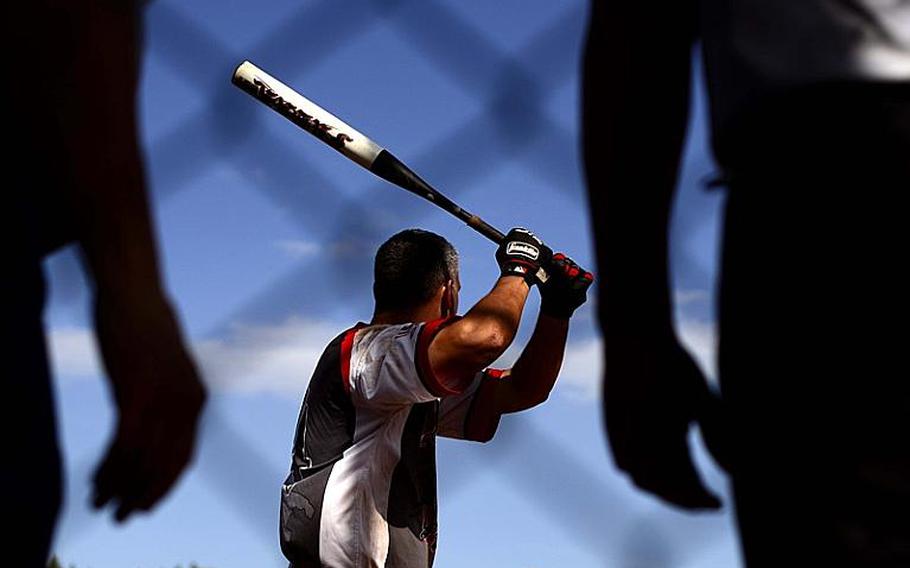 SPANGDAHLEM AIR BASE, Germany — It took each Ramstein team two games Sunday, but when all was finally said and done at the 2011 U.S. Forces Europe softball championship, both walked off with titles.
Ramstein's Lady Rams rebounded from a 14-12 first-game loss to Lakenheath to take a 5-4 verdict in the showdown against the Lady Eagles, and Ramstein's men, victimized by a come-from-behind, walk-off 27-26 loss to Aviano, claimed their title in a 37-22 battering of the Dragons in the final game.
WomenRamstein 5, Lakenheath 4: Lakenheath, which trailed 5-0 after four innings in the title game, pushed across single runs in the fifth and sixth and two in the final frame before running itself into a game-ending double play with the potential tying and winning runs on base.
Clarissa Boone and Stacey Beem each singled home a run in the bottom of the seventh, but with one out and Boone on second, Isabel Guarjido lined to left and Boone was thrown out trying to advance to third.
The near comeback was an eerie echo of Game 1, when Ramstein, which trailed 11-0 after four innings, struck for 11 runs over the final two frames before falling 14-12.
The just-short rally made a difference, according to tourney MVP Wanda Graham, whose two-run homer in the third inning of the finale put Ramstein up 4-0.
"If you lose by a lot in the first game, it makes a difference in the if-necessary game," she said. Having to play a second game, however, "wasn't what we wanted, but our sticks were coming around and we felt pretty confident."
Graham and winning pitcher Anna Noll credited the Lady Rams' defense for the title.
"It's good to get an early lead," Graham said. "We have a good defense, and if we get a lead we know we should be able to hang on."
Noll praised her defenders for getting her out of two bases-loaded jams at the cost of just a single run.
"I wasn't worried," she said. "Not with the team I have around me."
MenRamstein 31, Aviano 22: The Rams, who surrendered eight runs in the bottom of the seventh to lose a Game-1 slugfest, turned the muscle loose early in the finale. Ramstein struck for four runs in the first, one in the second, seven in the third and 16 in the fourth.
"That's the kind of game we play," said Ramstein's Marquez Flores, who opened the game with a leadoff homer and completed his 4-for-4 effort with two singles, one of which plated a run, and a grand slam. "We always choose visitors. We like to get ahead and intimidate the other team."
Anthony Molina also clubbed two homers for the Rams, who got a round-tripper each from Tom Yost, who was 6-for-7 in the romp, Anthony Calogero and Ryan Schnyders.
In Sunday's first men's title game, the teams combined to clear the fence 20 times. Each team hit 10, with Chris Pint stroking three for the eventual champions and Jason Spaulding matching that total for Aviano.
For the two games, Spaulding was a combined 7-for-8 with five home runs. Matching Spaulding with two homers in the title game was his teammate, Wes Cummins.
The two teams each hit six out in the decider.
Aviano reached the title round earlier Sunday by downing the final surviving Army team, Grafenwöhr, 23-9 in the losers-bracket final and setting up an all-Air Force Final Four which became an all-Ramstein Final Two.
2011 USFE all-tournament teamsMenMarcus Flores (MVP), Jason Acre, Chris Pint, Cody Spradlin, Tom Yost (Ramstein); Wes Cummins, Spencer Quinn, Jason Pominski, Jason Spaulding (Aviano); Justin Huckestein, Aaron Smith (Grafenwöhr).WomenWanda Graham (MVP), Lucinda Emerson, Koryn Gyrotku, Anna Noll, Deb Washington (Ramstein); Carolyn Flores, Vanessa Goodman, Rebecca Hodges, Christy McMillan (Lakenheath); Kasey Castor, Brett Shannon (Spangdahlem)