D-I Boys
ISB wins again, spoils Heidelberg's final game
---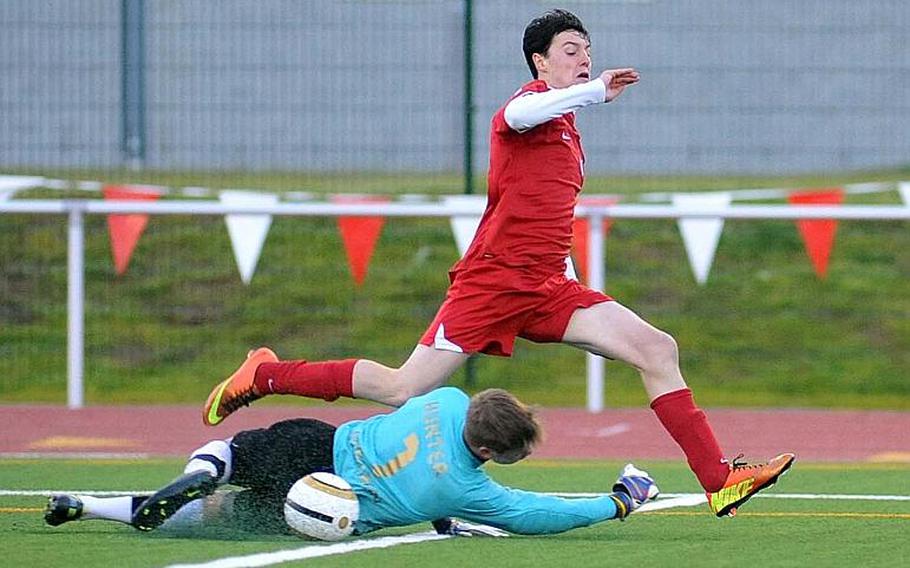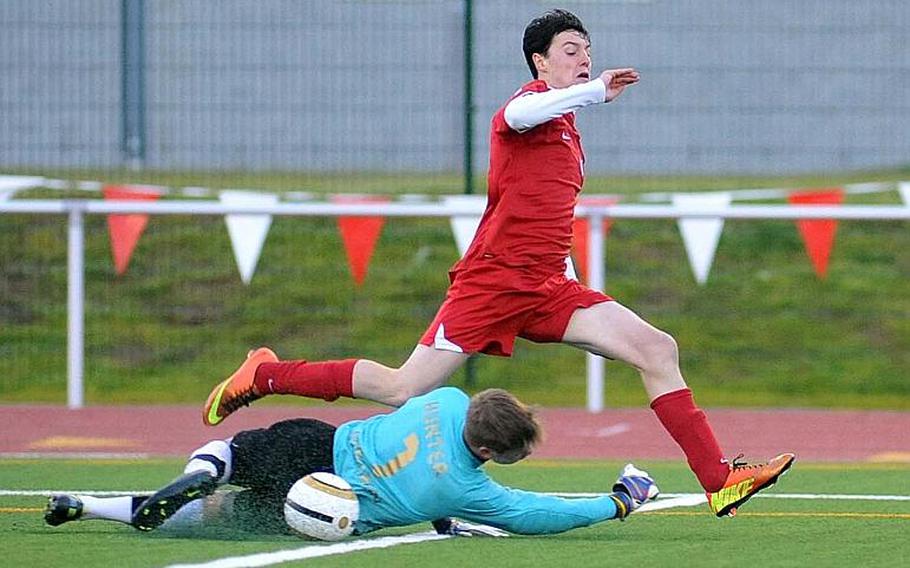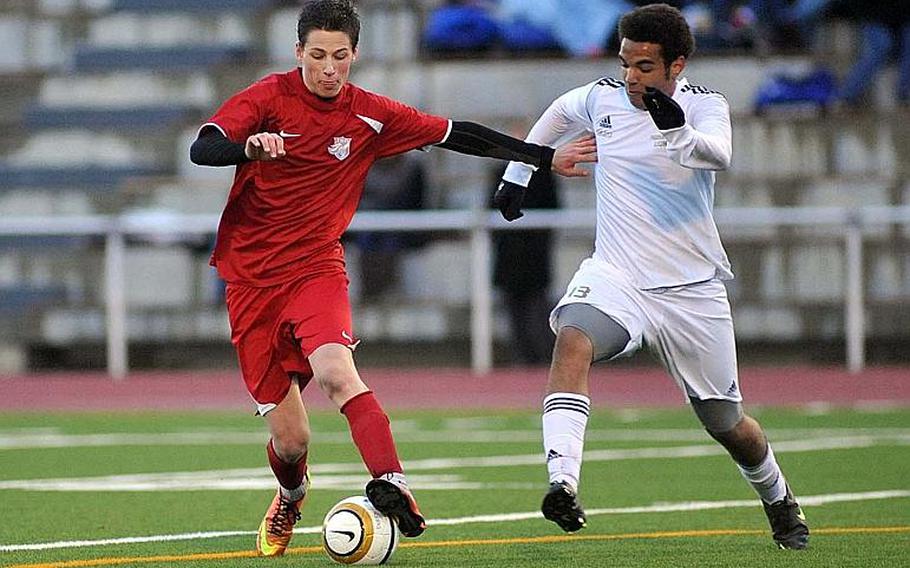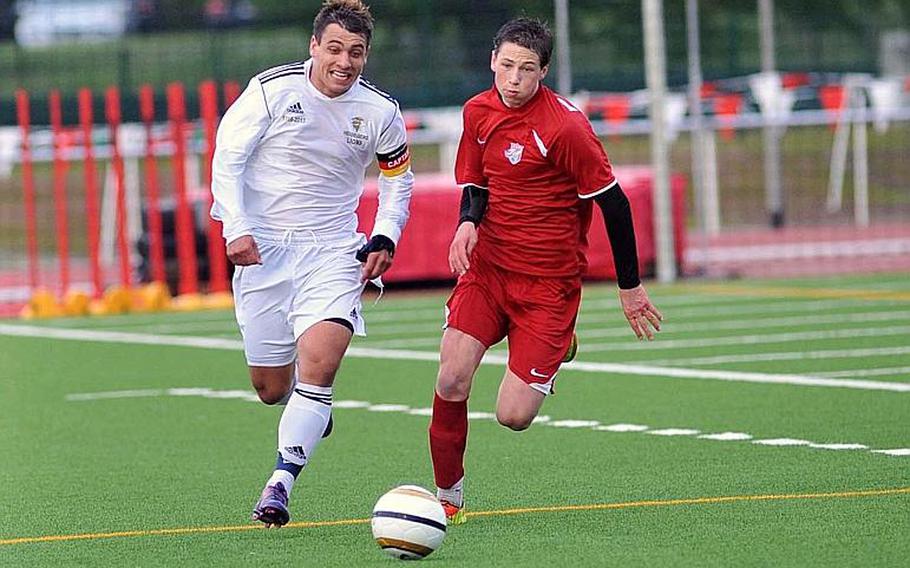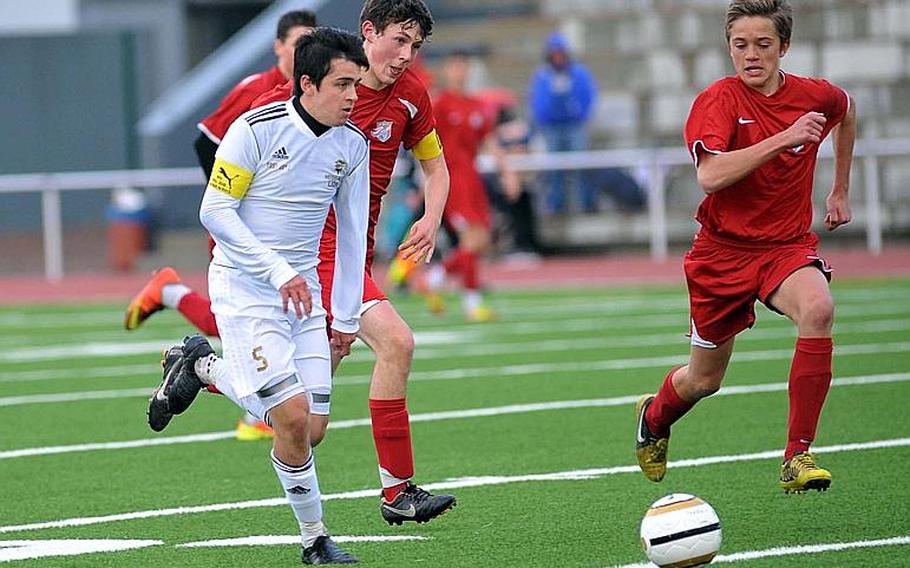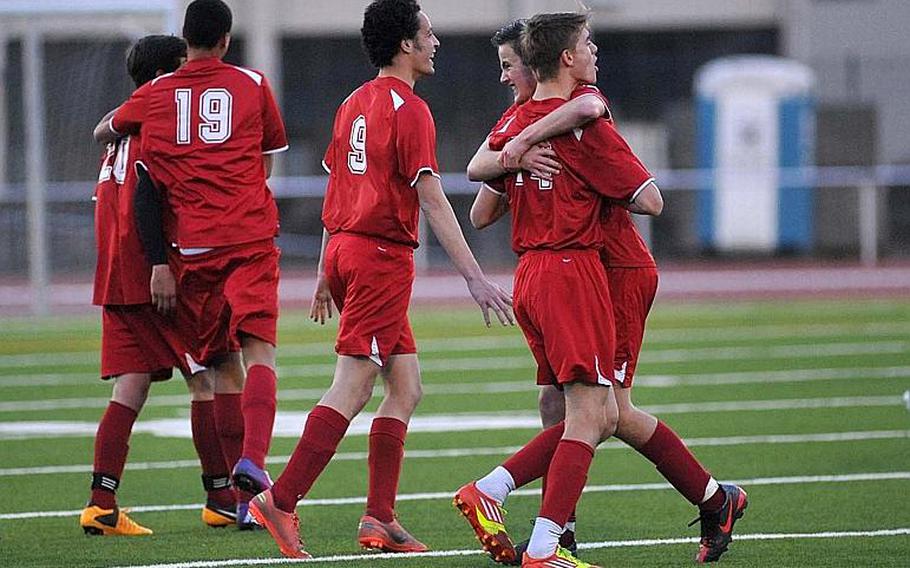 This article has been corrected.
KAISERSLAUTERN, Germany — It doesn't yet compare to that of the school it eliminated, but International School of Brussels is quickly building its own DODDS-Europe history.
The Raiders claimed their second consecutive DODDS-Europe Division I boys soccer championship Thursday with a 3-1 victory over Heidelberg. For the second year in a row, the talented visitors from Belgium stormed into Germany and dashed the championship hopes of a home-country contender.
ISB kept Heidelberg goalkeeper Justin Hunter busy from the start, but the intense senior was up to the task and made a series of leaping and short-range saves.
Soon, however, the Lions' dangerous game turned deadly.
Raiders Alessandro Pryce and Biram Sy scored a pair of rapid-fire goals midway through the first half, abruptly building a comfortable lead and temporarily silencing a large and vocal Lions cheering section. ISB added another goal from Walid Azzouzi late in the second half.
ISB's cushion proved convenient when senior Andrew Guelle netted a Lion goal some 20 minutes into the second half to jump-start an insistent Heidelberg rally that kept the ball firmly in scoring position for most of the following 10 minutes. But Guelle's goal was the effort's only tangible result.
A year ago, ISB bested Patch in the season's last game. This year, its win was even more climactic.
The loss was the last soccer game in the history of Heidelberg, which will close at year's end. Though the Lion softball, baseball and track and field teams are still active in their respective tournaments, Thursday night's European championship game might have represented the final throaty roar of the school's historic athletics program.
"We had nothing to lose," Lions coach Enrique John said. "I think we played to our capacity today. That's all that was in there.
"Life goes on. It's just a game."
Even as the school's population plummeted and cost the majority of its sports teams a chunk of established talent, the Lion boys soccer team proceeded a championship level. The team went 6-0 in the regular season and earned its title shot Wednesday via an emotional semifinal win over Ramstein.
Guelle said his team felt the pressure to send the school out in memorable fashion, and believes the Lions authored a worthy final chapter of Heidelberg soccer.
"It's definitely bittersweet," Guelle said. "I think we surprised a lot of people by going this far in the tournament."
Even in defeat, Guelle and his teammates revelled in the home-team atmosphere the Lions enjoyed Thursday.
"It shows how together we are in the Heidelberg community, as a family," Guelle said.
But ISB, featuring a cast of three returning All-Europe performers headlined by reigning Stars and Stripes boys soccer athlete of the year Alessandro Pryce, proved an irresistible force even against the tide of history.
ISB head coach Philippe Kaisin heard his team referred to as Heidelberg's "final hurdle" en route to an ultimate triumph, and considered it a grievous understatement.
"I guess for them it was more than a hurdle," Kaisin said. "It was maybe a mountain."
The DODDS-Europe field might have better luck against ISB next year. The Raiders' three core stars are all seniors, and their graduation might leave the champs vulnerable to a pack of hungry large-school contenders in 2014.
Unbelievably, perhaps, for those who have followed DODDS-Europe athletics over the decades, the Heidelberg Lions won't be among them.
Twitter: @broomestripes
Correction An incorrect team was listed as the 2012 runner-up in an earlier version of this article. Patch finished second to ISB that year.
---
---
---
---