Heidelberg tops Ramstein to win winter tourney
by
Rusty Bryan
December 29, 2011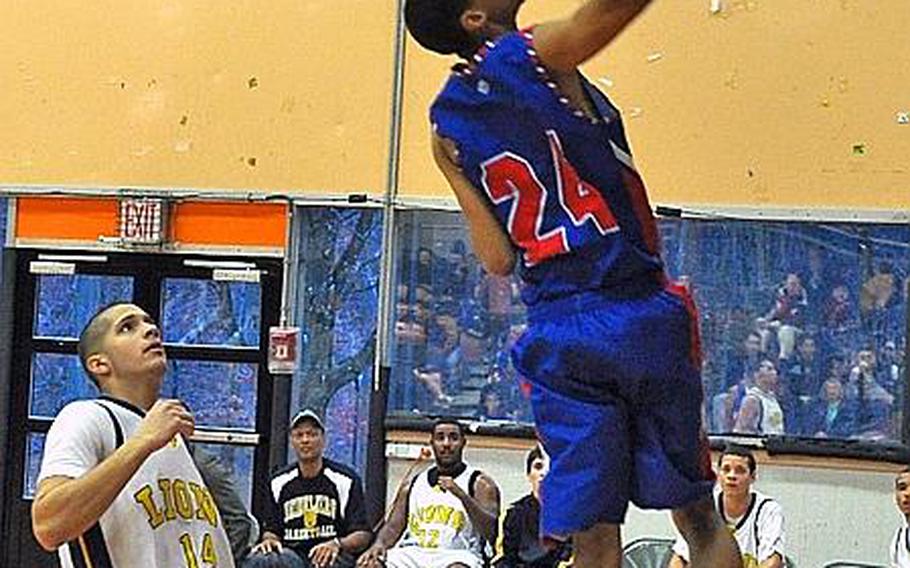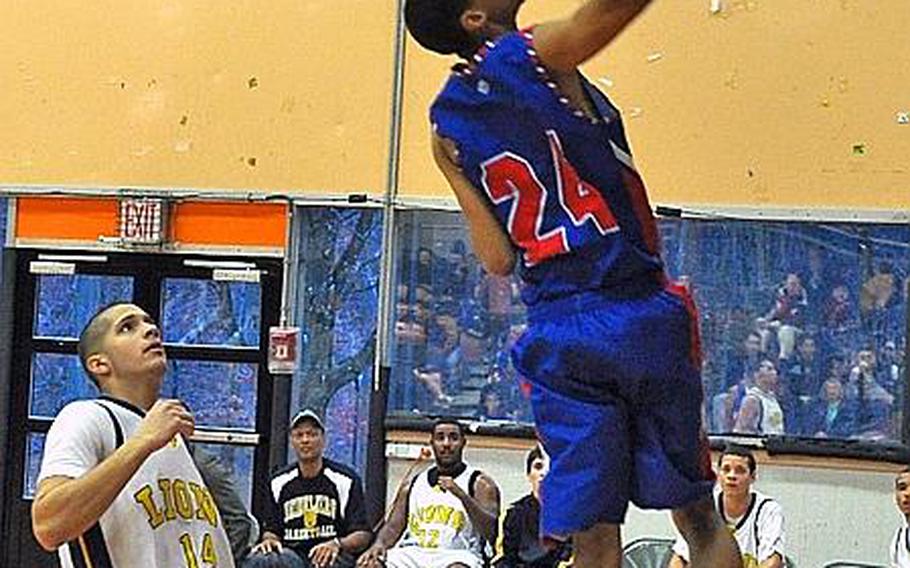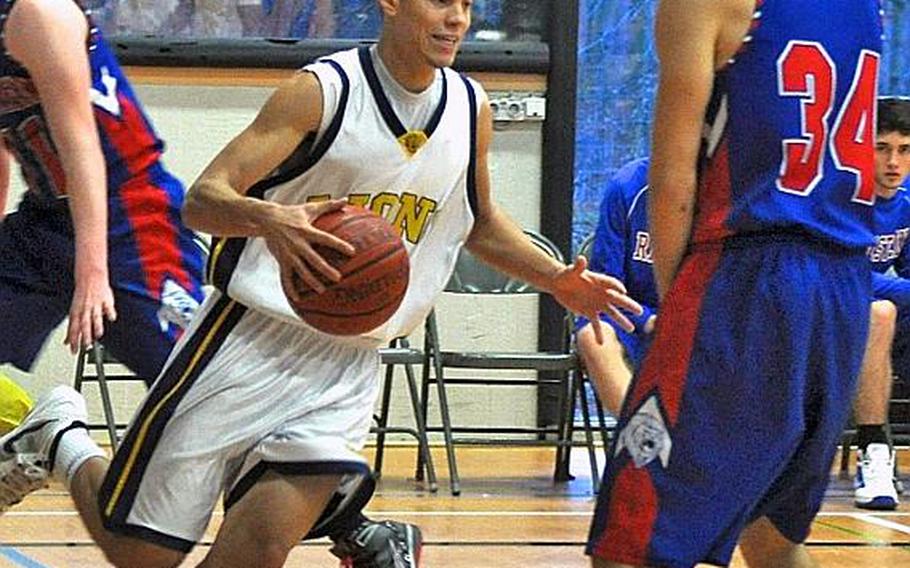 STUTTGART, Germany –The teams at the 3rd annual Patch High School Winter Tournament came from as far away as England and Spain and from schools of widely divergent enrollments, but in the end it was the Heidelberg Lions Simonizing their old and not-so-distant rival, Ramstein, 67-58 in the championship game.
Twin brothers Marcel and Maurice Simon, both 6-foot-5 seniors voted to the all-tournament team, combined to score 38 points in the title-clincher and cap a day that began with the defending European Division I champion Lions fending off reigning D-III king Rota 34-33 in a morning semifinal.
"I love playing with this team," said Heidelberg senior guard Sam Rosario, an All-European with defunct Mannheim last season. "Especially the Simons. Whenever I drive to the basket, it's great having those guys there at the side."
Rosario, who chalked up five assists dishing off on his drives, also took pleasure in defeating Ramstein, even a Royals' squad operating without starters James Cho and Virgil Sneed and key figure Jon Grotelueschen. All three were absent due to family vacations.
"It's our rivalry," Rosario said of the Lions' latest showdown with Ramstein, which suffered its first loss of the tournament in the final. The two teams are used to playing for all the marbles – they've faced each other in the last five European D-I title games. Heidelberg won in 2007, 2008 and 2011; Ramstein prevailed in 2009-2010.
Thursday, the teams, playing regulation eight-minute quarters for the first time in the tournament, struggled to a 10-10 first-quarter tie. Heidelberg pulled away to a 29-24 halftime lead on the strength of three-balls from Rosario and Kevin Gray and some tight defense before turning the game over to the Simons in the second half.
Marcel Simon, who tied Ramstein All-Europe senior DeVonte' Allen with a game-high 22 points, scored 16 of them after intermission; Maurice Simon tallied 12 of his 16 points over the game's final 16 minutes.
The eight-minute quarters, Rosario said, came as a relief after two days of six-minute stanzas.
"In six-minute quarters there's less time to run your system," he said. "One mistake can cost you."
Nowhere was Rosario's assertion more evident than in the tight-fit semifinal against Rota and tourney MVP Tre'von Owens.
Heidelberg, by canning three straight three's, seemed headed for a 21-10 halftime lead before mistakes in the final four seconds allowed the Admirals to cut their gap to 21-14 with four free throws.
Even worse was a foul on Rota's all-tourney player Mark Oden, who was attempting a floater in the lane with 1.3 seconds to play and his team trailing 34-33. Oden went to the line for two, but couldn't get a shooter's roll on his first shot as the ball flirted with going in before rolling off the left side of the hoop, and left his second try short.
Oden ended with 13 points, and Owens scored a game-high 16 points while converting 7-of-9 from the line. Marcel Simon led a relieved Heidelberg team with 14.
"It was fun playing against Tre'von," Rosario said about the rare match-up against Rota and Owens, who'll be going from Division III in Europe to Division I in the NCAA at Cal-Riverside this fall. "He's a great player."
Owens, with 17 points, and Oden with 13, rebounded in Thursday's third-place game, a 50-29 victory over Black Forest Academy of Division II. Neither all-tourney choice got significant minutes in the fourth quarter of the consolation game.
The German club SC Sindelfingen downed AFNORTH and all-tourney choice Nuri Karaca 48-45 in Thursday's fifth-place game of this 12-team event.
Joining Owens, Oden, Karaca, Marcel Simon, Allen and Rosario on the all-tournament team were Brinsley Walker of Lakenheath and DaShaun Boswell of Ramstein.
According to AFNORTH coach Nathan Goolsby, every team benefited from the chance to play provided by tourney organizer Bill Lassetter of Patch.
"This is great," Goolsby said after the title game. "The kids in DODDS don't get enough games."
Lassetter, who has grown this event from six teams in 2009 to eight in 2010 and 12 this year, indicated Thursday he's still trying to remedy that games-played situation.
"We hope to do this again next year," he told the crowd.