Home Team
Heidelberg senior turns all focus onto hoops
by
Rusty Bryan
December 8, 2010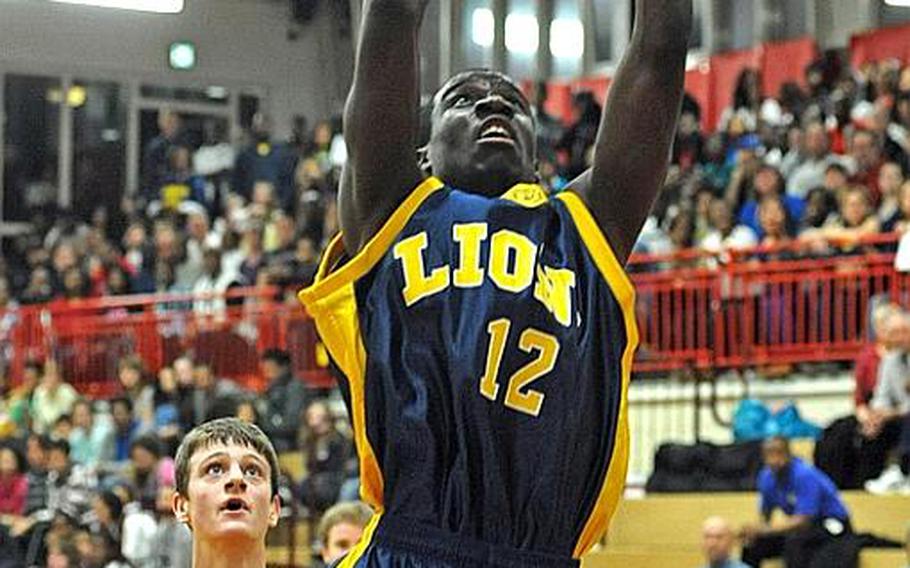 HEIDELBERG, Germany — Life's all about choices, and Heidelberg All-Europe senior guard Eugene Jones is convinced he made the right one.
"Basketball is my passion," Jones, an 18-year-old, 6-foot guard said about his decision to forgo football this year to concentrate on basketball. "I wanted to come out on top in my last year."
Jones, who played wide receiver, safety and cornerback for the 2009 European runner-up football Lions, could already have come out on top had he suited up for football again this year. The undefeated Lions won the European Division I football crown, beating Wiesbaden, 23-20, in double overtime in last month's title game.
Asked whether he entertained any second thoughts about skipping football as the Lions rolled to the title, Jones shook his head firmly.
"Basketball is my passion," he reiterated. "Football is just something I happened to be good at. I'm happy for them, but nothing that happened made we want to play again."
That's far from the case with basketball. Jones, who also holds down a job as a commissary worker, spent what little free time he has honing his basketball skills instead of putting on the pads.
"I've been working on basketball since last spring," said Jones, a 14.6 points-per-game scorer last season. "I go to the gym anytime I can on my own for three or four hours. I work on shooting, defensive drills, layups and crossovers. I'm trying to improve my entire game."
The process has produced progress, according to Heidelberg coach Ron Merriwether, a former European champion player and coach at defunct Giessen.
"Thus far, he's playing with a lot more confidence and patience," Merriwether said of Jones after two opening-weekend victories on the road. "It shows how much better a player he's become."
Merriwether thinks skipping football has played a big part in Jones' improvement. "As a former three-sport athlete myself, I know how the rust can build up," he said. "When you play football, you don't have time even to pick up a basketball. Your timing's off."
Both Merriwether and Jones are pleased that Jones' scoring is down slightly from last season — he's averaging 11 points after two games.
"The part of the game I enjoy most isn't scoring," said Jones, whom former Lions coach Brad Shahan called his team's most effective defensive player. "It's playing defense, passing off and motivating my teammates. I don't want this year to be a repeat of last year."
Added Merriwether about Heidelberg's leading scorer last year, "I look for him to take the lead in other ways. He's a good level-headed leader. You can't go wrong with a player like that. He plays with a chip on his shoulder — not a chip about his entitlement as a returning star, but a chip about winning."
One of Jones' goals for the season is to reverse the outcome of the last two European title games, both losses to Ramstein. Heidelberg downed the Royals 59-45 on Saturday behind 12 points, six assists and four steals by Jones. The previous day, the Lions beat Kaiserslautern 89-70.
Mission already accomplished?
Don't be silly, Merriwether's glance indicated.
"There's a lot work to be done," the coach said about his first edition of the Lions. "There's always room for improvement, but we've been working hard, and the kids have bought into the system. Now they can see that everything we told them came true."