Home Team
Healthy Ray makes Perry a threat
by
Dave Ornauer
May 4, 2011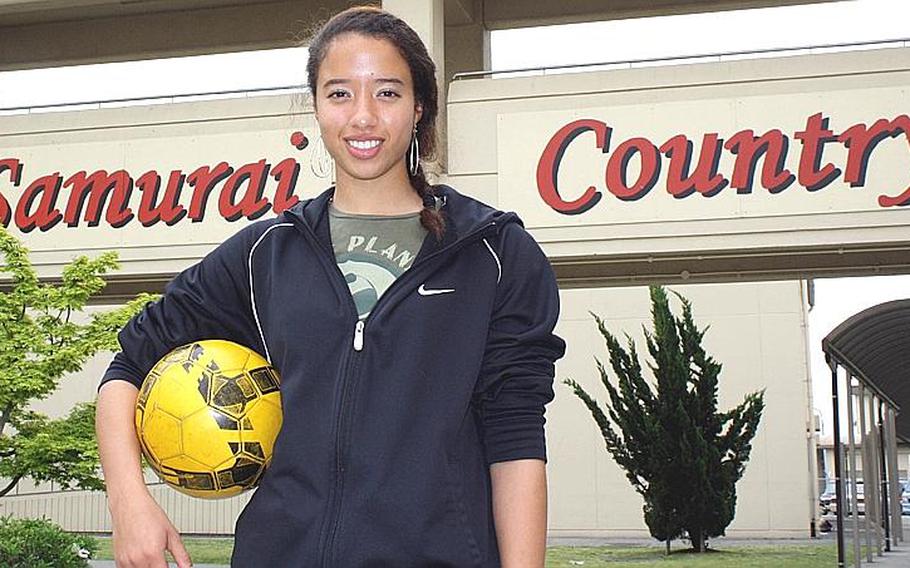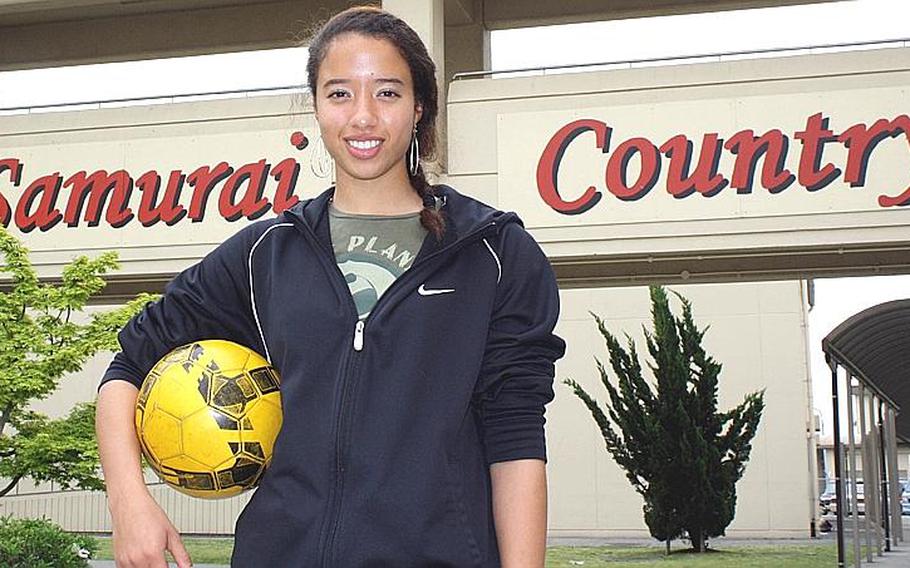 She couldn't have been more miserable around this time a year ago. Already, Bre'Onna Ray had missed last March with a knee injury, then on the first day of last May's Far East Division II Tournament in Daegu, South Korea, she broke her right leg and could only watch as her Matthew C. Perry girls soccer team finished fifth.
Fast forward. Healed and happy, Ray has lifted the Samurai from the dregs of an 8-21-2 2010 campaign into uncharted territory, for themselves and the school. They're 9-2-1 and the combined record of the boys and girls teams is 25-3-2. Each boasts the Pacific's leading scorer: Ray (38) and Tyelor Apple (29).
"Not bad for a school of 120," said first-year girls coach Rick Stanford.
Now, Ray and the Samurai girls are hoping they can match a school-first feat that the boys team achieved a year ago – winning that elusive D-II title. Despite a record of 46-48-2 over the last four years, they've come close with two D-II Tournament second-place finishes.
Leading that effort is Ray, named All-Far East with 16 goals despite her injuries last season. Stanford, who's been coaching 18 years and been in DODDS for 30, calls Ray one of the best if not the best he's coached.
"She's competitive, yet she makes the whole team a better team," Stanford said. "She puts the whole team into play. Everybody feels they're a part of the team because of what she does, and when the chips are down, they can count on her to bring them back. And that's a leader."
Other coaches have noted Ray's ability to fill the net.
"She's an incredible goal scorer, one of the better players in the league," Nile C. Kinnick's Nico Hindie said. "The key is to contain her. If she gets any space, you'd better watch out. She has a good foot, great speed – her best asset – and some nice moves."
Ray is among seven DODDS Pacific athletes who'll play college ball on full or partial scholarship next fall.
She plans to play for Chandler-Gilbert Community College in her home state of Arizona on partial scholarship. The Coyotes, 2008 NJCAA national champions, went 16-5 overall and 14-4 in the Arizona Community College Athletic Conference last fall.
Not one to beat her own drum, Ray gives equal credit to Stanford and her teammates for the Samurai's success.
"A lot of the girls (didn't know) a lot about soccer; he's taught the fundamentals, passing, attacking the ball, not being afraid of offensive players," Ray said of Stanford's coaching. "They've gotten really good with that. It makes them stronger."
Then there are teammates, such as Tyesha Clayton, Sam Herritt and Courtney Beall, without whom Ray says none of her success would be possible. "No one person can do anything by themselves on the field; everybody contributes," Ray said. "Everybody goes out there with one goal and that's to win. A lot of people want to credit one player, but everybody has something to do with it."
After her injury filled season, Ray says she's more appreciative of what she and the Samurai have now.
"It was difficult to watch the girls without me on the field," she said. "But I saw them come together and grow without me. They never broke down without me. I thank God every day that I haven't been injured this season. I pray that something doesn't happen to me the next two weeks."
Whether Ray's leadership will help the Samurai become the next Far East champions is too soon to say, Stanford said.
"I'd hold that headline," said Stanford, who won a Far East Tournament title in 2000 at the helm of a Kadena team that beat prohibitive favorite Kubasaki, 3-2, in the semifinals.
"A lot of luck goes into winning that tournament," Stanford said. "The best team doesn't always win the tournament. Kubasaki was so much more dominant than us, but all it takes is one game to knock them out. I don't really think we're the best, but then, all we have to do is be the best on the last day."