Harrison's new destiny is Division I athlete
by
Dave Ornauer
April 21, 2011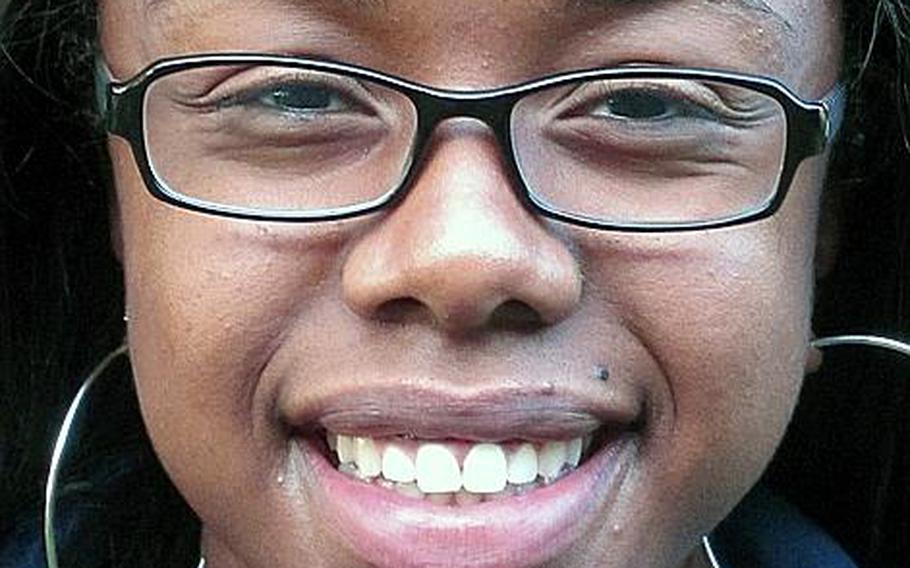 Destinee Harrison is taking her volleyball game to a new level.
Seoul American's two-time All-Far East Division I Tournament middle blocker on Thursday signed a national letter of intent and accepted a full volleyball scholarship at Howard University in Washington starting next fall.
"I think I made the right choice," Harrison said. "It's a prestigious school and when I went there, everybody was so welcoming and (coach Dawn Barnes) was a really nice lady and made the process very easy."
Playing Division I volleyball is a lifelong dream come true, Harrison said. "People are always going to be nervous about change, but more than nervous, I'm excited about playing at the Division I level.
Harrison racked up 88 service aces, 293 spike kills in 640 attempts, 66 block points and 132 defensive digs for the Falcons, who won the first D-I Tournament title in school history and in 31st-year coach Denny Hilgar's swan-song season.
Harrison will join a Bison team that went 8-20 overall and 5-5 in the NCAA Division I Mid-Eastern Athletic Conference, losing three sets to one to South Carolina State in the MEAC quarterfinals.
She becomes the fifth DODDS Pacific student-athlete to sign for a full or partial scholarship or financial grant-in-aid to play college sports next fall.
 Harrison's basketball teammate Jordan Elliott will play basketball at the U.S. Military Academy at West Point.
 Kristina Bergman of Daegu American on Tuesday signed a partial scholarship offer to play volleyball for Division II University of Central Oklahoma.
 Bergman's volleyball, basketball and soccer teammate Angie Robinet in December signed a partial scholarship offer to play soccer for NAIA Point Park (Pa.).
 And Reid Henderson, the reigning Okinawa Activities Council golf champion, on April 4 signed a partial scholarship offer from Maryville (Tenn.) College, a Division III school.
That Harrison has become a rare Pacific high school athlete to ink a Division I scholarship offer might send a message to others weighing similar dreams.
"It can be difficult, of course, but nothing is impossible," she said.
---
---
---