Guam High begins its second playoff run
---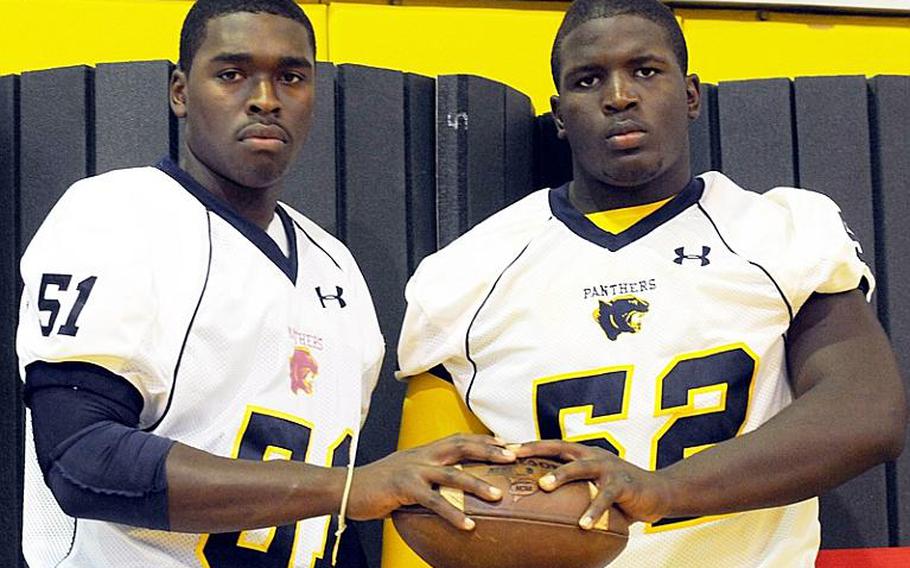 Though its Far East Division I title hopes were derailed Monday in a loss at Kadena, Guam High has much left to play for.
On Friday, third-seeded Guam High opens defense of its Interscholastic Football League title when the Panthers host sixth-place Southern.
This is a Guam High team that went 5-1 on the field, but was forced to forfeit its first two victories of the season for having turned in an incomplete roster to the league at season's beginning.
Guam High would have been left with the No. 4 seed, slotted to meet its chief tormentor, George Washington, in the IFL semifinals on Oct. 15. But the Panthers received good news when they stepped off the plane from Okinawa.
John F. Kennedy, 4-2 on the field and seeded No. 3, was also charged with roster irregularities. When IFL commissioner Martin Boudreau released the final league standings and playoff pairings Wednesday, JFK was 1-5, in seventh and last place. Guam High was bumped up to third.
The late standings and seeding change means the Panthers now won't have to face GW until the Bamboo Bowl on Oct. 22. George Washington gave Guam High its only on-field loss of the season, 35-0, on Sept. 3
"It's going to be a true championship if everything goes according to plan," Guam High first-year coach Jacob Dowdell said.
Some teams might be left feeling empty when told they must forfeit games they won on the field. To Guam High's defensive leaders Theartris Eaton and Nijee Smith, the losses were a source of motivation.
"It was more like a boost, to lift our spirits and try harder," Eaton said. "To win another championship won't be easy and this was just another obstacle in the way."
"It made me have more of a drive for it," Smith added. "Nobody was going to give us anything. We had to work harder to achieve the goal."
"This provided a great point to build character," Dowdell said. "This is a young team, none of the guys had faced this kind of adversity. Before the forfeits, we were the boys from Guam High. Now, we're the men from Guam High."
Dowdell said he learned of the JFK ineligibility Tuesday via phone from Guam High athletics director Ed Paz. Reached by phone, Boudreau would not confirm that JFK was forced to forfeit games because the matter is "under appeal." JFK officials could not be reached for comment.
The Guam High-Southern winner battles the winner of Saturday's Simon Sanchez-JFK contest in the semfinals on Oct. 15. Also on Saturday, Father Duenas Memorial takes on Okkodo, with the winner to play at GW at 7 p.m. in the other Oct. 15 semifinal.
Elsewhere this weekend:
-- Seoul American tries to take command of the DODDS Korea race when it hosts Osan American at 6 p.m. Friday.
-- American School In Japan looks to sweep the season series when it hosts Robert D. Edgren at 7 p.m. Friday.
-- Three 600 yard-plus running backs, Zama American's Andre Encarnacion and Mitchell Harrison and Japan rushing leader Morgan Breazell of Yokota go at it at Yokota's Bonk Field at 7:30 p.m. Friday.
---
---
---
---