Grotelueschen, Royals' defense too much for Vilseck
---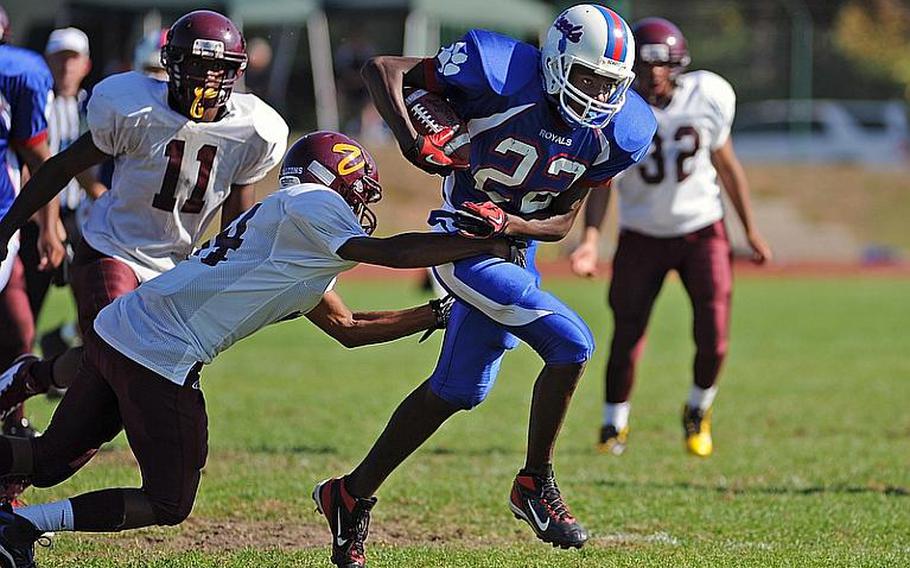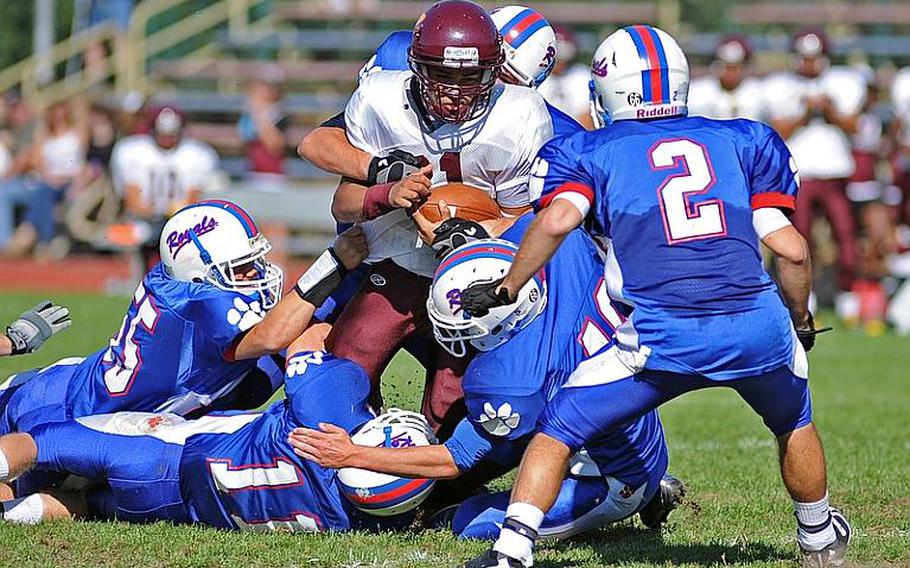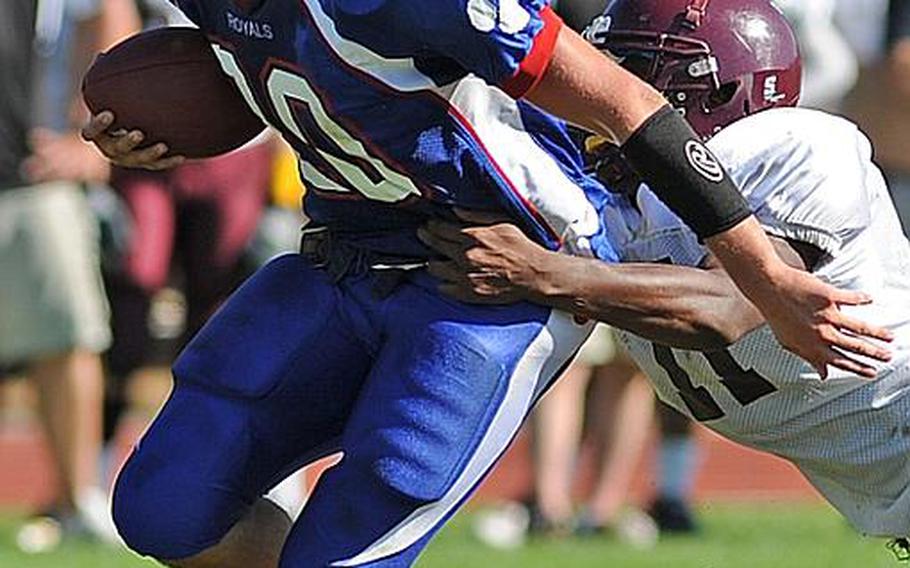 RAMSTEIN, Germany --- The Ramstein Royals served up a liberal dose of smash-mouth football for homecoming Saturday against Vilseck, clipping the wings of the previously undefeated Falcons, 28-0.
The Falcons came into Ramstein soaring high and giving up the fewest number of points in Division I DODDS-Europe play, but they couldn't stop the steady rushing attack of Ramstein senior Jon Grotelueschen, who pounded the Vilseck defense for 253 yards on 34 carries.
It was Vilseck that looked like it would put the first points on the board, though, when Falcons senior Tyler Lewis picked off Ramstein junior Dylan Le Page and returned it to the 9-yard line of the Royals.
"You're giving it away," barked Ramstein coach Carlos Amponin to his players returning to the sidelines.
The Royals defense held strong, led by a third down sack by senior Justin Dickey, setting up a blocked field goal. The sack was one of four on the day for Dickey, who also had five tackles.
The momentum carried over to the offense, which used 11 plays to march 69 yards down the field, setting up a one-yard Grotelueschen touchdown run, one of his three touchdowns on the day.
"I trusted my line, my line is what got me through today," Grotelueschen said.
Junior Michael Johnson provided the other Royals touchdown, as his 18-yard 3rd quarter scamper pushed the Falcons into a three-touchdown hole. The touchdown was the first ever rush for Johnson, who normally lines up as a wideout on offense.
"I dedicated this game to Brendon, I just kept running for him," said Johnson, referring to Brendon Holtzen, the Ramstein senior who was killed Wednesday evening in a car crash.
Vilseck senior quarterback Daniel Arroyo, who led the Falcons with 46 rushing yards, tried to get the Falcons offense going, but some key defensive plays held Vilseck in check. Ramstein juniors Justin Pendergrass and Zachery Boswell each notched crucial interceptions.
"We thought this was going to be an easy game, so we weren't focused," Arroyo said. "We're going to be all right, we just need to bounce back and collect ourselves."
Vilseck junior Shawn Peebles led the Falcons defense with eight tackles.
Amponin credited Royals defensive coordinator Rudy Oliveira, whose game plan helped contain several Falcons speedsters.
"We wanted to make sure we didn't give up the big play," Amponin said.
Ramstein players said it's been a tough week, both on and off the field and Saturday's game gives them a much needed confidence boost.
"This gives our guys the courage to know they can hang with the top teams and win the league," Dickey said.
---
---
---
---