Tennis Athletes of the Year
Gadsden continued family's recent domination
by
Dave Ornauer
November 16, 2012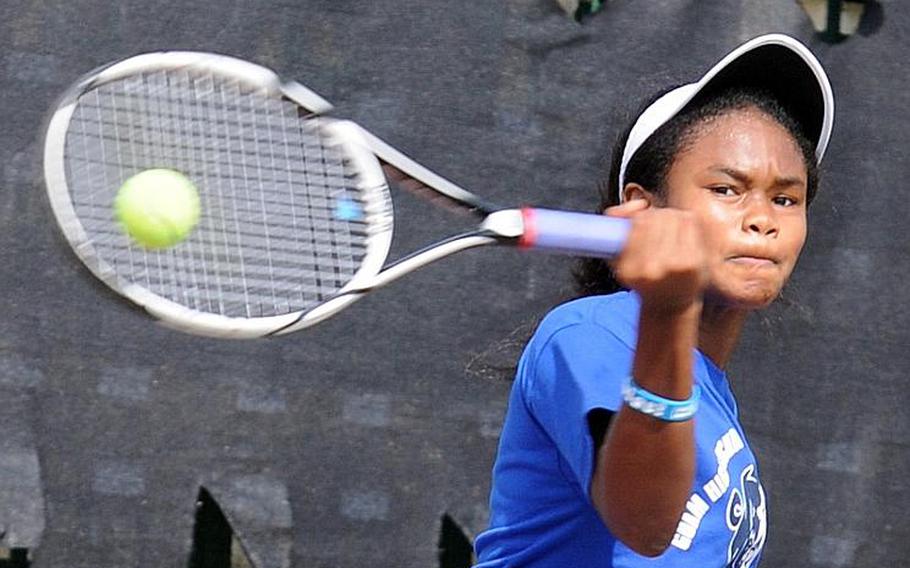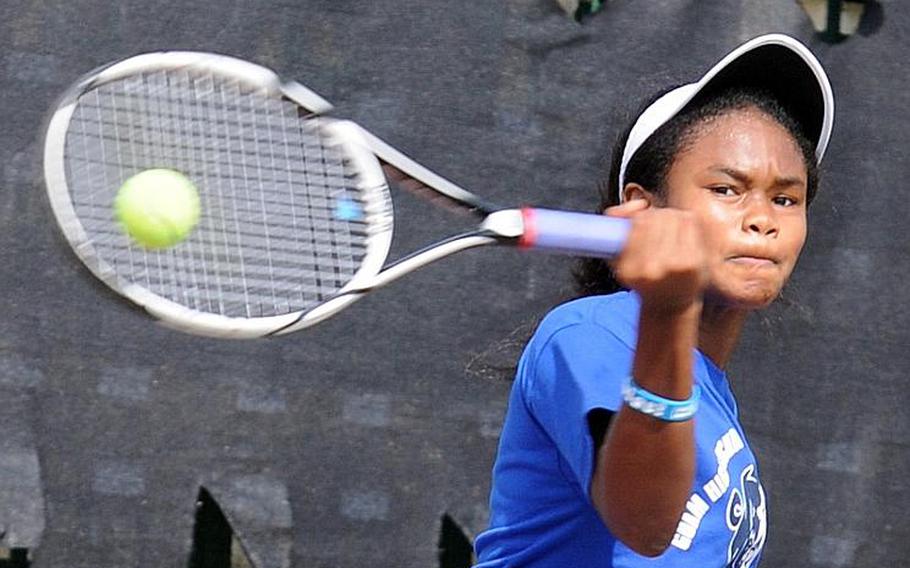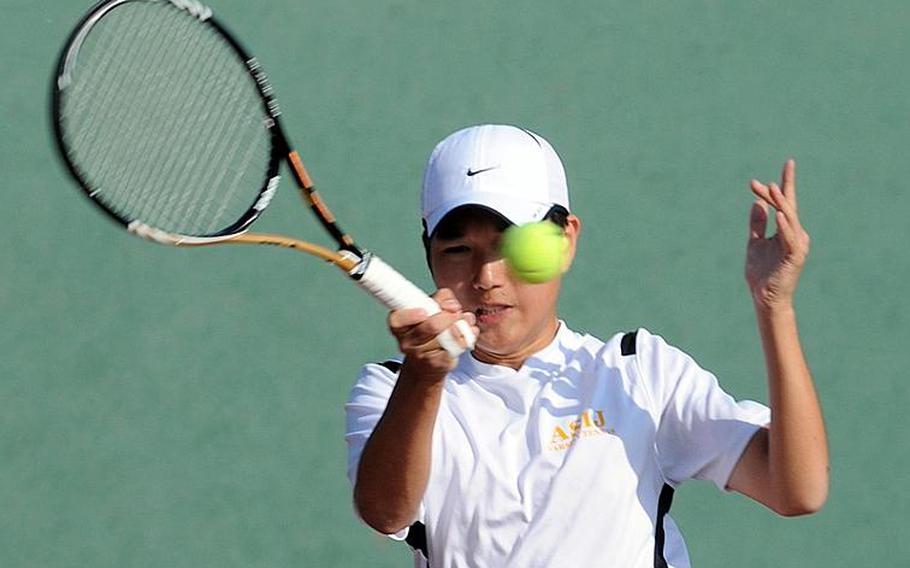 KADENA AIR BASE, Okinawa – Players named Gadsden continue to pile up Far East High School Tennis Tournament hardware and Stars and Stripes' Pacific Player of the Year honors.
Chloe Gadsden, a junior, repeated her Far East singles championship from a year ago, soundly defeating Erika Youngdahl of Kadena 6-0, 6-2 in the title match on Nov. 8 at Kadena's Risner Tennis Complex.
For that, she was also named Stars and Stripes Pacific girls tennis Player of the Year for the second straight year.
"It's a determination, a passion, and there's a commitment in her that makes her what she is," said coach Juana Aguon, whose Panthers have relished having two Gadsdens on the team the last four years.
Amber Gadsden won the singles title in 2010 and teamed with Chloe to capture the doubles crown that year. Amber graduated the next spring and Chloe took over the singles throne, beating Tia Burke of Zama American 6-3, 6-3 for the 2011 title.
"Courage, stress free and mental toughness. She brings those virtues to the court along with her skills," Aguon said.
What makes Gadsden's title all the more remarkable is that among the DODDS schools in attendance, Guam High's regular season doesn't start until February. Amber Gadsden won Guam all-island Player of the Year honors in 2011 and Chloe took the honor the next spring.
"It's been a great three years for Guam High. I can't thank the Gadsdens enough for coming to Guam," Aguon said.
"We've had a good run," said Michael Gadsden, Chloe's and Amber's father and Aguon's assistant coach.
On the boys side, capturing first place in both the Far East singles and doubles and running the doubles table in the Kanto Plain Association of Secondary Schools earned Kentaro Ishihara of American School In Japan Stripes' Player of the Year honors as well.
"Kenny sticks to his game and takes his opponent completely off of their game," ASIJ coach Jen Brown said on Nov. 8 after Ishihara, a junior, swept the Far East golds. "He takes his game to another level."
Both Ishihara and Gadsden are expected back for the 2013 Far East.
While Gadsden would be a prohibitive favorite to become the first three-time singles champion in the event's history, Ishihara is expected to team with Kanto singles champion Yosuke Higashi in doubles, but could face him in the finals.
2012 Stars and Stripes All-Far East Tennis TeamBoysKentaro Ishihara, American School In Japan, Kanto Plain Association of Secondary Schools regular-season and tournament doubles champion, DODDS Pacific Far East Tournament singles, doubles championKeigo Sakakibara, American School In Japan, Far East Tournament doubles champion, mixed doubles bronze medalistKent Shikama, St. Mary's International, Far East tournament singles (won previous two years), doubles runner-upJeffrey Kim, Seoul Foreign, Korean-American Interscholastic Activities Conference regular-season and tournament, Asia-Pacific Activities Conference tournament champion
GirlsChloe Gadsden, Guam High, Far East Tournament singles champion for second straight year, doubles bronze medalistErika Youngdahl, Kadena, Okinawa Activities Council district champion, Far East tournament singles runner-up, doubles championEmily Beemsterboer, Yokota, DODDS Japan champion, Kanto Plain regular-season and tournament champion, Far East tournament singles bronze medalist, doubles runner-upJae-hyun Kim, Seoul Foreign, Korean-American Interscholastic Activities Conference regular-season and tournament, Asia-Pacific Activities Conference tournament champion