D-III boys soccer
Florence wins its first European championship
---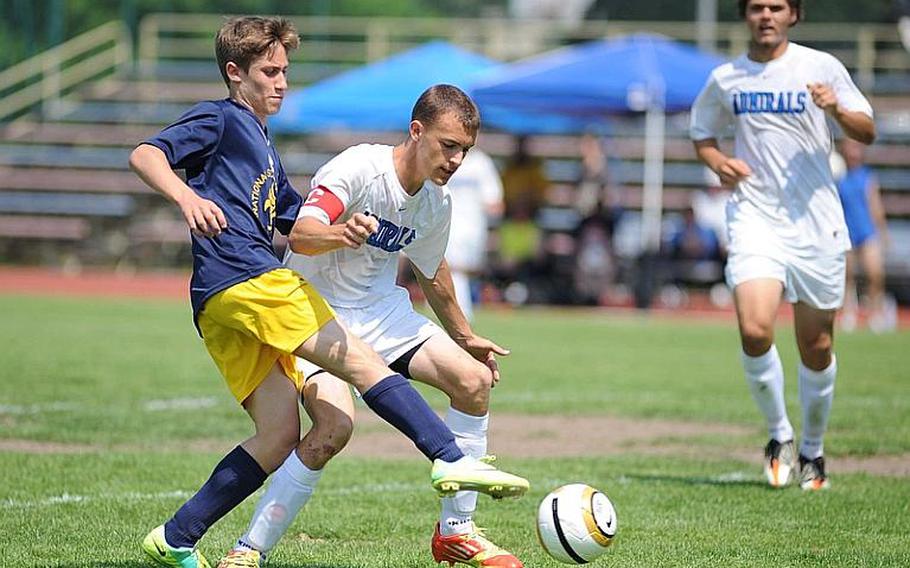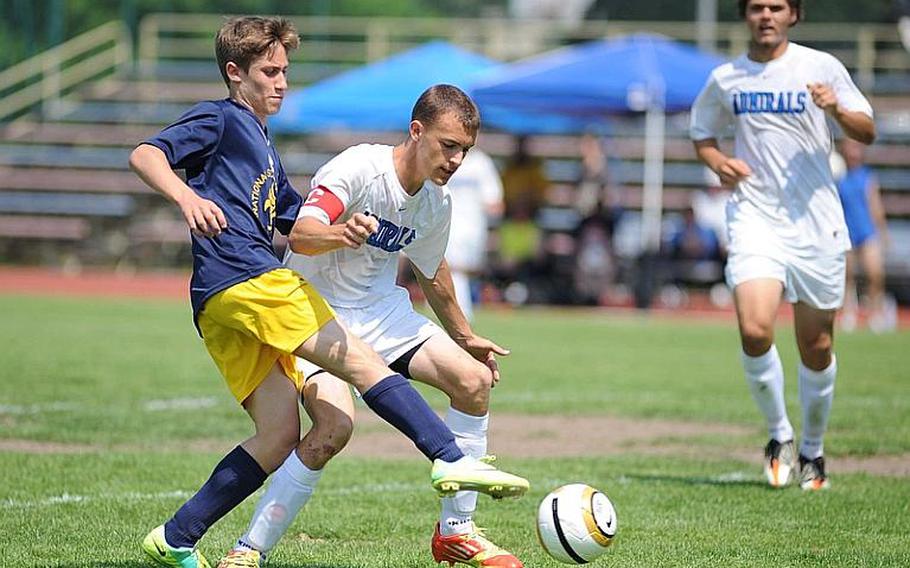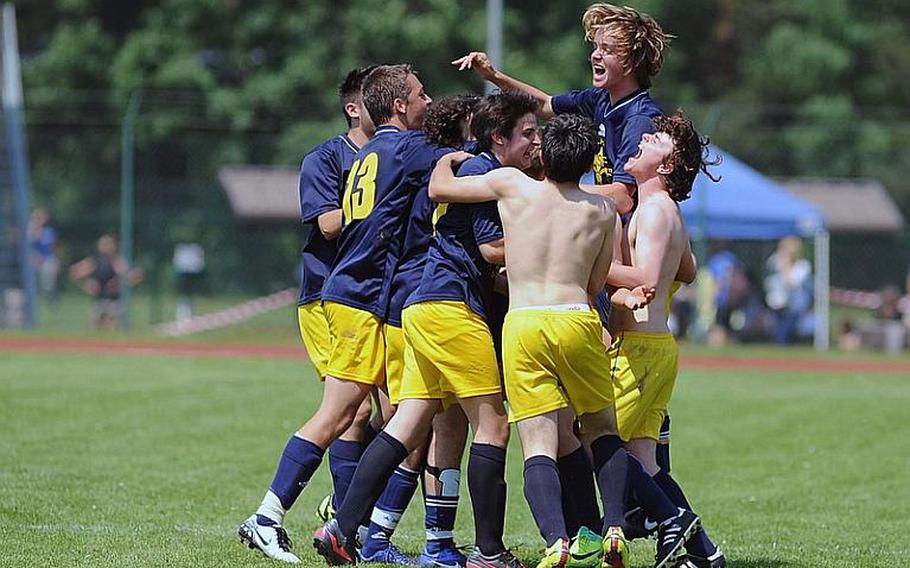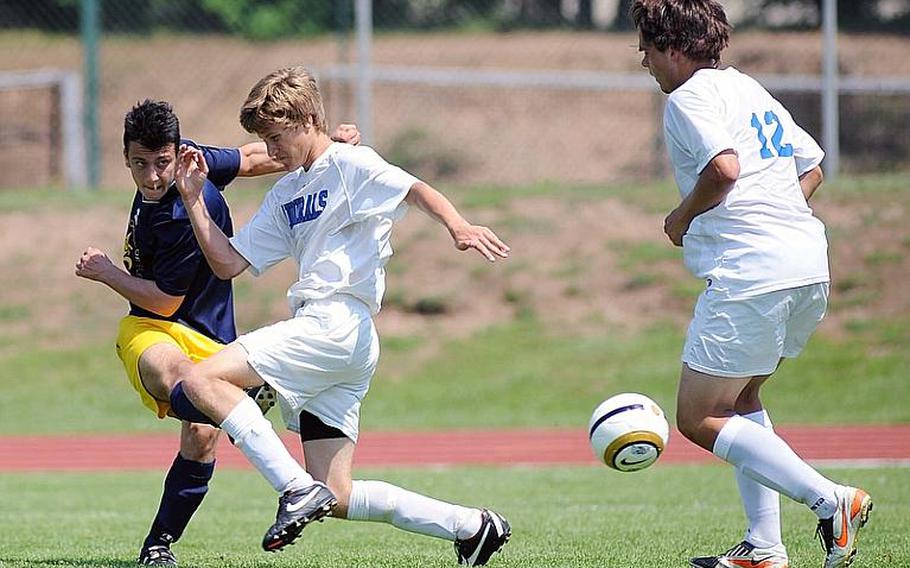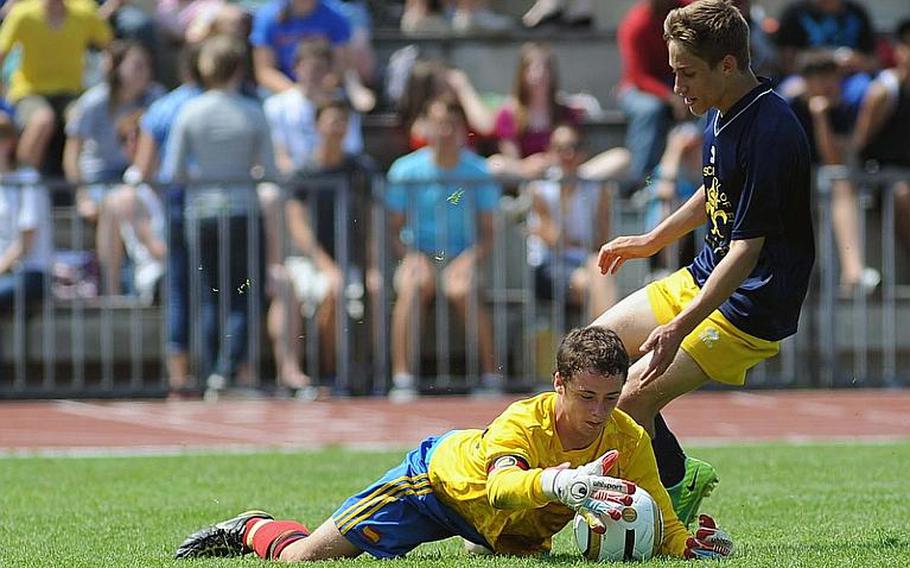 RAMSTEIN AIR BASE, Germany – The city kids from the International School of Florence capped a dizzying ascent from a 1-5-1 Region IV season with a 3-0 victory over Rota in Thursday's Division III championship soccer game.
"We don't have a field," said a dripping Roberti Claus after enduring a celebratory ice-water shower the coach must have welcomed on a warm, sunny day. "We don't even have a gym."
What they do have, however, is a collection of young, skilled players. Chief among them is junior striker Lorenzo Maestrelli, who scored ISF's first two goals. He collected the first when he beat diving Rota keeper Keaton Regenor to a bouncing ball as it hopped into the box three minutes into the game. He added the second one after intermission by using his substantial dribbling skills against near-blanket coverage from the left sideline into the Rota box, where he launched a low shot inside the near post between two Rota defenders.
"We have many individual players," Clausi explained about his team, which got its third goal Thursday on a stellar individual effort by Giulio Pandolfi at game's end, "but today we played as a team."
Florence wasn't able to do that during a regular season highlighted by a lone victory, 7-3 over visiting and winless Aviano, and a 5-5 tie against visiting Vicenza, the fourth-place finisher in the D-II tournament. The poor regular season, admittedly worsened by having to take on defending D-II champion Marymount and 2011 D-II silver-medalist and 2012 D-II bronze medalist American Overseas School of Rome, earned ISF the No. 8 seed among the 10 teams in the field.
"We had a lot of injuries," Clausi said. "And we had a lot of IB (international baccalaureate) kids who couldn't make the two-day trip to Sigonella (a 6-2 loss)."
All of the IB players and all but one of the injured, however, made it here for the D-III event. ISF went through pool play 2-0-2, with the victory a 3-1 conquest of top-seeded Alconbury and one of the ties a 5-5 shootout against Rota on Tuesday.
ISF then blanked Brussels 6-0 in Wednesday's semifinals, and all the shooting in Thursday's Rota rematch came from Italy-based attackers. Florence keeper Nikolas Antonorsi had to make just three saves all day, none of them of any difficulty.
"We played with heart," said Clausi, whose school has played DODDS-Europe sports for just four years. "It's fantastic – I love this team."
---
---
---
---