Athlete of the Year - boys cross country
Fisico's drive to improve led to championship
by
Rusty Bryan
November 18, 2011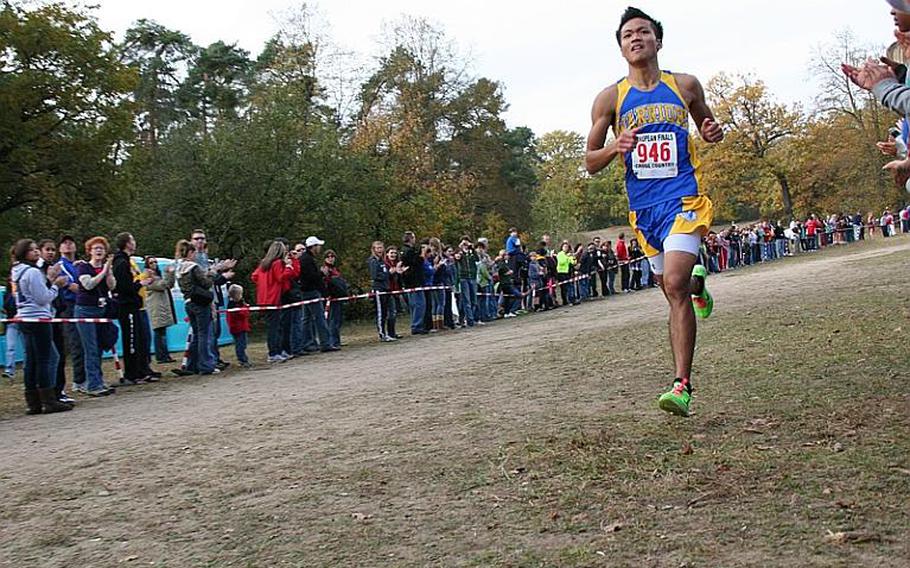 Ryan Fisico will graduate from Wiesbaden this June. But according to his coach, James Engel, the 2011 European cross country champion and Stars and Stripes Athlete of the Year for boys cross country won't be leaving the cupboard bare.
"Ryan has dumped so much energy into this program," Engel said of his four-year performer in a Thursday telephone call, "that we'll be feeding off it for years to come."
Much of the juice, Engel said, has come from Fisico's ability to motivate others.
"On his own initiative, he went to a Stanford camp last summer," Engel said. "He came back corked. He'd ask, 'Can we try this stretch or that drill?' He really put the fire into our team."
And into himself. A sixth-place overall finisher at Europeans in 2010, Fisico began pointing toward the top of the podium this time around. He got there, running 16:24.31 over the 5,000-meter Heidelberg layout to beat runner-up John Fain of Naples by a fraction under 24 seconds and complete an unbeaten season that Engel said looked less-than-certain two weeks earlier.
"We ran a meet at Heidelberg," Engel said, "and he was less than impressive. I told him, 'If you run like this at Europeans, you'll get beat.'"
Fisico listened, and restored Engel's equanimity the next week by setting a course record on Wiesbaden's home layout.
"We've had so many really good runners on that course," Engel said, "that when Ryan beat the record by 20 seconds, I thought, 'This looks really good.' "
It looked even better three kilometers into the finale, when Fisico passed Fain.
"I knew if I didn't make my move then, I wouldn't have a chance to do it later," Fisico recalled about his final high school race. "I knew I had to get the lead."
Although competition had been scant during the season, Fisico credited training with former Wiesbaden star Daniel Parker for preparing him for his career moment.
"Dan's faster than I am," Fisico said. "He helps me a lot."
And not just as a practice-session, time-trial opponent, according to Engel.
"He's a great role model for Ryan," Engel said. "He could see that someone cared enough to come back and help."
It doesn't hurt, Engel added, that Fisico's analytic ability allows him to grasp the essentials.
"Her has tremendous academic ability," Engel said of his champion, who's hoping to walk on at Stanford or Princeton next fall. "He has the cognitive ability to disassociate himself and watch what's he's doing during or after a race. He recognizes this is what he did or this is what he needs to do."
The college decision, Fisico said, will determine whether he'll run track this spring or play another year for the Wiesbaden soccer team.
"If I get accepted and decide to walk-on, I'll run track," he said, "to get ready."
And even though he might still play soccer, this fall's taste of gold might have whetted his appetite for more racing.
"I love running," he said.