D-I boys semifinals
Warriors, Panthers hoping to finish on top
By
Matt Millham Gregory Broome
February 21, 2014
---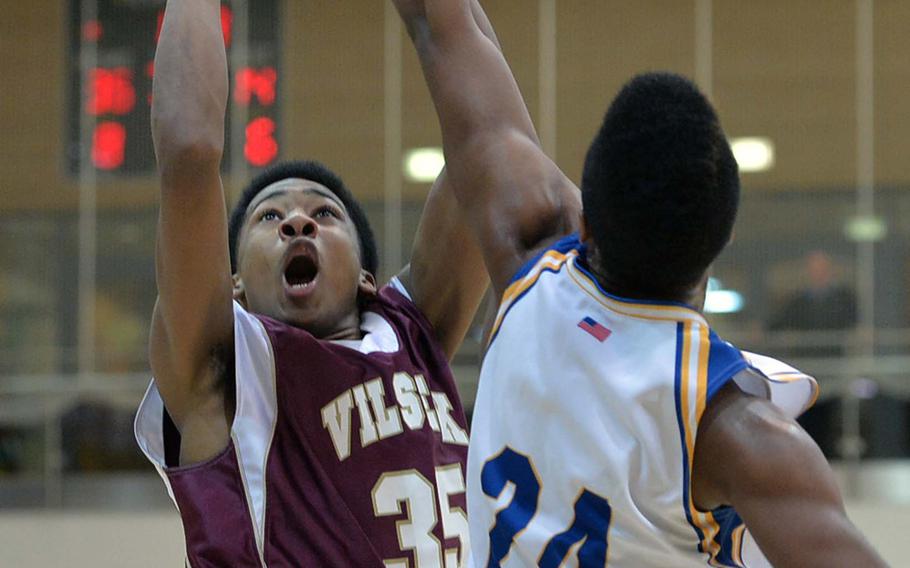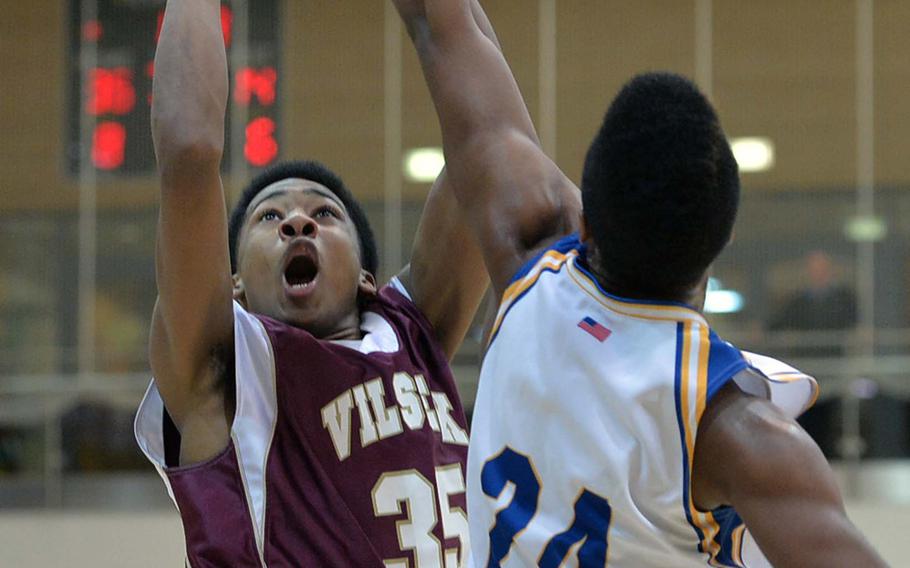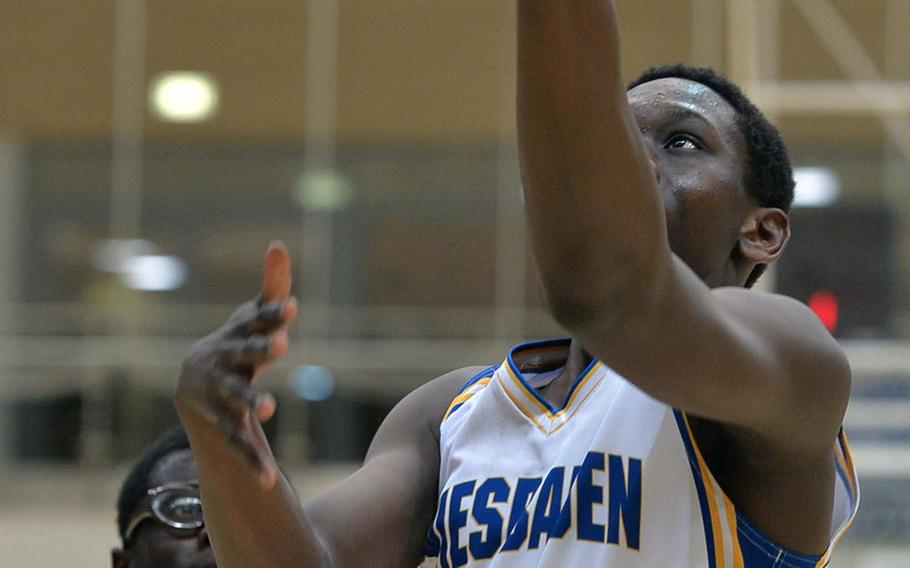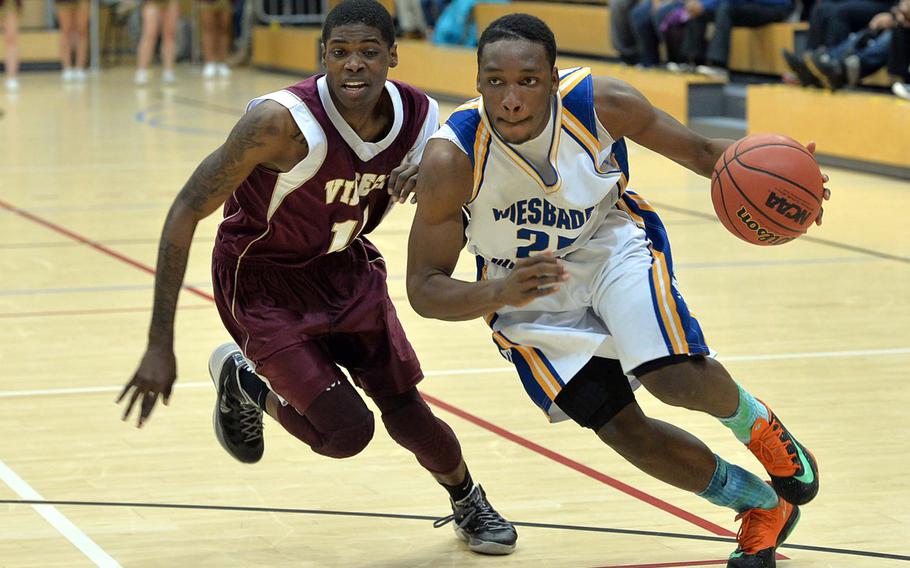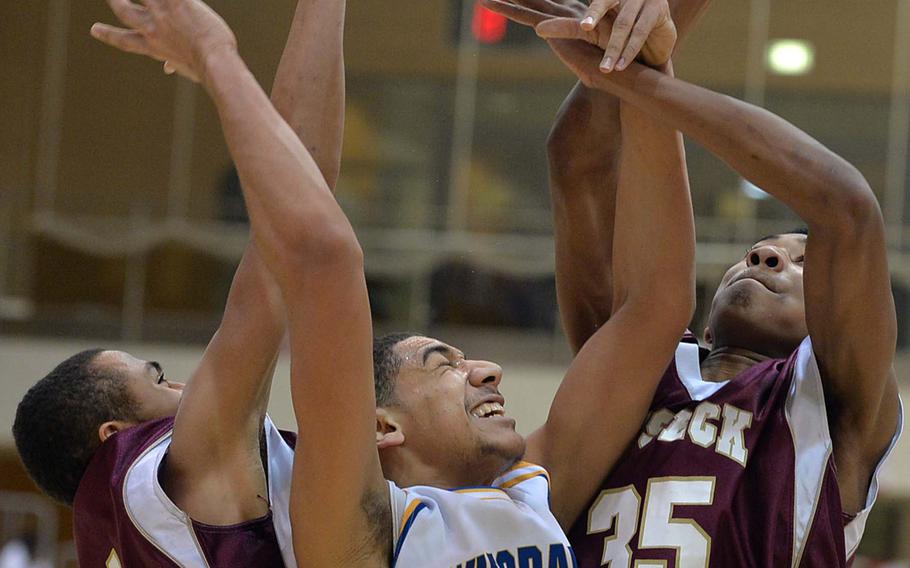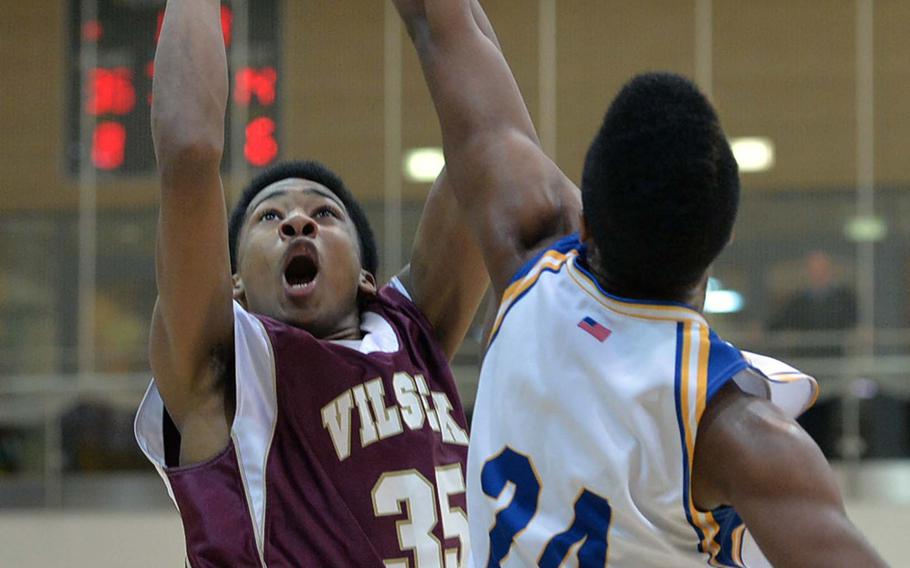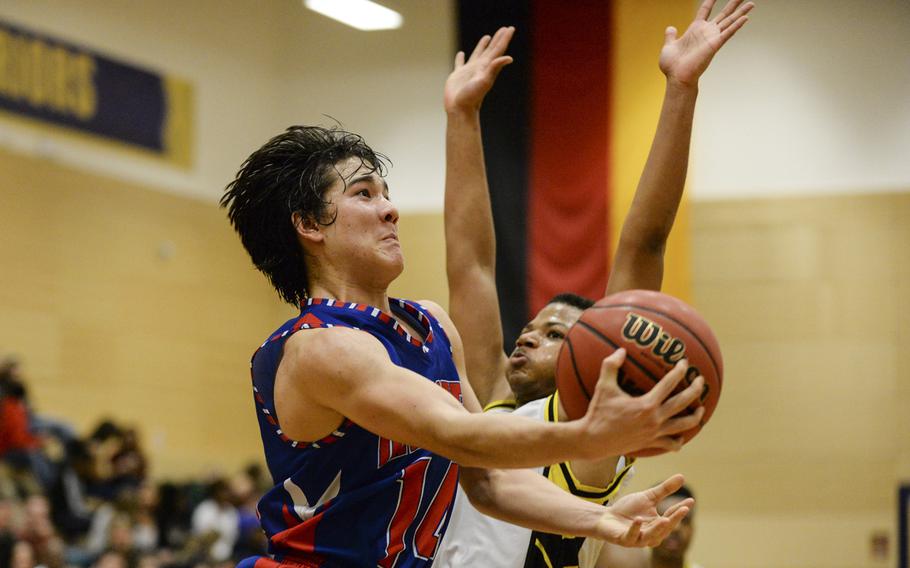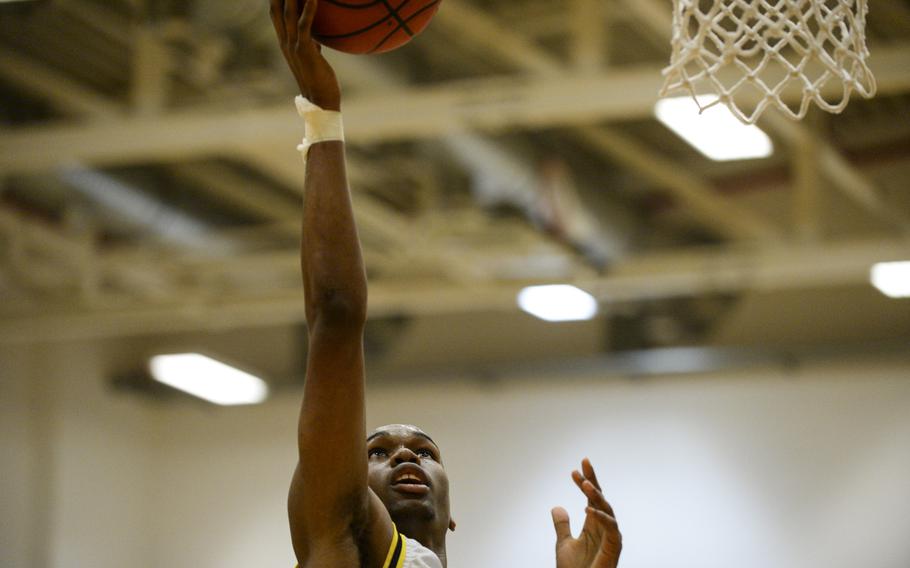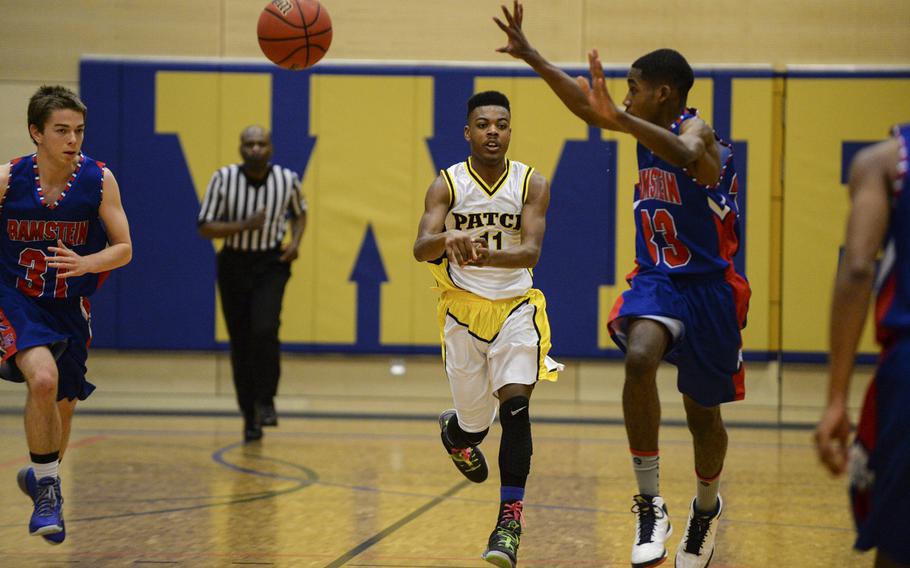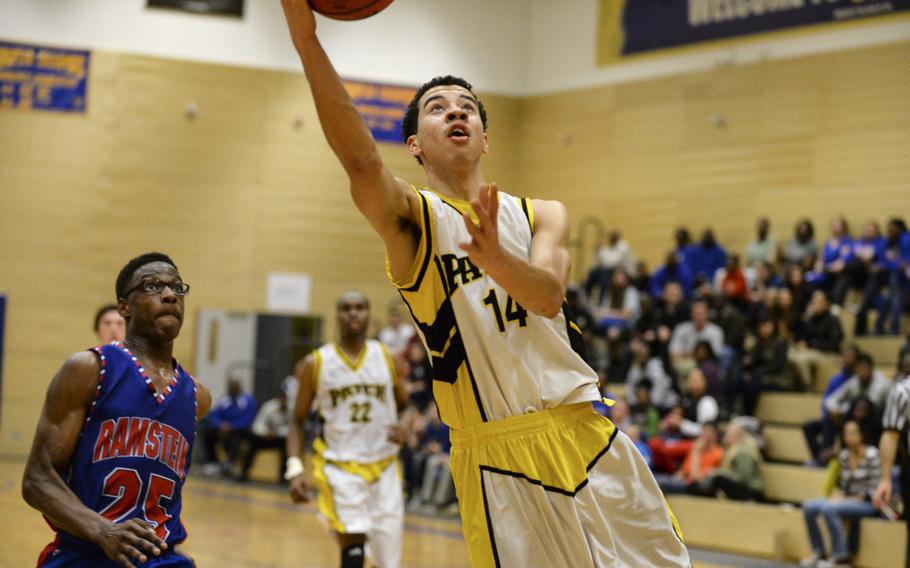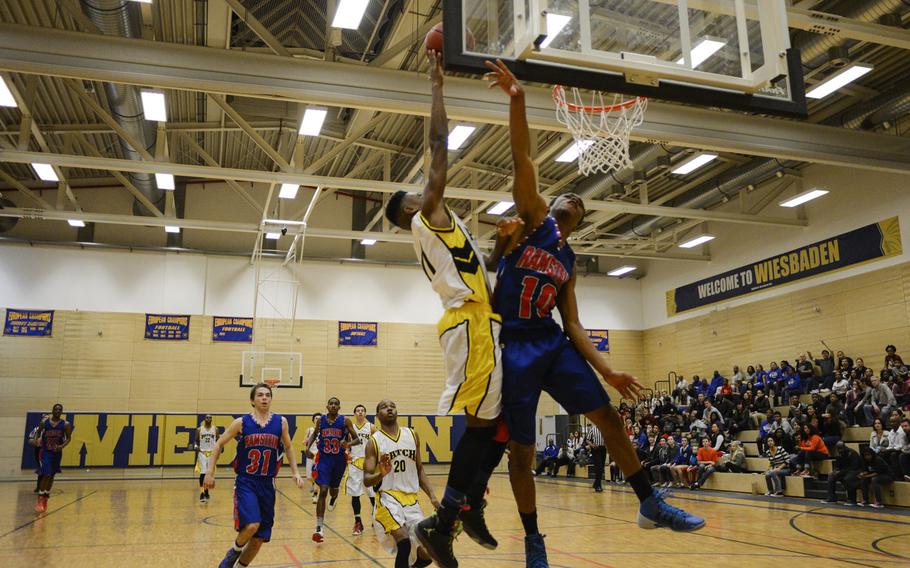 This article has been corrected.
WIESBADEN, Germany – The party is pending in Wiesbaden. And, at a distance, in Stuttgart.
The Warrior boys basketball team joined the Warrior girls in the DODDS-Europe Division I championship round Friday night, sending the host school's large and vocal fan base home to dream of a Saturday championship sweep for the home team. Patch accomplished the same feat Friday and will take on the Warriors in consecutive title games.
Wiesbaden 69, Vilseck 50: The Falcons are no longer the Division I afterthoughts they once were.
They're just not quite championship-caliber yet, either.
The top-seeded, homestanding Warriors snuffed out sixth-seeded Vilseck's fledgling title hopes with a thorough rout, tapping into their deep and versatile roster of talented options to earn their title shot.
"I love the guys," said senior Kelsey Thomas, an All-Europe wing who might double his scoring average among a less talented lineup. "It definitely makes everything a whole lot easier when we're all connected and when all of us are on it."
That was certainly the case Friday.
Thomas led three double-digit Wiesbaden scorers with a game-high 15 points and added nine assists and four rebounds. Andrew Murray added 12 points and 12 rebounds. Darren Williams scored 11 points. CJ Pridgen had eight points and 11 rebounds.
Head coach David Brown said he has seldom-used players on his bench who would start for previous teams he has coached.
"I knew going into the season that this is probably the deepest team I've ever been associated with in DODDS," Brown said.
Division I frontrunners all season, the Warriors are now 32 minutes away from a title. The prospect of celebrating two Wiesbaden championships Saturday did not escape Thomas' attention.
"Amazing," Thomas said. "That's what we've all wanted since the beginning of the season."
While the Warriors entertained thoughts of glory, the Falcons searched for perspective.
Vilseck's season was an extended effort to move into the Division I elite. The Falcons played their large-school competition tough on several occasions but secured just one such victory, a final-weekend upset of Patch.
That changed in the tournament, as Thursday wins over Kaiserslautern and International School of Brussels put the Falcons in the division's final four alongside perennial contenders Wiesbaden, Patch and Ramstein.
But the old demons resurfaced Friday as they squandered a lead in a pool-play loss to Patch and posted an elimination-game dud against the Warriors.
Still, it was the highest finish for the Falcons in several years. Vilseck had failed to get out of pool play and into the final rounds recently.
"It's an accomplishment to get back here," Falcons head coach John Sabala said.
Patch 61, Ramstein 48: The Panthers eviscerated Ramstein in a lopsided semifinal.
While the game ended with Patch in charge, it didn't start out that way.
Ramstein managed to hang with Patch until deep into the second quarter, at one point nearly catching the speedy Panthers. After a four-point Ramstein run, Patch's lead was narrowed to a slim 19-18 margin.
Then, Patch shifted into a gear the Royals either didn't have or couldn't find.
Seniors Kelvin Brown and Brendan Jones combined for 20 points in the quarter, driving the Panthers to a 34-21 lead in the first half's waning minutes.
As the second half opened, the Ramstein defense threw everything but the kitchen sink at Brown, who went to the line three times in a matter of about a minute while putting up four points on a layup and a pair of free throws.
By the end of the third quarter, Patch was up by a game-high 20 points.
Going into the final quarter, Ramstein didn't appear to have an answer as to how it would erase its 52-32 deficit. The Royals could not contain Jones, Brown or sophomore CeJay Ferguson, whose quick dribbling and balletic moves left Ramstein flat-footed.
Ramstein junior Jamael Kingsberry sank a couple three-pointers late in the fourth to help narrow the gap down to just 13 points. But with a little less than a minute left on the clock, Patch engaged in a game of keep-away that punctured whatever balloon of hope Ramstein had left.
Ramstein was without 6-foot-3 senior Drew Tevebaugh, who was ineligible to play in the championships after serving as a main component of team Ramstein in the regular season.
broome.gregory@stripes.com; millham.matt@stripes.com
Correction Ramstein's Jamael Kingsberry was misidentified in an earlier verison of this article.
---
---
---
---