Division II boys
Schweinfurt heads opening-day upsets
---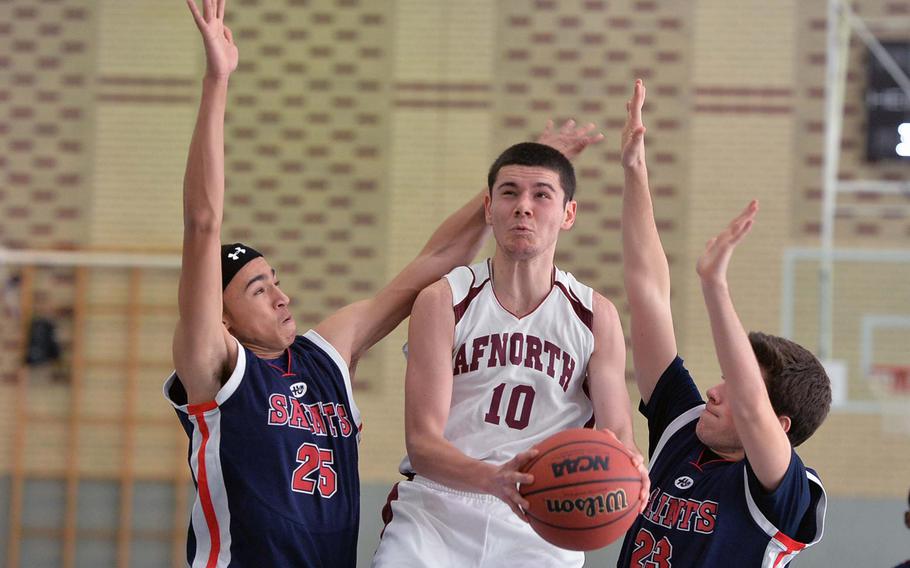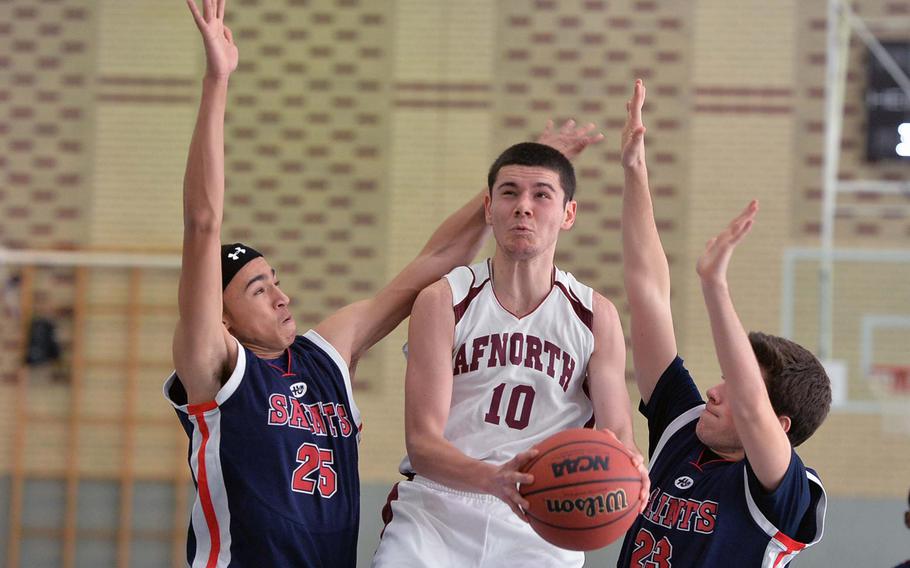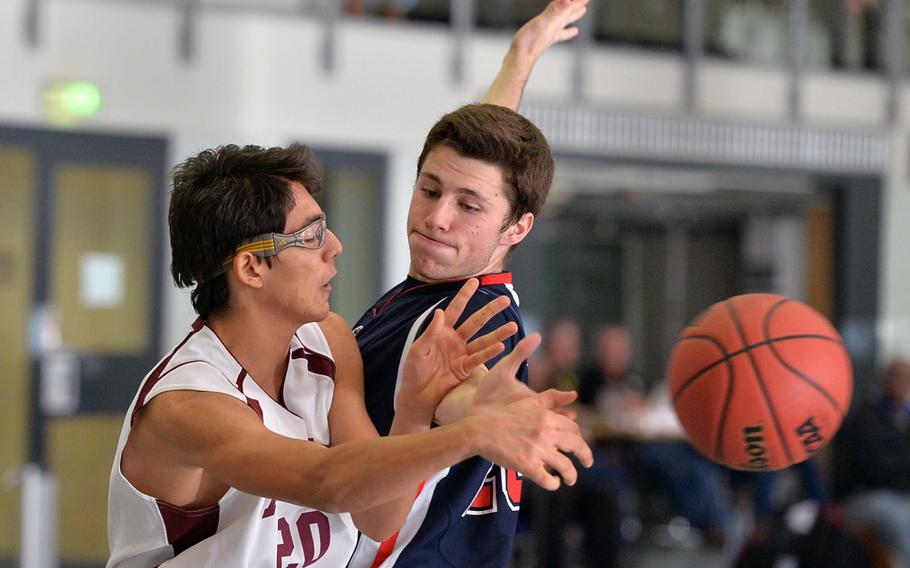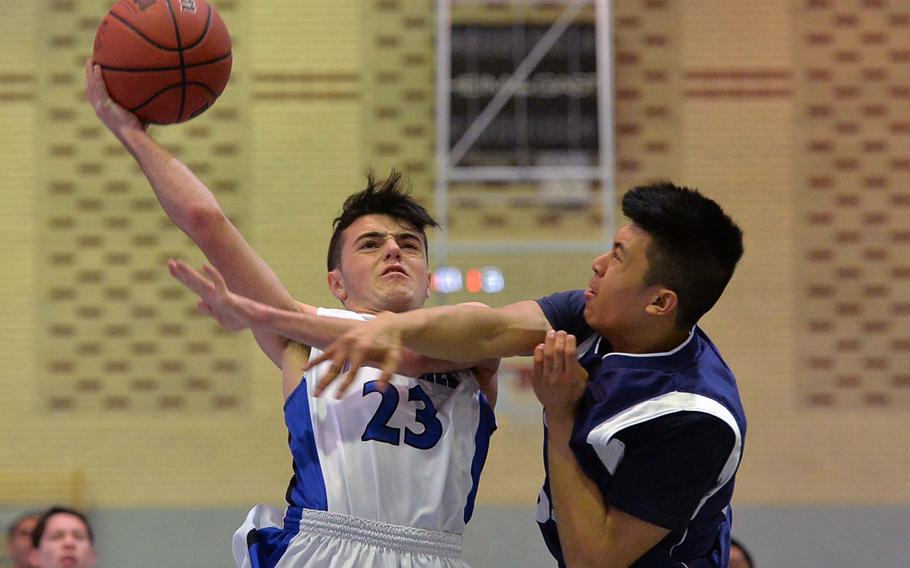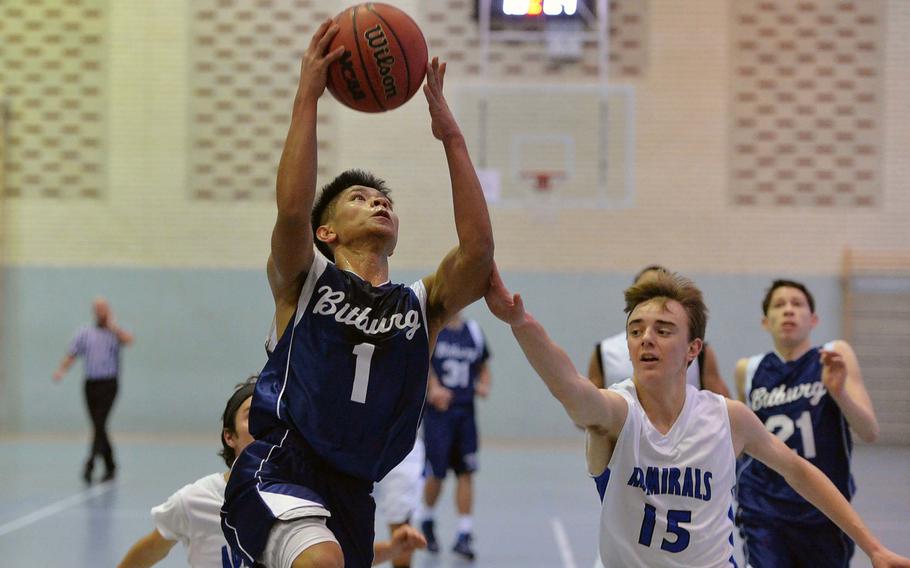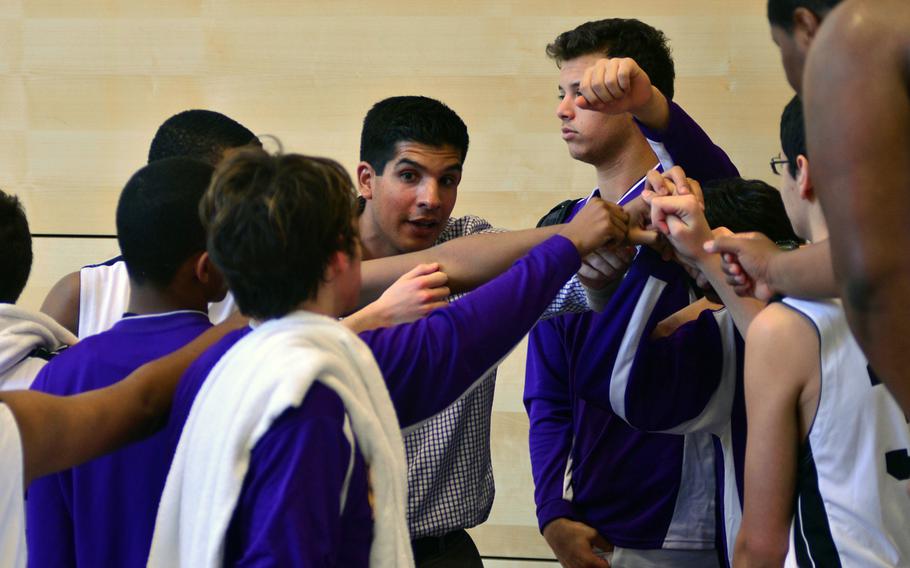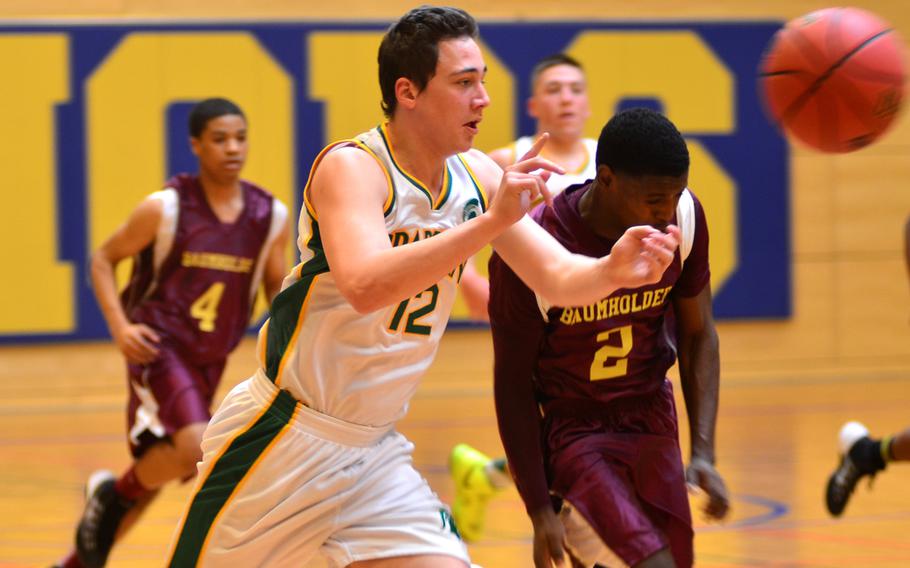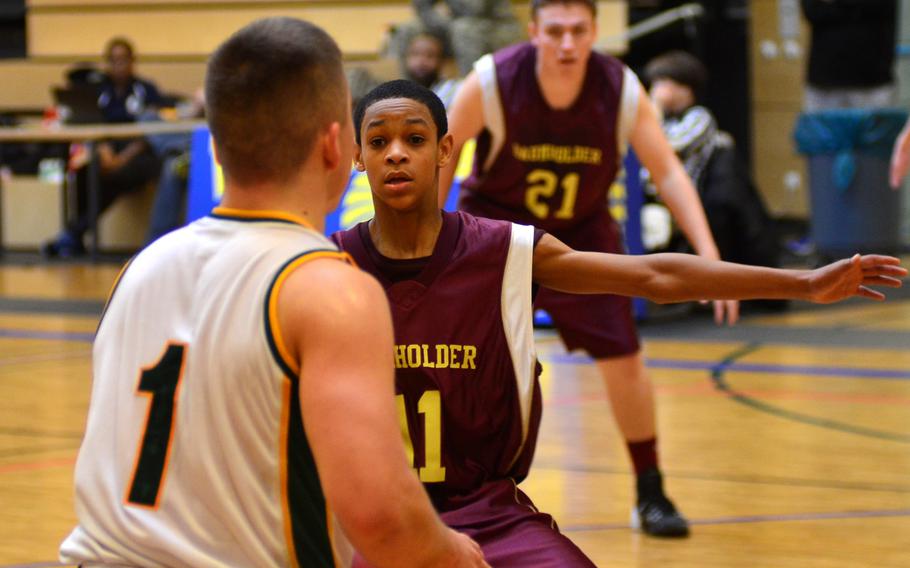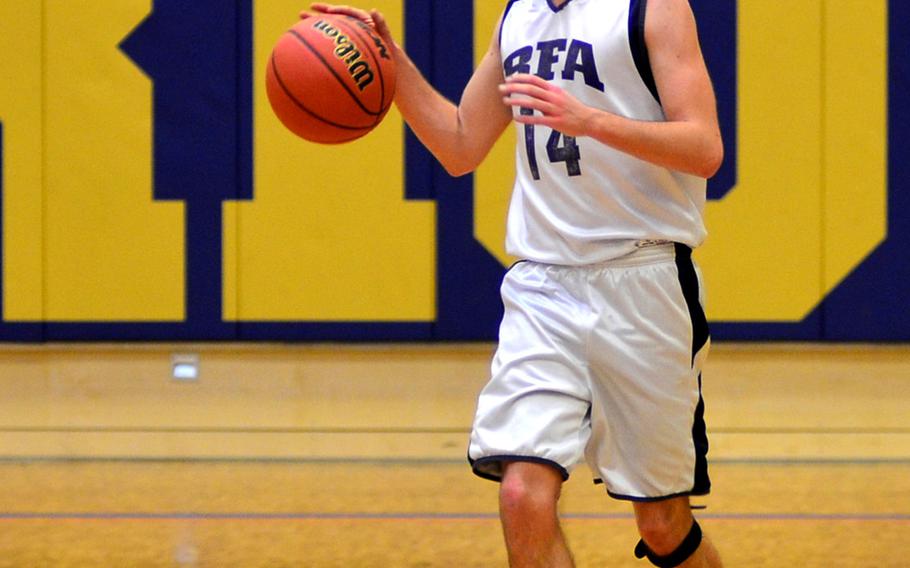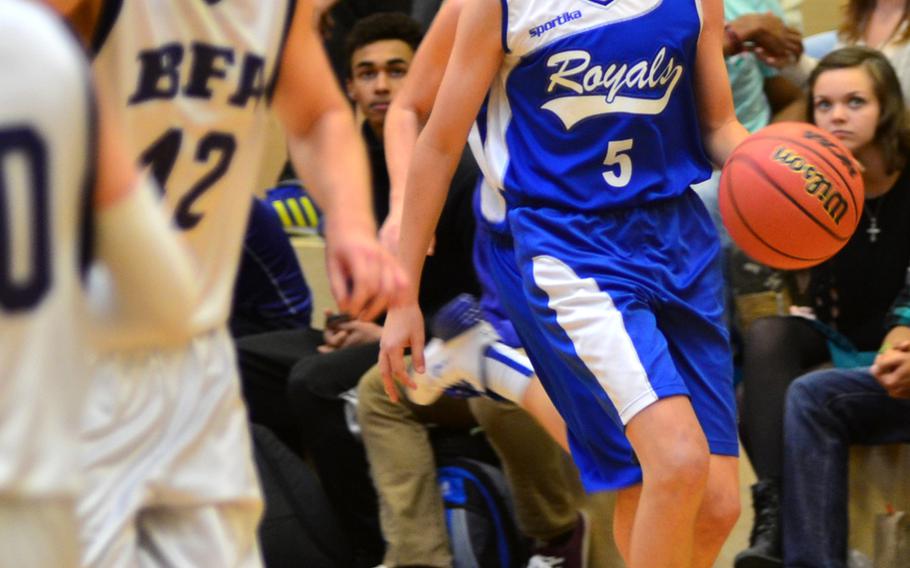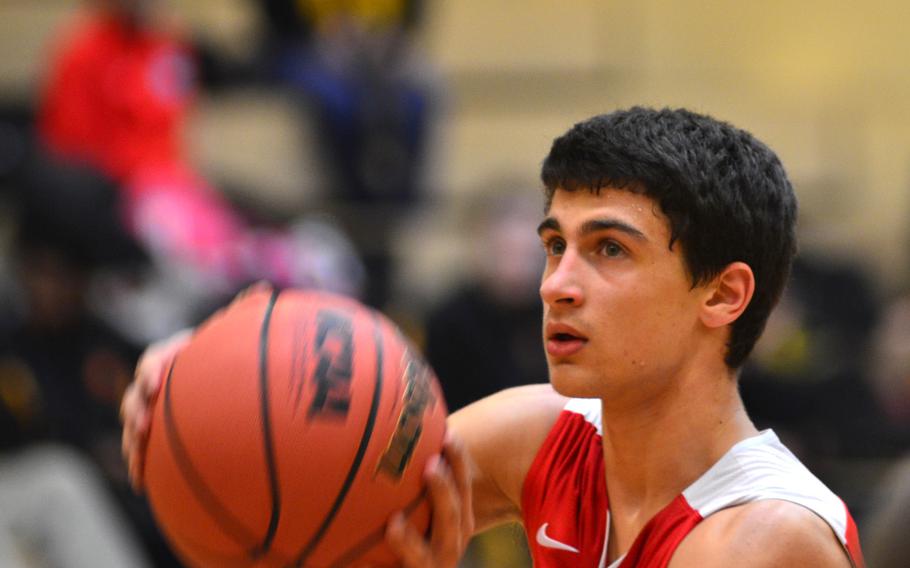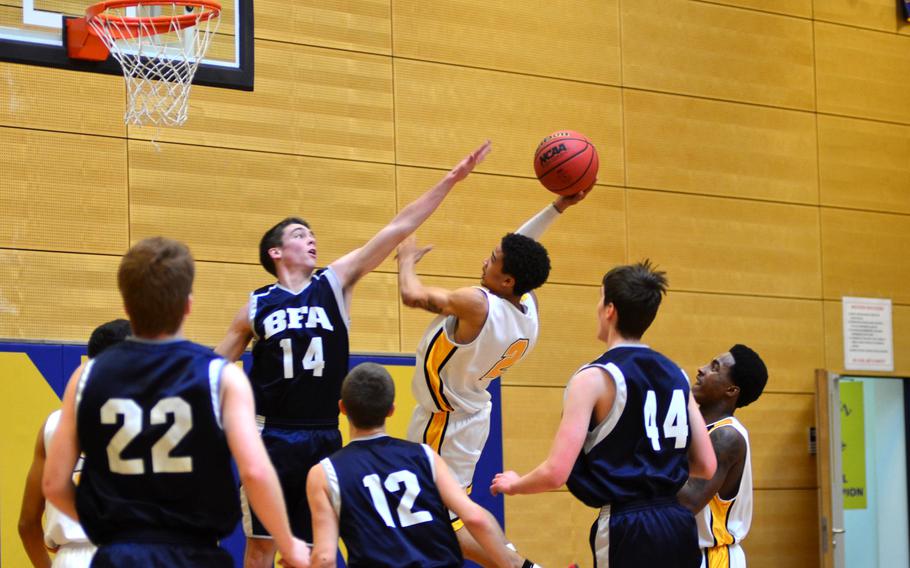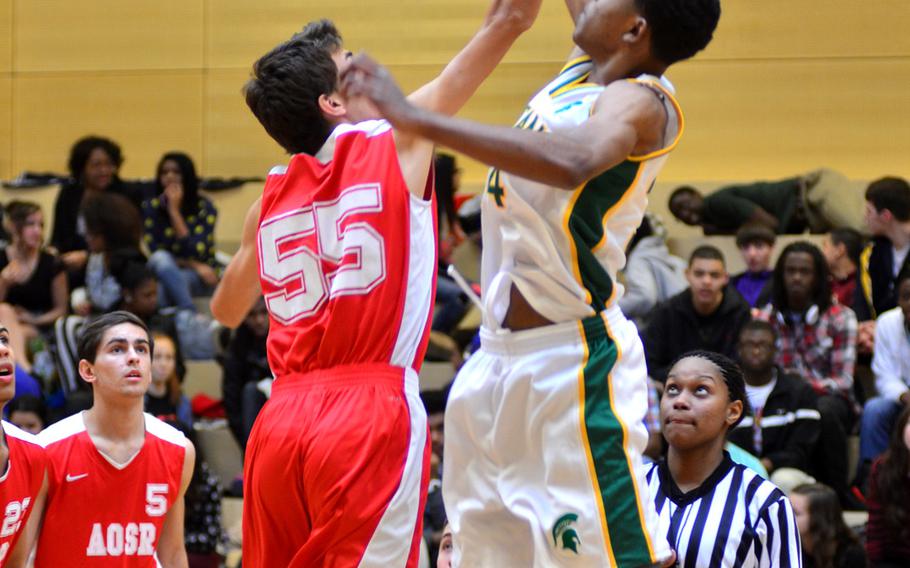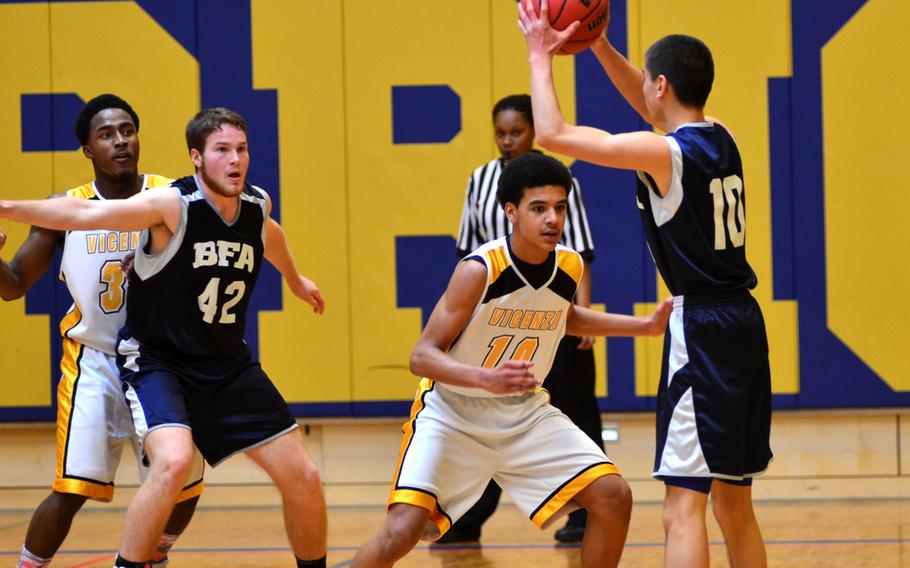 WIESBADEN, Germany – Schweinfurt/Bamberg burst out of its humble 13th seed Wednesday with two hard-fought victories on the opening day of the DODDS-Europe Division II boys basketball tournament.
The Razorbacks, comprised of players from two Bavarian schools scheduled to close at year's end, checked in close to the bottom of the divisional bracket after a 1-11 season. They posted twice as many wins on the first day of the postseason, opening the day's schedule with a 35-29 upset of fifth-seeded Aviano and returning in the afternoon for a 31-30 win over 12th-seeded Ansbach, a team that beat them three out of three times in the regular season.
Leon Roy dominated both games, recording 18 points and 15 rebounds against Aviano and 14 points and 12 boards before fouling out late against Ansbach. Roy explained that the team's only regular-season win – a 53-51 triple-overtime defeat of Black Forest Academy on Feb. 8 – provided the needed "spark" to turn the makeshift roster into a cohesive unit.
"The team was not a team yet because we were brand new with each other," Roy said.
American Overseas School of Rome 70, SHAPE 52: The Falcons pulled off a stunner of their own in routing the second-seeded and previously-undefeated Spartans.
AOSR, owners of a middling 6-5 regular-season record and the tournament's seventh seed, blasted Alconbury 68-25 early Wednesday.
Otis Reale paced AOSR with 34 points.
AFNORTH 60, Aviano 25: An anticipated matchup between the tournament's fourth and fifth seeds quickly deteriorated into a blowout. The defending Division II European champions registered their second double-digit win of the day while keeping the frustrated Saints out of the win column.
The fourth-seeded Lions, who remained in contention this season despite losing several key members of last year's title-winning squad, scored 14 unanswered points to start the game and cruised to the victory. Three AFNORTH players scored in double figures on the game; returning senior forward Daniel Cordova led the way with a game-high 20, Berk Dikici added 14 and Darel Marshall chipped in 13.
AFNORTH beat Ansbach 44-27 in its first game of the day.
Bitburg 44, Rota 35: The 14th-seeded Barons enjoyed a satisfying win over the 11th-seeded Admirals.
The Barons spent much of their season struggling in vain against regional Division I opponents, making the Division II tournament a cathartic and confidence-boosting experience for the inexperienced squad.
"Earlier we were a little nervous, because it's a really young team," Bitburg senior guard Ian Alexander said, referring to the Barons' 38-18 loss to Naples earlier in the day. "But in the second game we showed that we were really ready. We played aggressive."
Alexander led a balanced Bitburg offense with 16 points, including a string of three first-quarter three-pointers as the Barons built an early advantage. Ian Cortez added 14 points, while Damon Hebb contributed 11 points, six rebounds and three steals.
Alexander said he didn't go out of his way to get off the early long-range shots that set the course for a Bitburg win, but also didn't hesitate when they became available.
"If I get it open, I kind of have a green light to shoot it," Alexander said. "That wasn't really part of the plan. We just wanted to get good quality shots."
Naples 56, Hohenfels 54: Wednesday's action ended with arguably the most intense game of the day as two of the bracket's higher seeds battled to end the day undefeated.
Neither team gained any separation as the evenly-matched squads traded baskets and the lead throughout the game's first three quarters. Third-seeded Hohenfels built a small cushion that lasted the bulk of the fourth quarter, but WIldcat star Jayontray Grogan made two steals and layups in quick succession to tie the game at 53 and force a two-minute overtime period. Grogan, who finished with 37 points, hit a three-pointer a minute into the extra session to finish off the dramatic comeback.
Sixth-seeded Naples joins Schweinfurt/Bamberg, AFNORTH, AOSR and top seed Vicenza in taking 2-0 records into the tournament's second day.
Staff writer Eric A. Brown contributed to this report.
Twitter: @broomestripes
---
---
---
---