Naples girls survive turnover plague, but boys don't
by
Kent Harris
December 13, 2013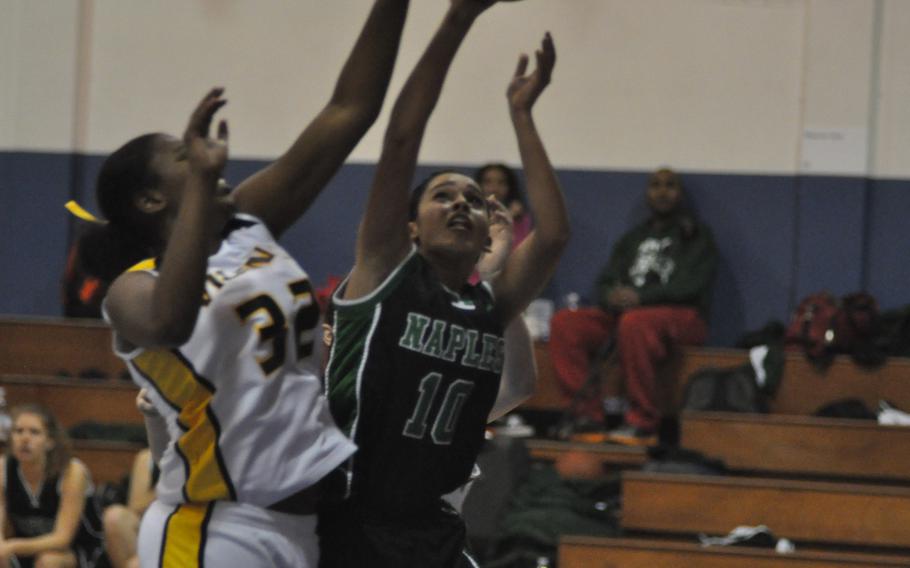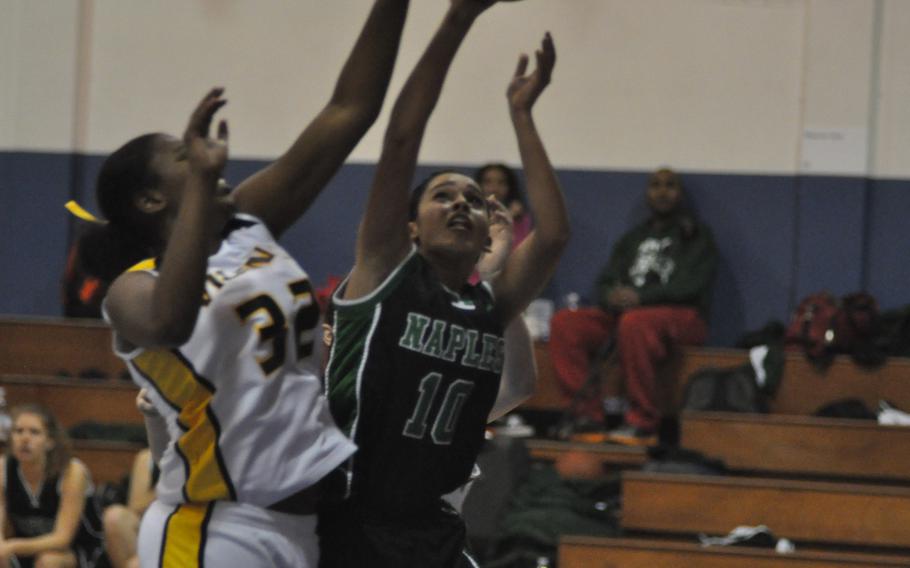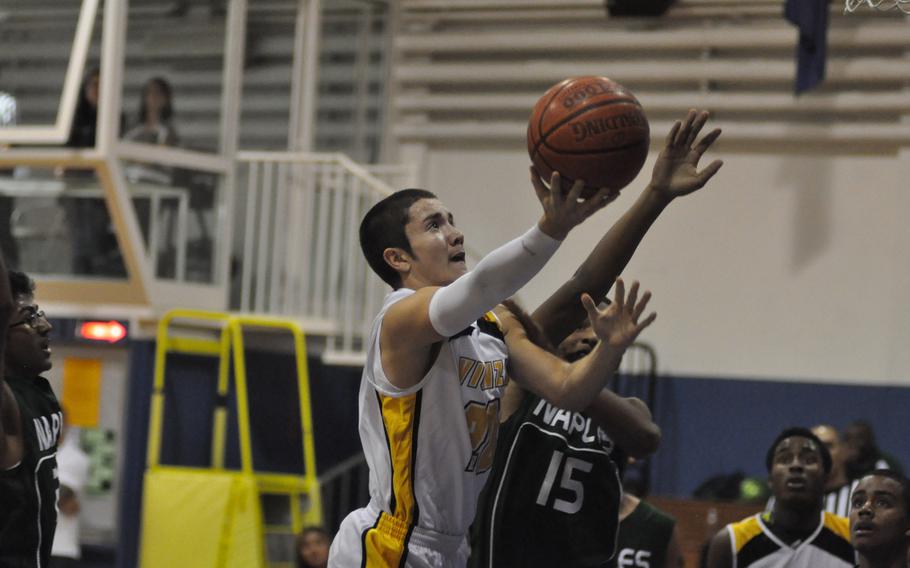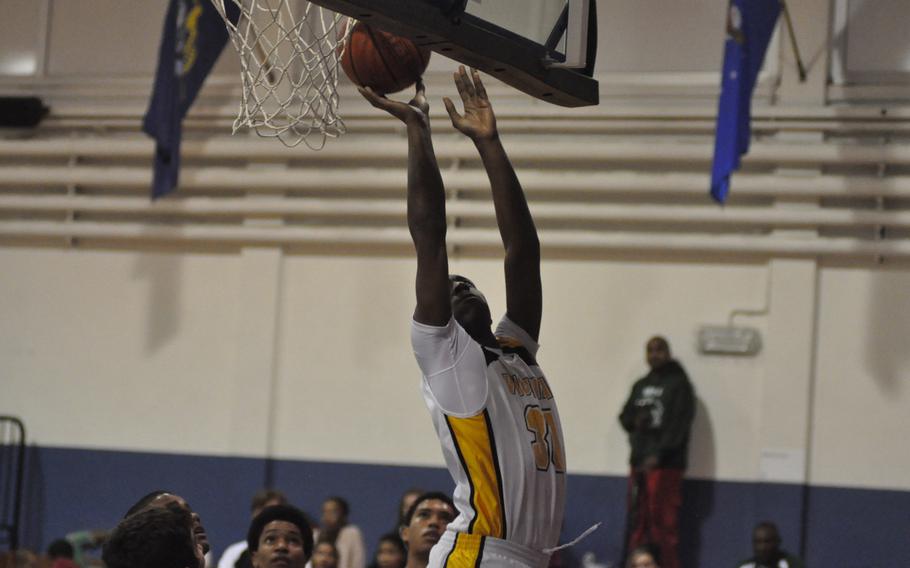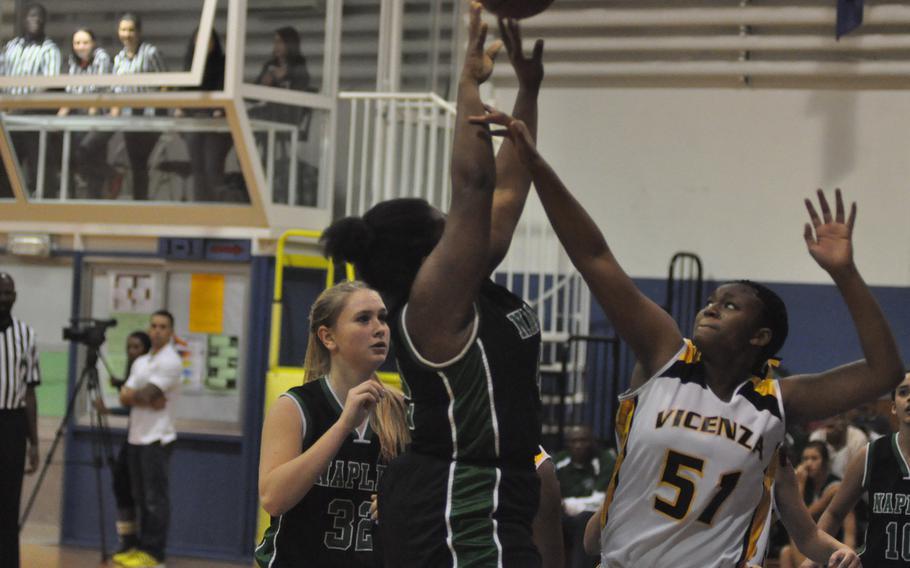 This article has been corrected.
VICENZA, Italy – Turn over the ball excessively in basketball, and you don't win.
The Naples boys demonstrated that Friday night, coughing up the ball 17 times in the first quarter to help Vicenza take an early lead that eventually turned into a 64-23 mercy-rule rout.
But someone forgot to tell the Naples girls.
The Wildcats committed 50 turnovers yet somehow earned a 34-26 victory over Vicenza in the season opener for both schools.
"We might put a little bit of Super Glue on their hands," joked Naples coach Amie Pennartz.
That would only solve some of the problems, though, as the Wildcats turned over the ball in just about every way imaginable. The teams were tied at 17-17 at the half, with Naples "winning" the turnover contest 33-21. The Wildcats held onto the ball a bit more in the second half, and Vicenza's offense – never really hot – went ice cold.
The Cougars didn't score in the second half until sophomore Emma Knapp's free throws with 2 minutes, 46 seconds left in the third quarter. It got worse in the fourth, as Vicenza didn't score until Alexandra Czarnik's basket with 1:48 left.
"We probably missed 13 under-the-basket shots," Vicenza coach John Kohut said.
Most of those came after Naples turnovers. After Naples got set into its zone defense, Vicenza didn't seem to get close to the basket.
"We've got plays to run against that; we just didn't run them very well," Kohut said.
The Wildcats did run their own full-court zone press well, though, and limited Naples' scoring opportunities by continually taking away the ball – though sometimes giving it right back.
Junior Kylee Soto paced Naples with 14 points, and senior Shanice Alexander added 11 and nine rebounds. Zhana Esprerre-Belle and Abby Lynch combined for 20 more rebounds as the Wildcats held a decisive rebounding advantage.
Knapp led Vicenza with 13 points.
The Vicenza boys held just about all the advantages over their Naples counterparts, and it showed.
Vicenza, tied with the Wildcats for the Region IV title a year ago, lost only one player to graduation and had a few new ones transfer in from the States, according to coach Eric Wakefield. Naples, with seven freshmen, doesn't have a single player who played varsity ball last year.
Though both teams were playing their season openers, the Cougars have played five times against Italian competition early in the season. Though those games don't count on the team's official record, they helped them prepare for Naples.
"They look very deep," Naples coach Craig Lord said. "(It's a) very good team. We obviously didn't have answers for anything they did."
Vicenza forced Naples into mistake after mistake in the first quarter and raced to a 20-6 advantage. It just got worse after that, with the mercy rule coming into play with 22.9 seconds left in the third.
The Cougars sent waves of players against the Wildcats, sometimes sending them off the bench and into action five at a time.
"We've got some athletic guys who can play," Wakefield said. "There's no reason to have a lot of guys sitting on the bench."
LaScott Richardson had 16 points for Vicenza. Derrick Schaefer (nine), Jerome Farmer (eight) and Matt Stitzel (seven) were among eight other Cougars to score. Ty Reek Riggins and Joyontray Grogan each had seven for Naples.
After meeting again Saturday, both schools have the winter break and don't play against DODDS competition again until Jan. 10.
Correction Mario Molina was misidentified in a picture in an earlier version of this article.