Late rally gives Heidelberg softball sweep of Mannheim
by
Rusty Bryan
May 7, 2011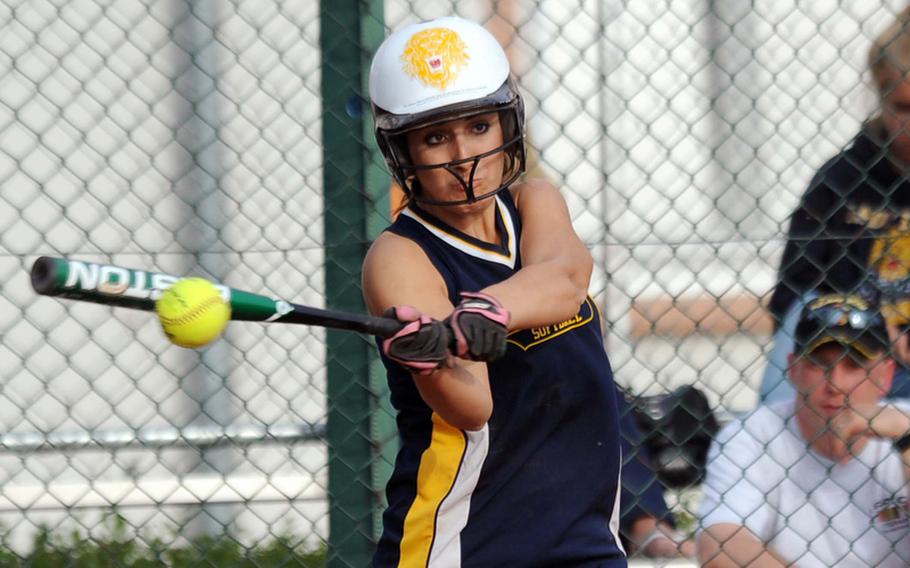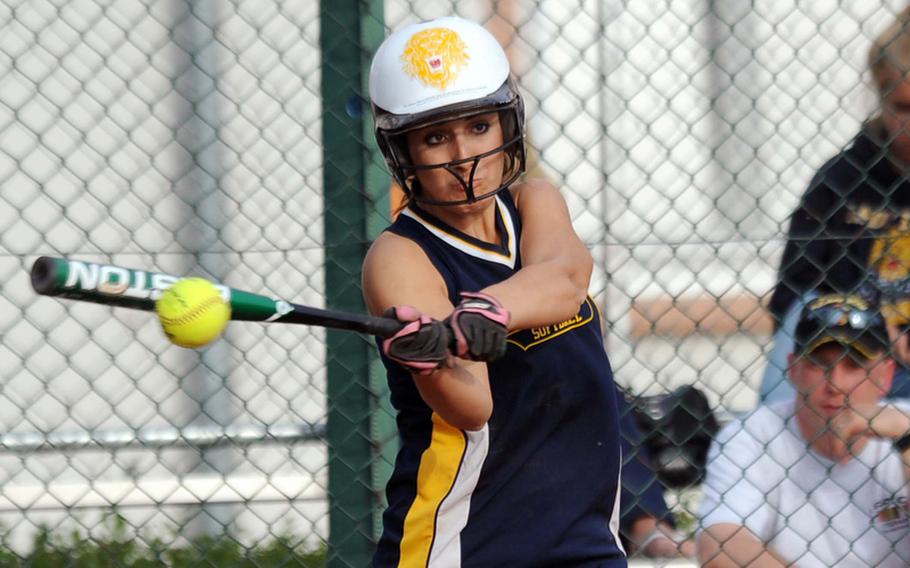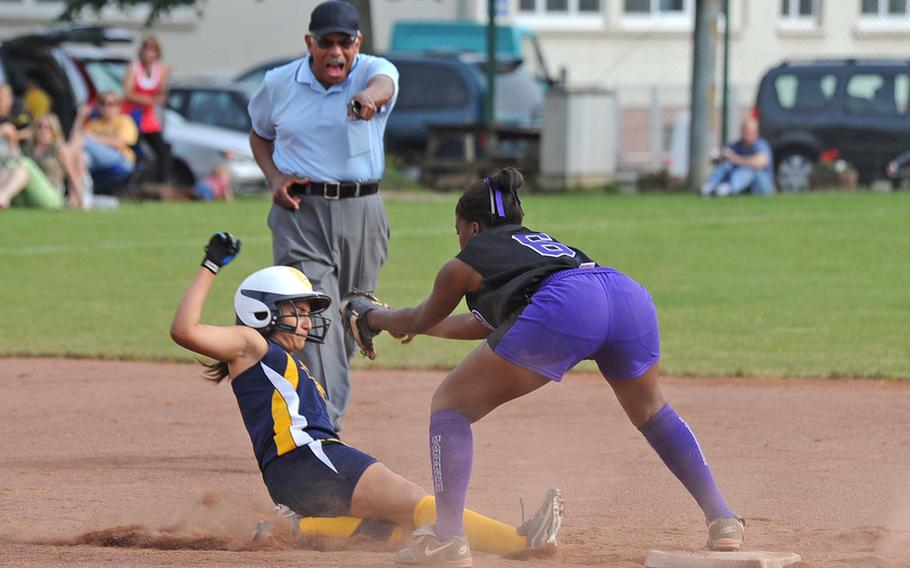 HEIDELBERG, Germany – Asia Buss stroked a last-inning, bases-loaded triple Friday night to propel the Heidelberg Lady Lions to a rivalry-ending, come-from-behind 11-10 victory and a sweep of an East Region doubleheader of the Mannheim Lady Bison. Abriana Del Tufo's walk-off double delivered an 8-7 victory for Heidelberg in Game 1.
Buss' blow broke a 7-7 Game 2 tie, and she scampered home with the eventual game-winning run on Lena Maieritsch's fielder's choice-grounder as Heidelberg won the final two athletic contests ever to be played between the longtime rivals. Mannheim is scheduled to close its doors forever next month.
"There was a little bit of pressure," Buss said about her impact at-bat, adding that knowledge that this would be the last time Mannheim and Heidelberg would play each other made the evening "intense."
Buss' blow followed four straight inning-opening walks by losing pitcher Lexi Piniero. All told, Mannheim pitchers walked 15 batters in the nightcap.
With the two-hour time limit looming and Mannheim ahead 7-6, Aileen Donnelly led off with the first of five bases on balls Piniero would give up in the frame. Donnelly, the winning pitcher in Heidelberg's 8-7 Game 1 victory Mannheim, stole her way around the bases to get the game tied and set the stage for Bliss.
As it had in Game 1, Mannheim mounted a last-inning rally of its own.
Catcher Brittany Hyde, who earlier in the game had tripled in a run, hit a fly to right that Heidelberg misplayed into a two-run, three-base error that made the score 11-9. Erica Bryant then singled home pinch-runner Cynthia Brand to cut Mannheim's deficit to a single run, but Heidelberg catcher Briana Bronnell picked Bryant off first to end the game.
Winning pitcher Kayla Weber wasn't particularly sharp herself. She walked 10 batters and hit one in going all five innings, and wild-pitched three Mannheim runs home.
But she battled back by allowing just five hits and striking out two.
"We couldn't let our mistakes beat us," she said about her grind-it-out performance.
In Game 1, Donnelly allowed six hits and struck out seven in her route-going six innings.
Mannheim, which spotted Heidelberg a 3-0 first-inning lead built around five walks and an error, trailed 7-3 after five innings. A two-run single by Amber Lacouture, a run-scoring grounder by Hyde and Joanna Phillips' RBI single in the top of the sixth, however, got the Lady Bison even.
But Heidelberg wasn't interested in extra innings. Maieritsch opened the bottom of the inning with an infield single, stole second, then scored the game-winner on Del Tufo's double to center field.
Heidelberg evened its season mark at 5-5 with the sweep; Mannheim fell to 0-6.
Next up for Heidelberg is home doubleheader May 14 against Wiesbaden; Mannheim is to entertain Hohenfels the same day.
---
---
---