Lakenheath leads northern teams in final tune-up
---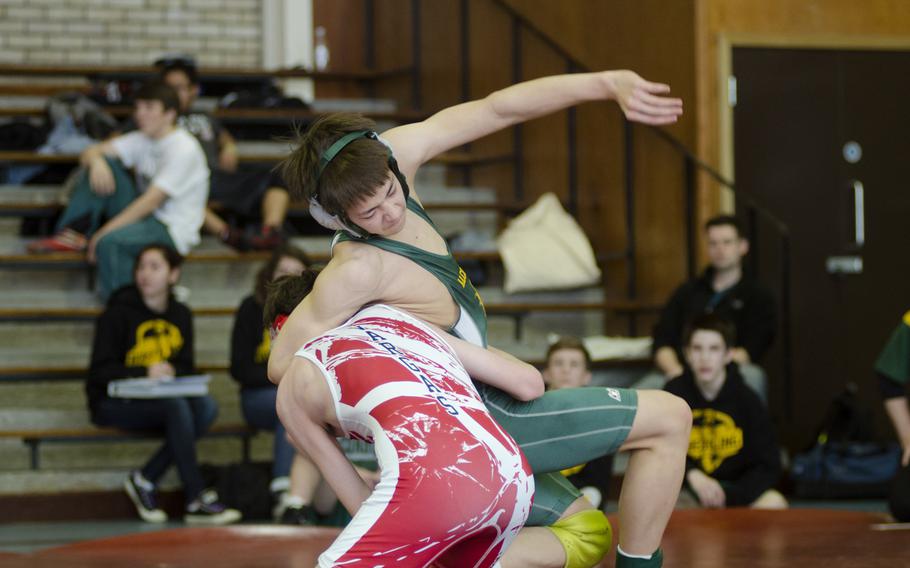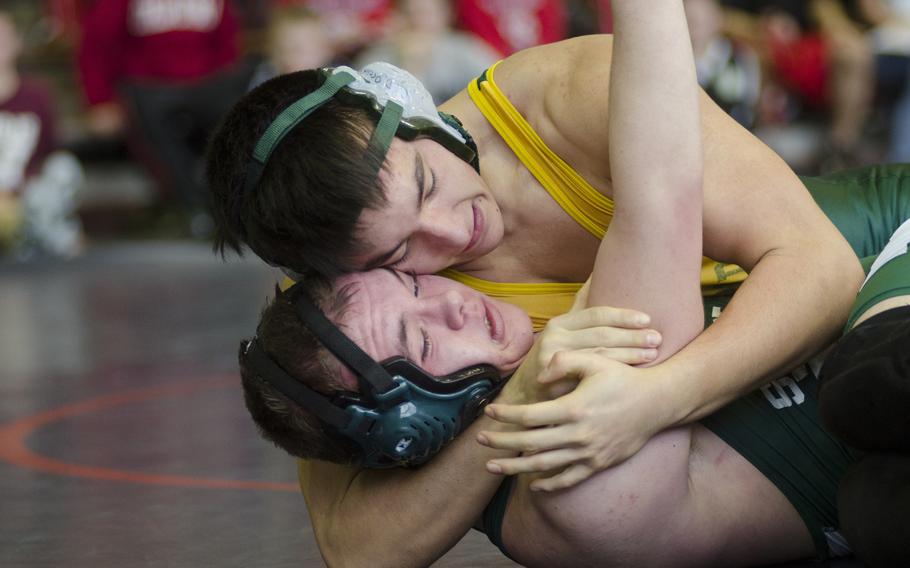 This story has been corrected.
RAF LAKENHEATH, England – Lakenheath was almost in a no-win scenario Saturday when it took first place among five schools at the last wrestling meet of the regular season.
The meet pitted the Division I Lancers against four smaller schools. SHAPE took second, AFNORTH third, Alconbury fourth and Brussels came in fifth.
Asked about competing against a bigger school, SHAPE Coach Jeff Hamer said it was hard for his school since it only has about 15 competitors and a lot of those are in the same weight class. He pointed out his team's opponents automatically gain points for weight classes the Spartans do not have someone entered in. "When you keep team score, the guys that have a full team are always going to win," Hamer said. While Lakenheath was the giant at the meet, taking first in seven out of 12 weight classes, it was not unstoppable. Zain Leach, who finished second in the 182-pound class for the Dragons, beat out Lakenheath's Cody Maglio in a relatively quick match. Leach downplayed the role of school size and instead emphasized the importance of skill. Other schools get the same training as his team, it is simply about "who's the better wrestler," Leach said. Lakenheath has some concerns about size as well when it comes to the European championships. Darryl Brock, the team's head coach, said smaller teams can excel in their own divisions at the European level. It's there that the Lancers are at a size disadvantage to the likes of Ramtein, Patch and Kaiserslauern. "I think Lakenheath is the smallest Division I school, so consequently, you probably expect us to be in last place for Division I," Brock said. Brock, however thinks Lakenheath can bring home some accolades. "Well, I'm optimistic," Brock said. "I'm hoping we can come home with a plaque. I can't guarantee it. It's only if the wrestlers wrestle their 'A' game next weekend at sectionals."
The three sectionals are scheduled to be held at Brussels, Kaiserslautern and Vicenza.
CorrectionThis results noted in the second paragraph of this story were incorrect. It should have said SHAPE took second, AFNORTH third, Alconbury fourth and Brussels came in fifth.
---
---
---
---