Double plays a common thread in DODDS-Europe baseball tournaments
by
Rusty Bryan
May 27, 2010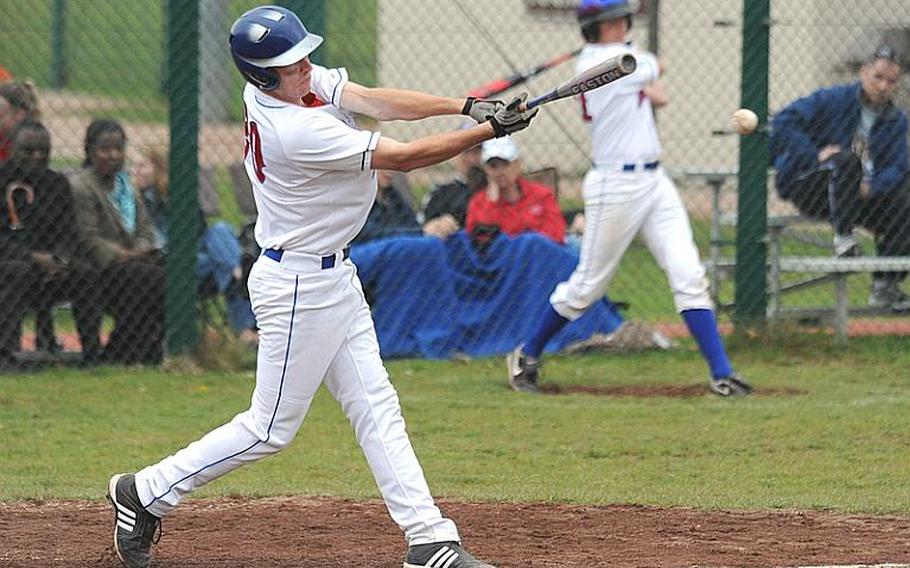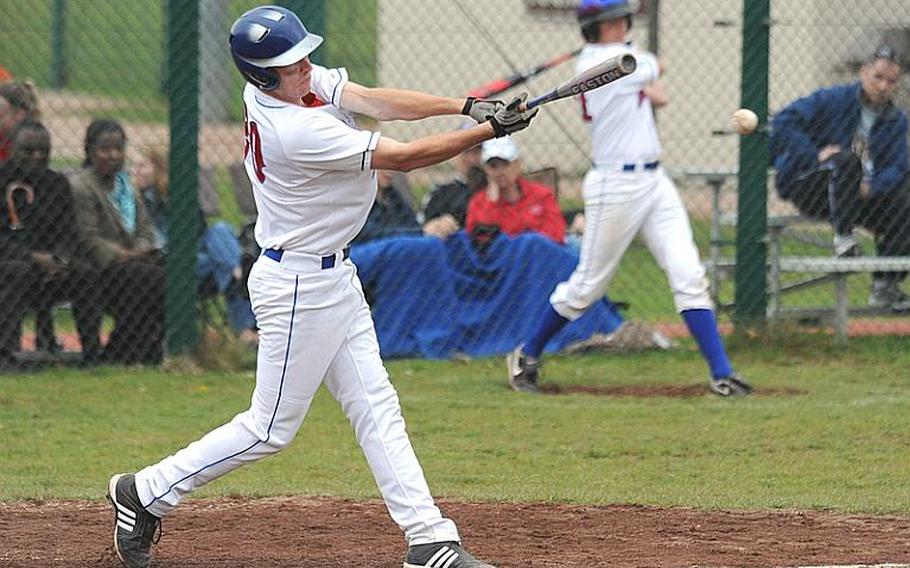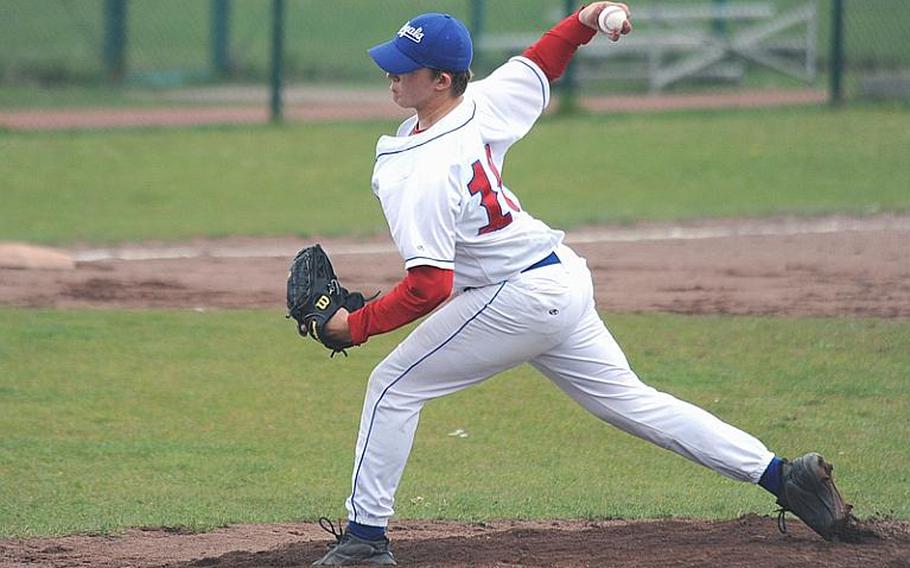 Two is the dominant number as the DODDS-Europe baseball tournaments open their three-day run Thursday at Ramstein Air Base and Kaiserslautern, Germany.
That's fitting, since high school baseball is winding up its second season as an official DODDS sport. This year, moreover, there are two titles on the line. Because only two Division III-sized schools — Sigonella and Rota — play baseball, they'll join six D-II teams in a combined D-II-III event.
The final pre-tournament deuce comes in the Division I event, which appears to be a two-team race between defending champion and top-seeded Ramstein (10-0 in regional play) and unbeaten No. 2 seed Patch.
Here's a rundown of each tournament:
Division I: Ramstein coach Glenn Porter has All-Europeans Josh Sloan (.542 BA) and Matt McDonald (.452) back, along with Shane Foley (.421), and has added the Groteleuschens, Drew (.450) and Jon (20 strikeouts in 12 innings). But he said in an e-mail Monday that he still isn't buying any notions of a two-team race.
"I can easily see some upsets in pool play with quick, short games," he said of games that are limited to 90 minutes. "You can't underestimate anyone in the tournament."
Certainly not Patch (17-0, 12-0 in East Region play), which gets production up and down the lineup, led by senior pitcher Justin Phelps. On the mound, Phelps is 5-0 and has yielded just seven hits and has struck out 62 batters in 27 innings. At the plate, he's hitting .509 with 32 RBIs. Patch's rotation also includes Dylan Measells, 5-0 with a sub-1.00 ERA, and Ohmar Gonzalez, 3-0 with a 1.27 ERA.
Offensively, Cavan Cohoes is batting .435 with 21 RBIs and Measells boasts a .442 average with 27 RBIs. P.J. Redmond, with a 1.75 ERA as the team's closer, is batting .469 with 27 stolen bases.
No. 3 Heidelberg needs to tighten its defense to challenge the top two, according to coach Berry Patrick, whose team lost 11-2 and 10-2 to Patch last Saturday to close the regular season at 9-3.
"While we were disappointed with our losses to Patch," Patrick said in a Wednesday e-mail, "the losses were really us beating ourselves with errors…. [We] think we will do much better the next time we face them."
Patrick's optimism stems from a lineup that includes All-Europe pitcher Jamal Pope leading a staff of eight, and offensive threats Jimmy Montfleury, Joseph Patrick, Tommy Saunders, Javier Ortiz and Zach Smith.
No. 4 Vilseck (9-3) should make some noise behind pitchers Kyle Krajkcovic and Tyler Hall, both All-Europeans last season. Like Heidelberg, Vilseck will have to find a way to reverse two double-digit losses to Patch to emerge as D-I champs.
Division II-III: Bitburg's the defending D-II champion, but the Barons struggled this season in the absence of All-Europe pitcher Matt Less, out with a shoulder injury. The entire field will be short the former No. 6 seed, Bamberg, which had to withdraw this week when its roster shrank to only nine players.
Vicenza, which can figure to go just as far as All-Europe pitcher Jack Buffington can take them, earned the top seed over Naples, led by an All-Europe pitcher of its own in Logan Porchie.
Each team has beaten the other this season. If they meet again, it would be in the final.
Rota, a D-III school that traveled to Germany to win the European high school-age title in 2007 when baseball was a Youth Activities-sponsored sport, is looking forward to throwing all-D-III tournament players Cameron Henry, Alex Kase and Tim Morgan in against stiffer competition.
"The kids are excited to play the bigger schools in D-II," coach Robert Stovall said in a Tuesday e-mail. "They are a little worried about the faster pitching and bigger bats that go along with the bigger teams, but are happy to get to travel and finally get some games against American teams."
Play begins at 8 a.m. Thursday in both events. Championship games are scheduled for Saturday. There is no admission charge.
European baseball championshipsWhen: Thursday through Saturday
Where: Ramstein and Kaiserslautern
What's at stake: Division I and II-III titles
Format: Pool-play with crossover semifinals
Division I
Pool A Pool B
1. Ramstein 2. Patch
4. Vilseck 3. Heidelberg
5. Kaiserslautern 6. SHAPE
8. Wiesbaden 7. Lakenheath
2009 champion: Ramstein
Division II-III
Pool A Pool B
1. Vicenza 2. Naples
4. Hohenfels 3. Bitburg
5. AFNORTH 6. Aviano
8. Sigonella 7. Mannheim
9. Rota
2009 champions: Bitburg (D-II), AFNORTH (D-III)