Home Team
Daegu thinking title instead of rebuilding year
---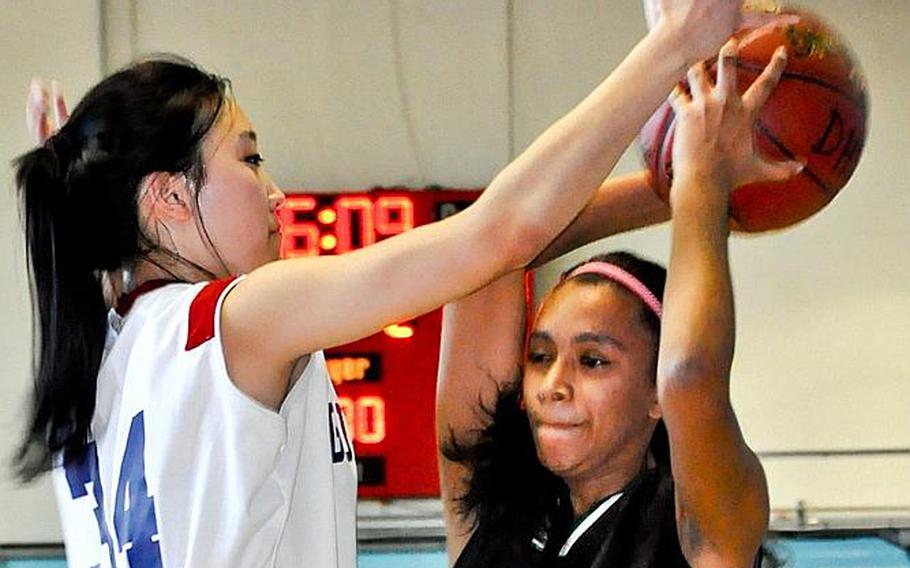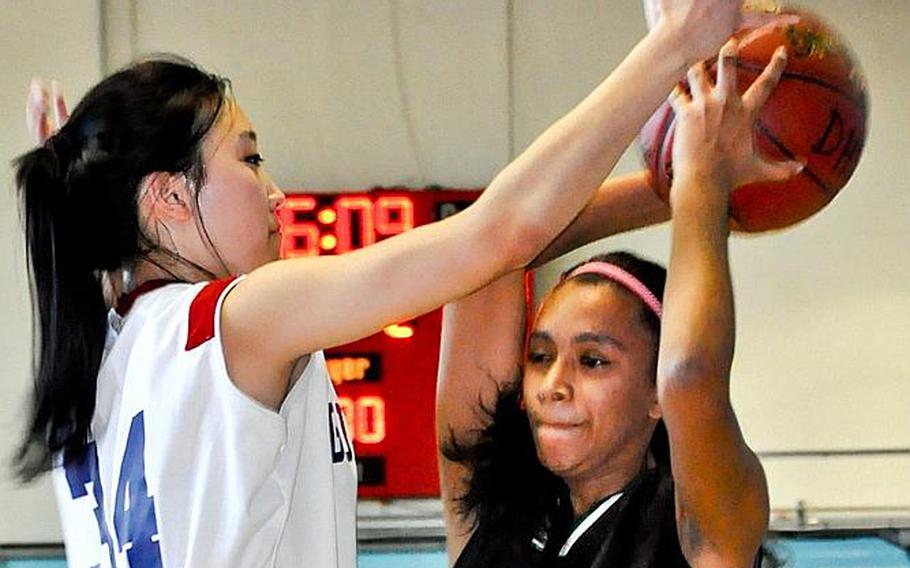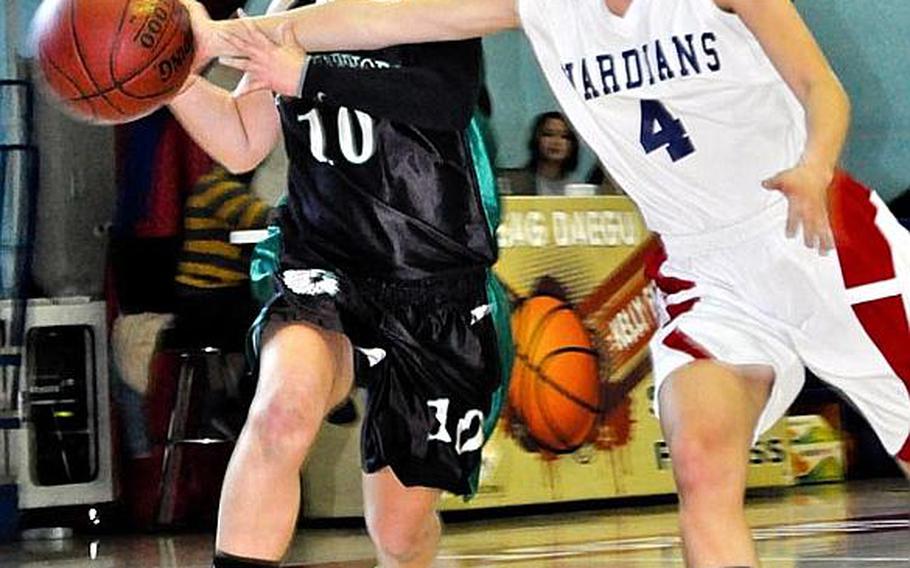 They could have been forgiven for hiding behind the "rebuilding" label. After all, Daegu's girls basketball team lost the core three players of its 2010 Far East Division II Tournament championship team and 2011 second-place team, along with its longtime coach.
The Warriors were left with seven sophomores and just three seniors. Their coach at the beginning of the season, Ed Hearn, stepped aside for personal reasons; that title fell to the school's athletics director, Ken Walter, in December. And he's never coached varsity basketball before.
But rebuilding? Hardly.
Not with a 12-0 record, best start in school history, and their school-first Korean-American Interscholastic Activities Conference Division I regular-season title, thanks to Wednesday's 42-35 win at Taejon Christian International.
Not with a school-first win at longtime KAIAC champion Seoul American, 53-46 in overtime on Jan. 6, the first time the Warriors beat the Falcons since the 1997 KAIAC D-I Tournament at Daegu's Camp Walker.
See, this group of mostly sophomores, including Sarah Wright, Lari Robertson and Kierra Pineda, have played together since their days at youth services.
"They're used to winning," said Walter, who coached them to one unbeaten season and a one-loss season. "They're not intimidated. They know and trust each other well and they are experienced for 10th graders."
Thus far, Wright has averaged 13 points, 10 assists and 10 steals. Transfer senior Raven Calloway from Augusta, Ga., averages 13 points and nine steals; fellow senior Maleah Potts Cash 11 points, 10 boards and four blocks and Robertson double figures in scoring and rebounding.
Michelle Chandler, who coached the Warriors for 11 seasons, has kept track of the team from her new post at Sigonella, Sicily, and insists she's "not surprised" by the team's success.
"That young group got lots of experience in high-pressure games last year and those are a determined, fierce and hard-working bunch," Chandler said. "It's a little bittersweet for me, but I'm so very proud of them and I expect them to bring several championships" to Daegu.
Just how good is this Warriors group, really?
Calloway came to Daegu, which has an enrollment of under 200, from Academy of Richmond County in Augusta, a campus of 3,000. She had mixed feelings about moving to Korea, she said, but feels the Warriors would be "as competitive" as her Musketeers team back home.
Groups of three have been responsible for Warriors success, such as Kelli Cox, Tank Hancock and the late Lynnette Grant in 2006 and Kristina Bergman, Angie Robinet and Gulee Kwon in 2010.
"I watched them," said Wright, who has lived in Daegu most of her life. "They were great teams. They were really strong. Just like them, we play like a team. We have great chemistry."
Never once, Robertson said, has the team dwelled on losing its stars from last season. "We know how to play the sport," she said. "We do have experience. We can't live in the past. We can only make the future better with what we have. I think we're doing that."
Nor do the current Warriors hope to match the feats of past teams. "We want to write our own ending," Wright said.
Jesse Smith, a Seoul American assistant last year who took over as head coach for 2011-12 and was on the receiving end of that historic loss to the Warriors, feels Daegu is well on its way to writing that ending.
"They're really hustlers out there," Smith said. "They put a lot of effort in on the court, a lot of energy and determination."
Walter as coach strikes just the right note for the Warriors, Smith said. "I like and respect him, and the girls really respond to him."
That's not to say the Warriors are bulletproof. While their varsity group is solid, they're not very deep and maybe an injury or two away from being an ordinary team, Walter said.
"Nobody's allowed to be injured," he said. "The other thing is fatigue. We can't press the entire game. We can't do that in a tournament because we would run out of people. But we can show four or five defensive looks. If you play man or a 2-3, we have plays for those."
That said, the Warriors players feel confident that the best is yet to come, this year and beyond.
"It would be great to take KAIAC and Far East," Potts Cash said. "It's been tradition for us to finish second in KAIAC. We could take everything this year. I think this is our year."
---
---
---
---