Home Team
Daegu getting a kick out of female football player
---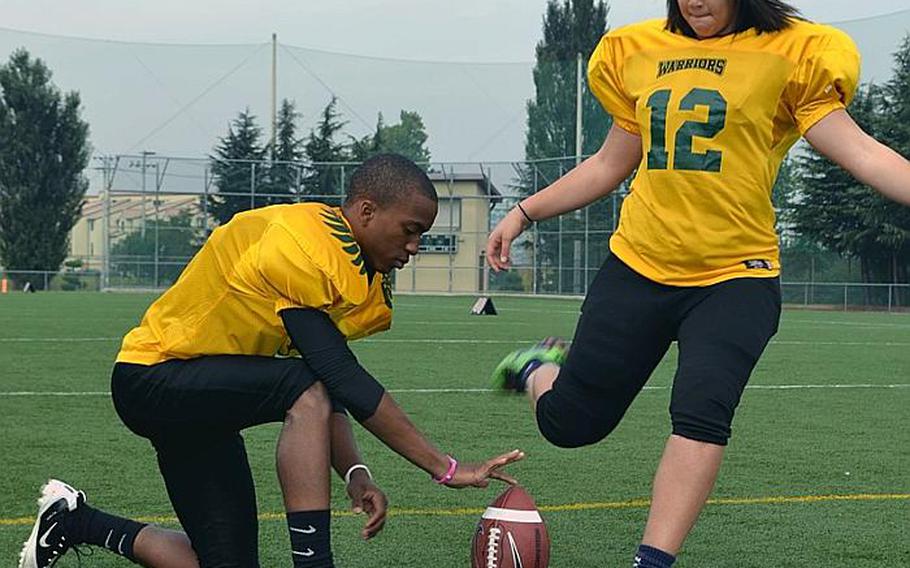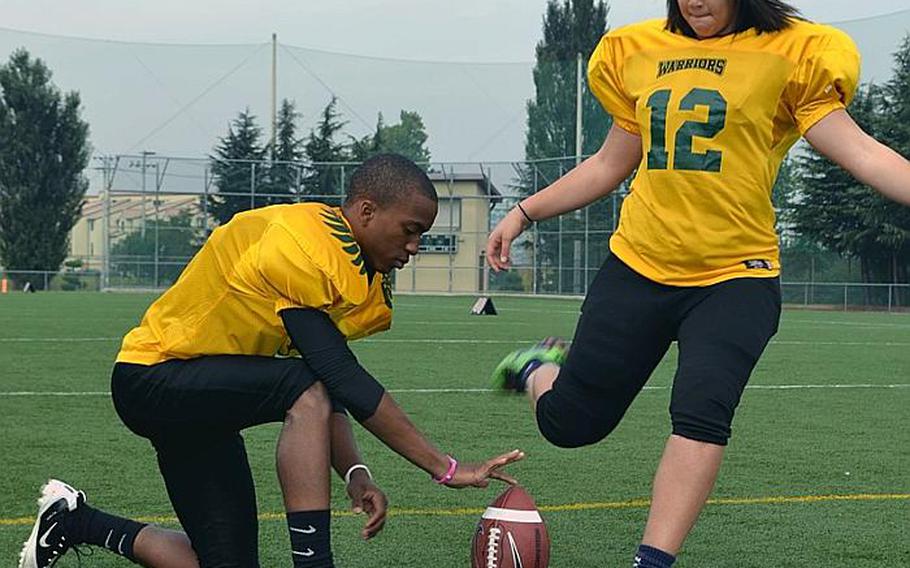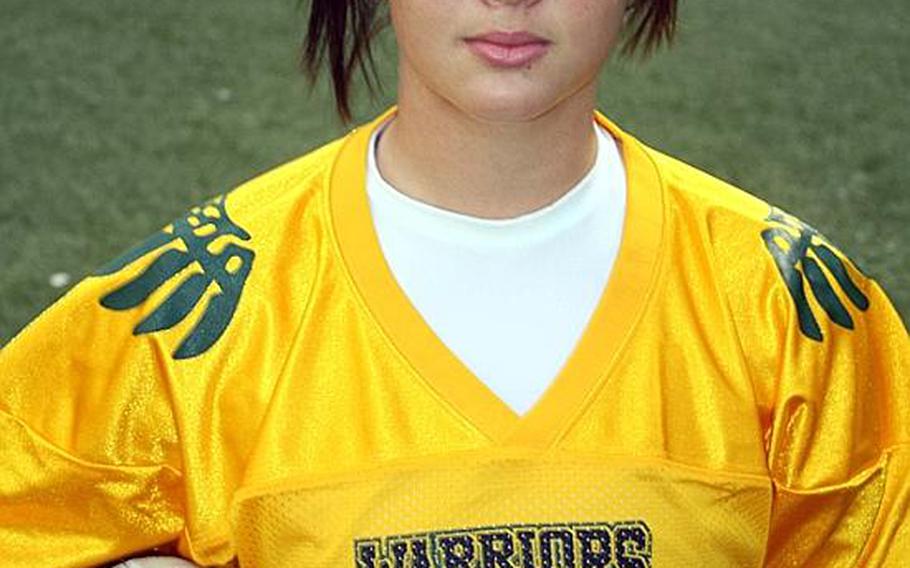 Ed Thompson has envisioned sophomore stopper Haley Claiborne as a potential piece of the Far East Division II Girls Soccer Tournament championship puzzle that's eluded the Daegu American coach since 2007.
If Claiborne keeps kicking as she did in the Warriors' 26-0 win Friday over Osan American, the football team just might beat Thompson to it — which would make Claiborne a rare girl to be so crowned in a predominantly boys sport.
"She's the best kicker on the team," coach Ken Walter said of Claiborne, who hit two of three extra-point tries, just missed a field goal and squibbed three kickoffs recovered by Daegu to keep the ball out of Osan's hands.
Claiborne didn't play in Daegu's first three games, all defeats, but came out to practice the past couple of weeks and beat out three boys kickers, giving her the primary kicking spot, Walter said.
"She's not playing around. She comes out every day, she's a good player and a tough competitor. We're glad to have her out there," he said.
And she's no gimmick, no feminist, no rebel trying to make an "I'm not just one of the boys" statement. Player, teammates, coaches and opponents say she's there to play ball just as any other player would.
"Other teams are going to look at her as a gimmick. If you ask Osan, she's not a gimmick," said Luke Spencer, Daegu's special teams and defensive coach.
He watched Claiborne last spring as she earned All-Tournament honors, notching two goals and 12 assists for a Daegu soccer team that went 17-6-2 and took fourth in last May's D-II tournament.
"She has a level of competitiveness that we look for" in football, said Spencer, who played at Cal-Davis and coached at Bamberg, Germany.
"There's that 'it' factor. She can kick like the rest of the kids, but there's a level of competitiveness unmatched by other kids. Some think of her as a girl trying to play a man's sport, culturally accepted norms that we usually embrace. I think of her as a football player."
She's not the first girl to suit up for Daegu; Claiborne follows in the footsteps of Joanne Youngblood, another soccer player who kicked for the Warriors in 2005.
Monica Holman became the first girl to score a touchdown in a Pacific high school football game for Zama American in 2003. Eight years before, Liz Dolan made seven extra-point kicks for Zama. Samantha Little played backup lineman for Yokota in 2006.
At 5-foot-9, 148 pounds, Claiborne initially resisted the idea of playing football, quitting after a day of spring practice.
But encouraged by her mother Stacey Bouler, a chief warrant officer 2 assigned to the 501st Sustainment Brigade at Camp Carroll, and recommended by Thompson to Walter, Claiborne finally put on the pads.
"She has the God-given talent, so why not use it?" Bouler said. "Soccer has always been her passion, but she has found a new love."
Admittedly, soccer is her "first love," Claiborne says. "It was something different in my family, they all played basketball, softball, football, baseball … in soccer, you can make a goal from way far out. That opened my eyes and made me want to do that."
What attracted her to football, she said, was the game's aggressive nature. "Some people like it to release anger. Others like it just to be rough," Claiborne said. "I just wanted to give it a try."
How does she like it? Winning her first game, kicking the extra points and the pats on the helmet after that were "pretty fun," she said.
How have her teammates accepted Claiborne?
"Like we've accepted everybody else," said senior lineman Daniel Saintil, who knew Claiborne when she was in fifth grade and he in seventh at Fort Lee, Va. "She can get the one or three points when we need them. She just wants to play football. We're happy to have her."
"She did a good job," said Osan coach Aaron Mundy, who coached future NFL quarterback Jay Cutler while at Heritage Hills (Ind.) High School. "She put the ball where it needed to be, hit a couple of extra points. … She'd be welcome here if she were here."
Some coaches of other girls sports might want her to shy away from the gridiron, but Thompson insists he's all for Claiborne doing it.
"The structure is good for her and it's something she's good at," Thompson said. "It's good for her to do that. She can hold her own. She's a fairly physical girl. It will keep her in shape and kicker is one of the most protected positions on the field."
This will be Claiborne's only season on the team; she will transfer in June to either Fort Riley, Kan., Fort Campbell, Ky., or Fort Stewart, Ga. Big schools are in each area with plenty of boy kickers; Claiborne says she's accepted that she might not play football in the States.
For the moment, she'll continue to chase the dream of the Warriors' reaching their fourth D-II title game in five years, and perhaps become that first girl to wear a Far East D-II football title ring.
"I've thought about that. It would be kind of cool," she said.
---
---
---
---