Far East D-II football
Daegu earns gritty 7-3 victory over Zama
by
Dave Ornauer
November 5, 2011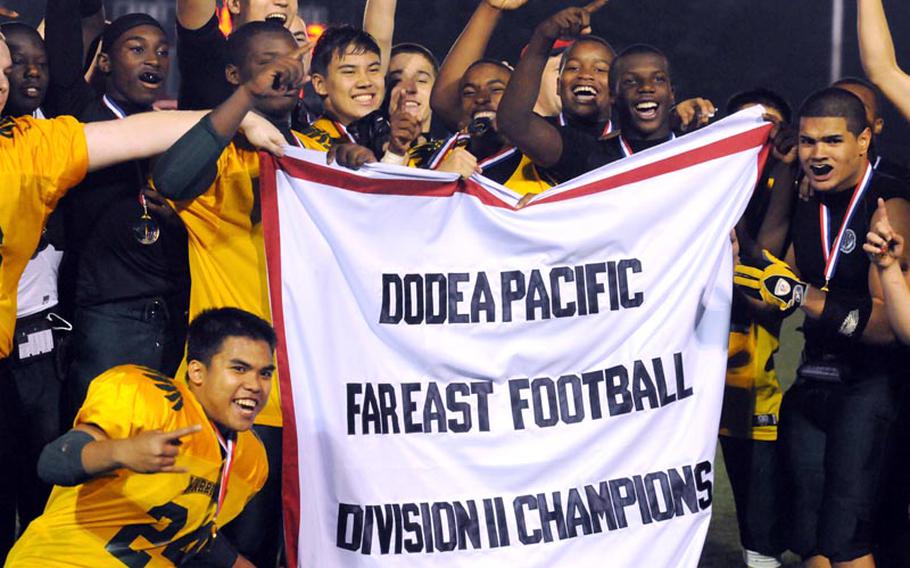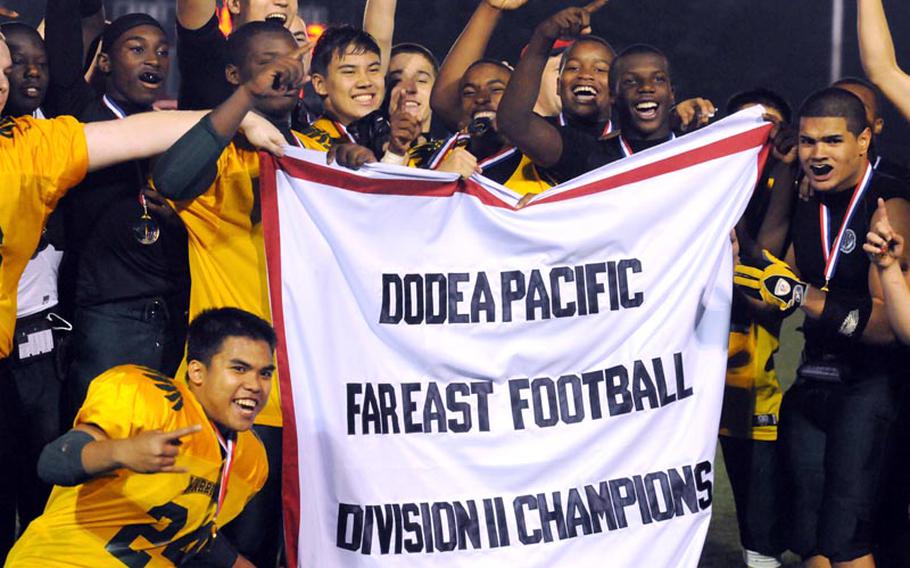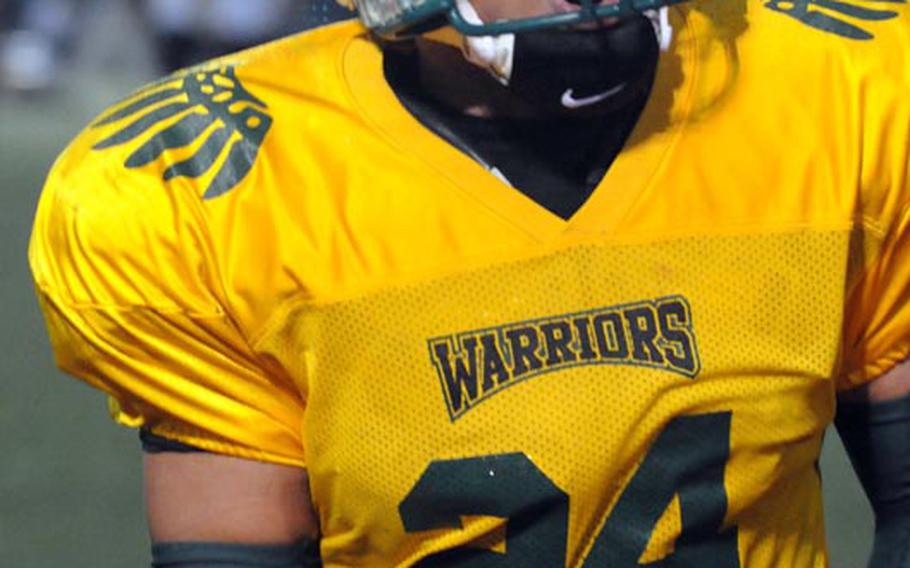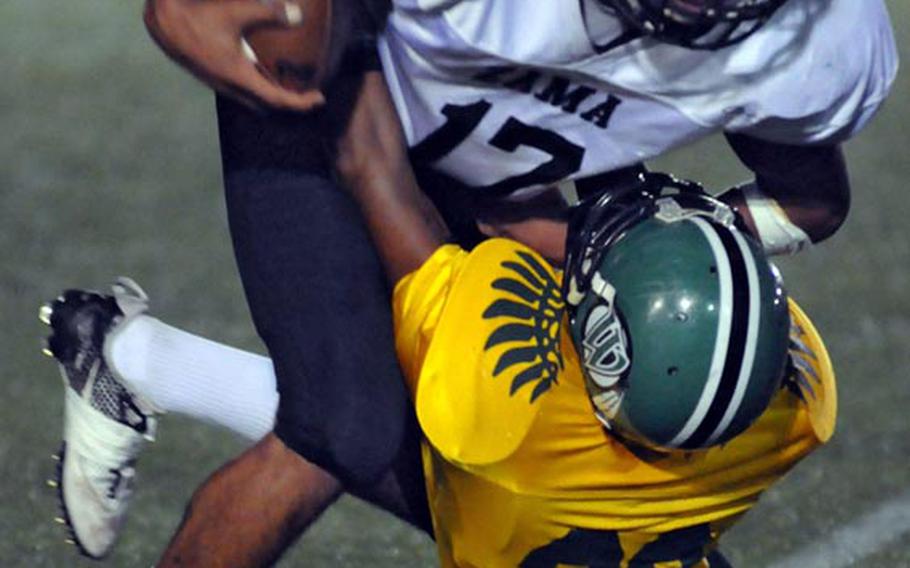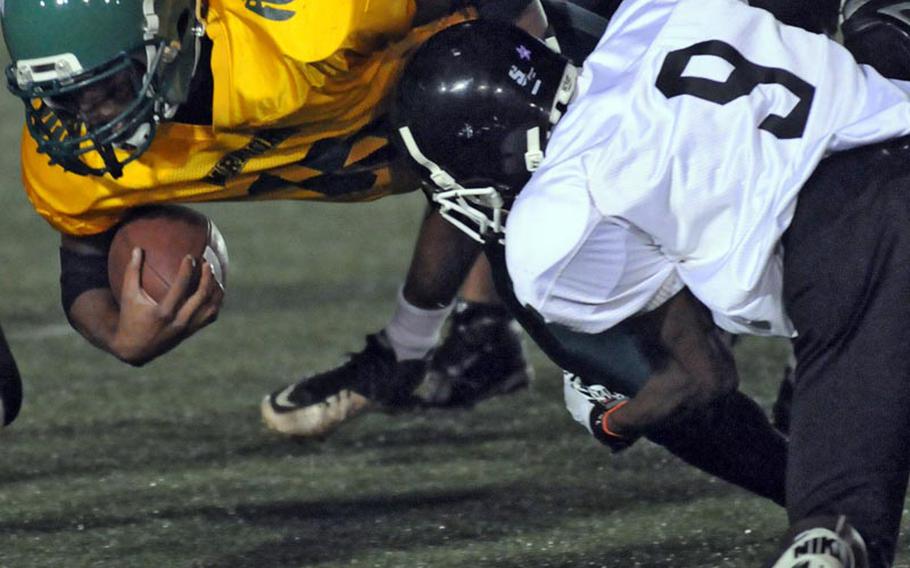 CAMP WALKER, South Korea – Throughout the season, coach Ken Walter said he believed his Daegu High defense was capable of winning every game.
It didn't bear out during a 1-5 regular season, but in Saturday's Far East Division II football championship game, his faith was rewarded when Darius Wyche returned an interception 58 yards for a touchdown and the Warriors stopped Zama American on two goal-line stands.
"The defense has played like this all year long, good enough to win every single game," Walter said after Daegu repeated its D-II title, beating the Trojans 7-3 in a tight, defensive struggle in which the teams combined for less than three trips up and down field.
It was the lowest-scoring championship game since the inception of DODDS playoffs in 2005, and the lowest DODDS Pacific championship score of any sort since Yokota beat the Kubasaki Samurai 3-0 in the 2000 Rising Sun Bowl at Zama.
Daegu and Zama had met three times for the D-II title in the last three years, with the road team winning the first two. "The home team was due," Walter said.
Daegu's defense was dominant in last year's 28-2 D-II title-game victory at Zama. On Saturday, the Warriors' defense was toughest when it counted, stopping Richard Castillo at the Daegu 3-yard line with 3 minutes, 5 seconds left.
"They did a great job," Walter said. During the season, Daegu scored just 79 points but only allowed 95. "We don't get down on each other, the kids pick each other up, they don't get frustrated, we make adjustments; it's been that way all year long."
The Trojans (3-7), who lost their last five games, moved the ball well between the 20-yard lines, outgaining Daegu 207-91 led by Andre Encarnacion's 125 yards on 24 carries. But they turned the ball over three times in the first half and couldn't capitalize on two Daegu fumbles.
"We just didn't finish," Trojans coach Steven Merrell said. Encarnacion "did a good job coming back from an injury, but it's not about one man's statistics. It was an interesting season, had its ups and downs. I feel sorry for the seniors. It's not fun for any of us."
Stephen Ferrer recovered a Daegu fumble on the game's first possession, but Wyche picked off Zama's James Liker and, helped by a huge midfield block by Xavian Washburn, ran untouched to the end zone. Washburn finished with 19 tackles despite a sore left arm.
"X has played lights out" despite aches and pains, Walter said. "There was no way he wasn't going to lead Wyche to that end zone."
Haley Claiborne became the first female player to score a point in a Far East playoff game, tacking on the extra point for a 7-0 Daegu lead.
The rest of the game saw Zama continually bang at Daegu's door, but the defense refused to let the door crack.
Wyche intercepted Liker in the end zone on second-and-10 from the Warrior 12 4:39 before intermission. A pass interference call on Daegu in the half's closing seconds led the Zama's only score, a 26-yard Liker field goal.
Zama's last gasp came after it took over at the Trojans' 44-yard line with 11:47 left, then drove 51 yards on 14 plays.
On fourth-and-4 from the Warriors 5, Castillo took a handoff to the left side and was snowed under by the defense, and Daegu ran out the clock.
"First time at home, but I didn't think it would be like this," Walter said.
Encarnacion finished with 967 yards and a Pacific-high 14 touchdowns on 144 carries this season. Mitchell Harrison, who had 28 yards on 11 attempts, finished with 789 yards on 79 carries.